Homemade Crispy Crunchy Onions Rings, so easy and the Best Onion Rings you will ever taste. Perfectly Crunchy and Delicious.
Ever since I tried these fries, a couple of years ago in Toronto at a Vegan Restaurant called Fresh. I have been obsessed. Every time I visit that is the first restaurant I go to with my daughters.
I love their Black Bean wraps,  and yes they got me hooked on black beans.
As we were waiting for our table, I spotted so many people ordering plates with these huge Breaded Onion Rings on them. I knew I had to order them too. So glad I did.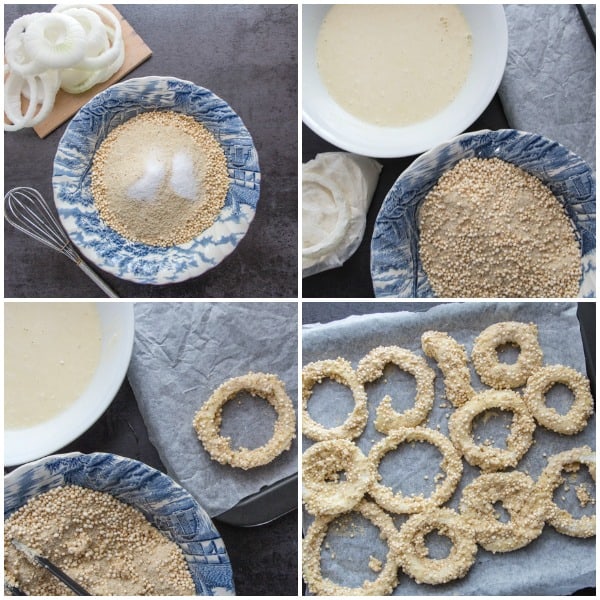 And isn't it always the way, you ask your kids "do you want them too"? "No thanks, I don't like those" and then they eat most of them. Yup that happened.
So naturally I googled Fresh and their Crunchy Onion Rings, but since I am not Vegan I really didn't want to go searching all over for certain ingredients. But I knew the Puffed Quinoa was a major ingredient.
And to tell the truth I never thought I would find Puffed Quinoa in Italy, but surprise surprise I did and I put it in the cupboard and there it remained …
Until one day I made some Baked Onions and my husband got to talking about Onion Rings, and how he has only eaten them once and he would love to try them again.
That's when my daughter said "remember those  Crunchy Onion Rings, Ma"? How could I forget?
Off I went to check the expiry date on the Puffed Quinoa, and the next day these Homemade Crispy Crunchy Onion Rings (non vegan) were on the menu. And they were amazing.
The Italian was impressed which means they were gone in minutes. Enjoy!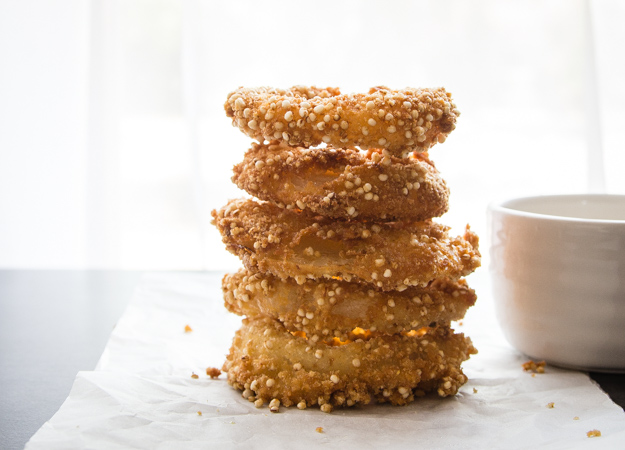 Homemade Crispy Crunchy Onion Rings
Homemade Crispy Crunchy Onion Rings, the best, easy, fried & breaded (with a secret ingredient) onion rings you will taste. Delicious.
Ingredients
CRUMB MIXTURE
1 1/2

cups

puffed quinoa

1 1/2

cups

bread crumbs

1

teaspoon

salt
BATTER
1/2

cup

flour

1/2

teaspoon

salt

1/2

teaspoon

baking powder

1/2

teaspoon

garlic powder

3/4

cup

milk

1

egg
EXTRAS
20

large onion rings (medium sliced, approximately 1/3 inch)

1

cup

flour

2-3

cups

vegetable oil
Instructions
CRUMB MIXTURE
On a dinner plate mix together quinoa, bread crumbs and salt. Set aside.
BATTER
In a medium bowl whisk together flour, salt, baking powder and garlic powder. Add egg and milk and combine until smooth.
PUTTING IT TOGETHER
In a plastic bag add 1 cup of flour, add 2 onion rings at a time and shake to coat. Set aside.

Then dip rings into batter, then coat well in crumb mixture, place on parchment paper lined cookie sheet. Continue until all are finished. Then cover with plastic wrap and refrigerate for 30 minutes.

Remove Onion Rings from the fridge, in a large pot or deep frier heat oil until 350°F, fry rings a couple at a time in hot oil until golden brown on both sides, remove with a slotted spoon to a paper towel lined plate. Sprinkle with a little salt if desired. Serve immediately. Enjoy!
Nutrition
Calories:
616
kcal
Carbohydrates:
113
g
Protein:
21
g
Fat:
8
g
Saturated Fat:
1
g
Cholesterol:
4
mg
Sodium:
1195
mg
Potassium:
679
mg
Fiber:
8
g
Sugar:
7
g
Vitamin A:
75
IU
Vitamin C:
4
mg
Calcium:
195
mg
Iron:
7.2
mg