Easy Baked Parmesan Potato Rounds are a fast and delicious side dish or appetizer. Crispy on the outside and soft on the inside. So good.
Baked Parmesan Potato Rounds
Easy Baked Parmesan Potato Rounds have become one of our new can't-get-enough recipes. Baked with my favourited cheese you can't go wrong.
I love carbs, any kind, bread, rice, Pasta (especially pasta) and of course potatoes.
Unfortunately I have a husband that is quite picky on his Pasta and Potato dishes. And rice forget it unless it's a risotto.
But bread that is a whole other story, he could probably go through a whole loaf if you let him.
He has a problem with mushy, nothing mushy says the man who dumps anything and everything in his morning caffe latte!
So no potato salad because potatoes are mushy when boiled, but roasted and yes to mashed as long as there is gravy on the side.
More Delicious Potato Recipes you may enjoy!
Baked Double Cheese Mashed Potatoes
Italian Spiced Parmesan Hasselback Potatoes
Creamy Cheesy Scalloped Potatoes
He and his youngest daughter are absolutely obsessed with Roast Beef, Mashed Potatoes, Yorkshire Pudding and gravy!!!
I knew I liked the guy when it was a fight over the last fry and drop of gravy.
Needless to say these Baked Parmesan Potato Rounds were a complete success. I love how easy they are and who can say no to Parmesan cheese?
I am actually baking them again as I write this because just seeing them makes my mouth water.
I cut the potatoes about 1/4 of inch thick maybe a little thinner but not much, I soaked them in cold water for about 20 minutes, then I drained them and towel dried them.
I brushed them with a little olive oil but if you have a spray bottle you could spray them instead.
Easy Baked Parmesan Potato Rounds
I dipped them in the parmesan cheese mixture and placed them on a parchment paper lined cookie sheet, and then I covered the other side with the remaining mixture.
I then sprayed the potato rounds a little with some olive oil.
Then in the oven these Easy Parmesan Baked Potato Rounds went for about 25 minutes. Serve with your favourite dip. Buon Appetito!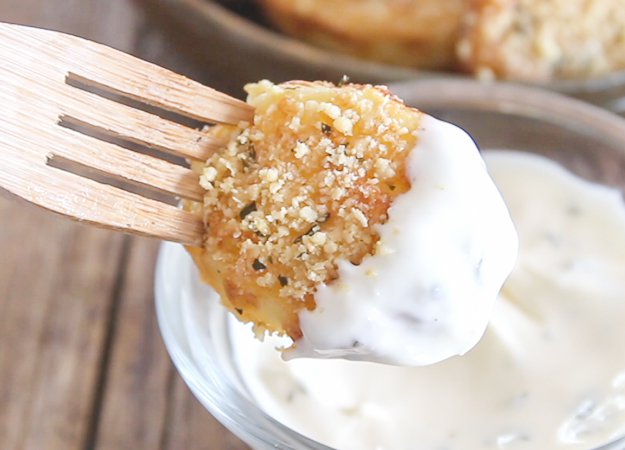 Easy Baked Parmesan Potato Rounds
Easy Baked Parmesan Potato Rounds crispy on the outside oven baked potato slices, the best appetizer or side dish. Perfect for the Holidays.
Ingredients
6

medium potatoes

1

tablespoon

flour

1/3

cup

freshly grated Parmesan cheese

2

tablespoon

finely chopped fresh parsley

1/2

teaspoon

salt

2-3

tablespoons

olive oil
Instructions
Pre heat oven to 375°, line a large cookie sheet or two with parchment paper.

Peel and slice potatoes into thick slices, then place slices in a large bowl of cold water, let sit for 20 minutes. Then drain well and towel dry.

On a small plate whisk together the flour, parmesan cheese, parsley and salt.

Brush one side of the potato slices with olive oil and then coat in parmesan cheese mixture place on prepared cookie sheet coating side down.

Brush top side of slices with olive oil and sprinkle with remaining parmesan mixture. Spray or drizzle with a little extra olive oil.

Bake in oven for approximately 25 minutes, the last 3-6 minutes place under the broiler if desired (for extra browning). Sprinkle with a little salt and serve immediately. Enjoy.

**I serve mine with some mayo and chopped fresh parsley.
Nutrition
Calories:
290
kcal
Carbohydrates:
41
g
Protein:
11
g
Fat:
9
g
Saturated Fat:
2
g
Cholesterol:
7
mg
Sodium:
451
mg
Potassium:
1341
mg
Fiber:
8
g
Vitamin A:
240
IU
Vitamin C:
39.1
mg
Calcium:
191
mg
Iron:
10.6
mg