A creamy delicious Italian Chocolate Pastry Cream, perfect for filling cakes, cookies or even pastries. Fast, easy and so amazing.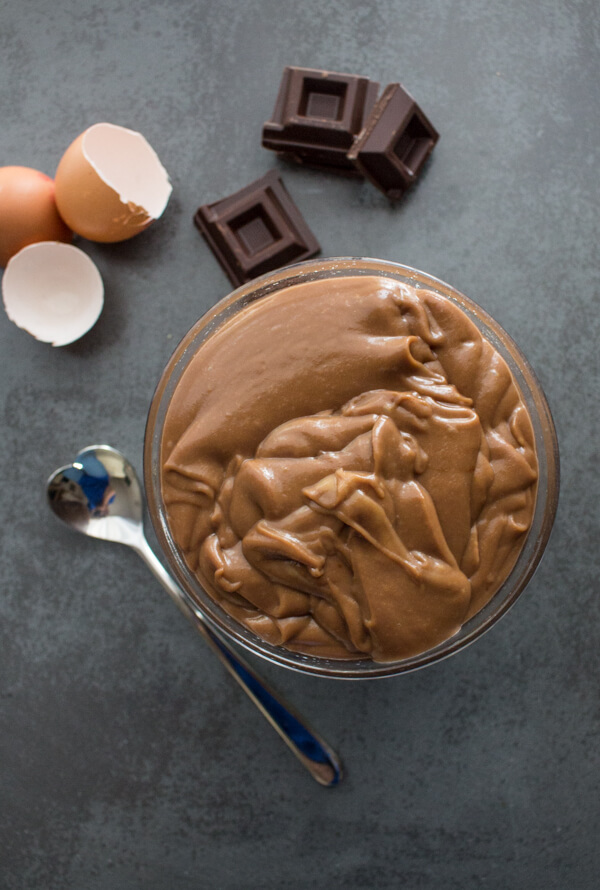 I was never a big lover of Italian Pastry Cream until I tried my Favourite Cream made with milk and cream. I have made it as a simple Pastry Cream, a Coffee Pastry Cream and now this Chocolate Pastry Cream.
Finding something to fill it with is never difficult. From the Italian Famous Mimosa Cake to our gone-in-seconds Sporcamuss. I also made a really yummy Cappuccino Cookie Parfait with the Coffee Cream.
A couple of weeks ago I had friends over and I decided now was the time to whip up some Chocolate Cream. I knew I was going to use it in a dessert for after dinner. But what was the question.
After realizing that I only had about 30 minutes to get it together I decided why not give them another Parfait Recipe! Parfaits aren't that well known in Italy yet, so when I offer something a little different it always goes over well.
Unlike a lot of Creams, this cream is made with a good quality melted chocolate, no cocoa in this bowl of deliciousness.
Italian Chocolate Pastry Cream
It's basically my Italian Pastry Cream but with some melted and cooled dark chocolate added at the very end. Whisked together until smooth. This was so rich and creamy my daughter was eating it straight from the bowl with a spoon.
Until of course I stopped that! I wouldn't have had any left over for the dessert. And yes the dessert went over really well. I will post that next week.
So when you are looking for something different to fill some tarts, or even cookies, I think you would really enjoy this Creamy Italian Chocolate Pastry Cream. Let me know what you think. Enjoy!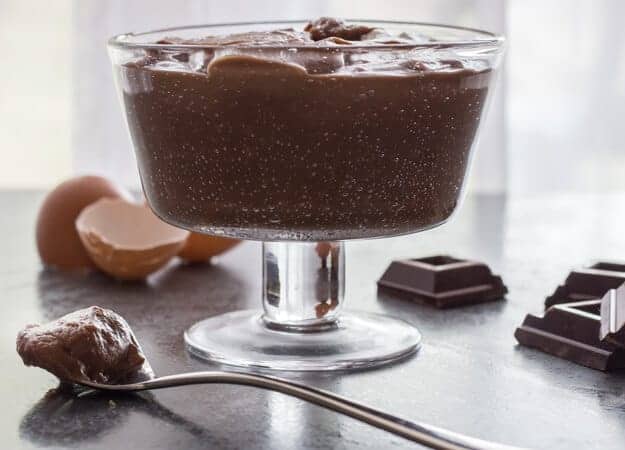 Italian Chocolate Pastry Cream
Fast, easy and creamy the perfect filling for any tart, cookie or Cake. Makes any Dessert Amazing!
Ingredients
3/4

cup

milk

3/4

cup

cream

(whipping or whole cream)

4

egg yolks

(large)

1/2

cup

sugar

1/2

teaspoon

vanilla

2 1/2

tablespoons

flour

(all purpose)

2

ounces

dark chocolate

good quality
Instructions
Melt chocolate either in the microwave or in a glass bowl over a pot of water (make sure the water does not touch the bottom of the bowl) on low heat. Set aside to cool to warm.

In a medium pot, heat over low the milk and cream, do not boil. Remove from heat and let cool to warm.

In a medium pot add yolks and sugar, whisk together until combined, then add flour and vanilla, place pot over low heat, add warm milk/cream, whisking continuously (don't stop) until thickened, remove to a glass bowl and whisk in melted cooled chocolate until combined.Cover with plastic wrap (make sure wrap touches the cream mixture) and refrigerate at least 3 hours. Enjoy!
Nutrition