Easy Italian Savory Rustic Pie is the perfect main dish or appetizer. A delicious creamy filling of Prosciutto di Parma, Gruyere or Fontina and a little white sauce. This Savory Pie will be gone in minutes.
Whenever I make an Italian Savory Rustic Pie (Torta Rustica), I usually have to make 2 different types. My healthy eating daughter prefers this Spinach Ricotta Rustic Pie and my Nutella loving daughter and the Italian prefer a richer type.
Both are delicious, and are perfect served as a main course or even cut into smaller pieces and served as an appetizer.
An Italian Savory Rustic Pie is a really common dish served in Italy. Whenever there is a family/get together you can bet there will be some type of Torta Rustica being served.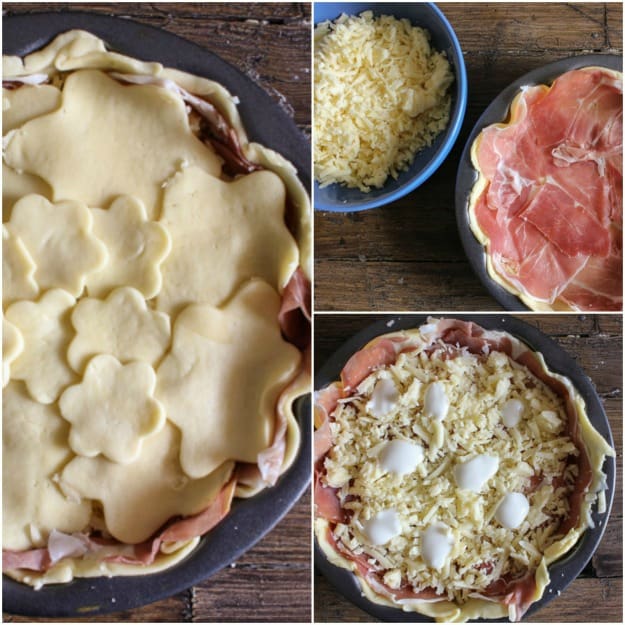 An Italian Savory Rustic Pie is usually made with a two-crust-pie unlike the similar Tomato Cheese Pie, which is pretty darn good too!
But as a change I made it into a Gallete, it came out a little smaller than with two pie crusts but just as delicious!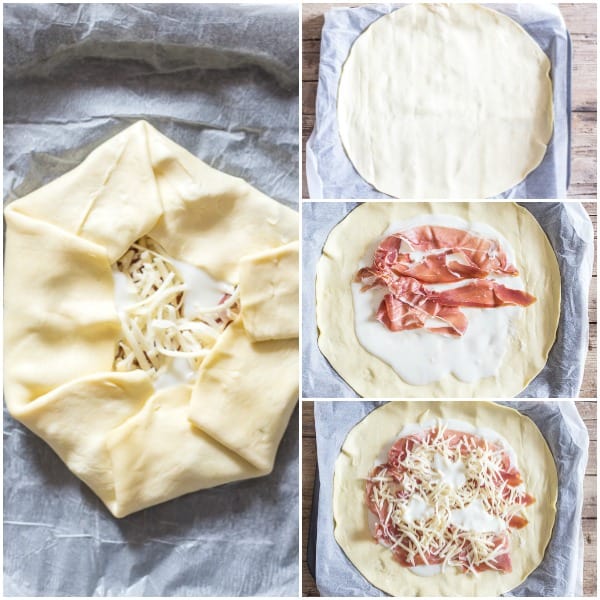 I have to admit my preferred filling is this prosciutto di Parma, Fontina or Gruyère cheese and a couple of tablespoons of white sauce.
Oh my goodness multiply it by two layers and it will be gone in 10 minutes, or just watch father and daughter fight over the last piece!
When you really need something fast and delicious an Italian Savory Rustic Pie is a yummy choice. You can even use pre-made pie crust, whip up a fast white sauce or I have heard from friends that there are some really good pre-made ones available now also.
Put together in 10 minutes and baked for approximately 30 minutes. Nothing better than that! Buon Appetito!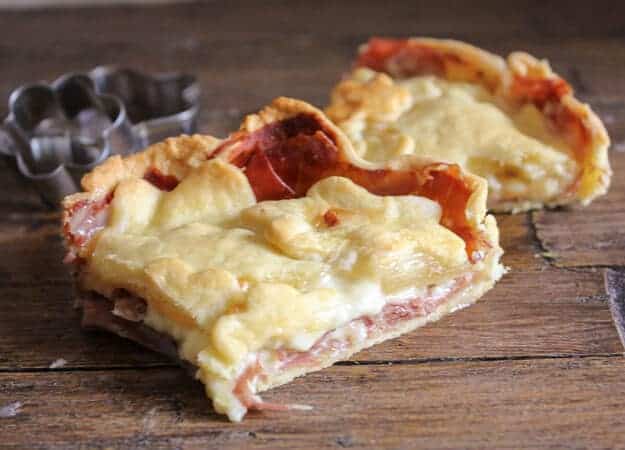 Italian Savory Rustic Pie
Italian Savory Rustic Pie is a delicious main dish or appetizer. A double creamy filling of prosciutto, Gruyere and a little white sauce.
Ingredients
6-7

slices

Prosciutto di Parma (cut in half more slices if needed)

1 1/2

cups

grated Fontina or Gruyère cheese

1/4 - 1/2

cup

white sauce (very thick)

2

crust pie dough **

(store bought or homemade)

WHITE SAUCE

1

tablespoons

butter

1

tablespoon

flour

1

cup

milk

pinch of salt
** You can also use just one pie crust and make a Galette.
Instructions
Pre-heat oven to 350° (180° celsius). Lightly grease a 7 or 8 inch (18 - 20 centimeter) pie/cake pan.

** If you want to make your own dough you can use this recipe, the pinch of sugar may be eliminated. Easy Homemade Pie Dough

WHITE SAUCE

In a small pot add the butter and heat on medium until melted, add flour and salt and whisk to combine, add milk and continue whisking until very thick. Remove from heat, let cool while preparing the rest of the pie.

Roll out the pie crust and fit to the pie/cake pan, with the leftover dough use cookie cutters to cut out desired shapes, strips or use an extra pie crust to cover the top completely.

Cover the bottom and sides of the bottom pie crust with Prosciutto di Parma, top with half the shredded cheese and half the white sauce (using a small spoon drop thick sauce on the cheese), repeat with the remaining layer.

Cover with cut outs, strips or extra pie crust. Brush top with a little milk. Bake for approximately 30 minutes, let sit for 5 minutes, cut and serve. Enjoy!
TO MAKE THE GALETTE
Un roll the round pie crust, spread an inside circle (leave approximately one inch edge to cover the filling) with half the white sauce, top with sliced prosciutto and top with shredded cheese, then drop spoonfuls of white sauce. Fold the edges over the filling. Bake for approximately 30-45 minutes or until golden.
Nutrition
Calories:
356
kcal
|
Carbohydrates:
23
g
|
Protein:
11
g
|
Fat:
23
g
|
Saturated Fat:
10
g
|
Cholesterol:
37
mg
|
Sodium:
322
mg
|
Potassium:
113
mg
|
Fiber:
1
g
|
Sugar:
1
g
|
Vitamin A:
330
IU
|
Calcium:
293
mg
|
Iron:
1.2
mg
Republished from March 31, 2015.