Smoked Salmon Rucola (Arugula) is a fast, easy  and healthy Italian Appetizer. Topped with flakes of fresh Parmesan Cheese and drizzled with Olive Oil. Perfect!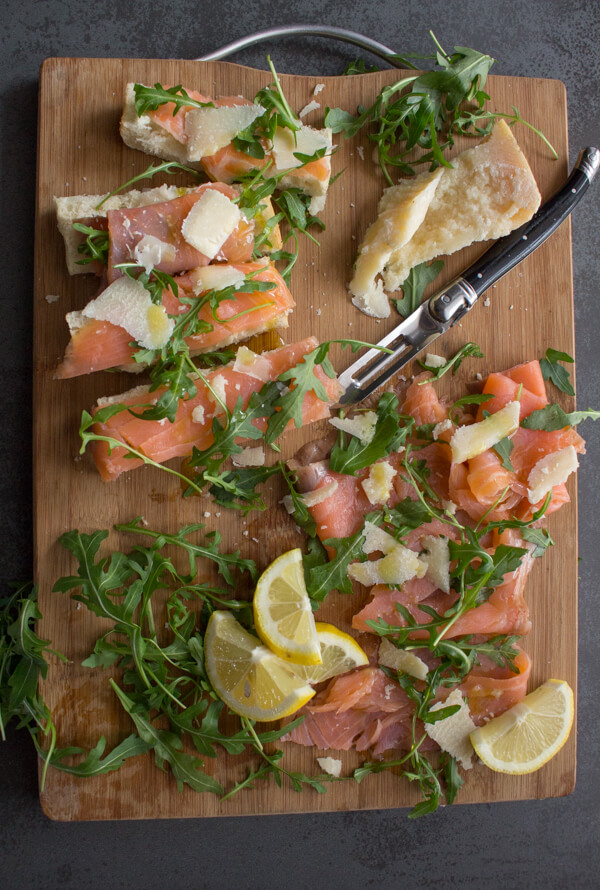 When I first came to Italy I must admit I was quite iffy about a lot of foods. Salmon included, especially smoked salmon. But after I tasted this Smoked Salmon Appetizer I changed my mind.
Sometimes for dinner I just love to make a few appetizers dishes such as Grilled Zucchini or Egglplant and I usually Smoked Salmon Rucola (Arugula) also.
I am a die hard Arugula and Parmesan Cheese lover, I can put them on anything.
So when I was served this for the first time I thought "hmmmm Smoked Salmon! But there's arugula and Parmesan so I can't be that bad" and trust me it was anything but.
This is one amazing taste,  Smoked Salmon and  Rucola (also known as arugula or rocket)  topped with some freshly flaked  parmesan cheese and that delicious flavour of olive oil drizzled on top. With a squeeze of fresh lemon juice.
Imagine that combination on a thick slice of Italian crusty bread and you will know that dinner is perfect. Or you can serve easily serve it as an appetizer or side dish.
I tend to make this at least once a week, fast,easy and delicious,  and as we all know salmon is really good for us.
Smoked Salmon Rucola (Arugula) is not only tasty with Italian crusty bread (or plain white pizza)but also served on a Simple Bruschetta. So go give it a taste. And I hope you enjoy it as much as we do. Buon Appetito!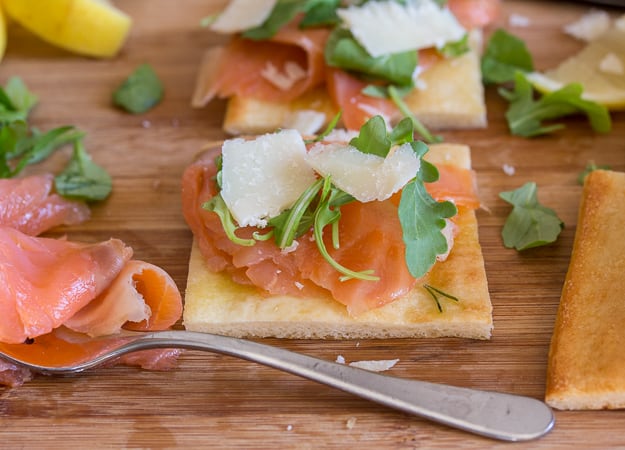 Smoked Salmon Rucola (Arugula)
Smoked Salmon Ruccola (Arugula), a fast & easy appetizer. A healthy Italian recipe. Topped with Parmesan flakes & drizzled with olive oil.
Ingredients
7

ounces

smoked salmon (thin slices)

200 grams

1

cup

of a rucola (a handful more or less)

2 1/2

tablespoons

olive oil

35 grams

1/2

fresh lemon or more to taste

1/4

cup

freshly flaked parmesan cheese (can be flaked with a knife or potato peeler)

salt to taste
Instructions
Arrange slices of salmon on a large plate, squeeze the juice of 1/2 a lemon on the salmon, top with rucola, then drizzle with the olive oil (and salt if needed) and top with the flakes of parmesan cheese. This is delicious served with fresh Italian crusty bread or a simple Italian bruschetta (italian bread toasted on the barbecue or grill, sprinkled with salt and drizzled with olive oil). Enjoy!
Nutrition