I hope you can imagine how good these Meatball Stuffed Crescent Rolls are since I am sitting here eating them cold! Really good. I like them because if you make them small enough they are amazing appetizers but if you make them bigger, they become the perfect weeknight meal.
Meatball Stuffed Crescent Rolls
These Stuffed Crescent Rolls were another one of those, hanging-out-at-the-meat-counter recipes. I love them but I hate them.
Love them because you can get some amazing recipes form Italian women, they share their recipes like candy, and hate them because I pray that I will remember the recipe by the time I get home.
I tell it to myself 100 times and hope that no one will talk to me so I won't forget. Of course they will never tell you the exact amounts of this or that, no-no no, they will just give the instructions.
So after I believed I did know,   I went running around the store looking for the ingredients. I did change it up a bit, she told me to use sliced cheese, but I prefer to shred my own cheese, I used my Mom's meatball recipe and I sprinkled the tops with Parmesan cheese.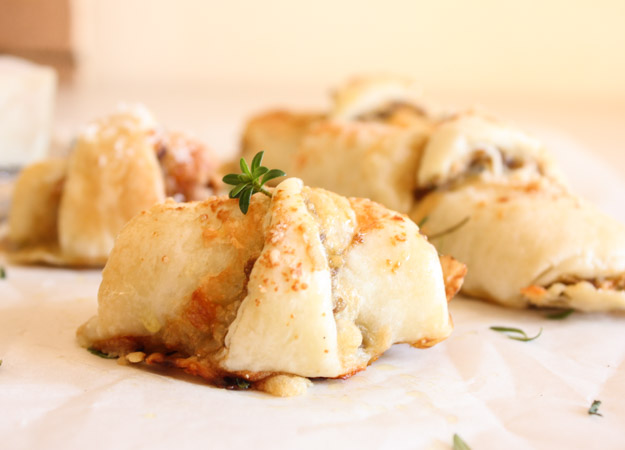 These Meatball Stuffed Crescent Rolls are so easy, I used my Meatball Recipe and a good store-bought pie dough.
I spread the meatball mixture over the dough, it has to be a thin layer and topped with a creamy grated cheese. I used Fontina but Gruyere is a great substitute.
I used my pizza slicer to cut the slices, rolled them up, brushed them with some milk and of course a little sprinkle of freshly grated Parmesan cheese doesn't hurt and then I baked them for about 30 minutes.
You decide how big you want them, I made some quite small, which makes the perfect appetizer, a little bigger and dinner is served. Buon Appetito!
Meatball Stuffed Crescent Rolls
Meatball Stuffed Crescent Rolls, a perfect appetizer or dinner recipe, fast, easy and cheesy. Ground Beef never tasted so good.
Follow me on Youtube!
Watch the videos and don't forget to subscribe on Youtube!
Ingredients
MEATBALL MIXTURE

1-2

slices

of bread

remove crusts, I use day old Italian and if it is extra thick use 1 slice

1/2

pound

of ground beef

lean

1

egg

1/4

cup

freshly grated Parmesan cheese

1/2

teaspoon

parsley

1/2

teaspoon

basil

1/2

teaspoon

oregano

1/2

teaspoon

salt

1/2

clove

of garlic minced

1

unbaked pie crust

1

cup

shredded Fontina cheese

or Gruyere

extra Parmesan cheese for topping
Instructions
Pre-heat oven to 350°. Line a cookie sheet with parchment paper.

In a small bowl soak bread in water for 2 or 3 minutes, then squeeze out moisture and crumble into tiny crumbs. In a medium bowl combine well, bread with ground beef, egg, 1/4 cup Parmesan, parsley,basil, oregano, salt and garlic.

Spread the unbaked pie crust evenly with meatball mixture, top with shredded cheese, cut the pie in desired size (cut as if you were cutting a pizza or pie) starting at the outside roll up slices, place on parchment paper lined cookie sheet, brush with milk or olive oil and sprinkle with freshly grated Parmesan cheese if desired. Bake in oven approximately 30 minutes or until golden. Serve immediately. Enjoy
Nutrition