Coconut Orange Cake the perfect combination makes a Tasty Moist Cake. A delicious Snack, Breakfast or Dessert Cake Recipe. Add a dollop of Chantilly Cream to fancy it up!
Coconut Orange Cake
I actually posted this Cake about four years ago on the blog. Hard to imagine I have been at it almost 6 years now.
So needless to say I have been going through recipes and redoing the photos and sometimes if the mood strikes making a video.
If there is something I love about fall and winter it has to be the fruit, apples and oranges are my favourite, and we all love coconut in my house, the Italian especially.
and so I thought what could be better than a Coconut Orange Cake?
Like a lot of the cakes I have made over the years here in Italy this is another frostless Italian Cake. Just a dusting of powdered sugar is really all it needs.
Although this time we were having company over so I thought a creamy Chantilly topping would be perfect.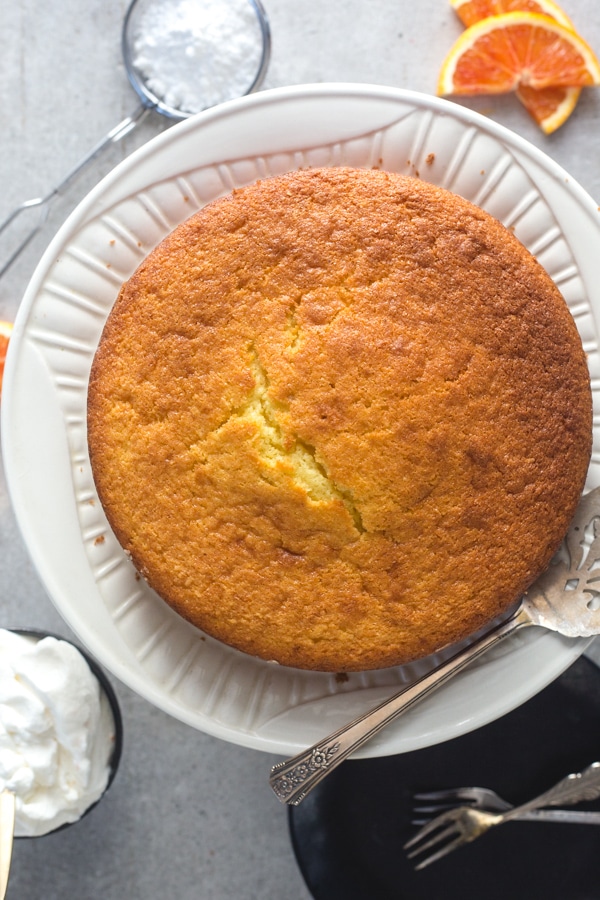 What is Chantilly Cream?
Chantilly cream is a combination of whipped cream and icing sugar, sometimes flavoured with vanilla. It is usually used to fill pastries.

It was supposedly invented by Francois Vatel, the master of ceremonies to the prince of Conde at the castle of Chantilly.
He thought of adding sugar to whipped cream, and he also gave the name to the preparation.
Instead of adding vanilla to mine I decided a little orange zest.
This Cake also calls for Cake / Pastry Flour, but there is no need to buy it, you can easily make your own.
How to Make Cake Flour
For every cup of all purpose flour, remove two tablespoons and replace with two tablespoons of corn starch.
Be sure to sift the flour and cornstarch together a couple of times, this way it is sure to be properly combined and lump free.
Cake flour in cakes will give you a very tender texture and fine crumb, it will also help the cake to rise.
Coconut Cake
More Delicious Italian Cakes
Italian Glazed Mandarin Orange Almond Cake
Italian Fresh Cream Lemon Cake
How to Store a Homemade Cake
Keep the cake covered in an airtight container. It will keep a 3-4 days at room temperature. Although the Chantilly cream must be refrigerated.
The cake can also be frozen. Wrap tightly in plastic and place in an airtight container or freezer bag. The cake will keep for up to four months in the freezer.
This is the perfect Soft Light Coconut Lovers Cake, delicious with an afternoon cup of tea or coffee or even as the Italians do, a slice for breakfast with your cappuccino!
I hope you try it and of course let me know how it turns out. Enjoy!
How to Make a Coconut Orange Cake
Coconut Orange Cake
Coconut Orange Cake the perfect combination makes a Tasty Moist Cake. A delicious Snack, Breakfast or Dessert Cake Recipe.
Ingredients
COCONUT ORANGE CAKE
1/2

cup

+ 2 tablespoons butter (softened)

(125 grams)

1/2

cup

+ 1 1/2 tablespoons sugar

(125 grams)

1

orange

zest

3

tablespoons

fresh squeezed orange juice

1/2

teaspoon

vanilla

2

eggs

1

egg yolk

1 1/4

cups

+ 1 tablespoon cake / pastry flour*

(180 grams)

1 1/2

teaspoons

baking powder

1/4

teaspoon

baking soda

1

pinch

salt

1/4

cup

flaked coconut

(20 grams)

1/2

cup

vanilla yogurt

(125 grams)
*Place flour in a bowl, remove 2 1/2 tablespoons and replace with 2 1/2 tablespoons of cornstarch, sift together.
CHANTILLY CREAM
1

cup

whole / whipping cream

(238 grams)

1

tablespoon

powdered sugar

zest

of 1/2 an orange
Instructions
Pre-heat oven to 350° (180° celsius). Grease and flour an 8 inch (20 centimeters) cake pan.
COCONUT ORANGE CAKE
In a large bowl cream together butter, sugar, orange zest, orange juice, vanilla, eggs and yolk beat 2-3 minutes on low to medium speed.

In a medium bowl sift together, flour, baking powder, baking soda and salt then stir in the coconut.

Starting with the flour mixture beat half into egg mixture then half the yogurt, then remaining flour and then remaining yogurt, beat on low - medium speed until smooth. Pour into prepared cake pan and bake for approximately 30-40 minutes, or until toothpick comes clean. Let cool completely, dust with powdered sugar and serve with Chantilly Cream if desired. Enjoy!
CHANTILLY CREAM
In a medium bowl whip cream until light peaks form then sift the powdered sugar onto the cream and add the zest. Whip until stiff peaks form. Refrigerate until ready to serve.
Nutrition
Calories:
385
kcal
|
Carbohydrates:
33
g
|
Protein:
5
g
|
Fat:
26
g
|
Saturated Fat:
16
g
|
Cholesterol:
137
mg
|
Sodium:
180
mg
|
Potassium:
194
mg
|
Sugar:
16
g
|
Vitamin A:
905
IU
|
Vitamin C:
3.6
mg
|
Calcium:
93
mg
|
Iron:
1.3
mg
.