Double Chocolate Italian Pie, nothing like homemade and creamy, and this pie is both. A delicious chocolate pie crust with an out of this world creamy chocolate filling. Double Chocolate, so amazing.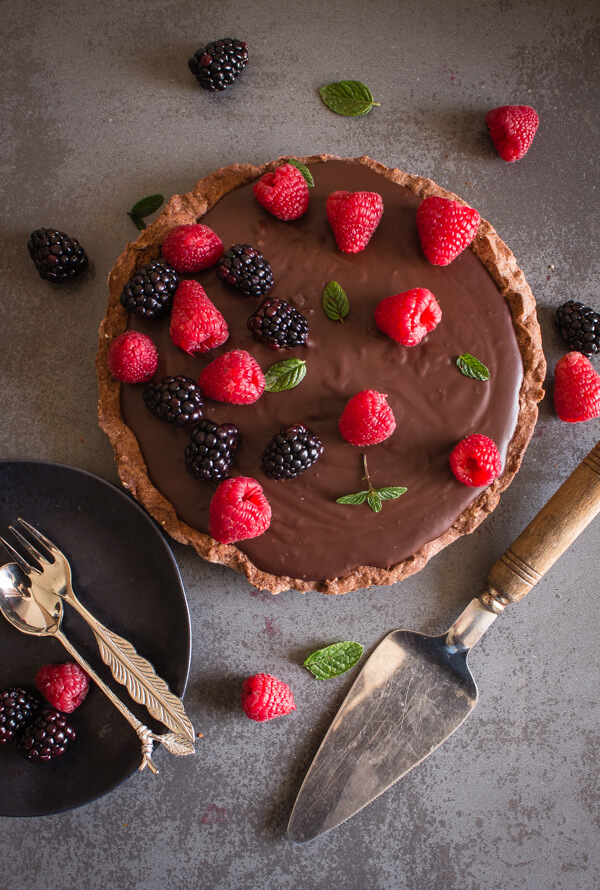 I have wanted to make a Chocolate Italian Crostata for quite a while now. Sometimes a Crostata is can be filled with Nutella in Italy, but I saw one like this when my daughter and I visited Rome at Christmas time.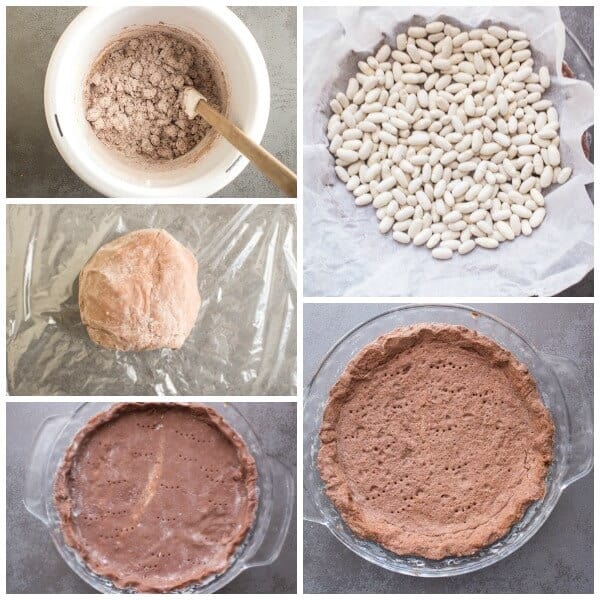 Unfortunately I made the error of asking if it was a Nutella filling!
Well the look I got "No Signora non è Nutella" I was then told how they only use the best Italian chocolate for their filling, and which of course had nothing to do with Nutella! So there.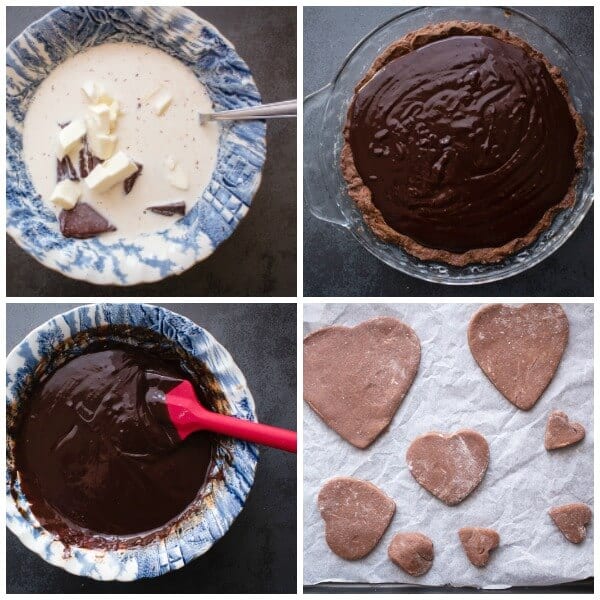 Needless to say this got me thinking, I had the perfect Chocolate Pie Dough and a chocolate filling was simple enough. I was going to make it!
I let Christmas pass and finally I was reminded of this delicious Double Chocolate Italian Pie I was going to make. We were having friends over for dinner so I decided that would be the perfect time. They would love it.
For the last few weeks I have been seeing the most beautiful fresh berries at the grocery store, so how can you pass up fresh berries as a topping on a Chocolate Pie? One of the best tastes ever.
I have to tell you this is the best dough, I will have to think of more and more desserts to make with this dough. Left-overs even make Delicious Cookies.
Homemade Creamy Double Chocolate Italian Pie
This pastry dough is your typical Italian Crostata Dough, made with an egg and butter and not shortening. I had some leftover so I made some cookies and spread them with some left-over chocolate filling. So good.
The chocolate filling consists of only 3 ingredients, cream, butter and a good quality dark chocolate, all melted together and then poured into the pre-baked crust. The pie should be refrigerated at least 2-3 hours before serving, but I made mine the night before and it was perfect.
So when you are in the mood (Valentine's Day for example) for a Creamy smooth Chocolate Pie, I'm sure you would enjoy this Homemade Creamy Double Chocolate Italian Pie.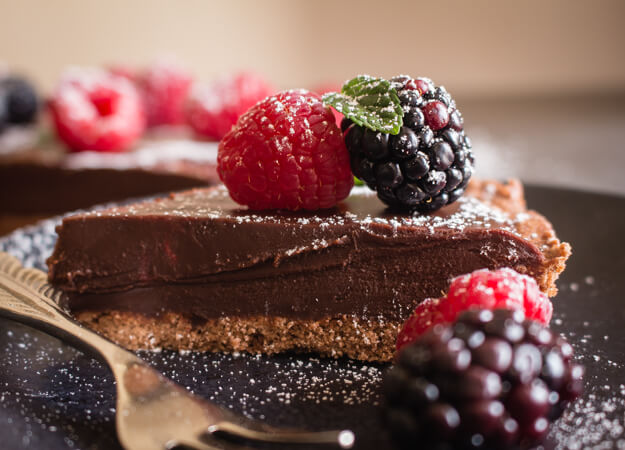 Homemade Creamy Double Chocolate Italian Pie
Chocolate Italian Pie is an easy, delicious double chocolate pie, made with a chocolate crust and a creamy smooth filling. Perfect.
Ingredients
CHOCOLATE PIE DOUGH
1/3

cup

+ 1 tablespoon sugar

79 grams

1/4

cup

+ 3 tablespoons butter

100 grams

1/4

teaspoon

salt

1.4 grams

1/2

teaspoon

vanilla

2.10 grams

1

teaspoon

baking powder

5 grams

1 1/2

cups

flour

187.5 grams

2

tablespoons

cocoa

14.8 grams

1

egg
CHOCOLATE FILLING
12 1/4

ounces

dark chocolate (good quality)

360 grams

1

cup

+ 1 tablespoon whole or whipping cream

250 grams

1/4

cup

butter

50 grams
Instructions
CHOCOLATE PIE DOUGH
In a medium bowl cream together sugar, butter and vanilla then add egg and combine.

In a medium bowl whisk together flour, salt, baking powder and cocoa, add dry ingredients to creamed mixture with a fork. Move to a lightly floured flat surface and knead gently until you have a soft dough (you may need to add a little more flour, but add a little at a time). Wrap in plastic and refrigerate for approximately 30 minutes.

Pre-heat oven to 350°. Grease and flour an 8 inch pie plate.

Remove dough from the fridge and roll to approximately 1/8 inch thickness (you will have extra dough, perfect for cookies) place in prepared pie plate, prick the bottom a few times with a fork. Cover with parchment paper and add dried beans or pie weights on top, bake for approximately 20 minutes (if pie is not baked, then bake for an additional 5 minutes without the beans). Remove from the oven, remove paper and beans, let cool.

CHOCOLATE FILLING
While Crust is cooling make the filling. Heat the cream until hot but do not boil, add the chocolate and butter, whisk until smooth. (If chocolate does not completely melt, then pour mixture in a heat proof bowl and place over a small pot with water (make sure water does not touch the bottom of the dish), heat on low, stirring until mixture is melted and smooth. Let cool slightly.

Pour mixture over cooled crust, cover with plastic wrap and refrigerate for approximately 1-2 hours. Enjoy.

**With the extra dough I made cut out cookies and when they were cool I covered them with the extra chocolate filling.
Nutrition