This Traditional Italian Easter Bread is a soft sweet brioche dough formed into wreaths or braided. Coloured eggs are baked into the bread and the bread is sprinkled with lots of nonpareils. Festive and bright for the Easter Holiday.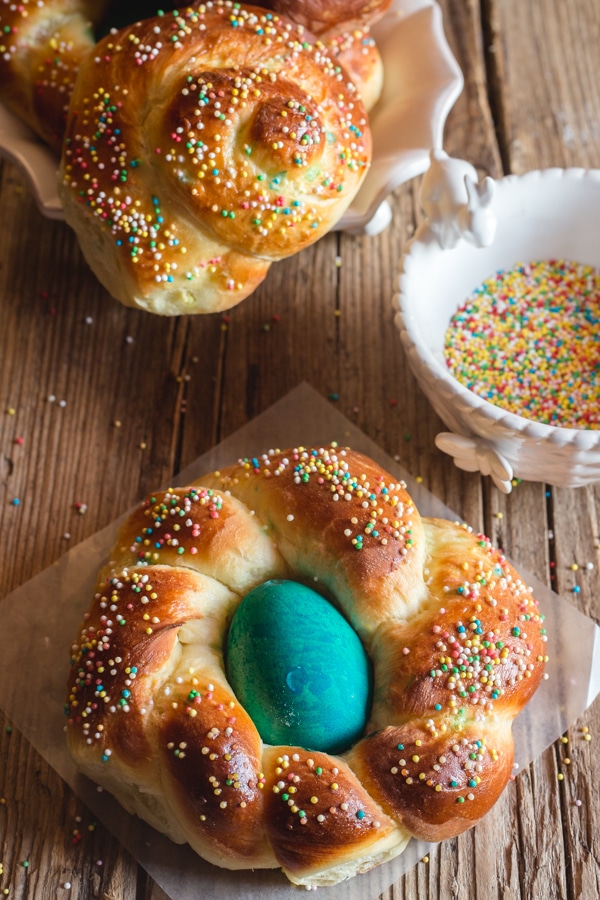 Traditional Italian Easter Bread
I absolutely love Brioche Bread and of course this Sweet Soft Bread is a must in any Italian home on Easter.
I wanted to find a true Traditional Italian Recipe and I came upon this recipe Brioche di Pasqua from a fellow Food Blogger, Chiara from Chiarapassion.com.
How to make Italian Easter Bread
This Italian Easter bread is a yeast bread which means you need time and patience. It's not difficult just time consuming but absolutely worth it.
This dough needs to rise 3x, the first time the dough (without the butter added) is placed in a bowl for 2 hours. Every 30 minutes the dough needs to be folded over.
The second rise is done once the butter has been added to the dough and then refrigerated for 1-2 hours.
The dough is then removed from the fridge, formed into your desired shapes, then placed on a parchment paper lined cookie sheet and left to rise for a final 1-2 hours.
Before baking an uncooked dyed egg is placed in the dough, then the dough is brushed with a simple egg wash and covered in sprinkles (nonpareils) and baked for approximately 20 minutes. Believe me they are worth every minute of your time!
This bread is very popular all over Italy, sometimes I like to make an Easter Bread from the South of Italy, sometimes I make an Easter Bread that is the most popular in Italy at this time of the year, called Colomba or Dove Bread.
How to colour eggs with Natural Dyes
If you decide to use coloured eggs in your bread and you don't want to use regular dyes then there are Natural Dyes that you can use.
Vegetables and spices are great for dying eggs especially red onions, paprika, dill seed and even red cabbage.
What is the significance of Easter Bread?
Italian Easter Bread when it is baked in the shape of a wreath it is to symbolize the crown of thorns worn by Jesus Christ. When the dough is braided with three pieces it represents the Holy Trinity.
Adding an egg to the bread represents rebirth, Christ rising from the dead.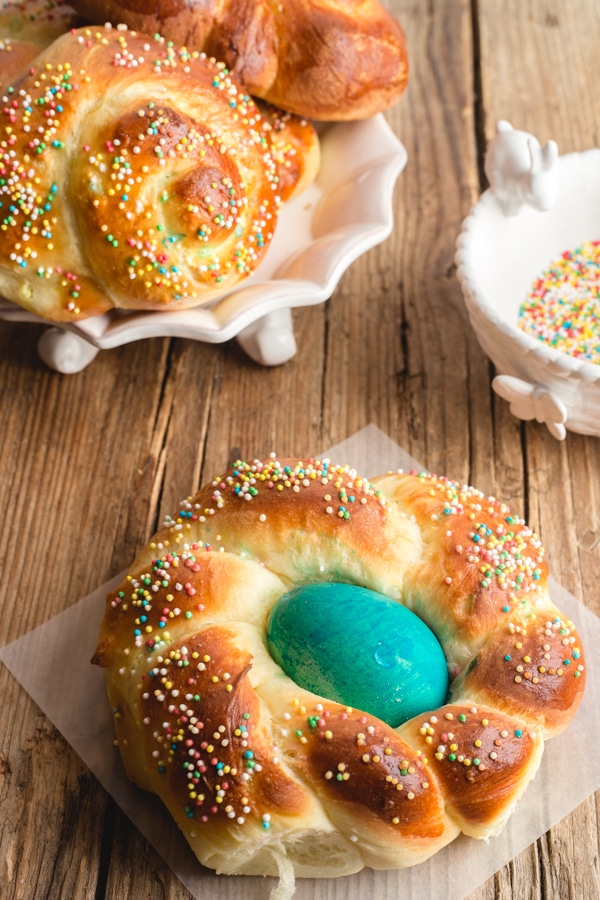 How to Store Italian Easter Bread
Be sure to store the Brioche Bread in an air tight container or bag for up to 5 days. The breads can also be frozen again in an airtight container or freezer bag for up to 2 months. Just be sure to remove the egg before freezing.
So if you would like to surprise your family and friends with a delicious soft Italian Easter Bread, then I hope you give this a try and let me know how you like it. Enjoy!
Traditional Italian Easter Bread
This Traditional Italian Easter Bread is a soft sweet brioche dough formed into wreaths or braided then topped with coloured eggs & sprinkles.
Ingredients
BRIOCHE DOUGH
1 3/4

cups

+2 tablespoons all purpose flour

(250 grams)

1

pinch

salt

zest of 1 lemon

2 1/2

tablespoons

granulated sugar

(40 grams)

1/4

cup

lukewarm milk (I used 2 % milk)

(60 grams)

1 1/2

teaspoons

active dry yeast

2

eggs (room temperature)

(slightly beaten)

1/2

cup

butter (room temperature)

(100 grams)
TOPPING
2-4

eggs (uncooked and dyed whatever colour you like)

2-4

tablespoons

sprinkles* (if desired)
Instructions
BRIOCHE DOUGH
In the bowl of a stand up mixer whisk together the flour, salt, zest and sugar, make a well in the centre and add the milk and yeast, mix together with a fork, them add the slightly beaten eggs.

With the dough hook attachment knead for approximately 1 minute just to combine*. Cover the bowl with plastic and let rise 2 hours, every 30 minutes fold both ends into the middle (repeating 4 times).

When the time as passed add the butter a little at a time at medium high speed with the dough hook, combine, then let the dough rest 10 minutes. Knead again until smooth and does not stick to the side of the bowl (approximately 5 minutes). Place the dough in a lightly greased bowl, cover with plastic and refrigerate for 1-2 hours.

Move the dough to a lightly floured flat surface. Divide the dough into 4 parts. Roll each part into 2 ropes (15 inches / 40cm), join the ropes at the top and twist the ends one over the other (see photo), join the ends to form a wreath (circle) repeat 4 times. Place on a parchment paper lined cookie sheet, let rise in a warm draft free area for 1-2 hours or doubled in bulk.

15 minutes before rising time has finished pre heat oven to 390F (200C).
EGG WASH
In a small bowl beat together the egg and milk.

Add a dyed uncooked egg (if desired) to the centre of the wreath then brush the wreaths with the egg wash (be careful not to brush the eggs) and sprinkle with the sprinkles. Bake for approximately 20 minutes or until golden, or when tapped on the bottom and there is a hollow sound. Let cool before serving. Enjoy!
Notes
If the area where the dough rises is cooler, then be sure to let the dough rise longer.
*I used nonpareils and not jimmies, these are the tiny round rainbow coloured balls used for decorating.
Nutrition
Calories:
503
kcal
|
Carbohydrates:
52
g
|
Protein:
12
g
|
Fat:
27
g
|
Saturated Fat:
15
g
|
Cholesterol:
185
mg
|
Sodium:
271
mg
|
Potassium:
167
mg
|
Fiber:
2
g
|
Sugar:
8
g
|
Vitamin A:
900
IU
|
Calcium:
55
mg
|
Iron:
3.2
mg