These easy Homemade Fudgsicles, are the perfect summer frozen treat, made with cream, cocoa and milk. Fast, easy and better than store bought.
Easy Homemade Fudgsicles
You will love cooling down this summer with one of these easy creamy homemade fudgsicles. Make with fresh ingredients, and easily thrown together, you can't beat this from-scratch version, that will have you saying goodbye to the store-bought ones. 
If there is one Ice Cream Treat that I remember and always loved as a kid it was and always will be a Fudgsicle. Never mind the light equivalent, nope it was the creamy original for me.
The other day when my daughter and I had done our City walk for the day, we stopped at the corner store and Yup you guessed it I got myself a Fudgsicle, not the regular one, but the new (well new for me) Double Fudge!
What is A Fudgsicle?
If you're not familiar with fudgsicles then clearly we did not have the same childhood. It's a tasty popsicle-like frozen dessert that is perfect for cooling down on a hot summer day. 
It's often a staple of any neighbourhood ice cream truck or poolside snack window. They are the perfect mixture between soft creamy ice cream and an icy popsicle.
You still get the creamy chocolate flavour you would with ice cream, but the popsicle side comes in that gives it a firm texture to hold it's shape, which means you can eat it on the go.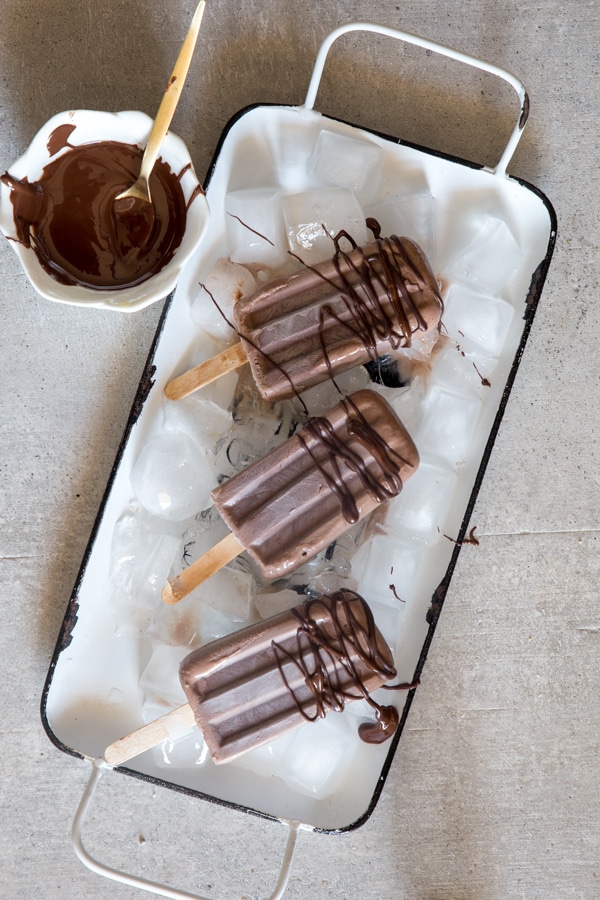 What Do I Need For Homemade Fudgsicles?
Milk 

Cream

Sugar

Cocoa

Cornstarch

Salt

Dark chocolate 
How To Make Homemade Fudgsicles
To make these Easy Creamy Homemade Fudgsicles I used a mixture of whole cream and milk (2%), melted dark chocolate and a good brand of cocoa, a little cornstarch (for thickening) and not too much sugar.
I heated the milk and cream until very hot but not boiling. I then whisked in the cocoa, sugar and dark chocolate, poured it into the popsicle molds, froze them for about 4 or 5 hours and there you have the creamiest most yummiest Homemade Fudgsicle you will ever eat.
How Long Do Fudgsicles Last? 
I'm sure we all have done this before where you buy a big box of fudgesicles, eat a few then forget about them only to find them a few months later still in perfect condition.
That's the beauty they are a frozen treat you can enjoy for months on end, but is the same true for homemade version?
You can definitely store your homemade fudgy treat for quite some time in the freezer, just not quite as long as the store-bought ones. They will last in the molds for about 1 week. 
If you haven't eaten all of them in one week (if you haven't you have way more self-control than I do) then you will need to remove them from the molds, wrap each one in a plastic bag and store in the freezer for up to another 4 weeks. 
How Long Does It Take For Fudgsicles To Freeze? 
When making any kind of homemade frozen treat it can be a little bit of a guessing game to know when the recipe is completely set up.
Nothing is worse than making an amazing looking treat, and having to wait what feels like an eternity to actually eat them to then find out when you go to dig in that they STILL aren't set up! 
So how long does it really take to perfectly freeze a batch of homemade fudgsicles? It all really depends on the molds you use. For a regular mold with the built-in stick, that will typically take about 5 hours. 
What If I Don't Have a Popsicle Mold?
If you don't have any molds, no worries, you can still make this recipe! There are a few different ways to get crafty and make your own popsicle mold without having to go out an buy one. 
Here are 4 different hacks for DIY popsicle molds:
Small baking tins – something with small individual cup spaces like a muffin tin will work great. 

Paper or plastic cups – The small dixie like cups are great because they are a nice small size and the paper ones can be pulled off for easy removal once you want to eat one. 

Ice cube trays – these will be more like mini fudgesicles, but then you can just eat more at once! 

Single-serve yogurt containers – don't throw away your yogurt containers when you're done. They make a great popsicle mold, like a larger version of the dixie cup.
For any of the DIY mold options, Place the molds in the freezer for about 2 hours, then slide a popsicle stick in one end. Return to the freezer and finish freezing for another 3 hours.
More Ice Cream and Popsicle Recipes To Try
Death By Chocolate Ice Cream Cake
So if you decide that these are the perfect frozen treat to cool down with, I hope you give them a try and let me know!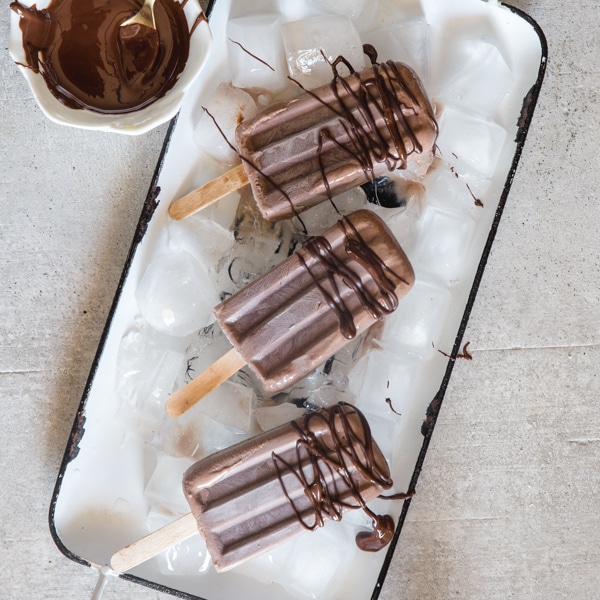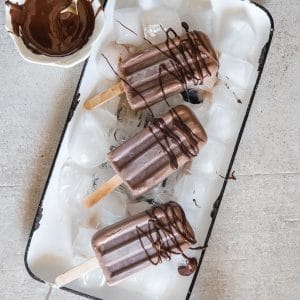 Easy Homemade Fudgsicles
These easy Homemade Fudgsicles, are the perfect summer frozen treat, made with cream, cocoa and milk.  Fast, easy and better than store bought.
Ingredients
1

cup

milk

(245 grams)

1

cup

cream

(240 grams)

2

tablespoons

sugar

2

tablespoons

cocoa

1

tablespoon

cornstarch

pinch salt

3

ounces

dark chocolate (chopped)

(80 grams)
Instructions
In a small bowl sift together the cocoa and cornstarch before whisking into the milk mixture.

Heat milk and cream until hot (but do not boil) whisk in sugar, cocoa, cornstarch and salt, add chocolate pieces and stir until smooth. Let the mixture cool, stir well before pouring into the popsicle molds, then freeze until frozen, (4-5 hours). Enjoy!
Nutrition
Calories:
271
kcal
Carbohydrates:
16
g
Protein:
4
g
Fat:
22
g
Saturated Fat:
14
g
Cholesterol:
59
mg
Sodium:
36
mg
Potassium:
210
mg
Fiber:
2
g
Sugar:
10
g
Vitamin A:
649
IU
Vitamin C:
1
mg
Calcium:
84
mg
Iron:
2
mg
Updated from July 24, 2016.