The perfect little treat for Halloween. Dracula's Bloody Raspberry Chocolates filled with a natural red, raspberry or strawberry filling. They taste delicious too.

As a kid Halloween was probably one of my favourite holidays. I loved everything about it. The dressing up, the spookiness and of course the treats.
Making these Chocolates was not easy, not because filled chocolates are difficult, because these definitely aren't. But because at the time my house was almost a sauna.
Taking the photos and getting the chocolate to set was a challenge. But I managed, fake spiders and all.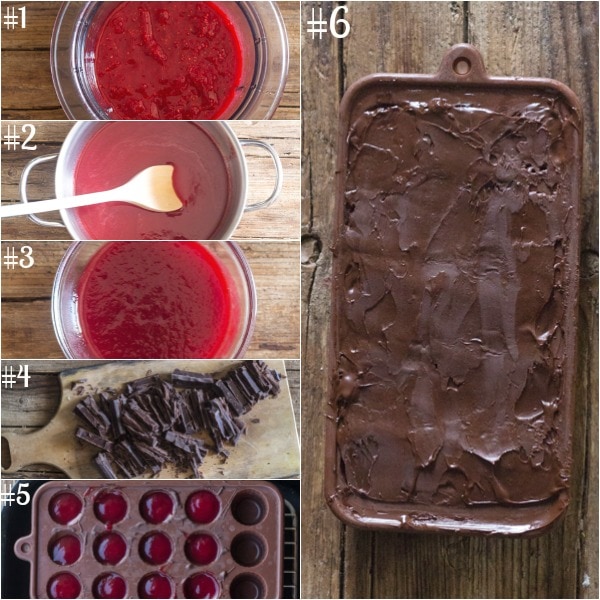 Italy is still taking it's sweet time welcoming Fall. Of course I wouldn't know because at this moment and for the next little bit I am back in Toronto. Where cool weather has arrived!
Some helpful Tips for making Filled Chocolates
It's best to use a silicone mold for chocolates (make sure it is a deep mold), easy to remove them.
Use a very good quality of chocolate.
Make sure to temper your chocolate, a candy thermometer is a must.
Make sure ingredients, melted chocolate, raspberry filling is cooled before attempting to fill.
Do not over fill with the raspberry or strawberry filling, 3/4 full is enough.
Chill the filled chocolates before covering with melted chocolate.
And make sure the chocolates have set before attempting to remove them from the mold.
I also found the best fruit for the filling are strawberries or raspberries. Once cooked the colour deepens to the perfect red colour!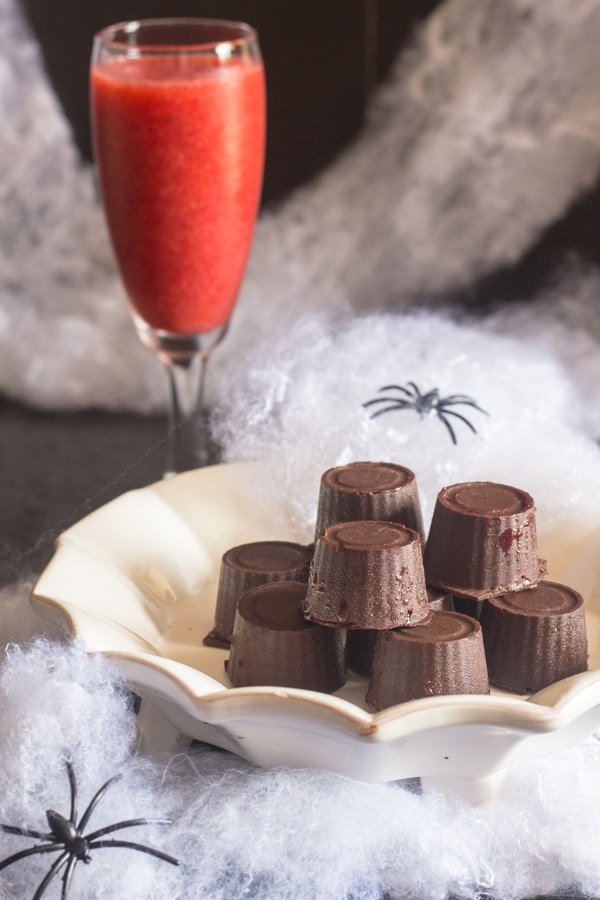 To make these Raspberry Filled Chocolates you will need
As an Amazon Associate I earn from qualifying purchases.
A Candy Thermometer to measure the chocolate. (affliate link)
Chocolate Silicon Mold easy to remove the chocolates.
Medium Pot for cooking the Raspberry or Strawberry Filling.
So if Halloween is your thing, or even a Dark Chocolate with a Natural Fruit Filled filling, then I hope you give these a try and let me know. Happy Early Halloween!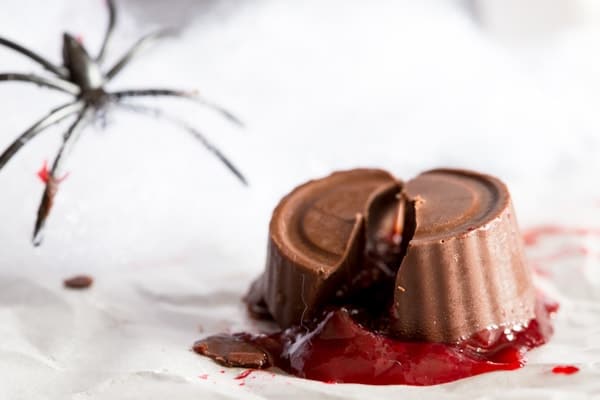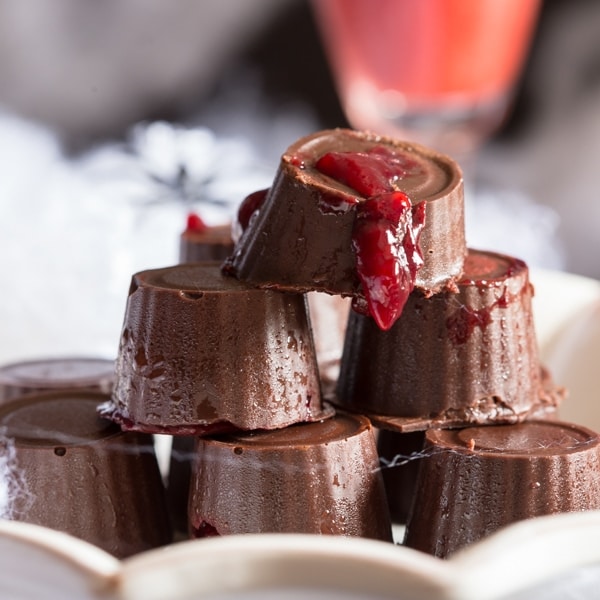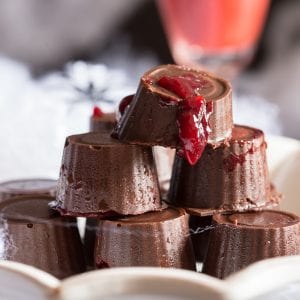 Dracula's Raspberry Chocolates
The perfect little treat for Halloween. Dracula's Raspberry Chocolates filled with a natural red, raspberry or strawberry filling.
Ingredients
RASPBERRY / STRAWBERRY FILLING
1 1/2

cups

fresh raspberries or strawberries

3

tablespoons

sugar

1/2

teaspoon

lemon juice
CHOCOLATE
7

ounces

dark chocolate

(good quality / chopped)
Instructions
RASPBERRY FILLING
Puree cleaned berries, then press through a sieve to remove the seeds. In a medium pot add the pureed fruit, sugar and lemon juice, stir to combine, bring to a boil over medium heat, once boiling, lower heat to low and continue to cook for 5 minutes, stirring frequently. Remove any foam that forms on top, continue to simmer until thickened approximately 2-3 minutes more (the mixture will be a deep red). Remove from heat and let cool completely (you may want to place it in a clean bowl so it will cool quicker).
CHOCOLATE
In a deep dish over a pot of boiling water (make sure the water does not touch the bottom of the dish). Add 1/2 the chopped chocolate heat until temperature reaches 122 F (50C), remove from heat and add the remaining chopped chocolate, stir continuously until temperature reaches 89F (32C).

Then coat the chocolate mold swirling it around (I used a pastry brush to fill in the empty spots). Tip the mold over to empty out the excess chocolate (I let it drain for approximately 5-10 minutes over a cookie rack), place the mold in the fridge for approximately 15 minutes.

Fill the molds with the cooled filling, fill only 3/4 way, do not fill to the top!  Place in the fridge for approximately 30 minutes.  Then top with remaining melted chocolate (if the chocolate is firm then heat until melted, but make sure to cool it down before topping the filling).  Refrigerate until firm, approximately 1 hour.  Pop the chocolates out of the mold once they are firm.  Enjoy.
Nutrition
Calories:
94
kcal
Carbohydrates:
9
g
Protein:
1
g
Fat:
5
g
Saturated Fat:
3
g
Sodium:
2
mg
Potassium:
112
mg
Fiber:
2
g
Sugar:
6
g
Vitamin A:
10
IU
Vitamin C:
3.2
mg
Calcium:
13
mg
Iron:
1.7
mg