Crunchy Parmesan Roasted Cauliflower,  fast and easy and roasted to perfection, with the perfect addition of bread crumbs and Parmesan.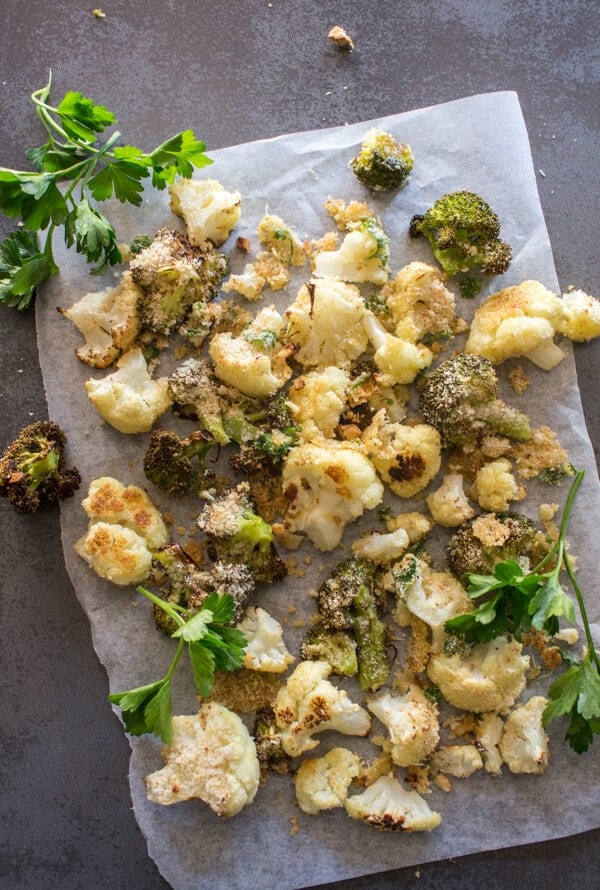 I discovered Roasted Cauliflower probably three or four years ago and to tell the truth I don't remember from where or from whom,  all I know is that since that time my husband and I love it so much it is basically one of the few ways that I make cauliflower or broccoli.
Although I have changed it up a bit since we first tried it. There is one thing that I am very and I mean very strict about, if a dish is to be served warm or hot, I have to eat it warm or hot. I cannot stand room temperature pasta!
In Italy there are still some people who come home for lunch, because some stores and businesses (it used to be all stores and businesses) close at 1:00 pm and re-open at 4:30 – 5:00 pm.
Eh! We need time to enjoy that amazing Italian cooking and to digest our food! Some things need to be taken calmly and I believe eating is one of them.
My husband is one of the lucky ones who can come home every day for lunch. Although  he on the other hand does not mind food that should be hot or has become room temperature or even, heaven forbid, cold.
It must be an Italian thing, he is quite adamant about the fact that pasta which becomes room temperature then is re-heated is worse than cold pasta because when it is warmed up it becomes over-cooked and mushy. Italians!
As in all things there is always an exception to the rule and yes my exception is Roasted Cauliflower. If and I say if there are any left-overs I cannot always guarantee that they will reach the table before finding their way into my mouth even directly out of the fridge.
These bite size bits are perfect for popping in your mouth, as they say in Italian " uno tira l' altro" (you can't stop at one). Perfectly crunchy and with that amazing coating of olive oil, garlic and then a topping of parmesan cheese and bread crumbs and who can forget that little bit of salt.
If you have never tried these Roasted Cauliflower now is the perfect time. Buon Appetito!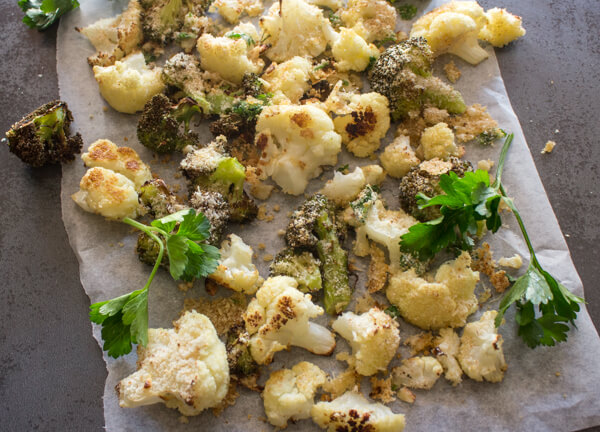 Crusty Parmesan Roasted cauliflower
Crusty Parmesan Roasted Cauliflower, a yummy , tasty blend of roasted cauliflower topped with parmesan cheese, breadcrumbs and spices.
Ingredients
1

cups

large head of cauliflower or broccoli (or 1/2 and 1/2)

separated into florets ( approximately 6 )

1/4

cup

olive oil

60 grams

1/2

teaspoon

salt

2 grams

2

cloves

garlic chopped

1/2

cup

freshly grated parmesan cheese

50 grams

1

teaspoon

dried parsley

3/4 gram

1/4

cup

bread crumbs

40 grams
Instructions
Pre-heat oven to 400° (200 ° celsius)

Lightly grease a large baking dish.

In a large bowl toss together cauliflower, olive oil, salt and garlic, then place in baking dish and bake for approximately 25 minutes (stir after 15 minutes and continue to bake).

In a small bowl mix together parmesan cheese, breadcrumbs and parsley. Remove cauliflower from oven top with parmesan cheese mixture and broil for 3 - 5 minutes. Serve immediately. Enjoy!
Nutrition