Looking back on 2014 I can say I passed some good, some really good, some not so good and some sad times. I lost a wonderful and beautiful cousin to a really ugly disease. She is truly missed by a lot of people, me included.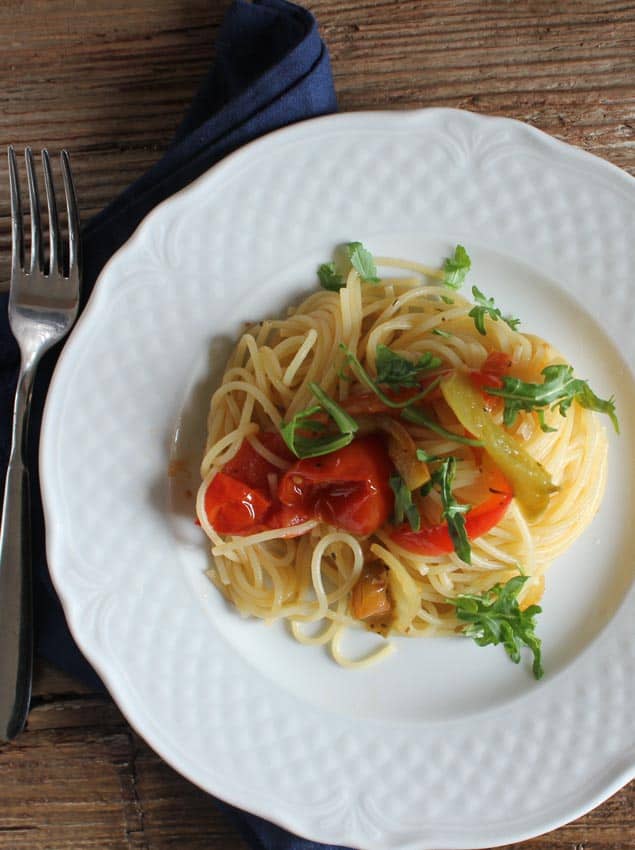 I also look back at my 20 + years in Italy and as my sister says I have been in Italy almost as long as I was in Canada. And that my friends I find so hard to believe. It seems like yesterday when I had just arrived in Il Bel Paese, so full of excitement and hope for my new adventure. Only to be struck with "Oh my God, how am I going to do this?" I missed everyone and everything so much. I missed my Mom, my sisters, my friends, my family, Canadian coffee, muffins, the Leafs ("go Leafs go") and hearing the English language. Remember there was no internet. That darn postman would take ages to deliver a long-awaited letter from home.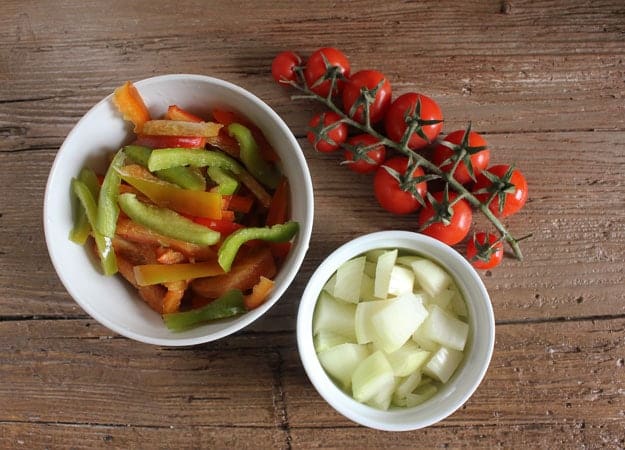 Thanks to the wonders of technology I found about a year ago an amazing group of people, who like me, left Canada to come to Italy for one reason or another. Most of us followed our heart, or like my husband says, my heart brought me here and my stomach keeps me here! He may be right!
I never really interacted very much with this group until about a few months ago. Before I knew it we were planning a lunch get together in Rome. So I thank these wonderful Canadians who are making life in Italy a little easier.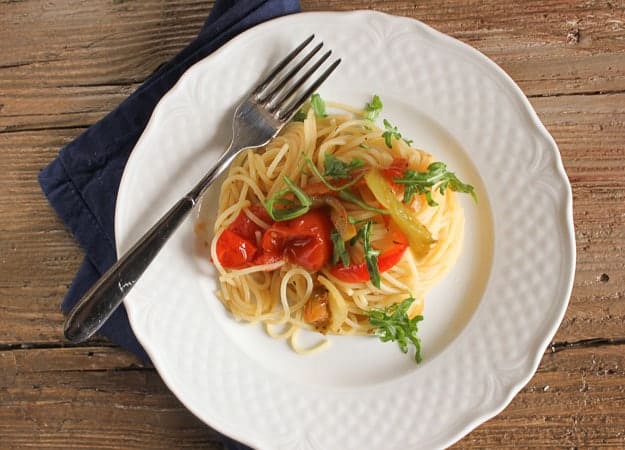 Thanks to all you amazing readers who helped make 2014 and An Italian in my kitchen a delicious achievement. I hope all the best in 2015 for all. Buon Appetito!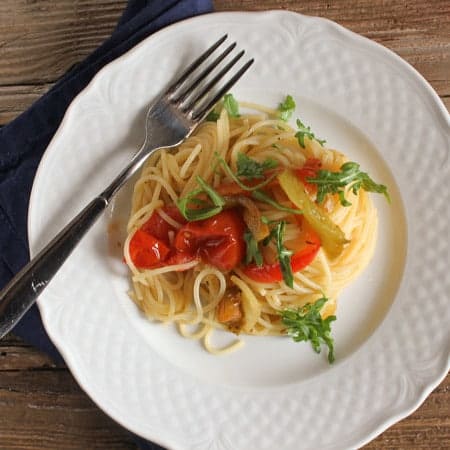 Sautéed Vegetables and Spaghetti
Sautéed Vegetables and Spaghetti, when healthy meets delicious. An amazing combination of tastes all on one plate.
Ingredients
1

onion

chopped

1

pepper

(sliced thin)

1/4

cup

olive oil

56 grams

6-7

cherry tomatoes

or small roma

1

cloves

or 2 of garlic chopped

a pinch or two of hot pepper flakes

1/2

teaspoon

salt

2 1/2 grams

1/2

teaspoon

oregano

1/2 gram

1/2

teaspoon

basil

1/2 gram

in

small handful of arugula

tear pieces

2 1/2-3

cups

cooked spaghetti

375-450 grams
Instructions
In a medium to large frying pan (high-sided works best) add olive oil, garlic and onion cook on medium till onion is transparent, add peppers and salt and continue cooking till tender add tomatoes,oregano, basil and hot pepper flakes cook 3-5 minutes, toss with 2 1/2 - 3 cups cooked spaghetti, top with arugula. Serve immediately, Enjoy!
Nutrition
Calories:
264
kcal
Carbohydrates:
28
g
Protein:
5
g
Fat:
14
g
Saturated Fat:
2
g
Sodium:
294
mg
Potassium:
94
mg
Fiber:
1
g
Sugar:
1
g
Vitamin A:
125
IU
Vitamin C:
6.6
mg
Calcium:
13
mg
Iron:
1.5
mg