Brown Sugar Pinwheel Cookies, a crunchy deliciously sweet fast and easy cookie. The perfect dessert or snack treat.
Brown Sugar Cookies
Who doesn't love cookies? As a kid I can remember absolutely loving cookies, but not homemade cookies, store-bought. I loved going to my friend's house and eating Fudgee o and Pirate Peanut Butter Cookies.
I used to think she was the luckiest person because her Mom bought cookies! I think it was the time of the 70's when bought was always better than homemade.Thank goodness now we know better and there is nothing like homemade.
Sorry Mom I really, really do appreciate your amazing Peanut Butter Cookies, not to mention those amazing Whipped Shortbread,  and of course I can't leave out these tasty Brown Sugar Pinwheel Cookies.
I can still remember my Mom making these. They are so easy, whip up the dough which is almost a biscuit type dough.
Spread on the softened butter, sprinkle with a really good amount of brown sugar, roll it up, slice it up, bake until golden and there you have a simple but delicious crunchy, I-can't-stop-eating-these-Brown-Sugar-Pinwheel-Cookies. Enjoy!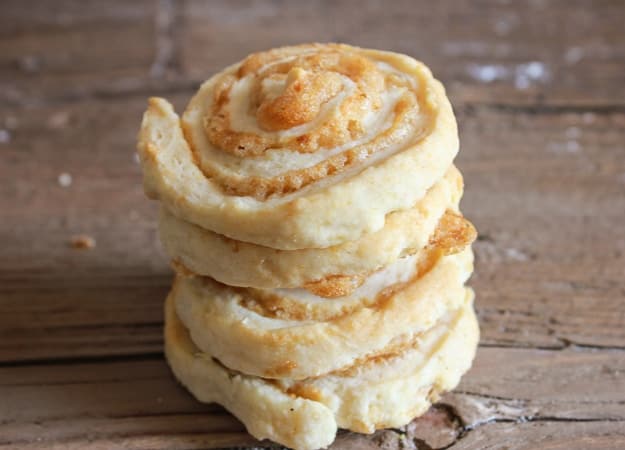 Brown Sugar Pinwheel Cookies
Brown Sugar Pinwheel Cookies, a delicious fast and easy pastry dough cookie recipe,with a yummy butter and brown sugar filling.
Ingredients
2

cups

flour

250 grams

1

tablespoon

baking powder

12 grams

1

teaspoon

salt

5 1/2 grams

1/4

cup

butter softened

60 grams

3/4

cup

milk

185 grams

TOPPING

1

cup

brown sugar

200 grams

1/3

cup

butter softened

83 grams
Instructions
Pre- heat oven to 350 degrees (180 degrees). Line a cookie sheet with parchment paper.

In a large bowl with a whisk mix flour, baking powder and salt, with a pastry blender cut in butter until it resembles coarse crumbs, add milk and with a fork mix till mixture becomes a soft dough turn onto a lightly floured surface and knead just until dough is thoroughly combined.

Roll dough out to 1/8 inch thickness.

Spread with butter and sprinkle with brown sugar, pat down lightly. Starting with long end roll up tightly into a log, cut into approximately 1/4 or less inch slices. Place on prepared cookie sheets and bake for approximately 15 minutes or until golden. Enjoy!
Nutrition
Calories:
140
kcal
Carbohydrates:
21
g
Protein:
1
g
Fat:
5
g
Saturated Fat:
3
g
Cholesterol:
15
mg
Sodium:
171
mg
Potassium:
100
mg
Sugar:
11
g
Vitamin A:
180
IU
Calcium:
49
mg
Iron:
0.7
mg