Dark Chocolate Almond Granola Bars, the perfect good for you breakfast bars. Fast and easy full of nuts and chocolate chips.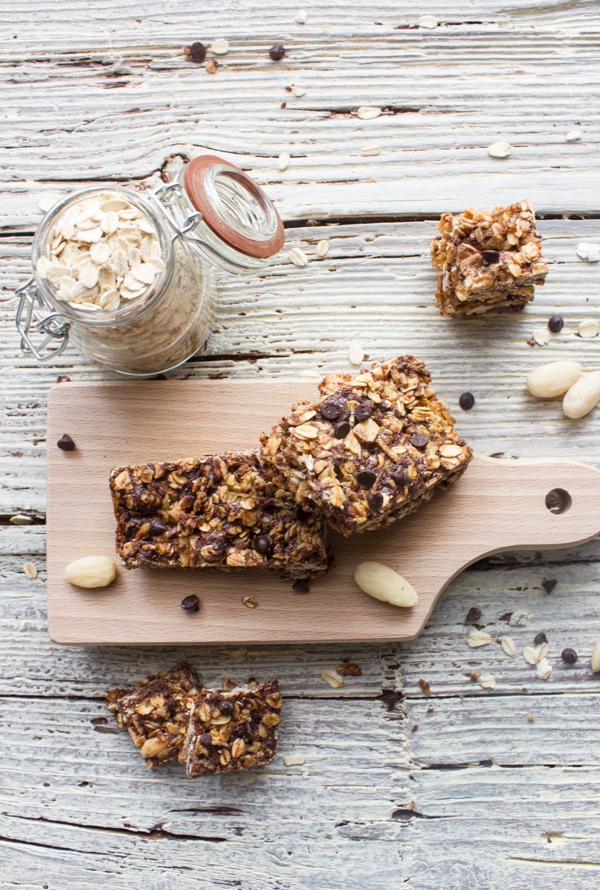 Why Granola Bars you ask? To tell the truth I like Granola Bars, my eldest daughter loved them and we would always have them in the house. But since she moved back to Toronto, I haven't seen much of them.
So when The April Food of the month came up for our Tasty Creations, and it was Dark Chocolate, I decided I would make some Homemade Dark Chocolate Almond Granola Bars in honour of my eldest much-missed-around-here and much-loved daughter.
I know she can't eat them but I figured the next best thing would be to give her the recipe and she can make them herself. Haha, she will like that! Because believe me my dear they are really easy!
Oats in Italy are quite large so I decided to use my trusty food processor and break them up a bit with the almonds and all bran cereal. Worked perfectly.
Mix it all together with a few ingredients including honey and dark chocolate chips, and then bake for 20 minutes. My daughter loves eating healthy and I have to agree
Granola bars are a delicious way to eat healthy especially these Easy Homemade Dark Chocolate Almond Granola Bars. Enjoy!
Dark Chocolate Almond Granola Bars
Dark Chocolate Almond Granola Bars, an easy healthy Homemade Granola Bar recipe, oatmeal and bran make these a good for you snack.
Follow me on Youtube!
Watch the videos and don't forget to subscribe on Youtube!
Ingredients
2

cups

oats

1/2

cup

whole almonds

1/2

cup

all bran cereal

3

tablespoons

butter

2/3

cup

honey

1/4

cup

brown sugar

1

teaspoon

vanilla

pinch of salt

3/4

cup

mini dark chocolate chips
Instructions
Pre-heat oven to 350°. Line a 9 inch pan with parchment paper (the pan can be bigger or smaller depending on how thick you want your bars).

In the bowl of your food processor add oats, almonds and all bran, pulse until almonds are in smaller pieces (you do not want powder).

In a small pot add butter, honey, brown sugar, vanilla and salt, bring to a boil, cook and stir for a minute, let cool for a couple of minutes. Pour over dry ingredients, stir well, add chips, (chips may melt so I sprinkled a few on top before baking). Add to prepared pan. Bake for approximately 20-25 minutes. Let cool, cut into pieces. Refrigerate in an air tight container. Enjoy!
Nutrition