Italian Homemade Gianduiotto Chocolates are the creamiest and easiest Holiday Chocolates you will make this season. Fast and only 3 ingredients, they make the perfect Christmas gift.

I know Halloween was yesterday and I'm sharing a chocolate recipe today. But the holidays are just around the corner and all things chocolate and cookies are coming!
Whenever I see Gianduiotto Chocolates I naturally think of Christmas. One of the most famous Italian Chocolates.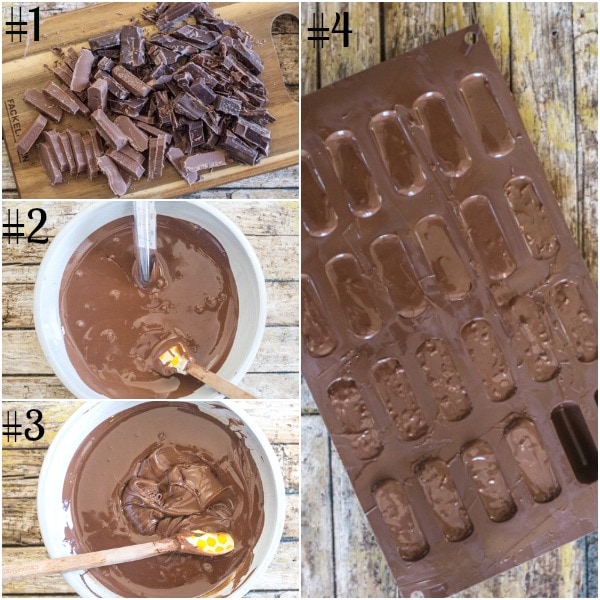 Where did Gianduiotto originate?
These individually gold tin foil wrapped chocolates, in their upside down boat shape, originated in Northern Italy in Piedmont.
The first real chocolate was invented in Turin by a chocolate maker by the name of Paul Caffarel. The chocolate dough was made up of cocoa, water, sugar and vanilla.
Twenty years later Michele Prochet decided to combine Paul Caffarel's chocolate paste with a hazelnut cream he produced.
In 1865, the new recipe was perfected and presented for the public to consume. He chose the Piedmont Carnival and a person dressed in the famous Gianduja Mask to throw the chocolates to the crowd during a parade.
These creamy chocolates were named Gianduja which then became the famous Gianduiotti. Loved then and loved now.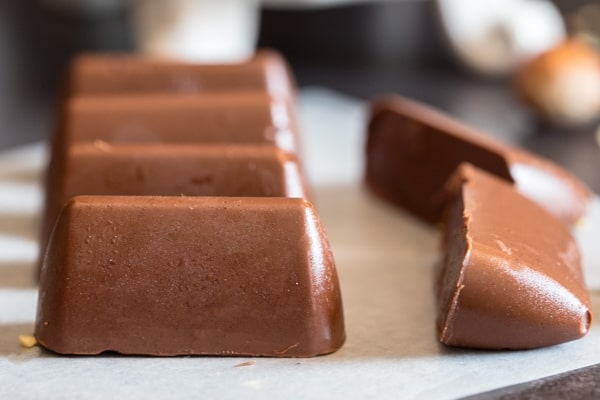 How to Make Homemade Gianduiotti
This post may contain affiliate links. Please read my disclosure policy.
Melt the a portion of the milk chocolate and dark chocolate together until they reach the temperature of 122F (50C).
Then pour over the remaining chocolate and stir until the temperature is reduced to 90F (32C).
Then add the Hazelnut Cream (Nutella) and combine well.
Pour into the Gianduiotti forms.
Leave for a couple of hours until firm.
If you love hazelnuts as much as we do, in half of the chocolate/Nutella mixture I added 2-3 tablespoons of ground hazelnuts.
More Delicious Chocolate Recipes
Gianduiotto Chocolates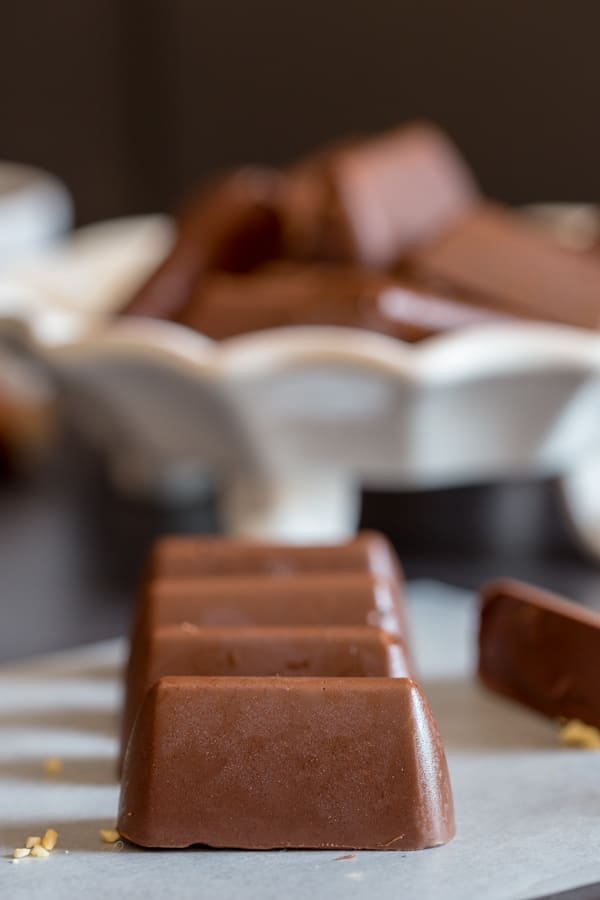 How to Store Homemade Chocolates
Chocolates should always be wrapped individually and then stored in an air tight container, place in a cool dry area. As long as they are wrapped well and in an air tight container, you can store them in the fridge.
They should last 2-3 weeks in the fridge.
Chocolates can be frozen, also in an air tight container. Just remember to thaw in the refrigerator. They can be frozen for up to 18 months.
I always find the best chocolate to use for homemade chocolates is a very good quality solid chocolate bar, rather than a generic store brand.
Believe me you will be able to taste the difference, nothing like a creamy melt in your mouth Gianduiotti this Holiday Season. Enjoy!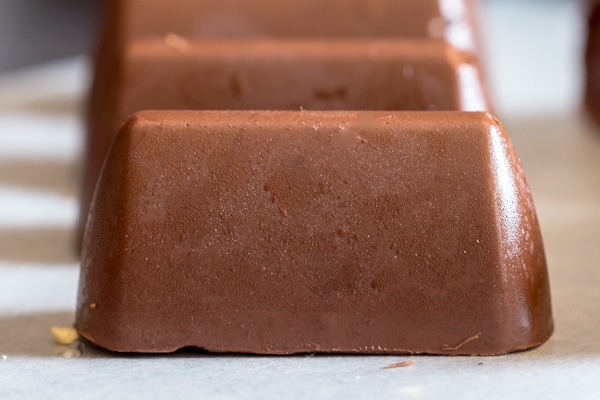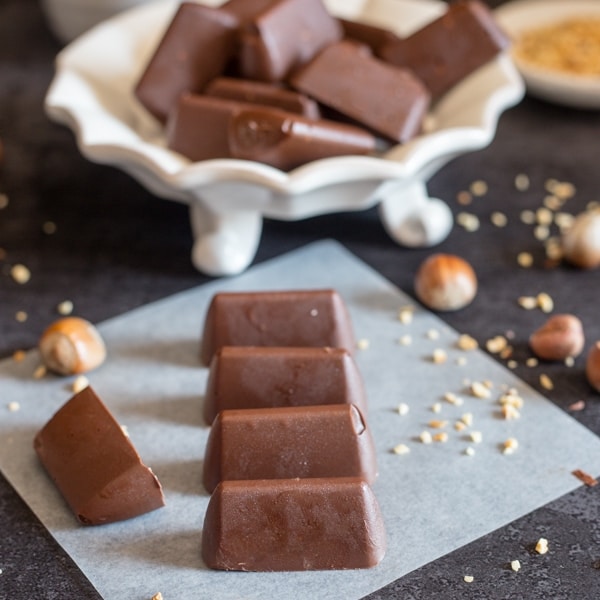 Homemade Gianduiotto Chocolate
Italian Homemade Gianduiotto Chocolates are the creamiest & easiest Holiday Chocolates you will make this season. Only 3 ingredients.
Ingredients
3 1/2

ounces

milk chocolate / divided

(good quality / chopped)

5 1/4

ounces

dark chocolate / divided

(good quality / chopped)

1/4

cup

+ 1 tablespoon Hazelnut Cream Spread (Nutella)

2-3

tablespoons

ground hazelnuts

(if desired)
Instructions
In a small bowl add 2 ounces (75 grams) of milk chocolate and 3 1/4 ounces (100 grams) of dark chocolate, place over a pot of boiling water (make sure the water does not touch the bottom of the bowl with the chocolate). The remaining chocolate place in another bowl.

Place and candy thermometer in the bowl and allow the chocolate to reach 122F (50C), then remove from heat and stir to combine add the melted chocolate to the remaining chocolate, place the candy thermometer in the bowl and continually stirring the chocolate until the temperature reduces to 90F (32C).

Then add the Nutella and stir with a spatula until smooth and completely combined**. Pour into the Gianduiotto chocolate mold, cover with foil and let the chocolates firm up either in the fridge or room temperature (if your house isn't too hot). Pop out of mold and serve. Enjoy.
**At this point I divided the mixture into two and one part I added the ground hazelnuts.
Nutrition
Calories:
90
kcal
Carbohydrates:
8
g
Protein:
1
g
Fat:
6
g
Saturated Fat:
3
g
Sodium:
3
mg
Potassium:
75
mg
Fiber:
1
g
Sugar:
5
g
Vitamin A:
5
IU
Vitamin C:
0.1
mg
Calcium:
12
mg
Iron:
1.2
mg
.