Old Fashioned Chocolate Fudge, this is the best, creamiest chocolate fudge, made the old fashioned way.  The perfect holiday candy.
Old Fashioned Chocolate Fudge
Old Fashioned Chocolate Fudge is everything a homemade fudge should be, so get your candy thermometer ready.
Be sure to watch the Video!
I have been searching and searching for the chocolate fudge that I had tasted when I was about 8 or 10 years old, if you can believe that!  It figures my biggest memory was food.
This fudge melted in your mouth and was just a little bit crumbly.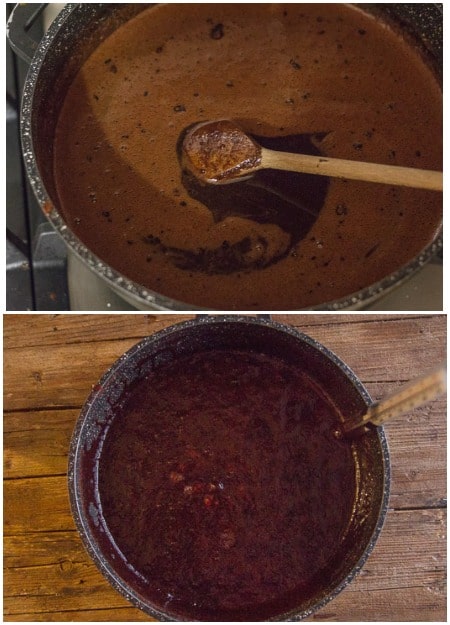 I can remember going to the Christmas Bazaar at the Church on Saturday afternoon with a couple of my school friends.
I bought my dime bag of chocolate fudge and I still remember thinking "this is the best thing I have ever eaten".
And when we went back to get another bag, the lady was sold out.  A sad day for me.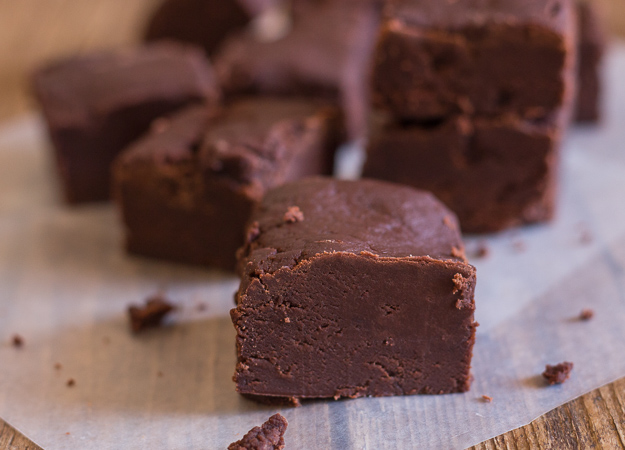 Another childhood memory I have was a Saturday evening with my sisters and one of my sister's decided to make fudge. 
Can you imagine how thrilled I was thinking I was finally going to taste that incredible melt in your mouth creamy crumbly fudge once again!
Old Fashioned Chocolate Fudge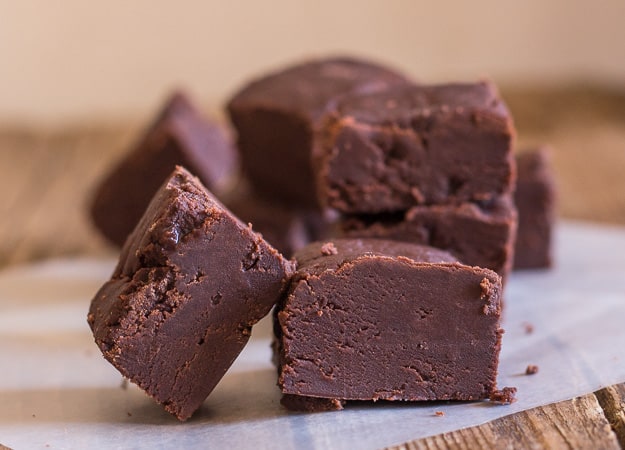 Alas it didn't happen, we or should I say they were too hungry to wait and devoured it even before the stirring was finished! Sisters.
More Chocolate Candy Recipes you may enjoy!
Homemade Creamy Nutella Liqueur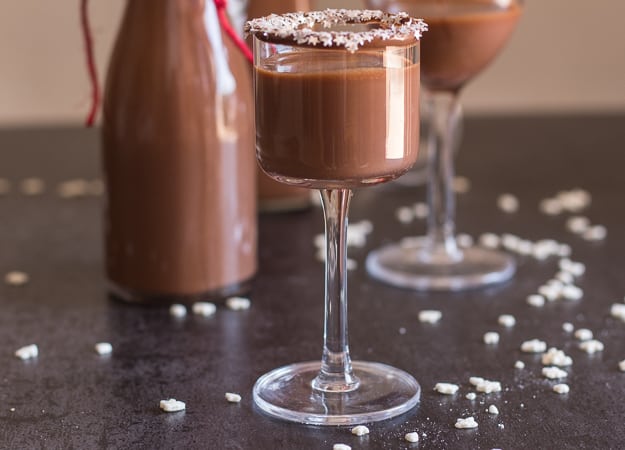 Homemade Chocolate Mint Filled Chocolates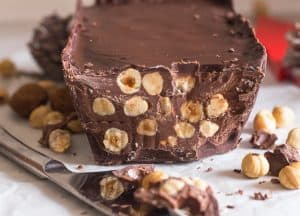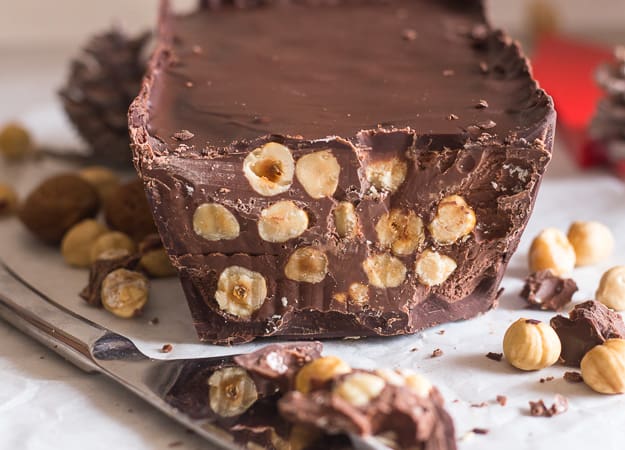 Easy Homemade Filled Chocolates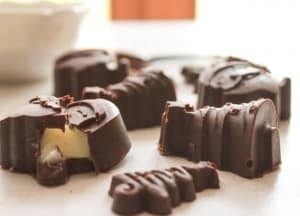 Creamy Old Fashioned Caramel Candies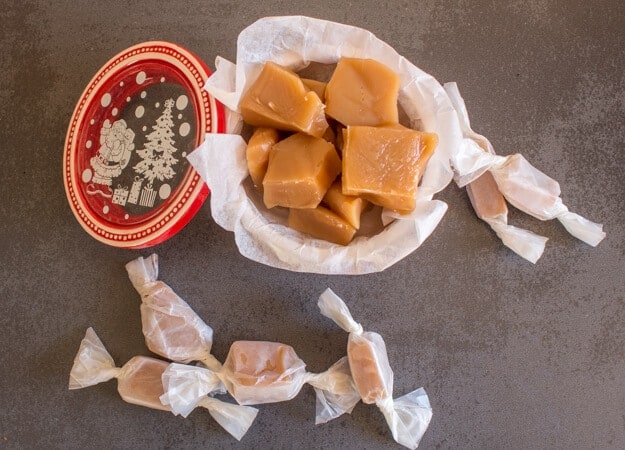 I think in my quest for "the One"  I tasted fudge from any and all chocolate stores.  And unfortunately they were all the creamy types just like my Double Chocolate Peanut Butter Fudge.
I wanted that crumbly melt in your mouth fudge!
Fast forward to a few weeks ago and I decided I would google until I discovered my Chocolate Fudge.  And discover I did, thanks to Hershey's, apparently it is their Recipe that gives you that divine fudge.  
A couple of important tips to make this the best Fudge.
 Line your pan with parchment paper.
 Use a wooden spoon and not a whisk or metal spoon.  Apparently it is easier on the fudge.
 Once the fudge boils, stop stirring and continue to cook on low heat so you don't burn the fudge.
 Make sure your candy thermometer isn't touching the bottom of the pot because you want the most accurate reading.
 Stir only until the mixture starts to lose it's gloss.
 Be patient when making this fudge and enjoy every bite!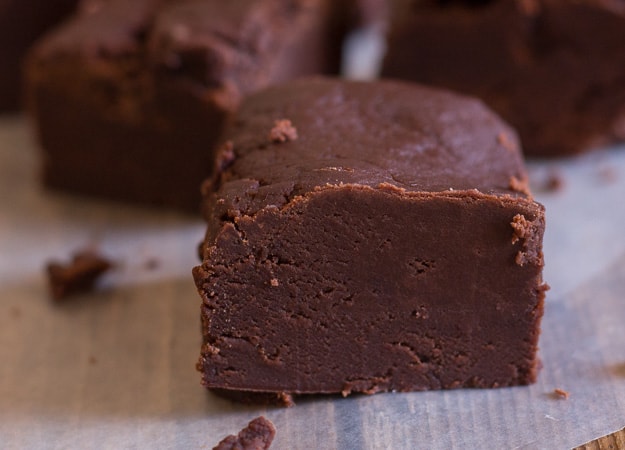 How to Store Homemade Chocolate Fudge.
Wrap the cut pieces in parchment paper and store in an airtight container or sealable plastic bag. Fudged stored at room temperature can last from 7 – 14 days.
Fudge can also be stored in the refrigerator wrapped and in an airtight container.  In the fridge fudge will last 2 – 3 weeks.
If you decide to freeze your fudge, make sure to wrap it up and place it in an airtight freezer safe container,  stored in the freezer it can last up to 3 months.
Old Fashioned Chocolate Fudge
Old Fashioned Chocolate Fudge, creamy and slightly crumbly this melt in your mouth homemade fudge is the best.
Total Time
1
hour
15
minutes
Ingredients
3

cups

granulated sugar

2/3

cup

cocoa

(unsweetened good quality)

1/8

teaspoon

salt

1 1/2

cups

whole milk

1/4

cup

butter

1

teaspoon

vanilla
Instructions
Line an 8 inch square pan with buttered parchment paper.

In a medium heavy saucepan stir together sugar, cocoa and salt, then add the milk and stir with a wooden spoon (not a whisk or metal spoon).

Cook over medium heat stirring continuously until mixture starts to boil (a strong boil), approximately 15 minutes.

Turn heat to low and continue to cook without stirring until temperature reaches 234 °F. Approximately 30 minutes.

Remove pot from heat, add the butter and vanilla. Do not stir. Cool to room temperature (110°F), approximately 30 minutes. Then beat with a wooden spoon just until mixture begins to lose some of it's gloss (approximately 6-8 minutes).

Then spread quickly in prepared cake pan and let cool completely, even overnight (at room temperature). Cut into squares. Store in an airtight container at room temperature.

You can also freeze the fudge in a double bag, well wrapped. Freeze either in pieces or the whole slab. Can be frozen up to 3 months. Keeps in an airtight container for approximately 2 weeks or in the fridge for 3-4 weeks. Enjoy!
Nutrition
Calories:
154
kcal
|
Carbohydrates:
32
g
|
Protein:
1
g
|
Fat:
3
g
|
Saturated Fat:
2
g
|
Cholesterol:
7
mg
|
Sodium:
43
mg
|
Potassium:
67
mg
|
Sugar:
30
g
|
Vitamin A:
2
%
|
Calcium:
2.5
%
|
Iron:
2.3
%