Old Fashioned Chocolate Fudge, this is the best, creamiest chocolate fudge, made the old fashioned way. The perfect Homemade Chocolate Candy.
I have been a big Candy lover for a long time, especially anything Chocolate such as these Easy Homemade Filled Chocolates or these Italian Chocolate Kisses / Baci.
Old Fashioned Chocolate Fudge
Old Fashioned Chocolate Fudge is everything a homemade fudge should be, so get your candy thermometer ready.
I have been searching and searching for the chocolate fudge that I had tasted when I was about 8 or 10 years old, if you can believe that! This fudge melted in your mouth and was just a little bit crumbly.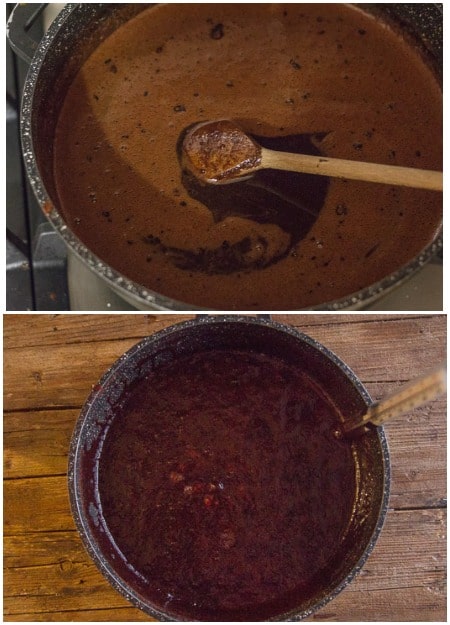 I can remember going to the Christmas Bazaar at the Church on Saturday afternoon with a couple of my school friends. I bought my dime bag of chocolate fudge and I still remember thinking "this is the best Fudge I have ever eaten".
And when we went back to get another bag, the lady was sold out. A sad day for me!
Old Fashioned Chocolate Fudge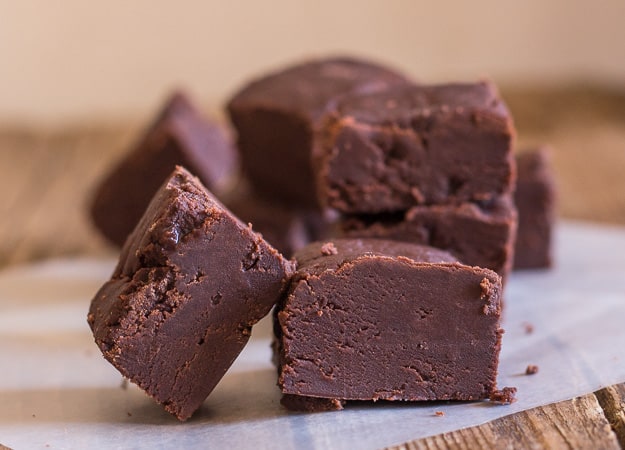 More Chocolate Candy Recipes:
I think in my quest for "the One"  I tasted fudge from any and all chocolate stores. And unfortunately they were all the creamy types just like my Double Chocolate Peanut Butter Fudge.
I wanted that crumbly melt in your mouth fudge!
Fast forward to a few weeks ago and I decided I would google until I discovered my Chocolate Fudge. And discover I did, thanks to Hershey's, apparently it is their Recipe that gives you that divine fudge.
How to make the best Fudge:
 Line your pan with parchment paper.
 Use a wooden spoon and not a whisk or metal spoon. Apparently it is easier on the fudge.
 Once the fudge boils, stop stirring and continue to cook on low heat so you don't burn the fudge.
 Make sure your candy thermometer isn't touching the bottom of the pot because you want the most accurate reading.
 Stir only until the mixture starts to lose it's gloss.
 Be patient when making this fudge and enjoy every bite!
Adjusting the Fudge Recipe for High Altitude:
To adjust the temperature to your altitude, deduct two degrees from the temperature required for every one thousand feet of altitude above sea level. For example, in this Fudge recipe, if you live 5,000 feet above sea level, you would deduct 10 degrees from 234 degrees.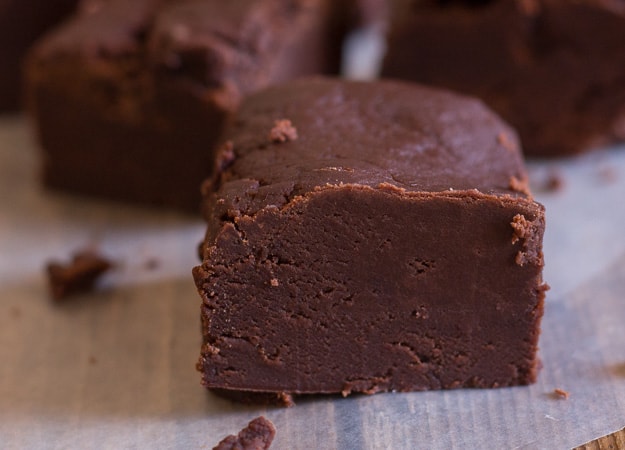 How to Store Homemade Chocolate Fudge:
Wrap the cut pieces in parchment paper and store in an airtight container or sealable plastic bag. Fudged stored at room temperature can last from 7 – 14 days.
Fudge can also be stored in the refrigerator wrapped and in an airtight container. In the fridge fudge will last 2 – 3 weeks.
If you decide to freeze your fudge, make sure to wrap it up and place it in an airtight freezer safe container,  stored in the freezer it can last up to 3 months.
What to make with fudge:
If by chance you have some leftover fudge or for some reason your fudge doesn't turn out, don't despair and certainly don't throw it out! Cut up some fudge add it to some hot milk and stir until smooth and there you have some amazing hot chocolate, maybe the best you have ever had?
Or melt some of the fudge, either in the microwave or over a pot of boiling water and drizzle it over some ice cream or as a ganache on a cake. Hot fudge sauce never tasted so good.
Can I add Nuts or Peanut Butter:
Yes you can add nuts or Peanut butter the best time to add these ingredients is when you add the butter and vanilla.
How to keep your fudge from being Gritty:
Make sure the sugar has dissolved.
It could be the fudge wasn't beaten long enough or hard enough.
Does the weather affect fudge?
Yes it does, on a humid day, once the candy has cooled it may start to absorb moisture from the air, so on a humid day the candy will end up being softer than it is suppose to be.

Therefore it is always better to make candy (fudge) on dry days. Although if you have no choice but to make candy on a humid day then cook it to the highest recommended temperature (which is 237-240F)

Cool weather also helps the candy cool faster that way it has a lesser chance to form the dreaded crystals. 
I hope you enjoy this Homemade Chocolate Fudge!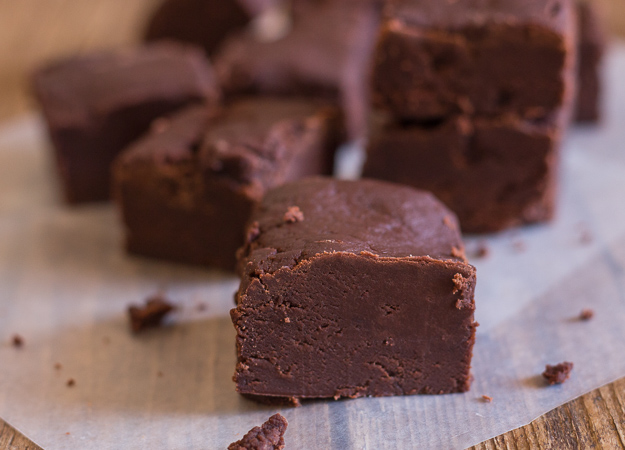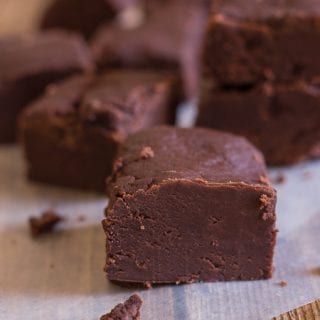 Old Fashioned Chocolate Fudge
Old Fashioned Chocolate Fudge, creamy and slightly crumbly this melt in your mouth homemade fudge is the best.
Ingredients
3

cups

granulated sugar

2/3

cup

cocoa (unsweetened dutch processed)

1/8

teaspoon

salt

1 1/2

cups

whole milk

1/4

cup

butter* (I use salted) (room temperature)

1

teaspoon

vanilla
*if you use unsalted butter then increase the salt to 1/4 teaspoon.
Instructions
Line an 8 inch square pan with buttered parchment paper.

In a medium heavy saucepan stir together sugar, cocoa and salt, then add the milk and stir with a wooden spoon (not a whisk or metal spoon).

Cook over medium heat stirring continuously until mixture starts to boil (a strong boil), approximately 15 minutes.

Turn heat to low medium and continue to cook without stirring until temperature reaches 234 °F (112C)  Approximately 30 minutes.

Remove pot from heat, add the butter and vanilla.  Do not stir.  Cool to room temperature (110°F/43C), approximately 30 minutes.  Then beat with a wooden spoon just until mixture begins to lose some of it's gloss (approximately 6-8 minutes).

Then spread quickly in prepared cake pan and let cool completely, even overnight (at room temperature). Cut into squares. Store in an airtight container at room temperature.

You can also freeze the fudge in a double bag, well wrapped. Freeze either in pieces or the whole slab. Can be frozen up to 3 months. Keeps in an airtight container for approximately 2 weeks or in the fridge for 3-4 weeks. Enjoy!
Notes
For High Altitude - to adjust the temperature to your altitude, deduct two degrees from the temperature required for every one thousand feet of altitude above sea level. For example, in the recipe that follows, if you live 5,000 feet above sea level, you would deduct 10 degrees from 234 degrees. https://www.chicagotribune.com/news/ct-xpm-1988-01-28-8803260034-story.html 
Helpful tips
"Rub the sides of the sauce pan you'll be using with butter. Apparently if one grain of uncooked sugar gets in with the sugar mixture, it will turn the cooked sugar back into grandular sugar, and make it grainy again. The butter will melt as the pan gets hot, causing the sugar to slide into the pan. I've used butter to rub the sides of my pan for years. Also never scrape the sides of your pan while cooking. This really works. The fudge comes out as a very smooth texture".  Rhonda
"Absolutely loved making this. I doubled the batch and the temp took a little over an hour to get there. Adjusting the temp to almost a medium on our ultra heat burner. Then I placed my pot by a cracked window to allow the cold air to help cool it down to 110. When it's only 9° out this helped! Added almond slices and coconut flakes". - Krista
"I use to always use this Hershey recipe, but it's has been years since I've made fudge. Tried a batch this weekend and it reminded me of how I used to fix the fails I've been reading about. If the fudge never sets or turns to concrete in a pan, do not despair. If too soft, heat it up again to temp (234 F for Hershey recipe – if too soft your thermometer was probably off). If it was too hard add a little milk as it melts, I cook just until melted. Remove from heat, add a pat of butter on top and let cool and beat as before. I used to call it my special twice cooked fudge recipe". Gustavo
Nutrition
Calories:
154
kcal
Carbohydrates:
32
g
Protein:
1
g
Fat:
3
g
Saturated Fat:
2
g
Cholesterol:
7
mg
Sodium:
43
mg
Potassium:
67
mg
Sugar:
30
g
Vitamin A:
100
IU
Calcium:
25
mg
Iron:
0.4
mg
Updated from November 18, 2017.