Italian Broccoli Rabe Pasta is a quick, easy good for you Italian Pasta Recipe.  Garlic, olive oil and a sprinkling of Parmesan Cheese make it perfect. The perfect weeknight Comfort Food Dinner.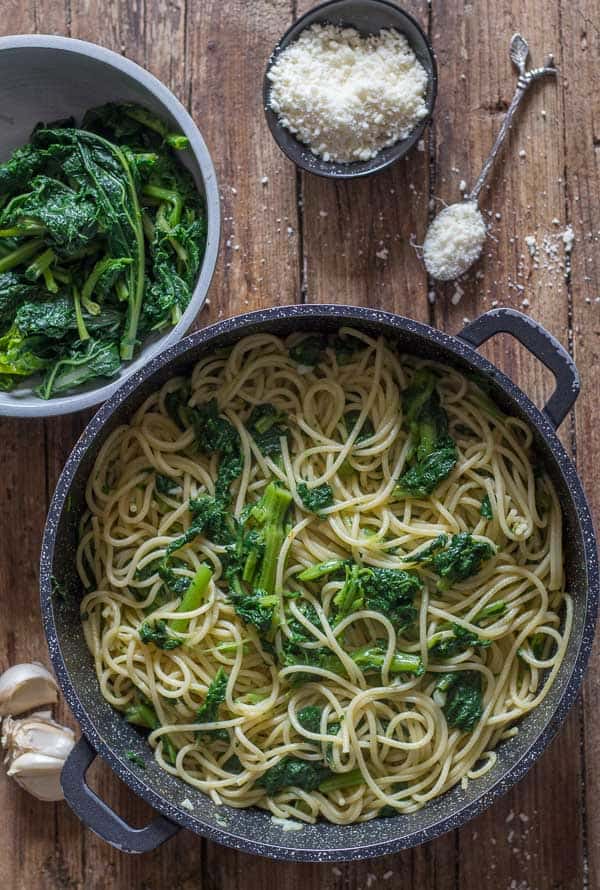 Italian Broccoli Rabe Pasta is my absolute favourite Pasta Dish and believe me I have eaten a few!
I love fall and I love my mother-in-law's vegetable garden!  Yesterday I was out helping her pick all the goodies that are now fall ready and this is one of the vegetables that I can't wait to pick.
It  is in my opinion one of the best!   In Italian it is called broccoletti in english it is referred to as broccoli rabe or rapini.
I love serving it as a sauteed vegetable, just like cicory .   Or even better, Italian Broccoli Rabe Pasta.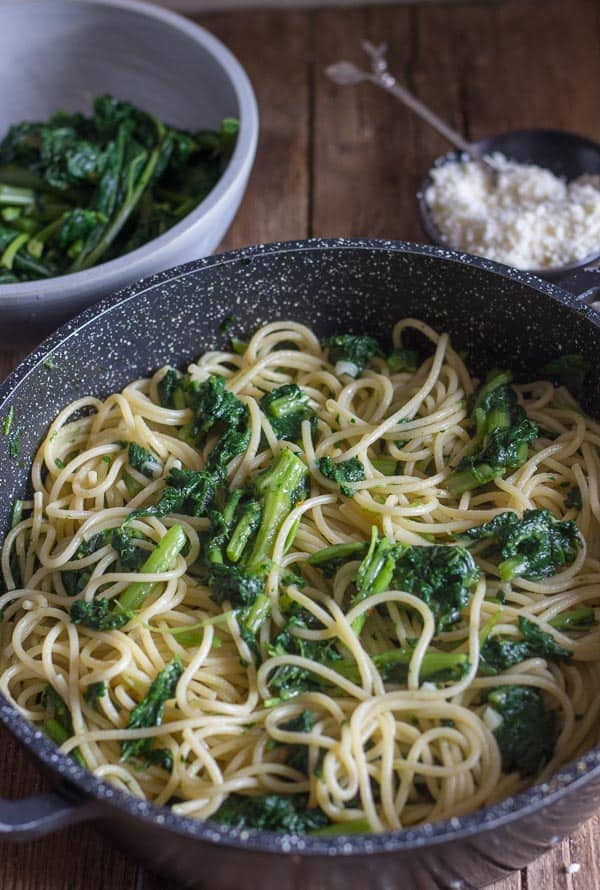 The first time my mother-in-law made this dish and I tasted it I loved it!   And I have not stopped making it myself,  not only because it is super easy to make, although that does help but it is so delicious.
Actually i think that sometimes  the faster pasta dishes are actually the best.   Either short or long pasta is good for this pasta dish, although it is probably best know made with Orecchiette.
Italian Broccoli Rabe Pasta
Personally I prefer spaghetti, I like wrapping pasta around my fork with some of that delicious tasty broccoletti that has been sautéed with olive oil, garlic and a sprinkling of salt and hot pepper flakes.
Not only is this dish  tasty  but it is also really good for you and you can add as much broccoletti as you like, and topped with a nice helping of freshly grated  parmesan cheese and dinner or lunch is served.  Buon Appetito!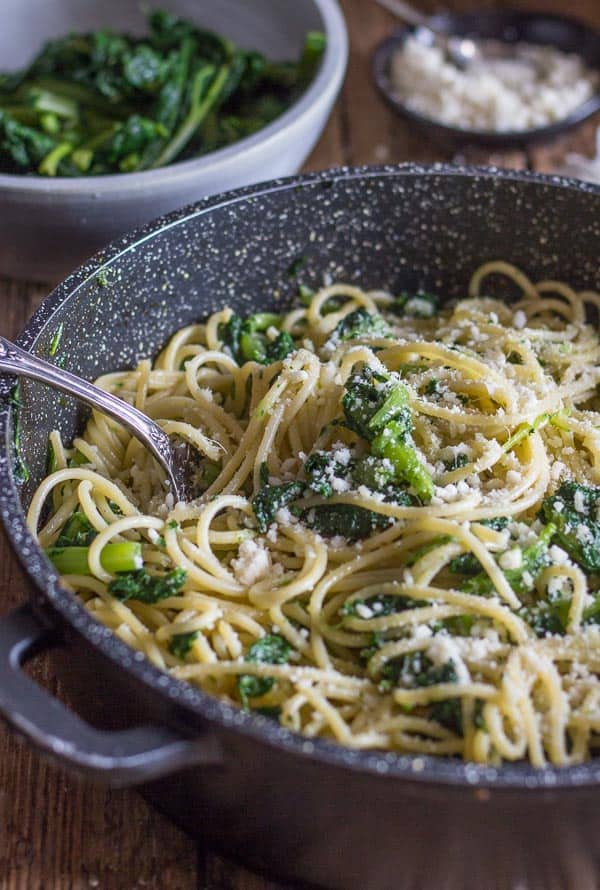 Pasta and Broccoletti (broccoli rabe)
Italian Broccoli Rabe Pasta is a quick, easy, healthy Italian Pasta Recipe. Garlic, olive oil and a sprinkling of Parmesan make it perfect.
Ingredients
2

cups

Broccoli Rabe

(steamed or boiled until tender)

1/3

cup

olive oil

2

cloves

garlic

(minced)

hot pepper flakes to taste

3 - 3 1/2

cups

cooked pasta

salt to taste
Instructions
In a large frying pan add oil, garlic, cooked broccoli rabe** , salt (start with a 1/4 teaspoon) and hot pepper flakes to taste, combine with two forks smash down a bit on the broccoli rabe, heat thoroughly on medium/high heat for about 2-3 minutes, turn off heat, then immediately add cooked pasta, a half ladle of pasta water and cook tossing pasta until liquid has evaporated. Serve immediately with freshly grated parmesan cheese.




In a large pot of boiling water cook broccoli rabe until tender, remove from pot and drain well, do not throw out the water, add salt and bring to a boil and cook pasta until al dente.

To clean broccoli rabe, leave the flower and a small part of the stem and a couple of leafs (the tender parts of the vegetable) , boil in unsalted water for approximately 10 minutes (you want it tender but not mushy, if the stem gives when pinched it is done)
Nutrition Facts
Pasta and Broccoletti (broccoli rabe)
Amount Per Serving
Calories 165
Calories from Fat 162
% Daily Value*
Total Fat 18g 28%
Sodium 7mg 0%
Potassium 39mg 1%
Total Carbohydrates 1g 0%
* Percent Daily Values are based on a 2000 calorie diet.
Reposted from January 20,2014.