Meringue Ghost Chocolate Sugar Cookies, are a combination of 3 delicious treats, a chocolate sugar cookie, and a meringue ghost sitting on a fluffy creamy frosting.
 Meringue Ghost Chocolate Sugar Cookies
I did a guest post where I shared these Meringue Ghost Chocolate Sugar Cookies over at an Awesome food blogger named Angie, on her blog Big Bear's Wife, check it out.
I have to say is Halloween has always been one of my favourite holidays, next to Christmas of course.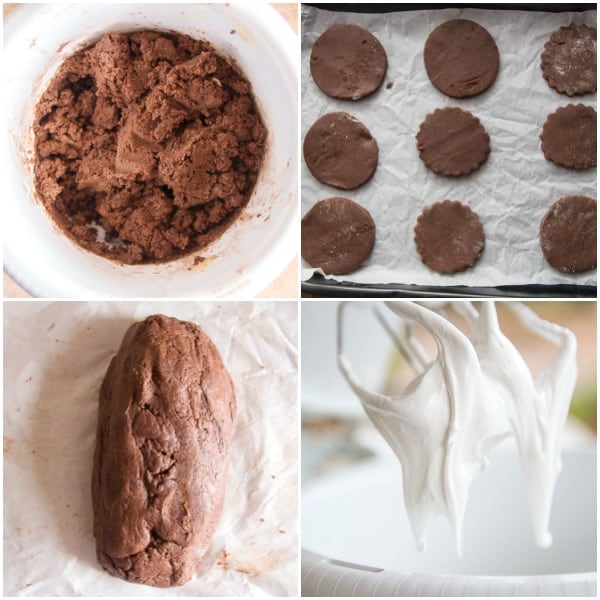 And since living in Italy I would always try to make Halloween a special event for my kids and my husband, since it was all so new to him too.
And even though my kids are older and my eldest has moved to Canada I still can't help myself from baking up something ghoulish. Although these Meringue Ghost Chocolate Sugar Cookies are probably more cute than ghoulish.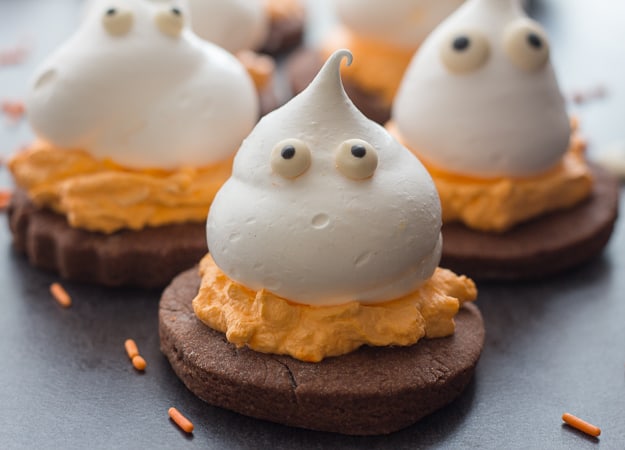 We love sugar cookies and recently I have been experimenting with meringue, so I thought why not combine the both? And needless to say a little whipped cream in the middle sounded good too!
The thought of a chocolate sugar cookie would be perfect and who can resist a cute little meringue ghost on top of some fluffy orange whipped cream?
These are quite easy to put make and put together, they just need some extra time.
So where ever you are this Halloween I hope you enjoy a cookie or two. Happy Halloween!
Meringue Ghost Chocolate Sugar Cookies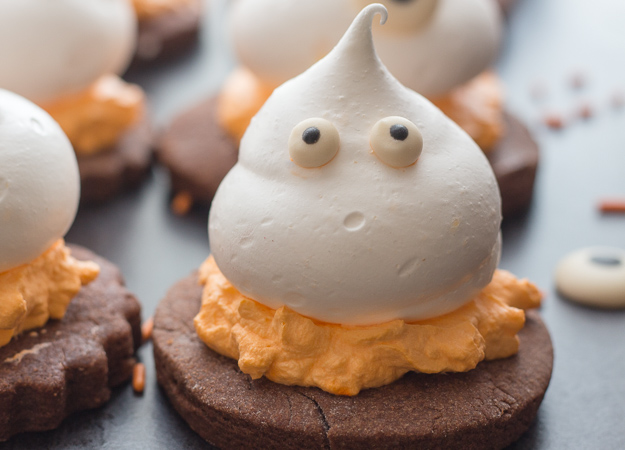 Meringue Ghosts Chocolate Sugar Cookies
Meringue Ghost Chocolate Sugar Cookies, a delicious 3 layer Halloween treat, chocolate sugar cookie, a creamy filling and a meringue ghost.
Ingredients
CHOCOLATE SUGAR COOKIES
1

cup

butter

(room temperature)

1/2

cup

brown sugar

1/2

cup

white sugar

1

large egg

1

teaspoon

vanilla

2

cups

all purpose flour

3/4

cup

unsweetened cocoa

(good quality)

1/4

teaspoon

salt
MERINGUE GHOST
2

egg whites

1 1/4

cups

+ 2 tablespoons powdered sugar

(do not add less sugar)
WHIPPED CREAM
1

cup

whipping or whole cream

1 1/2

tablespoons

mascarpone

(or cream cheese)

orange food coloring

Candy Eyeballs
Instructions
CHOCOLATE SUGAR COOKIES
In a medium bowl sift together flour, cocoa and salt. Set aside.

In a large bowl, cream together butter and both sugars for one minute, then add the egg and combine, add vanilla and beat together.

Add flour mixture and beat on low and then increase to medium and beat only to just combined. Remove to a large piece of parchment paper and gently bring the dough together, the dough will be soft. Then wrap the dough in the parchment paper and refrigerate it for 30 minutes.

Remove the dough from the fridge and roll it out, and cut out circles with medium sized round cutters, place on parchment paper lined cookie sheets and refrigerate for another 30 minutes.

Remove from the fridge and bake for approximately 10-12 minutes. Let cool completely before frosting.
MERINGUE GHOST
Pre-heat oven to 180° and line one or two cookie sheets with parchment paper

In a medium bowl with mixer at medium speed whip egg whites until they reach the stiff peak stage, then continue beating and add the sugar a tablespoon at a time and continue to beat on high for approximately 6-7 minutes until the mixture becomes and shiny and glossy and very stiff. Spoon mixture into a piping bag with a medium to large round open tip. Make round peaks in the shape of ghosts on prepared baking sheets.

Bake in pre-heated oven for approximately, (place the handle of a wooden spoon in the oven door to keep it open slightly making sure of no moisture buildup), 2 - 3 hours or until baked (when the ghosts come off the paper cleanly leaving no meringue behind, they are done). Once ghosts are baked, turn off oven, and let the ghosts cool down completely in the oven (leaving the handle in the door). Once ghosts are dry attach the eyes with a little bit of the whipped cream.
WHIPPED CREAM
In a medium bowl whip the cream and mascarpone until very thick stir in enough food coloring to reach desired shade.

Place a tablespoon of whipped cream on a each cookie and top with a meringue ghost. Enjoy!
Nutrition
Calories:
226
kcal
Carbohydrates:
22
g
Protein:
2
g
Fat:
14
g
Saturated Fat:
9
g
Cholesterol:
50
mg
Sodium:
125
mg
Potassium:
89
mg
Fiber:
1
g
Sugar:
10
g
Vitamin A:
485
IU
Vitamin C:
0.1
mg
Calcium:
24
mg
Iron:
1.1
mg
.