It's All About Pasta is my new ebook where I share more then 25 Pasta recipes. From Easy, to Creamy to Baked and a step by step for making Homemade Egg Pasta.

Ever since I arrived in Italy over 20 years ago I loved Pasta. Thanks to all the wonderful cooks, from friends to family. I learned to make the most amazing dishes.
Believe me there is more to Pasta than tomato sauce. I learned to make a lot of easy "20 minutes" and it's on the table Pasta Recipes, to the more complicated, Egg Pasta Recipes and of course everything in between.

Homemade Ravioli
I discovered that Italians never make a one pot Pasta dish. Unless of course you are making soup and you throw in a couple of handfuls of small pasta just before serving.
I learned how to make the Perfect Pasta
Be sure to use a large (very large) pot of water.
Bring the water to a strong boil.
Add salt, I usually use rock salt probably about 1 1/2 – 2 tablespoons.
Be sure to use a good quality pasta.
Add your pasta and continue to cook in the boiling water, stirring often.
Cook the pasta al dente, check the box for the ideal cooking time.
Taste the pasta to make sure it is done, it should have a light bite to it.
Remove the pasta with a sieve, never rinse pasta before adding to the sauce.
With most pasta recipes a little pasta water is added to the sauce when bringing the dish together.

Double Prosciutto and Fettuccine
And Because I think Pasta is a crucial part of Italian Cooking I decided that I would love to write and share more delicious Pasta Recipes. So I decided why not an Ebook?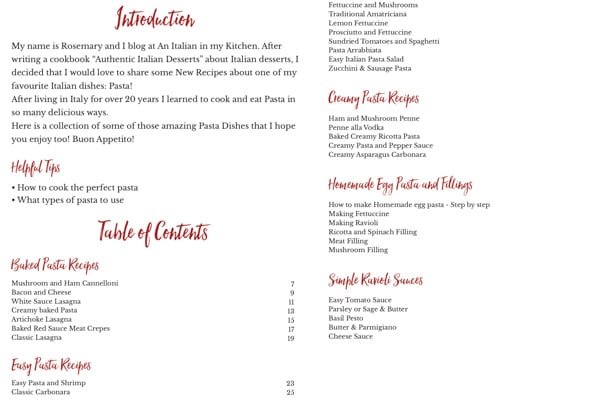 Priced at just $6.99 I hope you enjoy, my It's All About Pasta Ebook as much as I enjoyed making it.
Buon Appetito!

Penne Alla Vodka