Soft Homemade Pretzels, crunchy on the outside and soft inside, the perfect snack or anytime bread.
Can you believe I have never eaten  Soft Homemade Pretzels? Although I am one to buy a bag every now and again of those hard, crunchy pretzel sticks.
Last summer when I was visiting in Toronto, I was lucky enough to come across a bunch of hand written recipes by my Mom. One of those recipes was for Soft Homemade Pretzels. I am sure she never made them though.
Makes you wonder where and from who she got this recipe and why she never made them?I must give all the credit to my eldest daughter for convincing me to give these a go. All I can say is,  I am so glad she did.
Now I know why everyone goes crazy for soft pretzels. Little did I know, but with a little bit of searching, I also discovered that pretzels apparently were invented by an Italian Monk, as a reward to children for learning their prayers!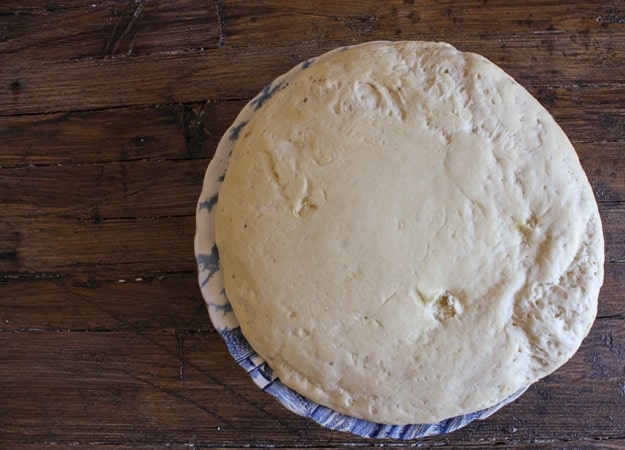 The dough for Soft Homemade Pretzels is so easy, as easy as pizza dough. Let it rest an hour or two or until it doubles in bulk.
I am not going to give you any tips on forming the perfect pretzel because mine were far from perfect (check out How to Twist a Pretzel-wiki how) all I can say is "easier said than done".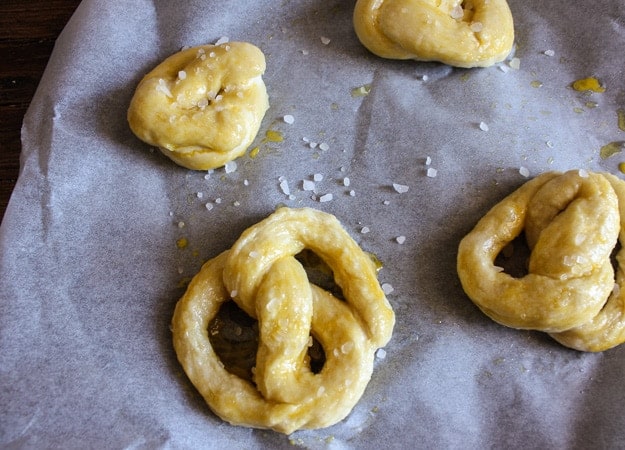 After I did the best job I could and they were boiled in the baking soda/water bath then brushed with egg and sprinkled with rock salt and baked.
I was impressed  some actually came out looking like pretzels while most of them looked like small pretzel buns. Tonight I made myself a turkey sandwich with a pretzel bun and I have to tell you it was pretty amazing.
The rest of the family found them pretty amazing considering there are only 3 left! Buon Appetito!
Soft Homemade Pretzels
Soft Homemade Pretzels
The best, crunchiest on the outside and perfectly soft on the inside, Soft Homemade Pretzels, never another store bought.
Ingredients
¾

cup

lukewarm water

368 grams

¼

teaspoon

granulated sugar

1

teaspoon

active dry yeast

7 grams

2¼

cups

flour

540 grams

½

teaspoon

salt

5.6 grams
PRETZEL BOIL
3

tablespoons

baking soda

4-5

cups

water
EXTRAS
1

large

egg beaten

½

tablespoon

coarse salt

1-2

tablespoons

butter melted
Instructions
In the bowl of the stand up mixer add the lukewarm water and sugar, mix together, sprinkle the yeast on top, let sit 5-10 minutes then mix together.

Add the oil, flour and salt to the yeast mixture and start to knead with the dough hook. Knead on speed #2 for approximately 4-5 minutes, until you have a firm smooth dough.

Move the dough to a lightly floured flat surface and knead into a smooth ball. Place the dough into a lightly oiled bowl turning the dough to oil the lightly oil the top. Cover the bowl with plastic wrap and place in a warm draft free area until doubled in bulk, about 1-2 hours.

Punch the dough down and cut into 5 pieces. On a lightly floured flat surface roll each piece into a 16-18 inch (50cm) long rope. Form into pretzels (see photos). Place on a parchment paper lined cookie sheet, cover with plastic wrap and let rise 30-45 minutes.

In a large pot add the water and baking soda, bring to a boil and boil the pretzels one or two at a time, turning once with a slotted spoon for about 45 seconds. Move the pretzels to the wire rack to dry then place on the parchment paper lined cookie sheet, brush with beaten egg and sprinkle with coarse salt.

Bake for approximately 15-20 minutes or until golden brown. Move immediately to a wire rack to cool or best eaten warm. Brush with melted butter before serving if desired. Enjoy!
Notes
If you wish you can make 3-4 pretzels and one or two of the ropes cut into bite size pieces, boil in the baking soda bath, then place on a parchment paper lined cookie sheet and bake in a 400F (200C) pre-heated oven for about 8-10 minutes, while still warmish brush with melted butter then roll in cinnamon sugar (1/4 cup granulated sugar and 1 tablespoon of ground cinnamon). 
Did You Make This Recipe?
Please leave a comment below or pin it to your Pinterest account!