I hope everyone had a wonderful Easter. Lots of chocolate bunnies for all. My husband brought home a bag of one of the best Italian chocolates that was given by one of our close friends,  so I must say I was happy. He also brought the last of our broccoli, I don't know if I should be happy or sad! So I decided to use it to make a new pasta recipe I got from another  friend, Spaghetti Broccoli Arugula and Pecorino.
To tell the truth I wasn't very enthusiastic about this pasta dish, I am not a great lover of Pecorino. I find it very strong and I really love my Parmesan Cheese. In my head I thought, "ok I'm going to substitute it with Parmesan",  but the Italian knows me too well. He read my mind and said "remember Pecorino not Parmesan". So I had no choice. Pecorino it was.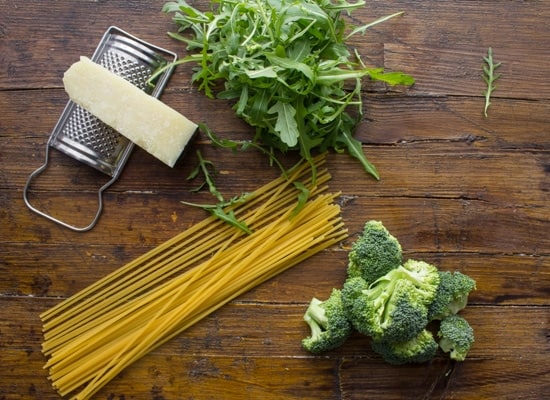 Well all I can say is he was right, unfortunately sometimes he is. Like many Italian Pasta dishes, this is fast and easy and tasty, and it all comes down to the combination of the perfect ingredients. And believe me this Spaghetti Broccoli Arugula and Pecorino is an amazing combination. I cooked the broccoli al dente then when the pasta was cooked I tossed it together with some garlic, hot pepper flakes, chopped Arugula and some freshly grated Pecorino, just before serving I topped it with a little more Arugula and Pecorino. Serve this dish with a nice glass of wine and there you have the perfect weeknight or weekend dinner.
Spaghetti Broccoli Arugula and Pecorino
So I think this pasta dish is the perfect end to this Broccoli season and soon we can look forward to all the amazing veggies that Spring and Summer have to offer along with the warmer weather! Buon Appetito!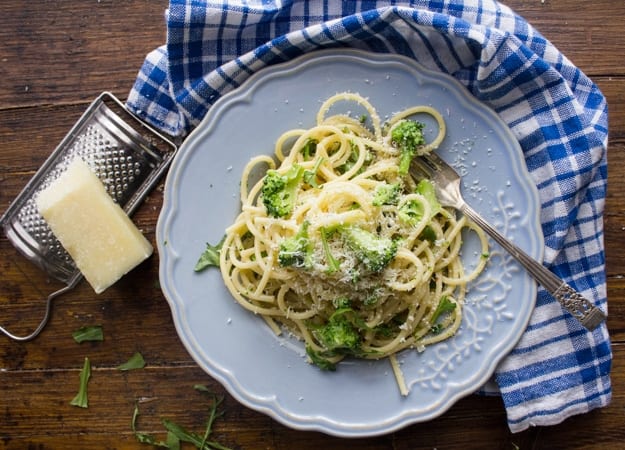 Spaghetti Broccoli Arugula and Pecorino
Spaghetti Broccoli Arugula and Pecorino, a delicious Italian Pasta recipe, fast, easy and healthy. A delicious combination.
Ingredients
1

small broccoli cut into florets

1/4

cup

olive oil

54 grams

1 - 2

cloves

chopped garlic

hot pepper flakes to taste

1/2

cup

chopped arugula (rocket / rucola)

rucola)

2-3

tablespoons

Pecorino

16-24 grams

salt to taste

3

cups

cooked spaghetti

420 grams
TOPPING
chopped fresh arugula

2

tablespoons

or 3 freshly grated Pecorino

16-24 grams
Instructions
In a large pot of salted boiling water cook broccoli al dente, then cook the spaghetti in the same water until al dent.

In a large pan add olive oil, garlic and hot pepper flakes sauté 1-2 minutes add broccoli, cooked pasta, 1/2 ladle pasta water, cook on medium heat, for approximately 2 minutes, toss with Pecorino and fresh arugula, sauté 30 -60 seconds, taste for salt (Pecorino can be salt, serve immediately sprinkle with more chopped arugula and Pecorino. Enjoy!
Nutrition