Struffoli Italian Honey Balls are very small crunchy dough balls mixed with honey and decorated. So delicious, the perfect Christmas or Easter Holiday dessert.
Struffoli
Struffoli Italian Honey Balls are the holiday addition in our house, crunchy and so tasty.
The first time I tried Struffoli was actually quite recently, when my daughter brought home a homemade one from her visit to her Neapolitan friend.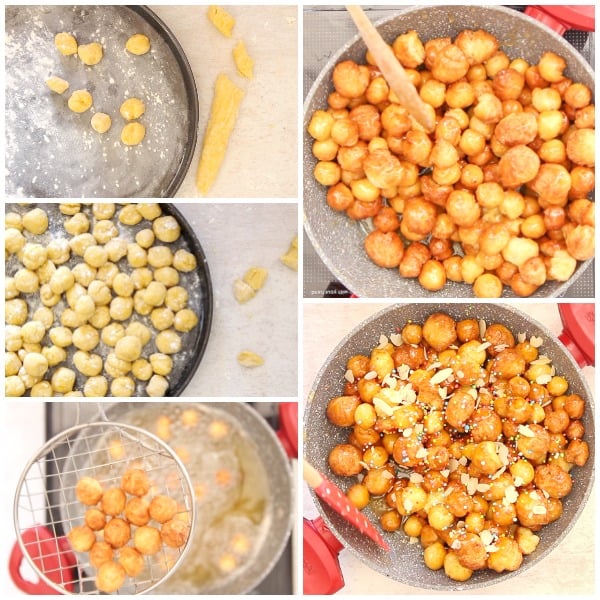 The small balls which are actually a little bit smaller than a marble (before being deep fried) are crunchy and a little soft on the inside, then coated in warm melted honey and sprinkled with sprinkles (fun fette) and I like to add some sliced almonds.
To give it more of a Christmas feel I added some red maraschino cherries.
Struffoli is a Christmas Dessert from Naples but there are also a similar ones, one from Sicily called Pignolata and another one from the North in Abruzzo called Cicerchiata.
Struffoli Italian Honey Balls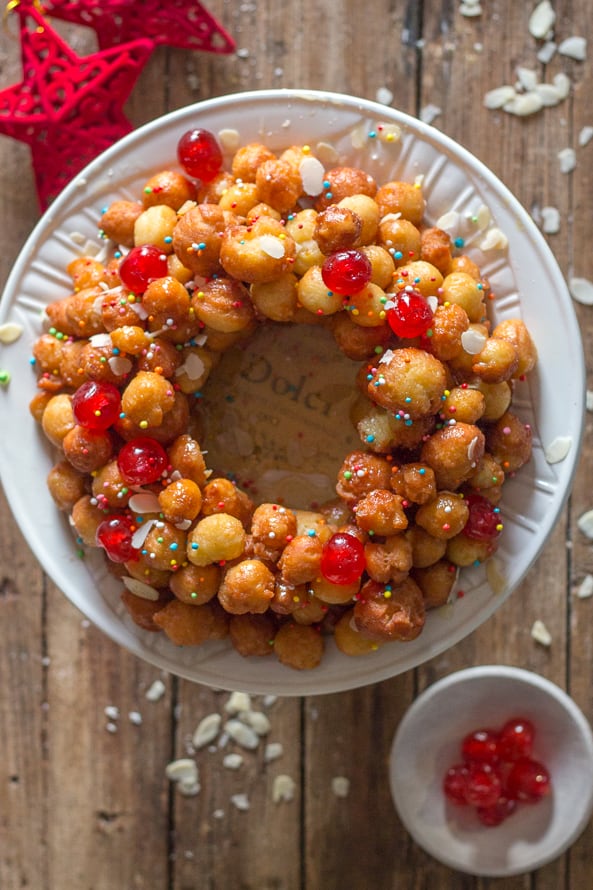 Struffoli are made with a very simple and easy dough. I added a little Grand Marnier but you could always add Rum or even orange juice if you wanted.
The only thing to remember is to make your honey balls small, a little smaller than a marble is the perfect size. Because when they are deep fried they will swell up a bit.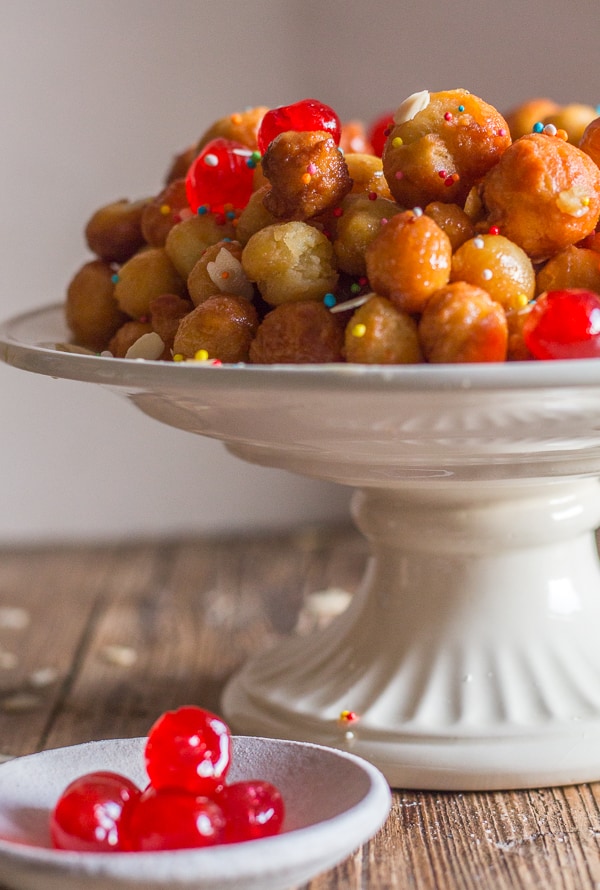 Be sure to drain them on a couple of paper towels before tossing them with warm honey.
A great idea is to use half an orange to help shape your struffoli, that way you don't get your hands all sticky. Just guide the orange cut side against the honey balls to help firm it into place.
I did the traditional Italian way by adding some coloured sprinkles and sliced almonds and a few maraschino cherries once it was formed.
More Italian Desserts for Christmas.
Panettone Italian Christmas Sweet Bread
Easy Panettone French Toast Casserole
How to Store the Struffoli
Keep the it well covered and it will keep for up to three days. You can keep also keep the fried and unglazed honey balls in an airtight container for about five days.
Or they can be frozen also. If you prefer you can make the dough with a maximum of 3 hours in advance and let it chill in the refrigerator.
Struffoli Italian Honey Balls can be formed as a simple Pyramid, or as I did a donut shape, place a glass in the middle of a plate and place the honey balls around it.
Once the honey has solidified remove the glass and serve. Enjoy!
And just to share a little bit of exciting news, in the Fall 2018 I will have my first Cookbook published, Authentic Italian Desserts, because there are so many sweets to share! 🙂
Struffoli Italian Honey Balls
Struffoli Italian Honey Balls, delicious crunchy pastry balls covered in honey, a traditional Italian Christmas dessert recipe from Naples.
Ingredients
STRUFFOLI DOUGH
2 2/3

cups

flour

3/4

teaspoon

baking powder

pinch

salt

5 3/4

tablespoons

butter

(melted)

1

zest

orange

2 3/4

tablespoons

sugar

3

tablespoons

Grand Marnier or Orange Juice

3

eggs
TOPPINGS
10 1/2

ounces

honey

sprinkles

slivered almonds
Instructions
In a large bowl whisk together the flour, the baking powder and the salt, then add the butter, orange zest, sugar and Grand Marnier (or orange juice), start to combine with a fork until crumbly.

Add the eggs one at a time and mix to combine, when almost combined move the mix to a lightly floured flat surface add an extra 1 - 1/2 tablespoons flour and knead together to form a soft dough. Cover with a clean tea towel and let rest 30 minutes.

Place the dough on a lightly floured surface and roll into thin ropes 1/4 inch in diameter. Cut to make small cubes and roll each cube into a ball slightly smaller than a marble. Try to make them all the same size.

In a medium pot add 2-3 inches of oil and heat to 350°F add the struffoli (in batches) turning a couple of times and when golden drain on a paper towel lined plate and let cool.

While struffoli are cooling in a large pan on low / medium heat, heat the honey until warm and slightly watery. Add the cooled struffoli and mix to coat, then sprinkle with sprinkles and slivered almonds.

Then form the honey balls into desired shape, dome, donut (see video)** pyramid.  It is best to oil the glass before placing it in the middle of the plate. Let the finished Struffoli sit until the honey solidifies (approximately 1 1/2 - 2 hours) and then serve.  Enjoy!
Nutrition
Calories:
303
kcal
Carbohydrates:
54
g
Protein:
5
g
Fat:
8
g
Saturated Fat:
4
g
Cholesterol:
66
mg
Sodium:
78
mg
Potassium:
109
mg
Sugar:
28
g
Vitamin A:
285
IU
Vitamin C:
2.7
mg
Calcium:
29
mg
Iron:
1.9
mg
.