Panettone, an Italian Christmas Sweet Bread a not too sweet yeast bread, filled with raisins, candied fruit or Chocolate Chips. A delicious way to celebrate the Holidays.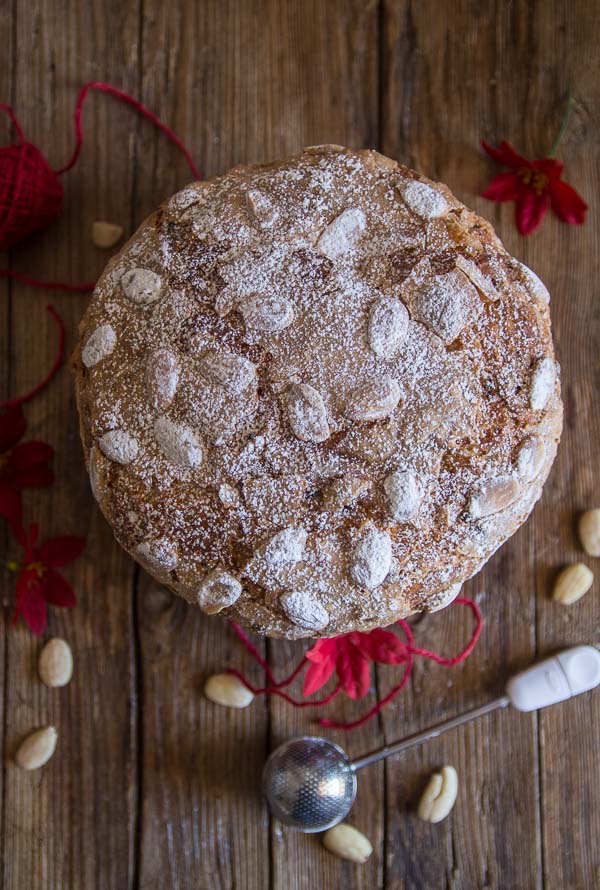 Panettone, this is a much easier and quicker Italian Christmas Sweet Bread Recipe to make, everyone will love it.
Every time we head into the Fall months and Christmas is just around the corner, the Italian asks "why don't you make a Homemade Panettone".
Every year I think forget it, 3 days to make something that I can buy in a store? No I don't think so. And then a friend of mine gave me this Panettone Recipe, so much easier and faster she said, you will love it.
Actually she gave it to me about five years ago, but I just started making it a couple of years ago.
And this year, i decided to share it on the blog. It is amazing! Seriously, better than store bought.

This post may contain affiliate links. Read my disclosure policy here.
I shared it with a few friends and the next day one of the friends came back asking for another piece!
Panettone should be eaten in 2-3 days but this was gone in a day. Nowadays you can buy it with raisins, or candied fruit or even Chocolate Chips, and yes Chocolate Chips was my choice for this one.
More Delicious Christmas Recipes
What you will need to make this Homemade Panettone
Mixer –  I have a mixer that will knead bread, but my dream mixer is this one.
Mold –  I use a very tall cake Pan which is about 6 inches tall but these molds are very good too.
Flour – If you want to make bread you are going to need flour!
Active Dry Yeast –  I prefer this to cake yeast which is very popular here.
Panettone Italian Christmas Sweet Bread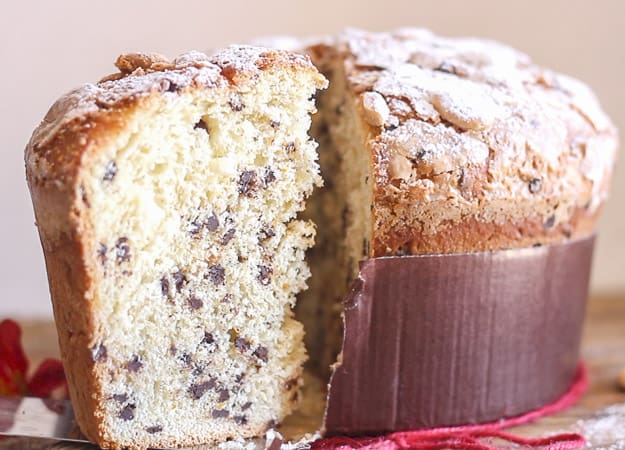 I will definitely make it again. Probably with candied fruit and raisins, and make my husband happy and again with Chocolate Chips one more time to make the rest of us happy.
In Italy you know it is Christmas when the stores and bakeries are overflowing with Panettone, Pandoro and Torrone.
And of course every Italian has their preference whether it be a tasty Panettone filled with candied fruits or raisins or a delicious Pandora which is more cake like and dusted with powdered sugar.
I remember my first Christmas here and after our huge Christmas lunch, out would come the nuts, big slices of Pandoro and Panettone, chunks of Torrone, Chocolate and Nougat,
olives and of course my personal favourite bowls of Lupini, or Lupin Beans.
Personally I always preferred Pandora but when I discovered they also made a Panettone with Chocolate Chips I was hooked.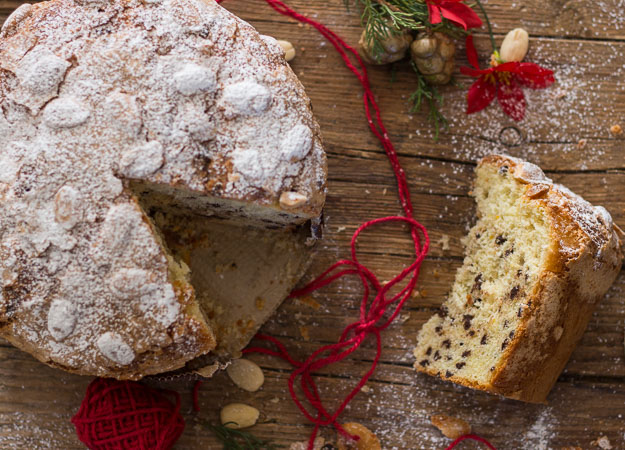 This is the perfect recipe to make on the weekend, you will probably need about 3-4 hours just for the rising time. If you have never made a yeast dough before, this is the most delicious thing to start with. Enjoy!
Panettone Italian Christmas Sweet Bread
Panettone, an Italian Christmas Sweet Bread Recipe, an easy delicious yeast bread filled with raisins, candied fruit or chocolate chips.
Ingredients
PANETTONE
3 1/4

cups

all purpose flour (sifted)

(415 grams)

1/4

cup

+ 2 tablespoons sugar

(75 grams)

2/3

cup

water (lukewarm)

(156 grams)

1/2

cup

butter (room temperature/cut into small pieces)

(112 grams)

1/2

teaspoon

salt

1 1/2

teaspoons

dry active yeast

2

eggs (room temperature)

1

egg yolk (room temperature)

zest of 1 orange and 1 lemon (room temperature)

1

teaspoon

vanilla

1

cup

mini dark chocolate chips, raisins* or candied fruit or a mixture

(180 grams)
*Plump raisins up by sitting them in boiling water for 5 minutes, then drain.
TOPPING
1/4

cup

+ 1 tablespoon almond flour

(30 grams)

1

tablespoon

cornstarch

1/3

cup

+ 1 tablespoon sugar

(78 grams)

1

egg white

powdered / icing sugar for dusting

1/4

cup

skinned whole almonds (more if desired)

(35 grams)
Instructions
PANETTONE
In the bowl of the mixer with the paddle attached, add sifted flour, in the center add yeast, sugar, butter, eggs, yolk, zest, vanilla and half the water. Mix 20 seconds, then change to the dough hook and add the other half of the water and salt.

Mix for 15- 20 minutes, stopping after 10 minutes to scrape the hook and bowl.

After 20 minutes add either the raisins, candied fruit or chocolate chips (or even a mixture if you wish) mix on low for a couple of minutes until combined.

Remove to a flat lightly floured board, lightly rub hand with butter and gather the dough into a ball. Place in a large oiled bowl, cover with plastic and a dish towel. Place in a draft free, warmish spot to rise. Let rise for 2-3 hours or until tripled in size.

Once risen, move back to a lightly floured flat surface, with hands lightly buttered and roll again into a ball, place in greased Panettone mold, cover with plastic and dish towel and let rise for an hour.
TOPPING
In a small/medium bowl mix together almond flour, cornstarch, sugar and egg white. Set aside.

Carefully brush risen Panettone with topping (I didn't use it all) top with almonds and sprinkle with icing / powdered sugar.  Bake for approximately 45-50 minutes using a toothpick for doneness. Move to a wire rack to cool completely before cutting.**  Enjoy!

** No need to remove from the paper mold just cut through it.

** I used an 8.5 x 4.5 inch cake pan, or a 750 gram paper molds are fine too.

Keeps for 3 days well covered.
Nutrition
Calories:
342
kcal
Carbohydrates:
47
g
Protein:
6
g
Fat:
13
g
Saturated Fat:
7
g
Cholesterol:
66
mg
Sodium:
192
mg
Potassium:
64
mg
Fiber:
1
g
Sugar:
19
g
Vitamin A:
330
IU
Vitamin C:
0.1
mg
Calcium:
36
mg
Iron:
2.1
mg