This easy to make one pot Beef Stew is full of chunks of vegetables and tender lean beef. Slow cooked in the oven it makes the best stew ever. Perfect dinner idea for family and company. Serve slices of fresh bread and dinner never tasted so good!
Baked Beef Stew Recipe
On a cold winter's night (fortunately we don't get many of those in Italy) there is nothing like a big bowl of Beef Stew. And this stew is one of the best if not The Best.
Slow baked in the oven with fresh herbs and vegetables it makes sitting down to dinner something to definitely look forward to. This was one of my Mom's old recipes that I updated a bit, but decided that I really wanted to try it baked, and I am so glad I did.
How to make Baked Beef Stew
Dredge the beef in flour and brown in a dutch oven with a little olive oil.
Cut up the vegetables into bite size pieces or a little larger if desired.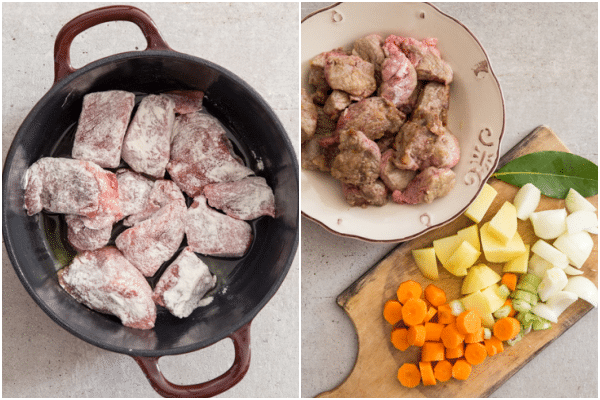 Remove the browned meat and add the wine and heat on high until alcohol evaporates.
Add the chopped celery and onion and sautee for 2 minutes.
Then add the remaining ingredients stir to combine.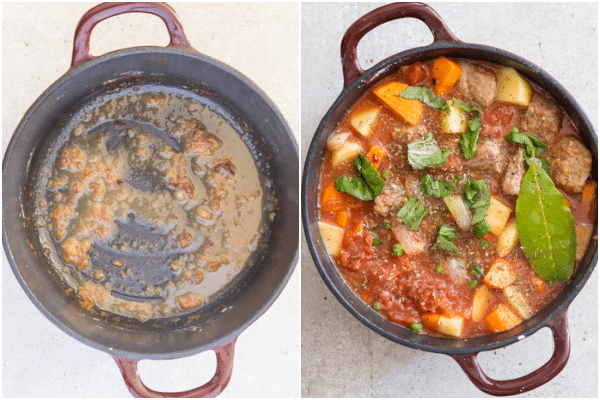 Place the lid on the dutch oven and bake for two hours.
I found using a Dutch Oven was the perfect pot for this recipe, if you make your own bread it is excellent for that too! I used a 4 quart but a 6 quart is a good idea too, that way you can add more vegetables and meat if you want.
The best cuts of beef for stew
The best and the cheapest cut of beef for a Stew or Thick Soup is known as chuck, which comes comes from the front shoulder, another good choice would be the round cut which comes from the rear muscle. Either of these will work.
Because they are a cheap cut of meat, means they need a slow cooking in order to make them tender. That is why this stew baked in the oven for two hours is perfect.
Why brown and dredge the meat?
Dredging and browning the meat will give the dish a deliciously rich flavour and browning will add not only body to the sauce but help to make it thicker.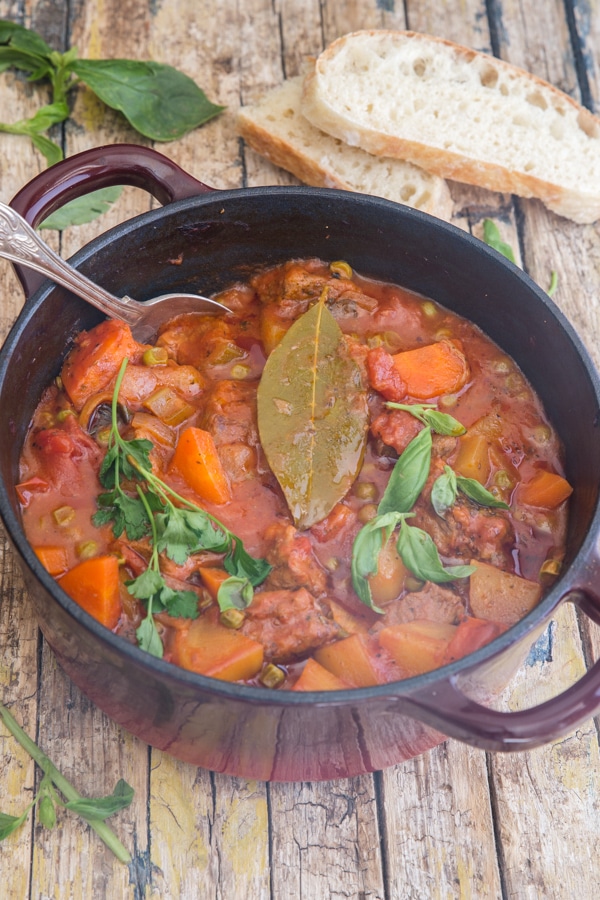 How to make homemade vegetable stock
If you prefer to make your own broth rather than buy it it's very simple, in a large pot add a couple of coarsely chopped carrots, onions, celery stalks, potato, leek (if desired) even some spinach leaves, garlic, parsley, fresh thyme, a couple of black peppercorns and a pinch or two of salt.
Cover well with water, bring to a low boil on medium high heat, then turn the heat down and continue to simmer for about one hour, stirring occasionally.
Remove the vegetables to a separate bowl, then strain the stock through a strainer lined with cheesecloth. The homemade broth is ready to use or even freeze.
Freeze in freezer safe containers or jars, it will last up to three months in the freezer or one week in the fridge in an airtight container.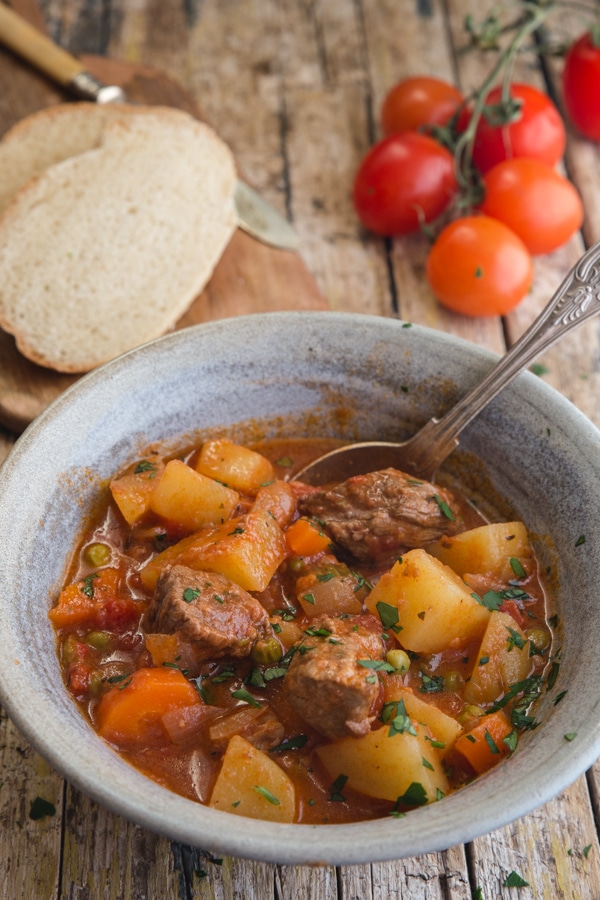 How to store the leftover stew
Any leftovers should be stored in an airtight container in the fridge, it will last up to three to four days. It can also be frozen, be sure to store the completely cooled stew in a freezer safe container. It will keep for up to four to six months.
So if you are looking for an easy stew to make, I hope you give this Baked Beef Stew Recipe a try and let me know what you think. Buon Appetito!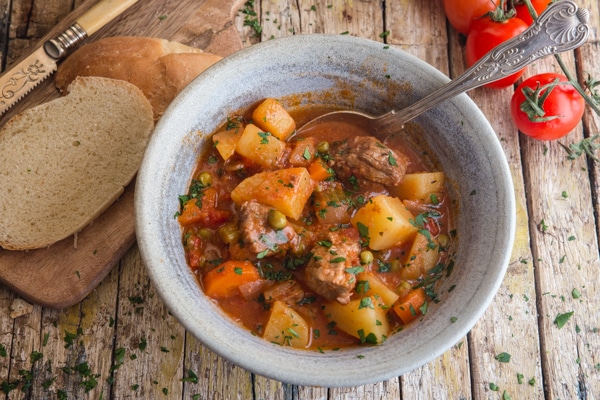 As an Amazon Associate, I earn from qualifying purchases.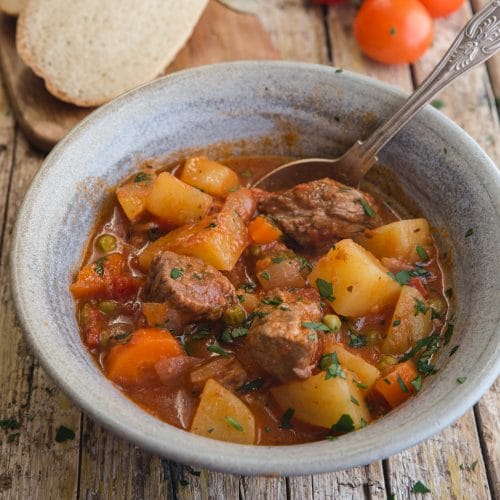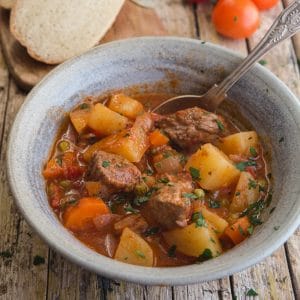 Baked Beef Stew Recipe
This easy to make one pot Beef Stew is full of chunks of veggies and tender lean beef. Slow cooked in the oven it makes the best stew ever.
Ingredients
1/4

cup

all purpose flour (more or less)

(32 grams)

1

pound

beef (chuck or round) cut into 1" chunks

(450 grams)

1-2

tablespoons

olive oil

1/4

cup

dry white wine

(60 grams)

1

clove

garlic minced

1-2

medium

stalk of celery chopped

1

small

onion chopped

1

cup

vegetable broth

(250 grams)

1

can

peeled tomatoes (14 ounces or small can)

(260 grams)

1/4

cup

water

(60 grams)

2

large

potatoes cubed

1/2

cup

peas

(75 grams)

1-2

large

carrot chopped

1

bay leaf

1/2

teaspoon

oregano

1/2

teaspoon

basil (or you can use fresh basil 4-5 leaves chopped)

1-2

pinches

salt or to taste (depends on how salty your broth is)

1-2

dashes

black pepper or hot pepper flakes
Instructions
Pre-heat oven to 350F (180C).

On a small plate add the flour and dredge the cut up beef. In the Dutch Oven add the olive oil and the dredged beef, brown on both sides. Remove the beef to a clean plate. On high heat add the wine and let the alcohol evaporate 20-30 seconds. Then add the garlic, chopped celery and onion, cook on medium heat for about 2-3 minutes stirring often.

Add the remaining ingredients stirring to combine (the tomatoes can be crushed with a fork to break them up). Cover the pot and place in the pre-heated oven. Let cook for 2 hours. Let sit 5-10 minutes, remove the bay leaf before serving. Enjoy!
Nutrition
Calories:
400
kcal
Carbohydrates:
44
g
Protein:
34
g
Fat:
10
g
Saturated Fat:
3
g
Cholesterol:
70
mg
Sodium:
489
mg
Potassium:
1603
mg
Fiber:
8
g
Sugar:
7
g
Vitamin A:
5060
IU
Vitamin C:
35
mg
Calcium:
135
mg
Iron:
10
mg