I have been obsessing over turkey and stuffing probably since the Canadian Thanksgiving which was in October and now that the American Thanksgiving is upon us I decided I couldn't take it anymore! I would do my own bird and stuffing, Baked Chicken Pieces and Stuffing.
For the first 15 years of my life in Italy I could never find a turkey in any grocery store and now these past few years that I can find a turkey in the grocery store, the Italian has decided he doesn't like turkey. Whatever!
Baked Chicken Pieces and Stuffing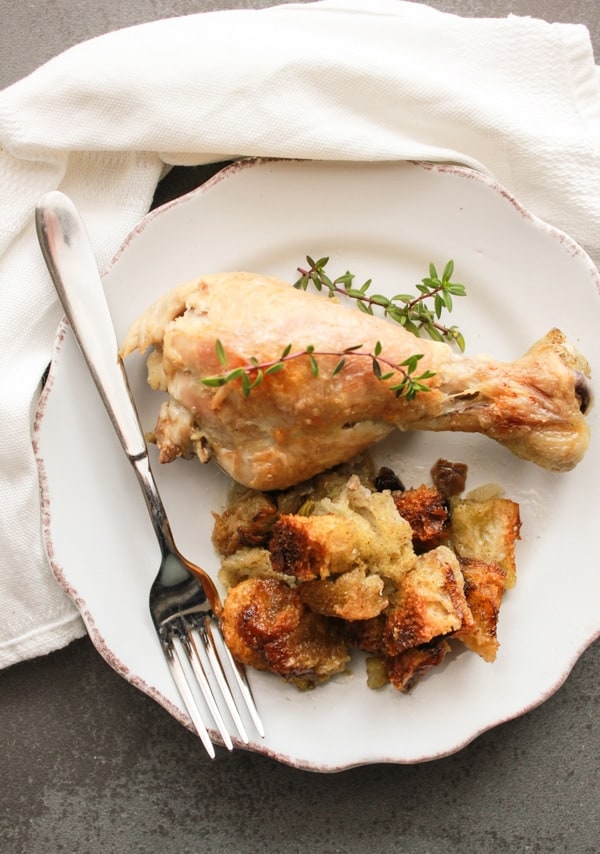 What to do? Why not chicken or better yet Baked Chicken Pieces and Stuffing. To tell the truth and I won't tell my husband, but I prefer chicken over turkey. Although I look so forward to celebrating a Christmas in Canada one of these years, needless to say, I would never say no to the turkey and all the trimmings.
I think a lot of us would agree on one thing, that probably the best part of the whole Turkey thing is really, in fact, the stuffing. So I decided to use my mother's delicious stuffing recipe and substitute chicken instead. Worked perfectly.
I placed most of the stuffing mixture on the bottom of the baking dish, with the chicken pieces on top. The stuffing that was covered stayed moist from the drippings and the stuffing that was uncovered was deliciously crunchy. Perfect, now there was a choice of stuffing. The Chicken I covered with a brown paper bag after I brushed it with some olive oil, just like my Mom did with the turkey. It was moist and delicious. So if you are like me and get a mad desire for a festive dish but without the big bird this could be a perfect solution. Buon Appetito!
Baked Chicken Pieces and Stuffing
Baked Chicken Pieces and Stuffing, a delicious alternative to stuffed turkey, just as delicious. A family comfort food dinner recipe.
Ingredients
FOR THE CHICKEN

4-5

pieces

chicken

or 2 leg and breast attached

salt and pepper to taste

1

tablespoon

olive oil

FOR THE STUFFING

3 1/2

cups

chopped day old bread

stuffing bread

1/4

cup

butter

soft

1

teaspoon

poultry seasoning

1/2

teaspoon

salt

dash pepper

1/4

cup

chopped onion

1

celery stalk chopped

1/4

teaspoon

ginger

optional / helps prevent repeating
Instructions
Pre-heat oven to 350°.

FOR THE STUFFING

In a large bowl stir gently together bread, poultry seasoning, salt, pepper, chopped onion and celery, then stir in softened butter. Place 2/3 of the stuffing mixture on the bottom of a 10 x 8 inch baking dish, slice the chicken pieces (cleaned and towel dried) along the top but not all the way through (see photo), place some stuffing inside and secure with a toothpick or two. Place prepared chicken on top of stuffing, brush chicken with olive oil and sprinkle with a little salt and pepper, cover chicken with brown paper and bake for approximately 20 -25 minutes**, remove paper bag and bake approximately 10-15 minutes more, (temperature of chicken when done is 165°, chicken juices should run clear and the meat should never be pink). Remove paper bag and place under broiler for approximately 5 - 8 minutes to brown and crisp. Enjoy!

** If you use bigger pieces of chicken baking time will increase.
Nutrition