Quick and Easy Simple Chocolate Orange Brownies. A rich Chocolate Brownie with a hint of orange. No need for frosting, perfect with a light dusting of Powdered Sugar.

Happy Chocolate Brownie Day everyone!
I am going to be brutally honest here and say Brownies are not my favourite Sweet Dessert. I don't like that stick to the roof of your mouth texture, even if they are full of chocolate!
But I can't say that for my kids. They are always asking if I would please make Brownies.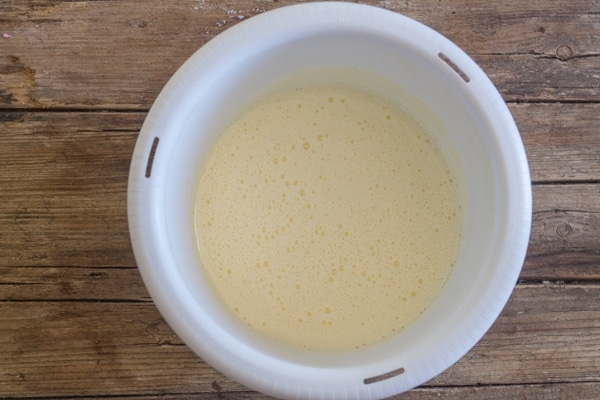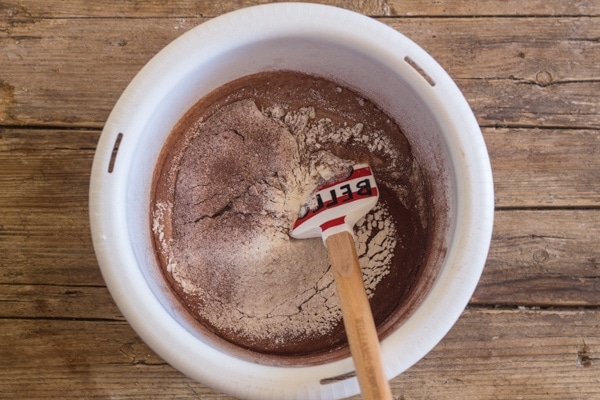 Well I try, I really do. But it just seems that I bake them too long, I just can't seem to pull them out of the oven at that perfect moment!
So needless to say when our monthly Food Blogger group decided on Brownie Day for December, my daughter was thrilled ("finally" was her response) but I was worried.
This recipe for Chocolate Orange Brownies was an old one of my mothers'. I ended up making it a few times to get it just right.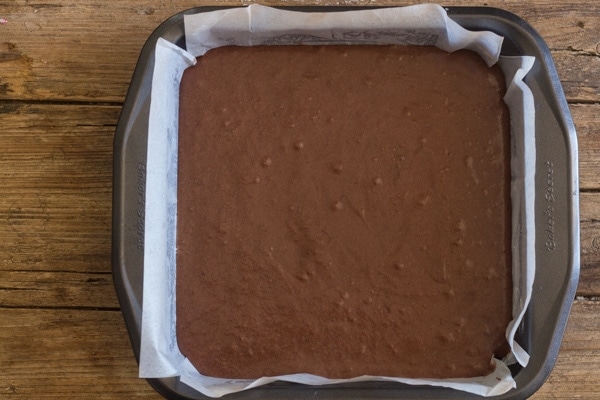 How to make Cake or Fudgy Brownies
Fudgy brownies are made with more fat (chocolate and butter) than flour. Cake brownies have more flour, and baking powder is included in the recipe.
Although the amount of sugar and eggs does not change for either type of Brownie.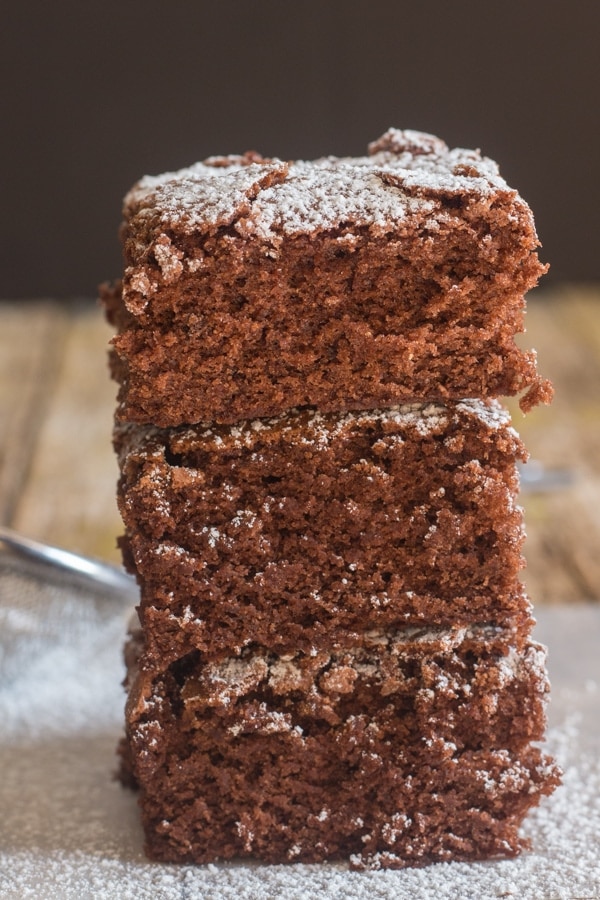 How long to Bake Brownies
For cake brownies, you should remove them from the oven just when they are beginning to pull away from the sides of the pan, or use a toothpick to check for doneness, it should come out clean.
If you want fudgy brownies, make sure to bake them within the time given in the recipe.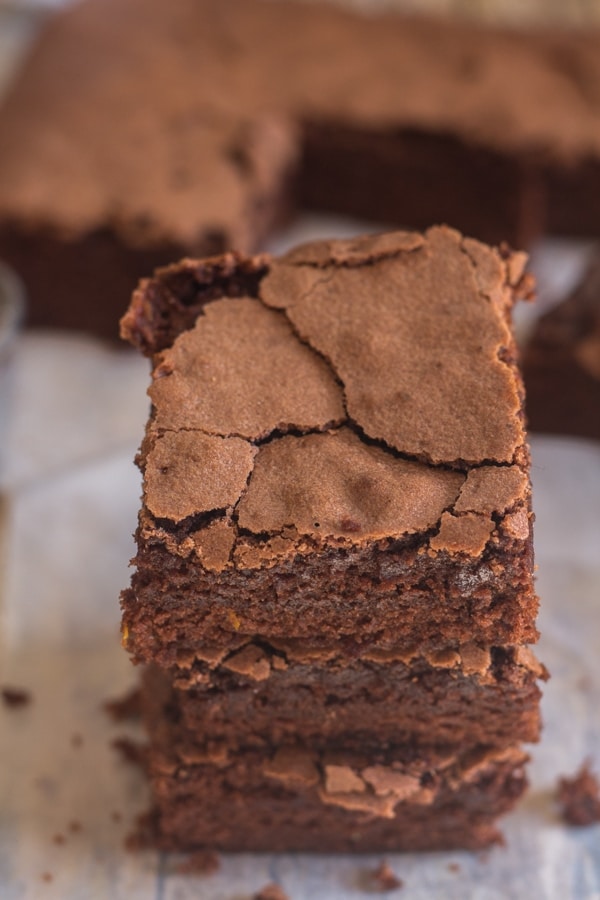 I would call this a more cake like Brownie then fudgy, it turned out moist with just a hint of orange, if you like a stronger taste of orange than just add more zest.
More Delicious Brownie Recipes
A dusting of powdered sugar were really all that they needed. I hope you enjoy them as much as my daughter did!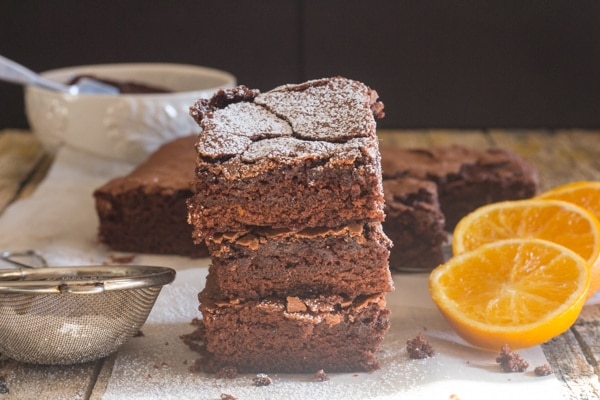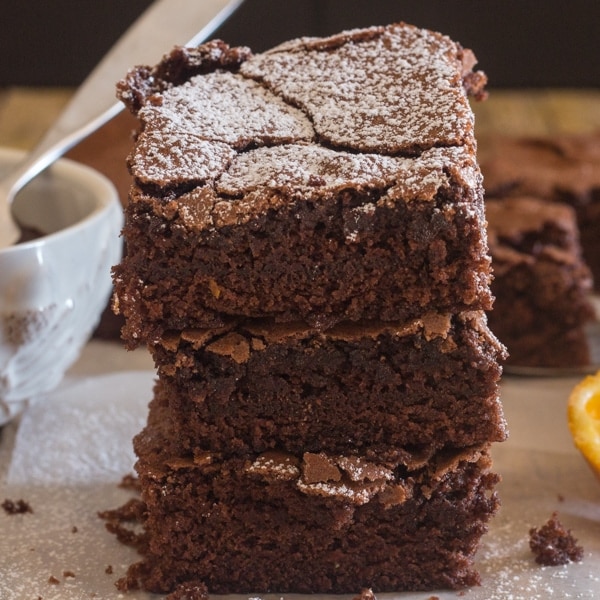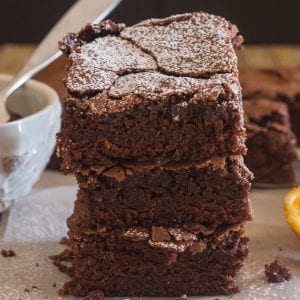 Simple Chocolate Orange Brownies
Quick Chocolate Orange Brownies. A rich Chocolate Brownie with a hint of orange. Perfect with a light dusting of Powdered Sugar.
Ingredients
1 1/2

ounces

dark chocolate (50 or 60%)

(unsweetened)

3

tablespoons

butter

(salted)

1

cup

sugar

2

eggs

1/2

cup

milk

1

teaspoon

vanilla

1

pinch

salt

3/4

cup

flour

1/4

cup

unsweetened cocoa

1

teaspoon

baking powder

1

tablespoon

orange zest
Instructions
Pre-heat oven to 350F (180C), butter an 8×8 inch (20 x 20cm) square pan, then line the pan with parchment paper and lightly butter the parchment paper again.

In a small bowl over a pot with boiling water (make sure the water does not touch the bottom of the bowl), melt the chocolate and butter (stir gently until melted and smooth) set aside to cool.

In a large bowl add the sugar, eggs, milk, vanilla and the salt and beat on medium speed for 5-7 minutes or until thickened and pale. Then add the melted cooled chocolate and beat 30 seconds, then sift the flour, cocoa and baking powder directly into the bowl and zest, fold gently to combine.

Pour into prepared pan and bake 30-35 minutes or until it begins to pull away from the edges. Let cool and dust with powdered/icing sugar if desired. Enjoy!
Nutrition
Calories:
129
kcal
Carbohydrates:
20
g
Protein:
2
g
Fat:
4
g
Saturated Fat:
2
g
Cholesterol:
28
mg
Sodium:
35
mg
Potassium:
94
mg
Sugar:
14
g
Vitamin A:
115
IU
Vitamin C:
0.6
mg
Calcium:
30
mg
Iron:
1
mg
.