Chocolate Salame a delicious Italian Chocolate recipe, a fast and easy no bake sweet. Snack or Dessert the perfect treat.
My daughter has been bugging me for so long to make Chocolate Salame. So when she got back from a visit with her friend's family, she started again on "Ma you got to make this, I even have the recipe"!
My husband I have to say had never tasted it before and said he had never heard of it before either! Which  needless to say was a complete surprise to me, as this tasty  No Bake Chocolate recipe is a must make for most Italians at either Christmas or Easter.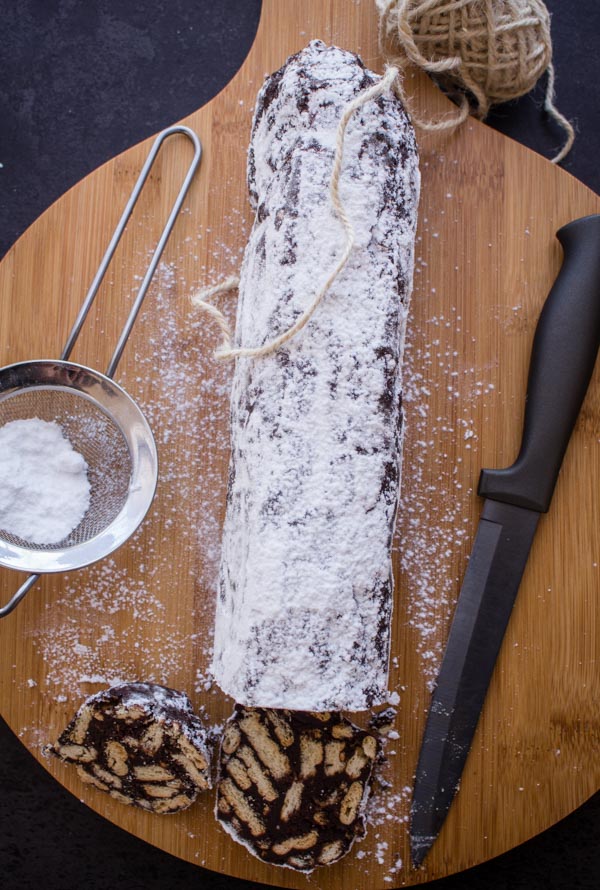 So after making it a couple of times and mixing up the recipe,  I came up with this winning combination. And it was so good. Creamy and chocolatey.
Made with dark chocolate, cocoa, icing sugar and tea biscuits, I did add eggs because I believe it tastes better with them.
All lot of  Italian recipes are with raw eggs, from Chocolate Salame to Tiramisu, although of course we tend to use pasteurized eggs more.
Chocolate Salame
After I made the Salame. I rolled it up and refrigereated it for approximately 2 – 3 hours. I removed it from the fridge, rolled it in some icing sugar and then presented it to the Italian. I asked him if he would like to cut the Chocolate Salame?
After the first slice he exclaimed "It looks just like Salame and tastes amazing"! Easy and no bake just what I like. Enjoy!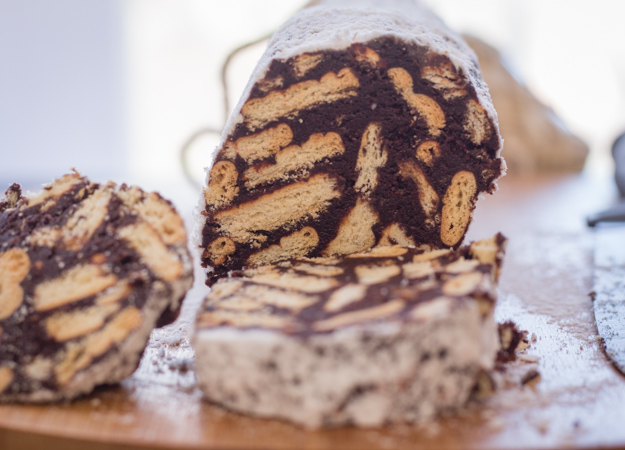 Chocolate Salame
Chocolate Salame, a fast, easy, no bake, Italian sweet dessert or snack. The perfect Easter or any time treat.
Ingredients
1 1/2

cups

broken social tea biscuits

(145 grams)

7

tablespoons

butter soft

(100 grams)

1/4

cup

+ 2 tablespoons sugar

(75 grams)

3 1/2

ounces

good quality dark chocolate (melted)

(100 grams)

1/2

cup

cocoa (unsweetened)

(50 grams)

2

tablespoons

milk

(30 grams)

2

eggs**
Instructions
In a medium bowl, beat until creamy butter, add sugar and milk and combine, add melted chocolate and cocoa and combine, then add eggs beat together, fold in broken cookies.

On a large piece of parchment paper place mixture and roll into a log shape, wrap with paper and refrigerate approximately 2-3 hours or overnight. Before serving, roll in icing/powdered sugar. Slice and serve. Enjoy!

** For the replacement of raw eggs, you can try using a product called Egg Replacer or there are now pasteurized egg products and pasteurized eggs available.

***You could also replace the eggs with extra milk 2-3 tablespoons more.
Nutrition
Calories:
1791
kcal
Carbohydrates:
130
g
Protein:
29
g
Fat:
139
g
Saturated Fat:
82
g
Cholesterol:
546
mg
Sodium:
929
mg
Potassium:
1525
mg
Fiber:
25
g
Sugar:
78
g
Vitamin A:
2925
IU
Calcium:
234
mg
Iron:
19.6
mg
Other No Bake Chocolate Desserts you may enjoy!
Homemade Cookies and Cream Chocolate Dream Bar
Loaded Double Chocolate Clusters
Homemade Chocolate Mint Filled Chocolates
Double Chocolate Peanut Butter Fudge
Double Chocolate Crispy Treats