Homemade Ice Cream Chocolate Truffles, a creamy Homemade Vanilla Ice Cream covered in either dark or milk chocolate shell, and why not add a little chocolate fudge or caramel sauce. These decadent bites will be an amazing Summer Dessert.
It's a holiday weekend in Canada and the United States this weekend. And what better way to celebrate then with Chocolate and Ice Cream.
You might be thinking that these are waaay too complicated to make. But believe me not true at all. I took a look at how a few other recipes were made, and I thought, nope not going to work in my hot-house.
The idea was to form balls out of the ice cream and then freeze them and then dip them in chocolate. I'm sure it works but I wasn't taking any chances.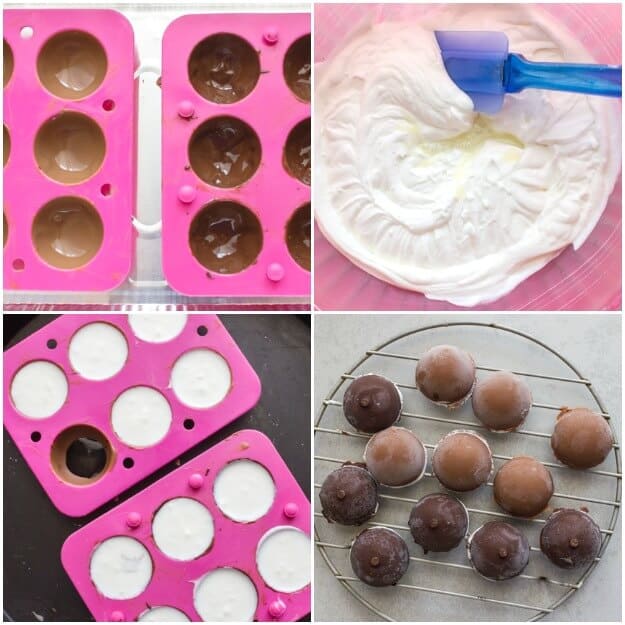 So I remembered making Homemade Chocolates at Christmas time and it was so easy. I thought why not try with Ice Cream? And to make it even easier use my No-Churn Vanilla Ice Cream. And that is exactly what I did.
These Ice Cream Chocolate Truffles are simple and fast to put together, all you have to do is freeze them in between the steps. Another tip, make sure you use a silicone chocolate mold, for easy removal, they just pop out.
Start by melting your chocolate, line the chocolate mold with a layer of chocolate (not too thin or too thick), freeze for about 15 minutes.
To make them even more decadent (because why not?), add a little fudge sauce or caramel sauce at the bottom of the frozen mold.
Homemade Ice Cream Chocolate Truffles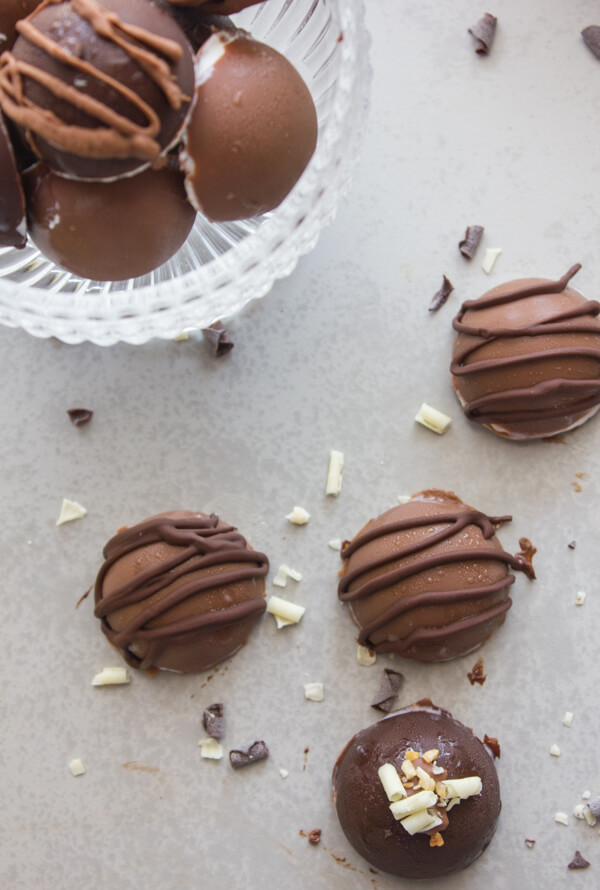 Make your No-Churn Ice Cream of choice, add it to the molds, remember to fill just below the border, freeze again for about an hour and then cover with melted chocolate. Freeze again for about 5 hours or even over night.
And if you really want to get creative drizzle The Homemade Ice Cream Chocolate Truffles with some melted chocolate or top with some chopped nuts.
They are the perfect individual size, so you can keep them in the freezer and grab one or two for a quick Ice Cream Chocolate Fix. Enjoy! And a Happy Holiday Weekend Everyone.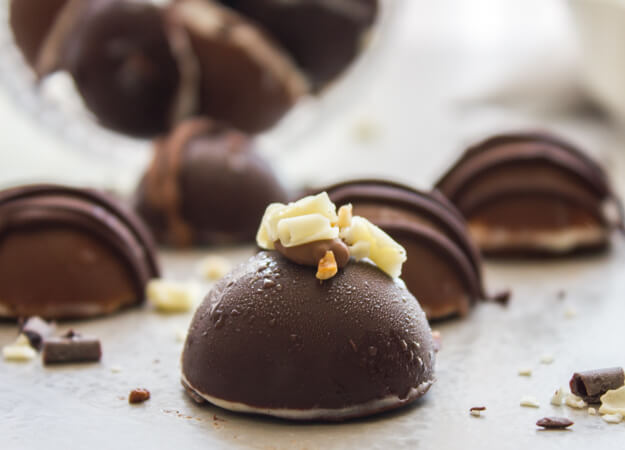 Homemade Ice Cream Chocolate Truffles
Homemade Ice Cream Chocolate Truffles, an easy decadent Summer Dessert recipe. Use your favorite ice cream and chocolate. Delicious.
Ingredients
FOR THE CHOCOLATE SHELL *
4

ounces

good quality Dark Chocolate

125 grams

4

ounces

good quality Milk Chocolate

125 grams
FOR THE ICE CREAM FILLING **
3/4

cup

sweetened condensed milk

174 grams

1

cup

+ 3 1/2 tablespoons whole or whipping cream

300 ml

1

teaspoon

vanilla

4.20 grams
EXTRAS
chopped nuts

fudge sauce

caramel sauce
Instructions
Place a glass bowl and beaters in the freezer.
FOR THE CHOCOLATE SHELL
On low heat place the 4 ounces of dark chocolate (broken into piece(do the same for the milk chocolatin a small-medium bowl over a pot of water (make sure bowl does not touch the water). Melt until smooth, stirring often with a fork or whisk. Remove from heat, let cool down (10-15 minutes), and coat the chocolate molds swirling it around (I used a pastry brush to fill in the empty spotand then tip it over to empty out the excess chocolate (I let it drain for approximately 5-10 minutes over a cookie rack), place them in the freezer for approximately 10 minutes. Meanwhile make the ice cream filling.
FOR THE ICE CREAM FILLING
In a small bowl whisk together sweetened condensed milk and vanilla, set aside.

Remove glass bowl and beaters from the freezer and whip the cream until stiff peaks form, add a little whipped cream to the vanilla/sweetened condensed milk mixture to make it easier to combine, then fold in the rest of the whipped cream mixture.
PUTTING IT TOGETHER
Remove molds from freezer, fill with ice cream filling (be sure not to over fill, just below the border), refreeze for approximately 30 minutes, remove and cover with melted chocolate, carefully remove excess chocolate with a spatula and freeze for 5 hours or even overnight until completely frozen. Remove chocolates carefully from mold, decorate with left over chocolate and chopped nuts or whatever you desire. Serve immediately. Enjoy!
Nutrition
Calories:
235
kcal
Carbohydrates:
21
g
Protein:
3
g
Fat:
16
g
Saturated Fat:
9
g
Cholesterol:
33
mg
Sodium:
35
mg
Potassium:
180
mg
Fiber:
1
g
Sugar:
17
g
Vitamin A:
345
IU
Vitamin C:
0.6
mg
Calcium:
76
mg
Iron:
1.4
mg