Easy Pull Apart Pizza Rose Bread, a simple dough, filled with tomato sauce and cheese becomes a special Birthday or Holiday meal.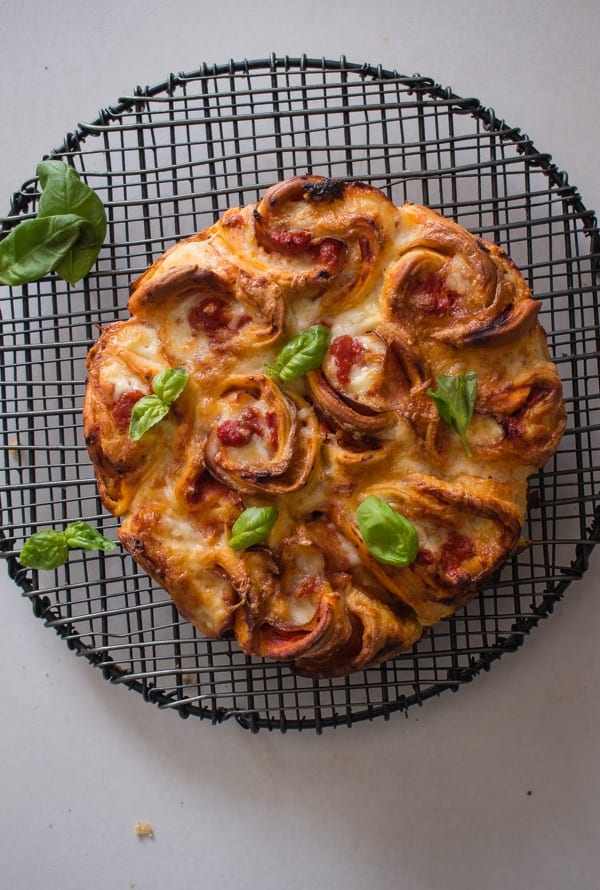 It just seems like yesterday we were decorating our tree and baking up some Delicious Cookies, and now we are already starting this years celebrations with Valentine's Day.
I have to be honest and tell you, the Italian is not the most romantic of the so called "Latin Lovers". I am pretty well resigned to the fact that he probably won't come waltzing through the door with 2 dozen red roses and a big box of chocolates anytime soon.
But he does occasionally surprise me with a a fresh head of broccoli or some wild asparagus, and he did bring home 5 rose cuttings to be planted, so I guess all is not lost. 😉
Easy Pull Apart Pizza Rose Bread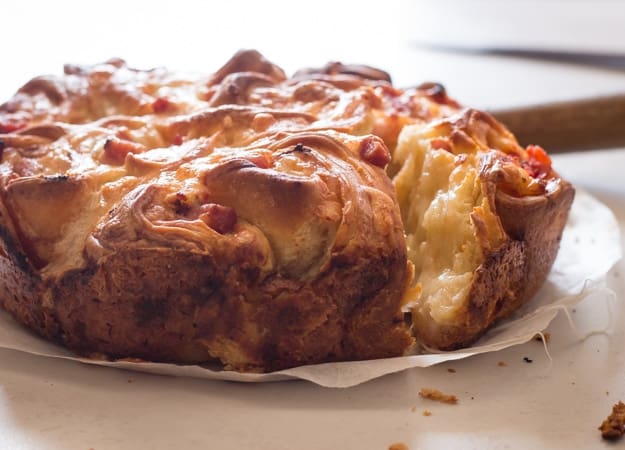 The other day we were discussing the fact after I posted yet another Chocolate Dessert, that not all people want chocolate. I know, crazy right? But most wouldn't say no to Pizza!
I have to tell you I thought about this long and hard. I remembered making Puff Pastry Rose Hearts and they were so cute and easy. So why can't pizza be pretty too?!
So if any of you romantics out there decide chocolate is just not to your liking, then I am sure this Easy Pull Apart Pizza Rose Bread, will go over really well.
I made it with store bought pizza dough, I even got the deli section to slice some firm mozzarella quite thin for me.
I placed half a can of plain chopped tomatoes in a bowl, added some spices and olive oil, grated some fresh mozzarella and chopped some pancetta and then I was ready to put it all together.
If you use a 7 inch spring form cake pan it works perfectly. Just remember to grease it with some olive oil and it won't stick. Then bake it for about 30-40 minutes and your Pizza Pull Apart Bread is ready and so delicious. Buon Appetito!
Easy Pull Apart Pizza Rose Bread
Easy Pull Apart Pizza, fast and so delicious, the perfect appetizer or main dish. a Cheesy Margarita Italian Pizza, pretty too!
Ingredients
1

large

- 2 large pre made pizza dough rounds

1/2

cup

plain tomato sauce

112 grams

1/2

teaspoon

basil

1/2

teaspoon

oregano

salt to taste

pinch

hot pepper flakes if desired

8

ounces firm mozzarella thinly sliced

200 grams

2

slices

pancetta or bacon cubed

1

tablespoon

olive oil

13.6 grams

2

tablespoons

-3 shredded firm mozzarella

13 grams
Instructions
Pre-heat oven to 350°F. Grease a 7-8 inch spring form cake pan.

In a small bowl combine tomato sauce, basil, oregano, salt, hot pepper flakes and olive oil, mix together.

Cut out 15 medium circles (3-3.5 inches / 8.5 centimeters), see video for instructions. Using three circles at a time, top each with a little tomato sauce, a slice of cheese and place one slightly on the other, roll up, cut in the middle, place cut side down in cake pan. Top with extra sauce, chopped pancetta and shredded cheese (or you can add the cheese when almost baked). Bake for approximately 30-40 minutes or until cooked. Enjoy!
Nutrition