Creamy Italian Iced Coffee
Creamy Italian Iced Coffee, nothing better than a cold iced coffee in the summer time heat. Tall glasses filled with a cold creamy coffee. and a drizzle of chocolate syrup if you want. Better than any coffee shop!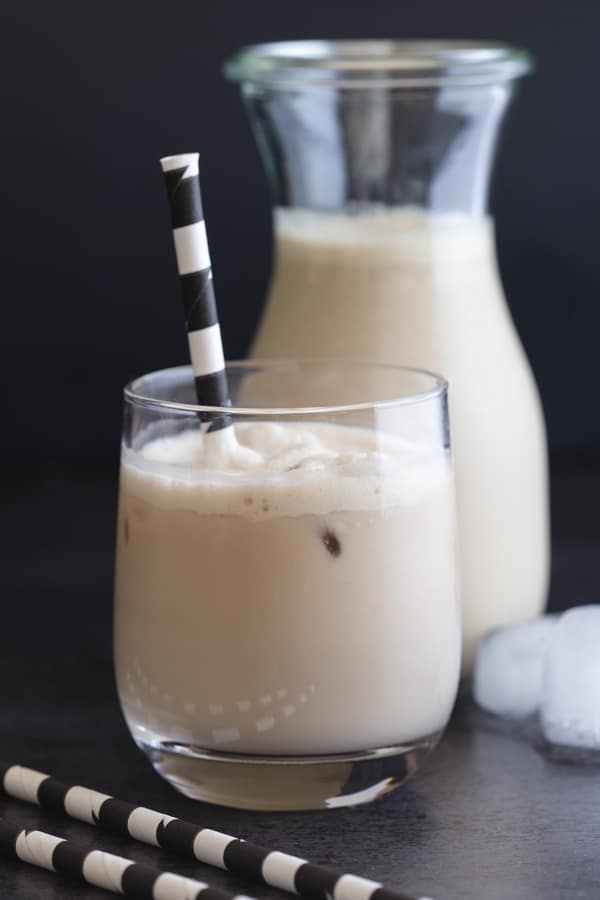 I love visiting Toronto during the summer (well anytime really) my daughters and I walk everywhere. I probably see more of that amazing city with them, then when I lived there. We try more coffees and iced coffees than most Torontonians do in a week.
But I must say we hadn't found an iced coffee that measures up to the one my friend's husband made for us back home in Italy. Could it be the coffee? Maybe! I find that the stronger the coffee is the better it tastes. I really like to taste the coffee and there's no need to add any kind of sweetener to it.
So after a really bad iced coffee experience, I thought "that's it, I'm making my own." This Italian Iced Coffee is the best. And a few of my volunteers (a.k.a my daughters, sister and niece) have expressed their approval by asking me to make it over and over for the last few days, so I guess they agreed.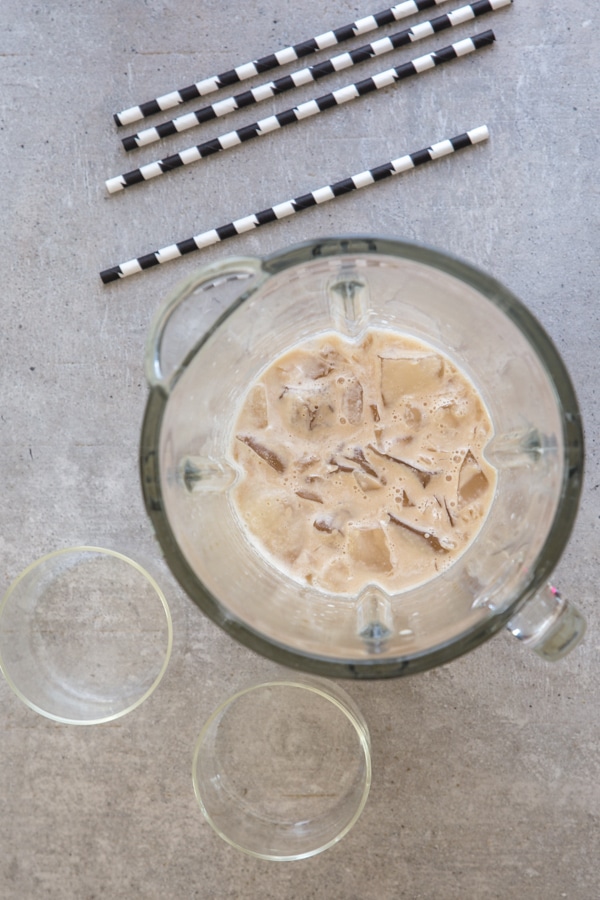 How to Make the Best Iced Coffee
In your Blender add the coffee,
Then add the milk, cream, some ice, ( I like to chop it up first) and a little sugar if you want.
Blend for about 30-40 seconds (or until desired consistency is reached).
If you want to get a little more over the top, why not drizzle a some melted chocolate in the glasses?
Pour into your favourite glasses, add some more chopped ice or cubes.
There will be a little foam on the bottom of the blender, so just spoon some on top of the coffee in each glass.
Can I substitute Decaffeinated Coffee for Regular Coffee?
I have been making it in fact with decaffeinated coffee and it is as delicious as the caffeinated version.
Can I use low fat milk and cream?
I'm sure you can use low fat milk and cream and even lactose free, since you aren't whipping it just blending until combined there should be no problem.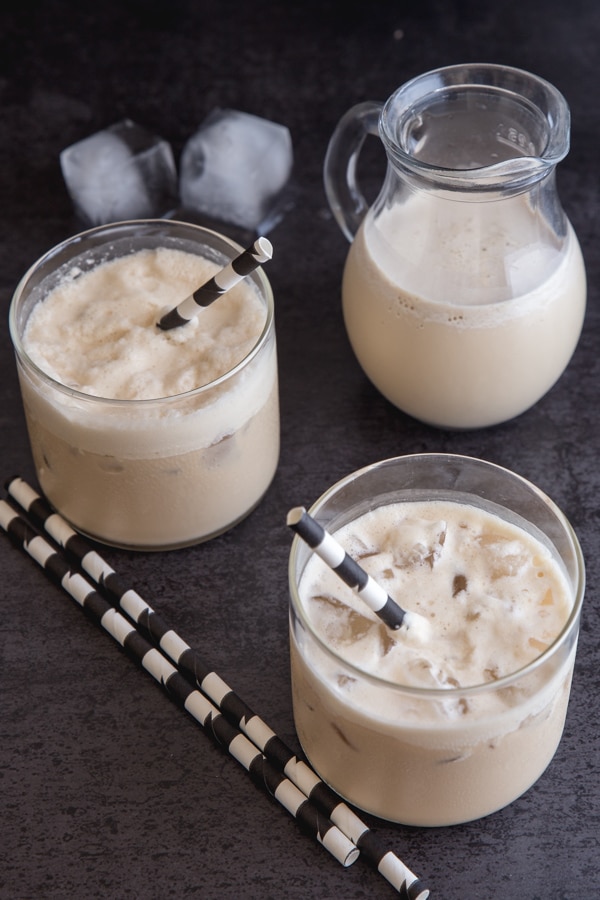 How to store Creamy Iced Coffee
It's obviously best to make it and drink it but if you do have leftovers just place in a glass jar with a tight fitting lid and store it in the refrigerator. It will last up to two days, shake well before serving.
If you are looking for something sweet to eat with your Iced Coffee how about trying one of these?
This is your creamy over the top iced coffee, if you want to make a naked iced coffee then grab a tall glass, add some ice and pour in some coffee, add a little sugar if you like and stir it up.
But if you want to splurge and treat yourself then this is the Creamy Iced Coffee for you! The weekend is here, so take your ice cold Creamy Iced Coffee out onto your deck, backyard or balcony, put up your feet and have a sip, you can thank me later. Salute!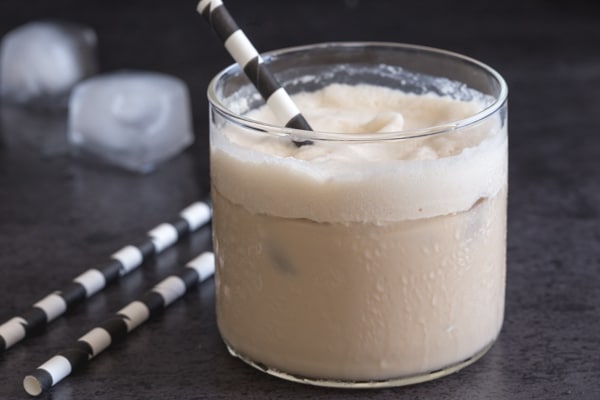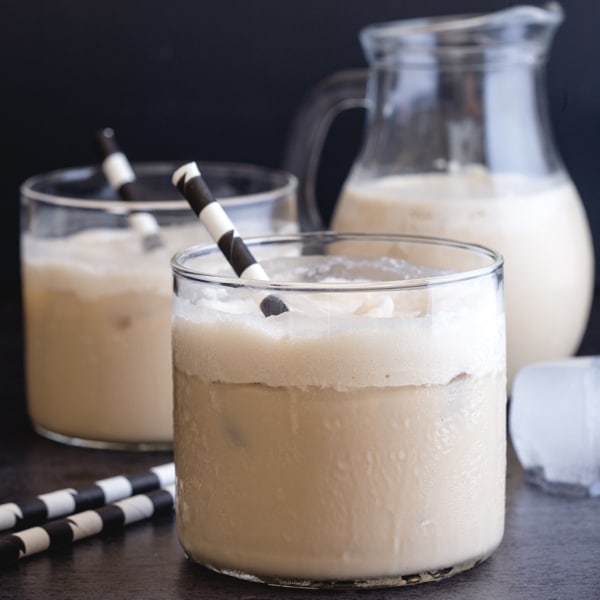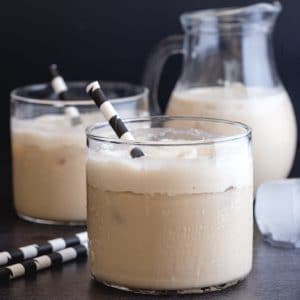 Creamy Italian Iced Coffee
Creamy Italian Iced Coffee, tall glasses filled with a cold creamy iced coffee. Better than any coffee shop!
Ingredients
1/2

cup

espresso coffee (or really strong coffee)

(120 grams)

1

cup

2% milk

(250 grams)

1/2

cup

cream

(120 grams)

5-6

ice cubes (chopped or crushed)

1

teaspoon

sugar (or to taste)
Instructions
In the blender add the coffee, milk, cream, ice and a little sugar then blend on medium speed for 30-40 seconds (or until desired consistency is reached) pour into glasses, top with some foam and serve on ice if desired. Enjoy!
Nutrition
Calories:
136
kcal
|
Carbohydrates:
5
g
|
Protein:
3
g
|
Fat:
12
g
|
Saturated Fat:
8
g
|
Cholesterol:
45
mg
|
Sodium:
40
mg
|
Potassium:
119
mg
|
Sugar:
4
g
|
Vitamin A:
500
IU
|
Calcium:
90
mg
Did You Make This Recipe?
Please leave a comment below or pin it to your Pinterest account!
As an Amazon Associate I earn from qualifying purchases.
Updated from March 29, 2017.