Peaches and Cream Roll Bread, a soft delicious sweet yeast bread,  filled with sliced peaches and covered in a delicate, silky, cream cheese frosting. Peaches and Cream Roll Bread is perfect for Breakfast, snack, or even dessert.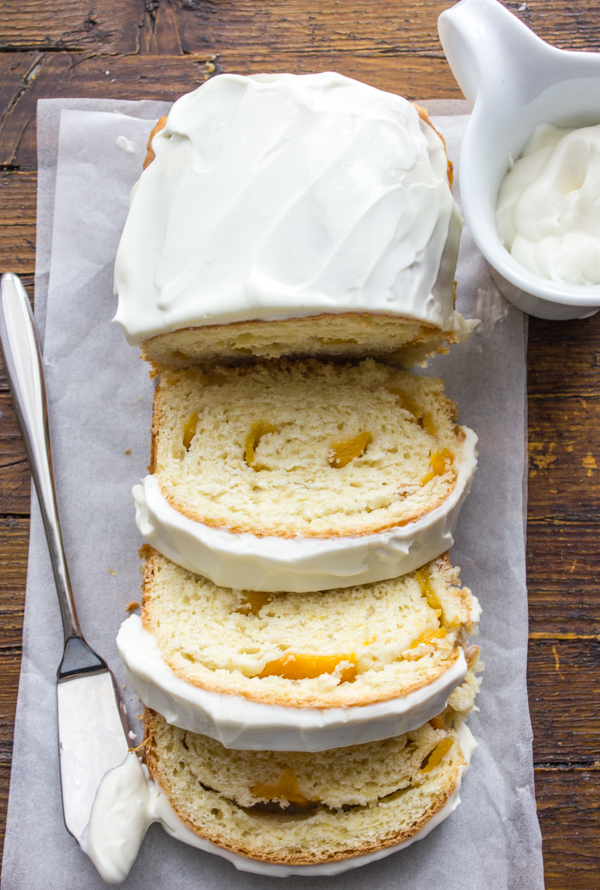 Ever since I started making sweet bread I have been wanting to make something with Peaches, one of my favourite Summertime fruits.
Last Summer I made an Italian Fresh Peach Crumb Cake, but this year I decided I don't want to wait until the warm weather again. And then I thought, "what if I want a sweet bread with peaches at Christmas Time? Then what? No, I can't because peaches aren't available yet."
But they are if you use canned peaches! I know, nothing's like fresh, but when you really, really want something, why not?! And I did. And I am so glad I did.
One good thing about canned is you don't have to peel them, just slice and go. First thing I did was I made my easy sweet dough, then I rolled it out. I spread the top of the dough with some softened butter, topped it with my sliced peaches mixture and then rolled it up.
No need to slice it just place it whole in a loaf pan lined with parchment paper, let it rise for an hour or two, depending on the warmth of your home, brush it with some milk and bake it.
Peaches and Cream Roll Bread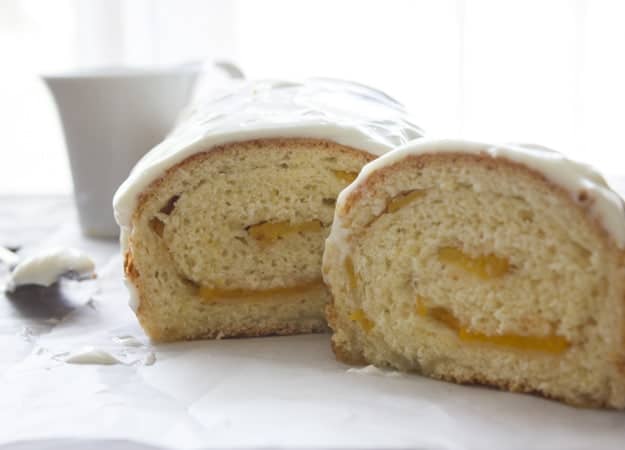 When it has cooled completely that's when you frost it with this silky lightly sweetened cream cheese frosting. Adding a little cream instead of milk gives it that creamy richness that we all love.
So however you decide to serve this Peaches and Cream Roll Bread with a tea or coffee as an afternoon snack or even a Breakfast bread, I hope you enjoy it! Happy weekend.
Peaches and Cream Roll Bread
Peaches and Cream Roll Bread, is a delicious breakfast, snack or dessert yeast bread, made with sliced peaches and cream cheese.
Follow me on Youtube!
Watch the videos and don't forget to subscribe on Youtube!
Ingredients
SWEET DOUGH BREAD
2 ½

cups

flour

2

tablespoons

butter softened

¼

teaspoon

salt

1 ¾

teaspoon

yeast

1

teaspoon

vanilla

1

egg (room temperature)

2 ½

tablespoons

sugar

½

cup

+ 1/2 tablespoon milk (lukewarm)
PEACH FILLING
2

whole peaches thinly sliced*

fresh or canned

½

tablespoon

lemon juice

½

cup

sugar

(100 grams)

¼

cup

brown sugar (lightly packed)

1

tablespoon

corn starch
If using canned, drain well. If using fresh use firm but ripe peaches.
CREAM CHEESE FROSTING
2 ¼

tablespoons

cream whole or whipping cream (more or less depending on desired thickness)

4

ounces

cream cheese (room temperature)

100 grams

½

cup

powdered / icing sugar

½

teaspoon

vanilla
Instructions
PEACH FILLING
In a medium bowl gently toss together peaches (drained) and lemon juice, in separate bowl whisk together sugars and corn starch, gently toss together dry ingredients and peach mixture. Set aside.
SWEET DOUGH BREAD
In the mixing bowl add the warm milk and sprinkle the yeast on top. Add the flour mixture and combine gently with a wooden spoon or spatula, add the egg

In a large bowl whisk together flour, salt and sugar, add yeast and mix gently, make a well in the middle and add the egg, butter and vanilla, start to knead on speed #1, add the milk, continue to knead until it is almost all together. Raise the speed to #2 and knead for approximately 7-8 minutes, dough should be smooth and elastic. Move to lightly floured flat surface and form into a ball, wrap in plastic and refrigerate 40 minutes.

Remove from fridge and roll into approximately 9 x 13 inch (22 x 33 centimeters) rectangle, spread with 3 tablespoons softened butter (leave a little bit of an edge uncovered), spread with peach mixture, roll up starting at short end. Place seam side down in 10 or 11 inch (25-27 centimeters) loaf pan. Cover well with a tea towel (I use a folded up tablecloth) and let rise 2 hours in a draft free warm area.
CREAM CHEESE FROSTING
Whisk together cream cheese,sugar and vanilla, gradually add cream until reaches desired thickness. Spread on cooled Roll Bread.
PUTTING IT TOGETHER
Pre-heat oven to 350° (180° celcius).

Before baking brush the dough with a little milk, then bake in the oven for approximately 45-50 minutes (test with a toothpick). Remove from oven and let cool completely before frosting. Enjoy!
Nutrition
Calories:
153
kcal
|
Carbohydrates:
29
g
|
Protein:
3
g
|
Fat:
2
g
|
Saturated Fat:
1
g
|
Cholesterol:
15
mg
|
Sodium:
62
mg
|
Potassium:
55
mg
|
Sugar:
12
g
|
Vitamin A:
75
IU
|
Vitamin C:
0.2
mg
|
Calcium:
17
mg
|
Iron:
1.1
mg