Easy Cinnamon Raisin Quick Bread, a fast and simple Breakfast Bread, not too sweet. Perfect for when you want Raisin Bread but no time for a yeast Bread.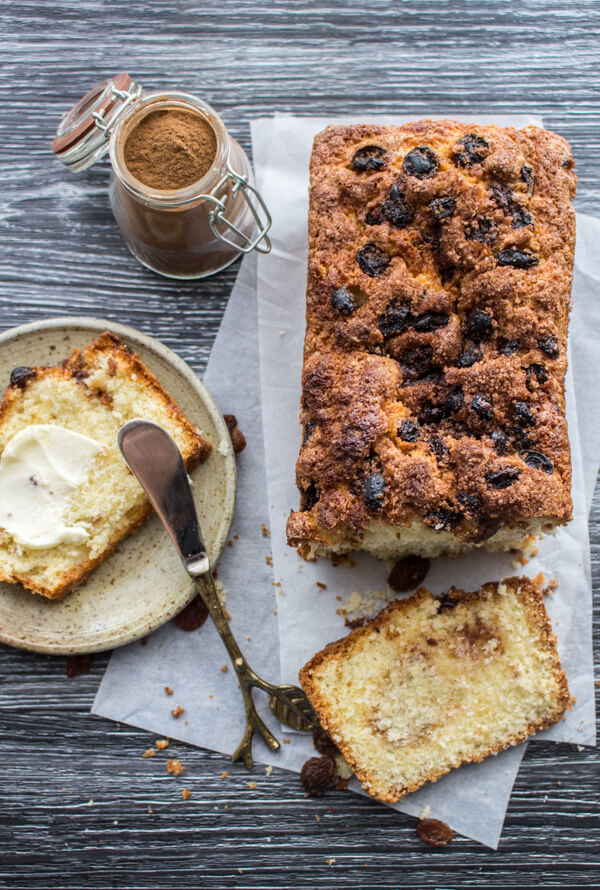 Celebrating the fact that I just replaced my oven made me so happy, I had to celebrate. And celebrate I did with a fast and easy and so delicious Cinnamon Raisin Quick Bread.
I decided to make one of my Mom's recipes and also one of my favourite combinations. Hey can you tell it's Fall? I love Fall, everything about it.
From the changing of the leaves to the amazing smells to the wonderful fruit. And of course don't forget the cooling temperatures.
So why not Christen my oven with the best! Actually raisins aren't exactly my favourite but when you mix them with cinnamon and plop them in a bread or Bagel, that my friend's is my ultimate breakfast!
I have been in cake and sweet loaf withdrawal from probably around April. I was trying to make a Sweet Bread I wanted to share and every time I made it,it came out flatter and flatter.
At first I thought I might be adding too much or not enough or a bad combination of baking powder and baking soda but nooooo.
Easy Cinnamon Raisin Quick Bread
That's when I decided to try making my tried and true Easy Yogurt Cake and as soon as I took it out of the oven it fell flat and was not cooked in the middle.
That is when I knew, my oven temperature was way off. I could make cookies or tarts, something that didn't need very much time or the need to rise.
Needless to say fixing it was not really worth it since it was over 20 years old and to tell the truth I wanted a brand spanking new one.
Now that I have a terrific new oven let the baking begin. Hello Cakes and Sweet Loafs and the occasional Yeast Bread and let's not forget a Pizza now and again.
If you are looking for something fast, easy and delicious for breakfast this weekend why not give this Cinnamon Raisin Sweet Bread a try? Enjoy!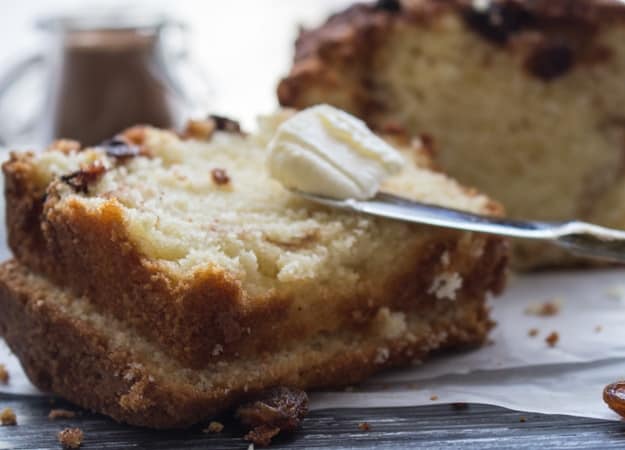 Easy Cinnamon Raisin Quick Bread
Is the perfect breakfast, snack or dessert Loaf, not too sweet, cake like cinnamon bread is so Delicious.
Ingredients
1/3

cup

raisins

1

teaspoon

cinnamon

3

tablespoons

brown sugar

1/4

cup

butter (room temperature)

(52.5 grams)

1

cup

white sugar

(200 grams)

1

large

egg (room temperature)

1 1/2

cups

flour

(195 grams)

2

teaspoons

baking powder

1

pinch

salt*

1/2

cup

milk (room temperature)

(122 grams)
*If using unsalted butter then add 1/4 teaspoon salt.
Room temperature - remove from fridge 45-60 minutes before using.
Instructions
Pre-heat oven to 350° (330-340° if you have a convection oven). Grease and flour an 8x4 inch loaf pan.

Soak raisins in hot water for approximately 15 minutes, drain and dry gently, set aside.

In a small bowl mix together cinnamon and brown sugar, set aside.

In a medium bowl whisk together flour, baking powder and salt, set aside.

In a mixing bowl on medium speed cream butter for about 1-2 minutes , then add the white sugar, 1/3 at a time, beating in between additions. Add slightly beaten egg and beat until light (approximately 5 minutes).

With a wooden spoon or spatula alternately add the milk and the flour to the creamed butter mixture. Mix gently until combined.

Spoon half the batter into pre-pared loaf pan, sprinkle with half the cinnamon/brown sugar mixture, spoon remaining batter on top, toss the remaining cinnamon/brown sugar mixture with dried raisins* and sprinkle on top of the batter. Bake for approximately 30-40 minutes check for doneness with a toothpick. Eat warm! Enjoy.
Notes
*You can also whisk the dried raisins with the flour rather than place on top (they could burn). 
Nutrition
Calories:
114
kcal
|
Carbohydrates:
21
g
|
Protein:
1
g
|
Fat:
2
g
|
Saturated Fat:
1
g
|
Cholesterol:
14
mg
|
Sodium:
85
mg
|
Potassium:
83
mg
|
Sugar:
12
g
|
Vitamin A:
95
IU
|
Vitamin C:
0.2
mg
|
Calcium:
31
mg
|
Iron:
0.6
mg