Sicilian Pasta is the perfect pasta dish for summer with fresh eggplant, tomatoes, garlic, and seasonings. Quick, easy pasta recipe with plenty of cheese, too. It's very simple, but like many recipes from Sicily, it's absolutely delicious.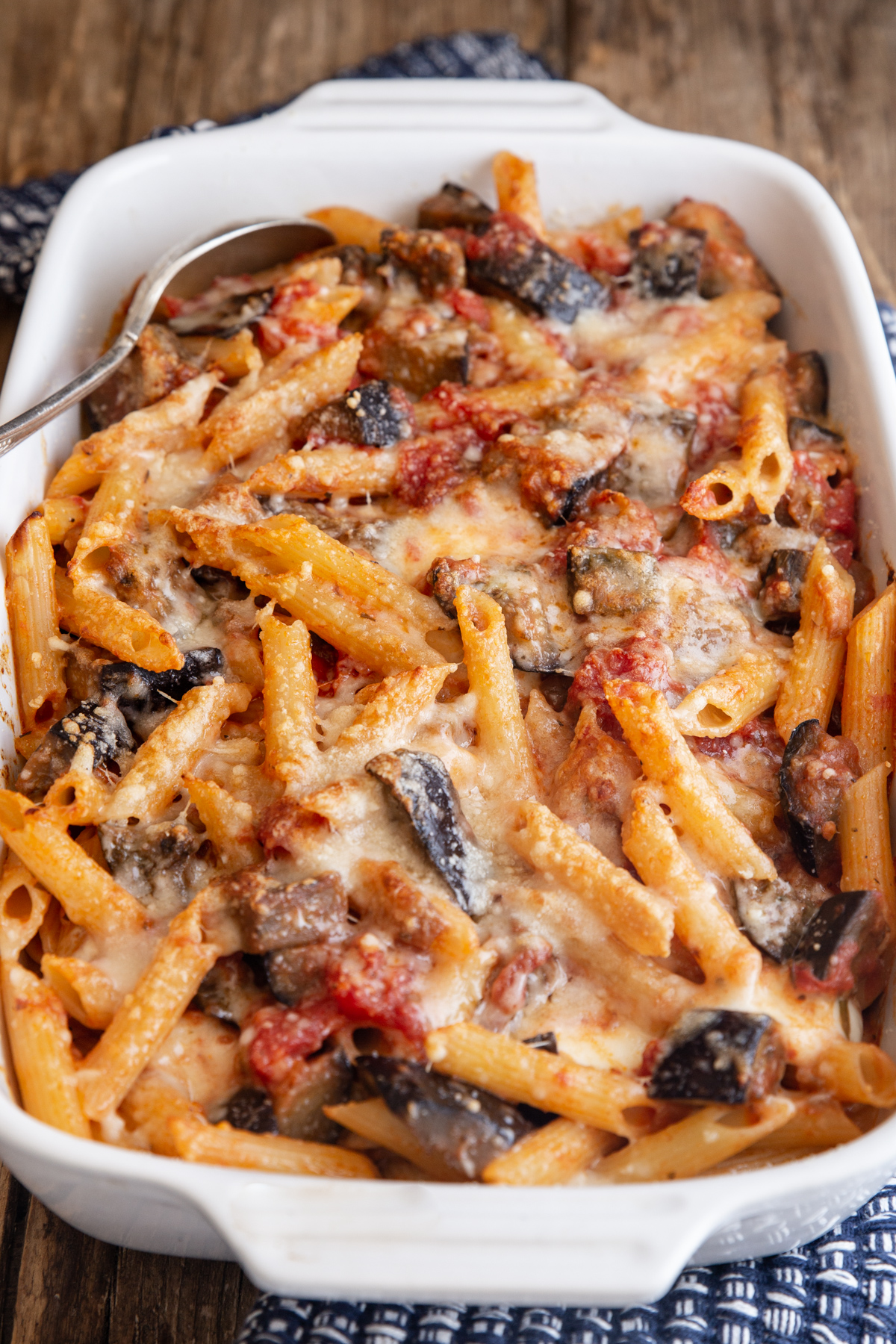 During the summer we trade the heavy pasta dishes for recipes like this Sicilian pasta recipe – a pasta dish with fresh summer vegetables. In this case, eggplant is the star making this a light but still satisfying dinner. And an easy one!
Back home I used to hear people comment on how they didn't like eggplant because it tastes so bitter. But after watching and learning from my mother-in-law I learned hot to eliminate that bitterness. And because of that, it's become a favourite ingredient. Especially during the summer when it's widely available.
So how do you make eggplant less bitter, you might be wondering? Well, you need to salt it and let it sit for a while before cooking it. The salt draws out a lot of moisture and the bitter flavor. Once cooked, it's soft and meaty. Perfect for a pasta dish like this authentic Sicilian pasta.
All of the ingredients are combined with cheese and then baked just until warmed through and toasty on top. The combination of the soft eggplant, tomatoes, and garlic is a classic flavor combination we never get tired of – you won't either once you give it a try.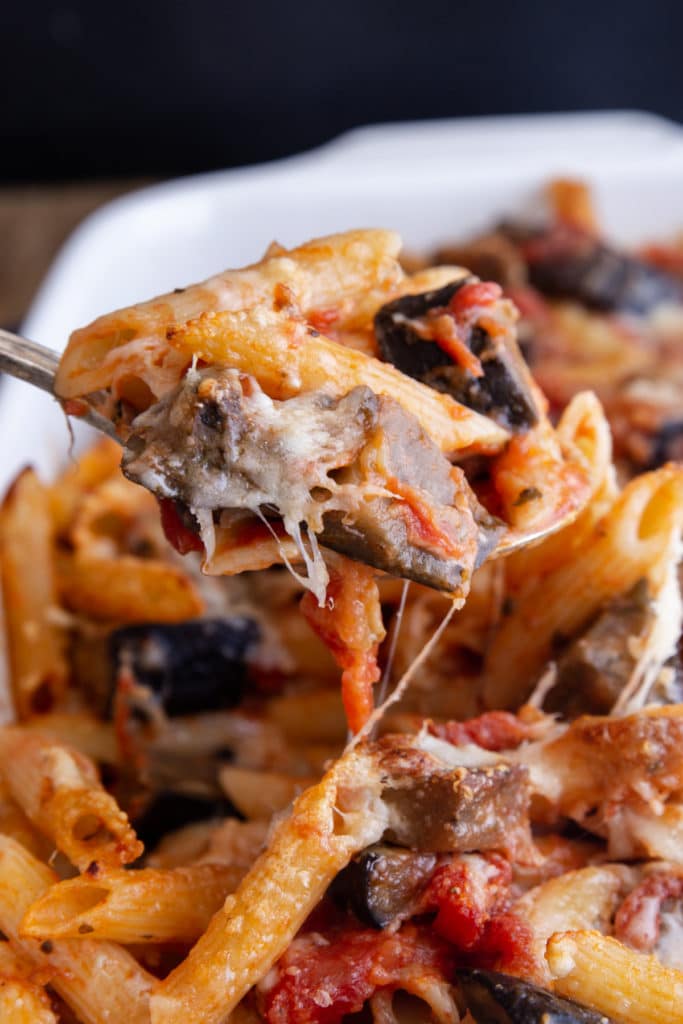 Sicilian Pasta Ingredients
Medium-sized eggplants
Salt – you don't need much, just enough to season the eggplant and draw out the moisture, about 1/4 teaspoon.
Olive oil
Water
Minced garlic
Canned Pelati tomatoes – or other canned peeled whole tomatoes.
Oregano
Basil
Hot pepper flakes – this is optional, but a few pinches add a nice subtle heat to the pasta.
Firm shredded mozzarella
Freshly grated parmesan cheese
Short pasta like penne, rotini, rigatoni, or other short shape you like.
Recipe Steps
Peel and cut the eggplant into cubes. Place them in a bowl and toss them with salt. Leave for at least 20 minutes. Drain off the excess liquid in the bowl and then add the cubes to a hot pan with olive oil and a little water.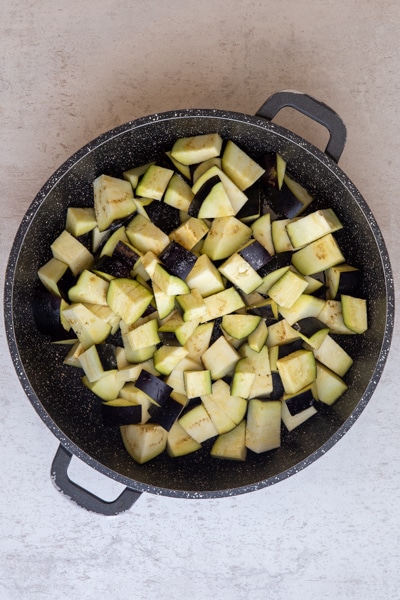 While the eggplant is cooking, boil the water and cook the pasta until al dente. Reserve some of the pasta water when you drain the pasta. Cook the eggplant cubes until golden and tender. Remove them from the pan and set them aside in a bowl.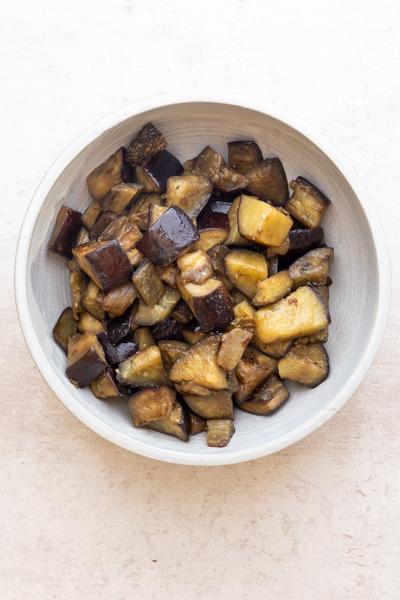 In the same pan, heat more oil and then add the tomatoes. Break them down as they cook. Add the seasonings, cooked eggplant, and a little more water to the pan.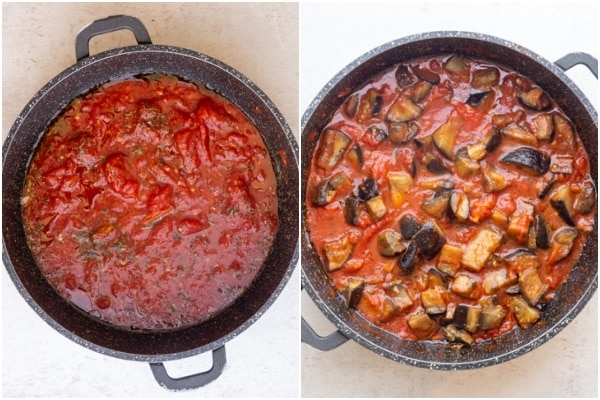 Cook everything for about five minutes and then add the cooked pasta plus some starchy pasta water.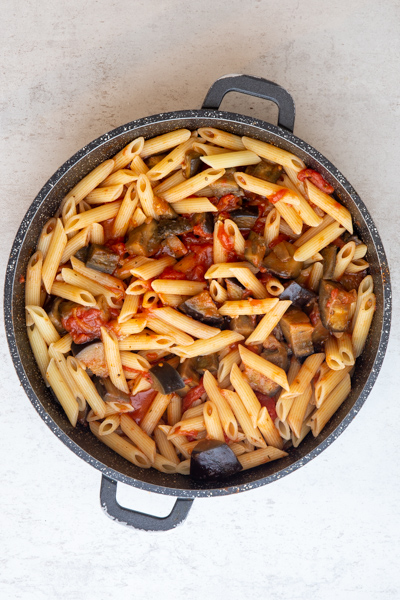 Add the mozzarella cheese and half of the Parmesan. Gently fold them into the other ingredients and then transfer the pasta to a medium-sized baking dish.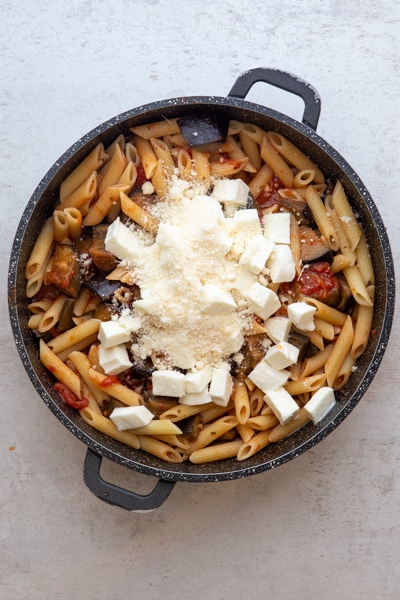 Sprinkle the rest of the cheese over the top and bake for 10 to 15 minutes and then let it rest for a few minutes at room temperature before serving.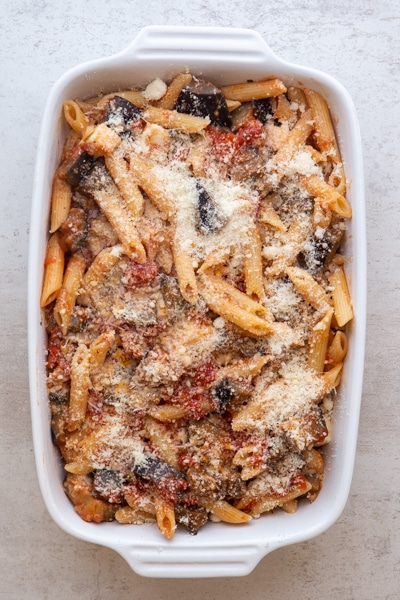 Recipe Tips
Canned tomatoes are best for this recipe and easier, too. I like the whole peeled kind but you could use passata (tomato puree) if you don't want to break down the whole tomatoes in the pan.
As I mentioned before, salting the eggplant is an important step and shouldn't be skipped. It will make the eggplant less bitter and softer once it's cooked.
If you want to add to this dish, feel free to try some chopped anchovies. Not everyone is a fan but added to pasta you don't really taste fish but instead a salty savory flavor. You can also use anchovy paste in a tube if you can find it.
I love fresh Mozzarella but not for this eggplant pasta. It has too much water that will end up in the sauce. It's better to use a low-moisture firm mozzarella instead.
Pregrated Parmesan cheese is convenient but I never advise using it, freshly grated has so much flavour and better texture. For a simple dish like this, I recommend grating it fresh before adding it to the pasta.
How to store it
Any leftover pasta should be covered tightly and stored in the fridge. It will last up to 3-5 days. It can be reheated in a low oven or microwave until warmed through.
Simple and so delicious this Sicilian pasta is always a favorite. If you love eggplant as we do, you must give it a try! Enjoy!
More Ways to Use Eggplant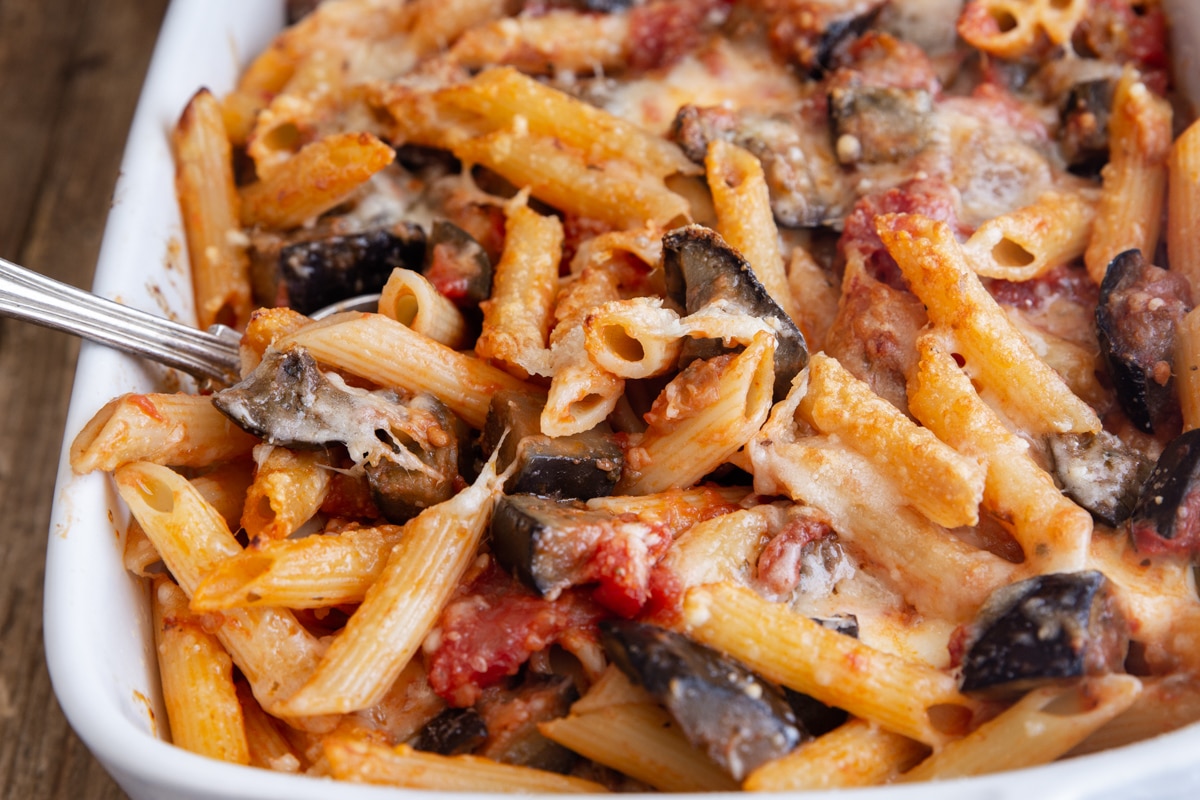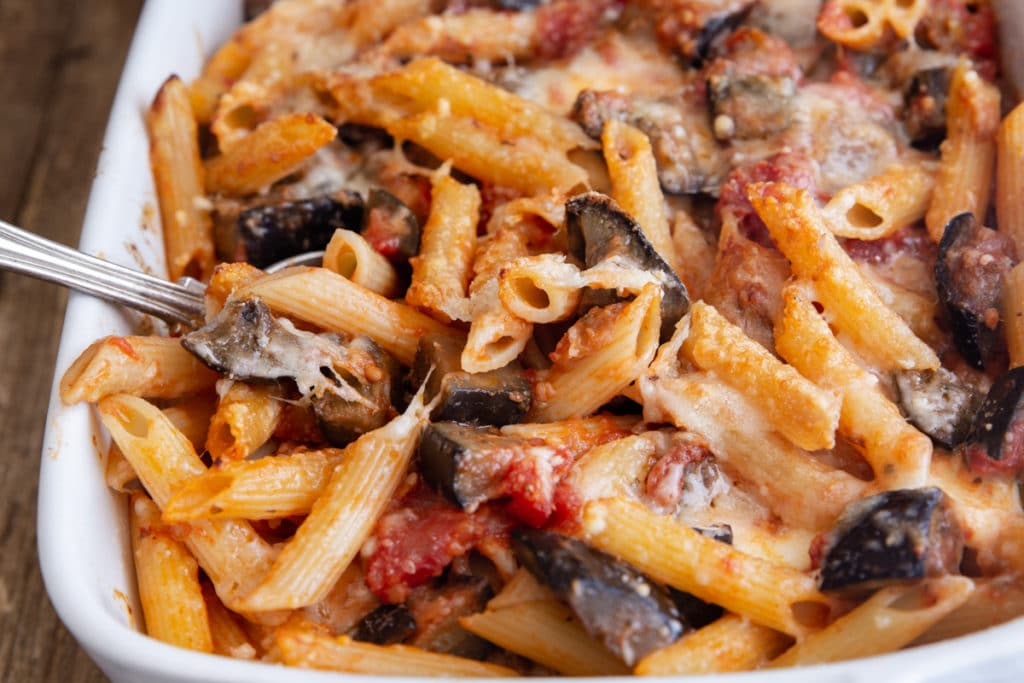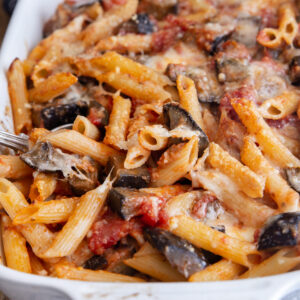 Sicilian Pasta Recipe
Sicilian Pasta is the perfect pasta dish for summer with fresh eggplant, tomatoes, garlic, and seasonings. Add some cheese for a delicious dish.
Ingredients
2

medium

eggplants

¼-½

teaspoon

salt

4

tablespoons

olive oil (divided)

½

cup

water (divided)

1-2

cloves

garlic minced

1

can

Pelati tomatoes (14 ounce can)

(400 grams)

½

teaspoon

oregano

½

teaspoon

basil

1-2

pinches

hot pepper flakes (if desired)

1

pinch

salt

½

cup

firm mozzarella

½

cup

freshly grated parmesan cheese (divided)

4

cups

cooked short pasta (penne, rigatoni etc)*
*Don't use a pasta too small or a long pasta.
Instructions
Peel and cut the eggplant into medium cubes, place them in a medium/large bowl toss with 1/4 teaspoon of salt, leave for about 20-30 minutes, drain any excess liquid but do not rinse before adding to the pan.

Start to boil the water while the eggplant is cooking, add the pasta, cook until a little more than al dente.

In a large pan add 2 tablespoons of olive oil, the cubed eggplant and ¼ cup of pasta water cook until golden and tender. Move with a slotted spoon to a clean bowl. Set aside.

Pre-heat oven to 400F (200C).

In the same pan add another 1 tablespoon of olive oil, garlic, tomatoes (mashed into small pieces or you can you tomato passata) oregano, basil, hot pepper flakes, a pinch of salt, 1/4 cup water and the cooked eggplant. Cook for about 3-5 minutes. Add ⅓ cup of pasta water, the pasta, mozzarella and half the parmesan cheese.

Gently fold together, then place in a medium baking dish 10×7 inches (27×18 cm), sprinkle the top with the remaining parmesan cheese. Bake for 10-15 minutes. Let sit 5 minutes then serve. Enjoy!
Notes
I don't always peel the eggplant but peeling also helps keep the eggplant tender and not bitter.
Any leftover pasta should be covered tightly and stored in the fridge. It will last up to 3-5 days. It can be reheated in a low oven or microwave until warmed through.
Nutrition
Calories:
497
kcal
|
Carbohydrates:
59
g
|
Protein:
18
g
|
Fat:
22
g
|
Saturated Fat:
6
g
|
Polyunsaturated Fat:
2
g
|
Monounsaturated Fat:
12
g
|
Cholesterol:
20
mg
|
Sodium:
452
mg
|
Potassium:
688
mg
|
Fiber:
9
g
|
Sugar:
10
g
|
Vitamin A:
258
IU
|
Vitamin C:
5
mg
|
Calcium:
258
mg
|
Iron:
2
mg
Did You Make This Recipe?
Please leave a comment below or pin it to your Pinterest account!