Easy Hot or Cold Grilled Eggplant Caprese, a fast and easy appetizer. Four ingredients, so simple and so delicious.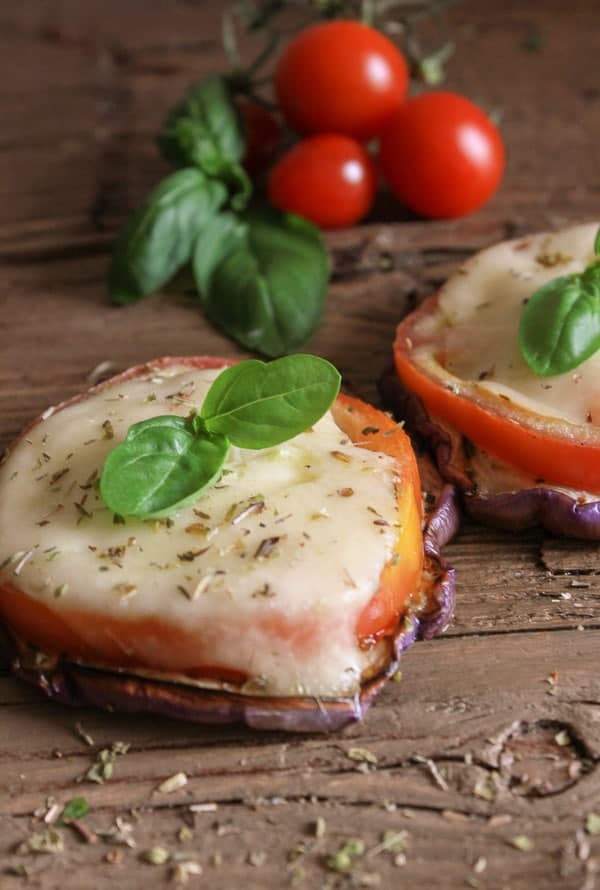 When it comes to summer there are a few recipes that I look so forward to making and eating. This Easy Hot or Cold Grilled Eggplant Caprese, my friends, is one of them.
Nothing like grilled Eggplant or Zucchini to start off the summer.With all this beautiful weather my vegetable garden is growing incredibly  well, which means it needs constant care, from weeding to watering to tying up the tomato plants, it doesn't leave me too much time for preparing lunch.
Fortunately the summer provides a lot of veggies perfect for fast and easy.I usually use a small pan grill to grill my vegetables, no need to start the barbecue every time. I prefer to use the round light purple eggplant instead of the longer ones.
Top with a nice thick tomato slice, choose a ripe but firm tomato, another thick slice of fresh mozzarella, some fresh basil, a sprinkle of salt and oregano and a drizzle of olive oil. This dish is wonderful served with bruschetta.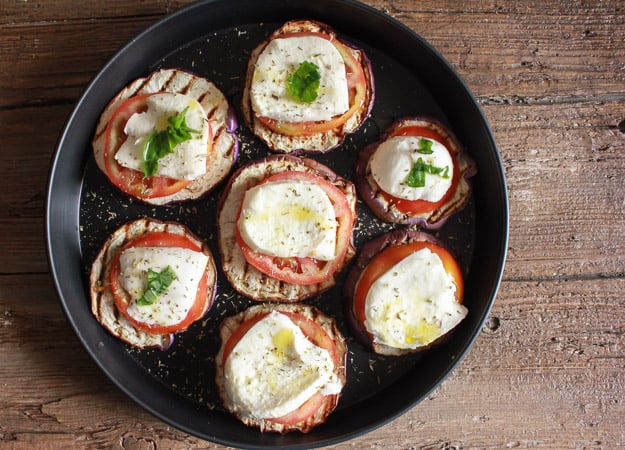 If you like it hot, slip it under a hot grill for a few minutes, just so that the mozzarella starts to melt, but not too much or it just becomes too watery.
This Easy Hot or Cold Grilled Eggplant Caprese dish becomes the perfect side dish, main dish or appetizer, you decide.
To tell the truth I was never a real tomato lover, when my sister came to visit for the first time, she would go to my mother-in-law's garden take a tomato wipe it on her sleeve and she would proceed to eat it like an apple,  I could never figure that out!
But now I wonder how I could live without tomatoes and I think Caprese is fast becoming my new favorite word. Buon Appetito!
Easy Hot or Cold Grilled Eggplant Caprese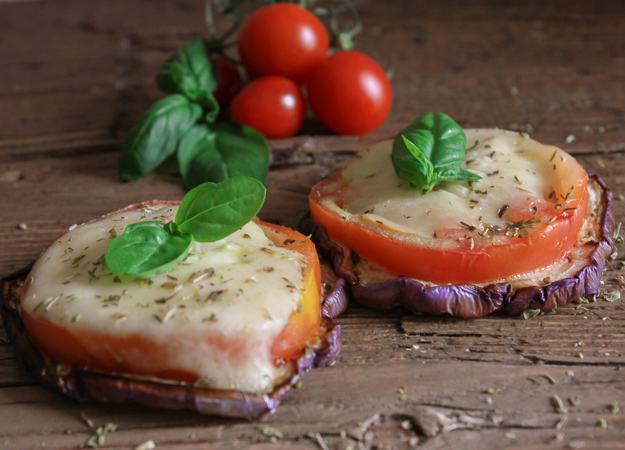 Easy Hot or Cold Grilled Eggplant Caprese
Easy Hot or Cold Grilled Eggplant Caprese, the perfect summer appetizer, side dish or main dish. Fast, easy and incredibly delicious.
Ingredients
5

eggplant 1/4 inch slices (1/2 centimeter) (round eggplant is best to use light purple in color)

5

thick slices tomato (not too ripe, must be firm)

5

slices

fresh mozzarella

5-7

leaves

fresh basil chopped

1/2

teaspoon

oregano

1/2 gram

pinch or two of salt

2

tablespoons

olive oil for drizzling
Instructions
(place slices of eggplant in a medium bowl and sprinkle with 1/2 teaspoon salt, let sit 20 minutes then drain but do not rinse)

Using a pan grill or barbecue grill the slices of eggplant until soft.




For hot grilled eggplant, place grilled eggplant slices on a parchment paper lined cookie sheet, top with 1 slice of tomato, 1 slice of mozzarella (if you like sprinkle some freshly grated Parmesan cheese on top of the mozzarella) then sprinkle with oregano, salt, fresh chopped basil leaves and drizzle with olive oil. Place under broiler and broil for a few minutes, just until mozzarella starts to melt, or it will become too watery.

For the cold grilled eggplant the same as the hot except do not broil.

Serve immediately. Enjoy!
Nutrition