Toasted Coconut Lemon Ice Cream,  a deliciously fresh creamy Ice Cream just in time for Summer. No churn and  just four ingredients makes this Coconut Lemon Ice Cream a refreshing Summer Treat.
Here we are back with round 2 of Ice Cream Week. As I said in my Coffee Chocolate Ripple Ice Cream Post, today I am featuring one of  the Italian's favourite ice creams.
Whenever we go out for Gelato, wherever or with whoever he always gets 2 flavours. One is Coconut and some other fruit ice cream. Sometimes Lemon or Melon but never ever any type of Chocolate ice Cream.
Obviously I never get fruit! Always, always chocolate of some kind. But after I made this I decided that it wasn't half bad, actually it was really good. Ok it's not chocolate but it is nice and refreshing and creamy. Perfect for a hot summer evening.
I thought the combination of Coconut and Lemon was interesting and even better would be toasted coconut. I bought a fresh piece of coconut and grated it myself, since all I could find was ground coconut and that wouldn't work.
I placed the shredded coconut on a cookie sheet and baked it in the oven for approximately 10 minutes at 350°. I let it cool a bit, then I mixed some of it in the ice cream mixture and then in the freezer it went for approximately 4 hours.
Unlike my husband I'm not a big coconut fan, lemon yes I love it and can never get enough, from Lemon Cake to Lemon Bread.
 Toasted Coconut Lemon Ice Cream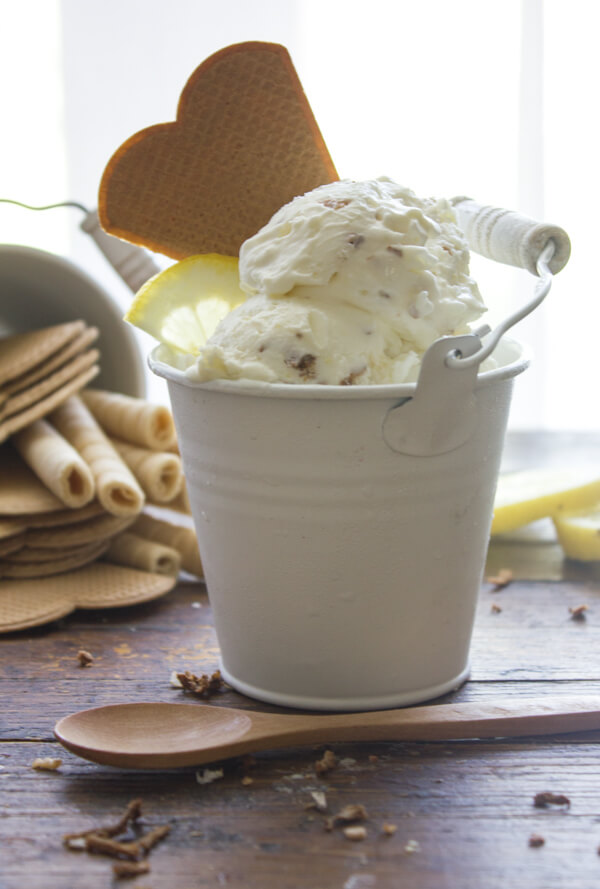 But I have to say toasting the coconut gave it a really nice flavour that was perfect with the lemon. So when I tasted it I was pleasantly pleased, it is one combination that I will surely repeat, especially during this long hot summer that has already started here in Italy.
When you are looking for a delicious satisfying Dessert this Summer, I think you will really like this Easy Toasted Coconut Lemon Ice Cream. Enjoy!
Toasted Coconut Lemon Ice Cream
Toasted Coconut Lemon Ice Cream, an easy homemade ice cream recipe, a refreshing fresh coconut and lemon flavor dessert.
Ingredients
1

can

sweetened condensed milk (14 ounces)

zest and juice of 1 lemon

2

cups

cream whole/heavy or whipping cream with at least 30% fat content

3

tablespoons

toasted coconut
Instructions
Pre-heat oven to 350° (180° celsius)

On a cookie sheet place shredded coconut and bake for approximately 5-10 minutes or until golden (stir occasionally). Remove and let cool.

In a small bowl whisk together the lemon zest, the juice and the sweetened condensed milk.

Add a little whipped cream to the lemon/sweetened condensed mixture to make it easier to combine, then fold the mixture into the whipped cream. Fold in the toasted coconut.

Pour into a loaf pan 9 inches (23 cm).

Either cover loaf pan in plastic or place in a large ziplock bag and freeze at least 3-5 hours until frozen or even overnight. Enjoy!
Nutrition