Nutella Ice Cream – Fast and Easy, this Creamy No Churn Ice cream is full of Chocolate Chips and a yummy Nutella Swirl. You don't need an ice cream maker for this recipe and, even better, you only need four ingredients.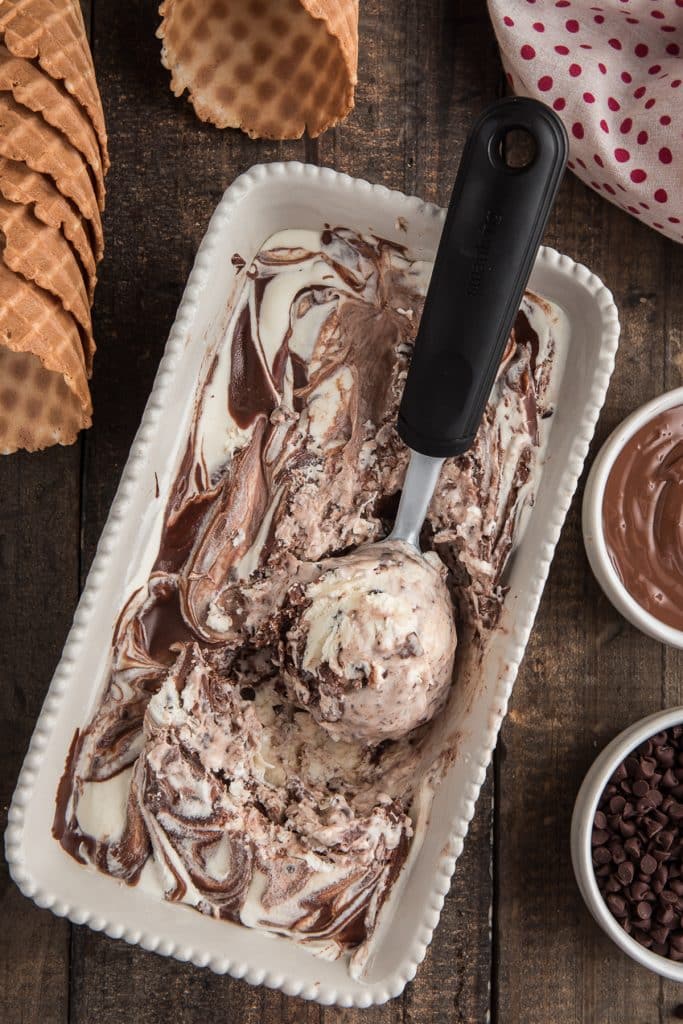 With the weather warming up here in Rome, what better time to share a creamy Nutella ice cream recipe? And, don't worry, you don't need a fancy ice cream machine to make it – this is an easy no churn ice cream recipe that's very simple to make.
Of course, it features my family's favourite ingredient: Nutella!
We are big ice cream (gelato) eaters in our family, although it did surprise me to see that Italy is not in the Top 5 for Ice Cream Eating Countries in the World, settling at number 9. I mean seriously? 🙂 With gelato shops on every corner, it's hard to believe we aren't #1. I guess that means we need to eat more ice cream!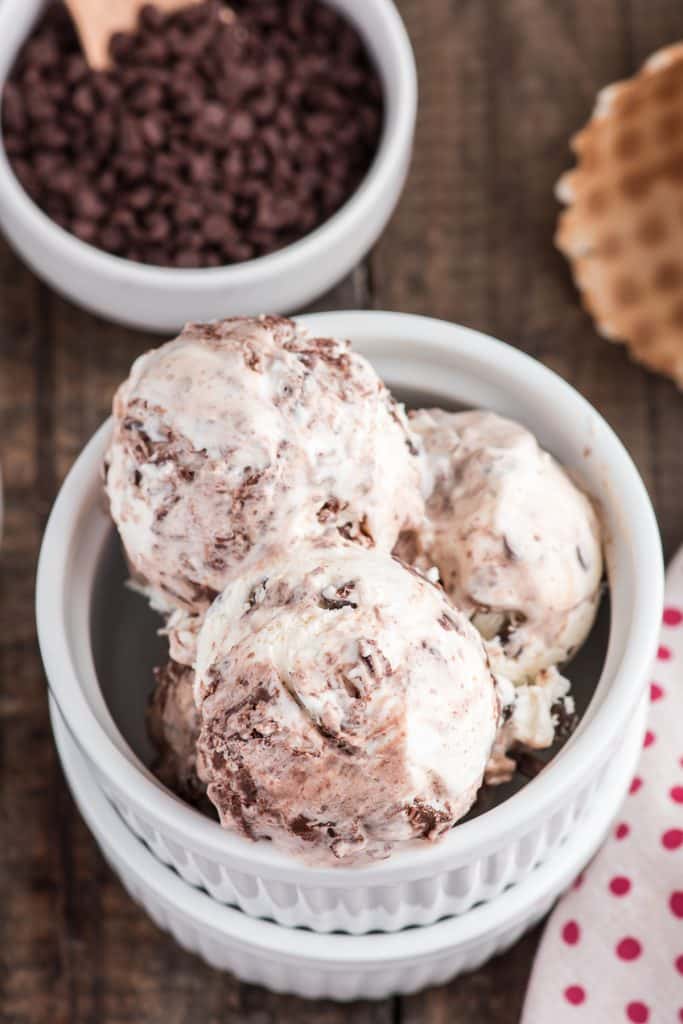 Easy Nutella Ice Cream Recipe
If you've never made no churn ice cream, you're going to love it. This type of ice cream is made with sweetened condensed milk and heavy whipping cream. The cream is whipped and folded into the milk and that makes the ice cream base.
You can flavor it so many ways and this time I added a rich chocolate hazelnut spread swirl along with chocolate chips. Once you've added it, just freeze the ice cream overnight. It really is that easy.
It's so easy, I make many batches of no churn ice cream throughout the summer and Nutella swirl ice cream is always a favourite. It has the best creamy texture, and delicious flavour – the perfect cold treat when it's warm.
Ingredients
Whole cream (heavy cream)
Sweetened condensed milk
Mini dark chocolate chips – or other chocolate chips that you like.
Nutella – you can use store bought or even make your own Nutella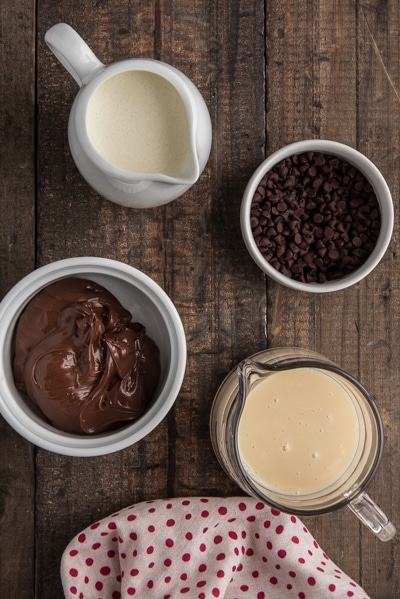 Recipe Instructions
Warm the Nutella either in a pot on the stove or in the microwave. This will thin it so it's easier to swirl. Set it aside to cool.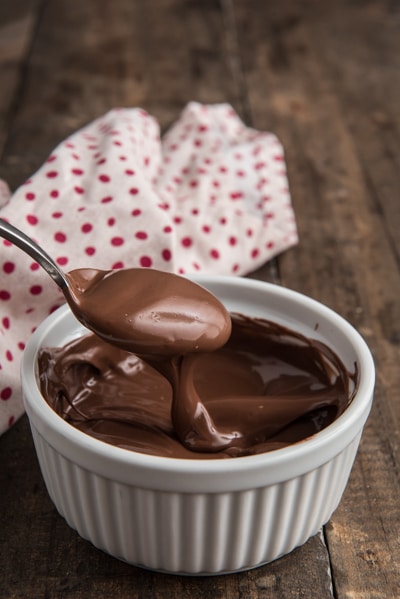 Pour the sweetened condensed milk into a large bowl. In a separate bowl, whip the cream until stiff peaks form.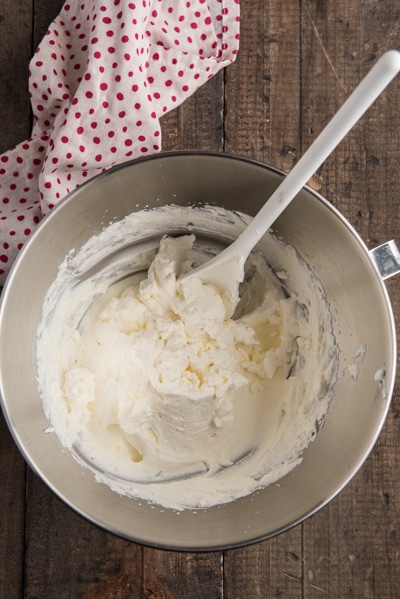 Add a little of the whipped cream to the milk and fold it in. This will make it easier to fold in the rest of the whipped cream. Fold in the chocolate chips.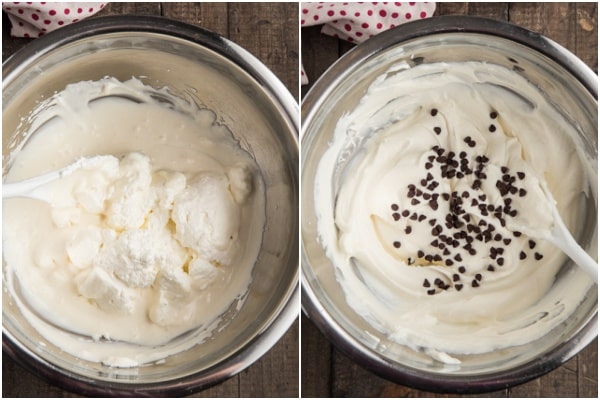 Pour the ice cream mixture into an 8×4″ loaf pan.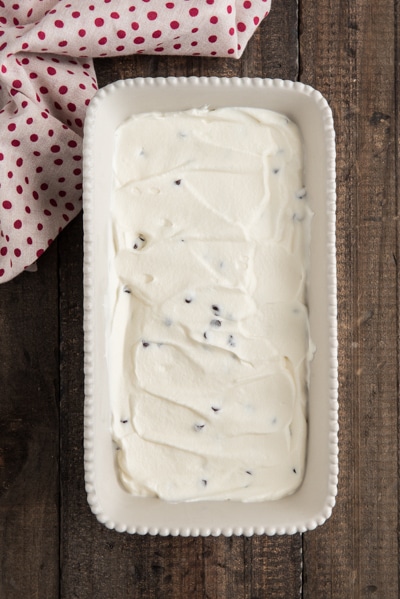 Pour the Nutella over the top and then use the tip of a knife to swirl it into the ice cream mixture.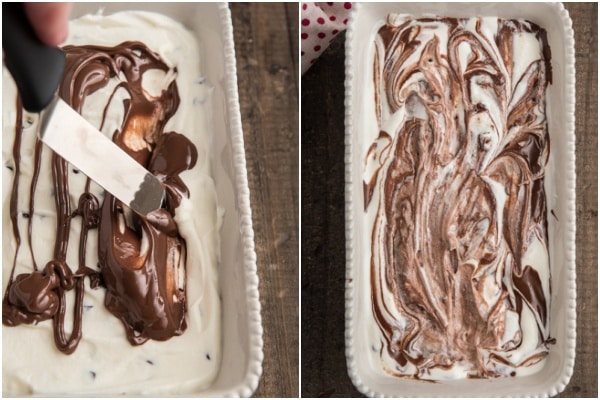 Cover the pan with plastic wrap and freeze the ice cream until firm, overnight is best.
What is the difference between ice cream and gelato?
Why is  gelato  creamier and tastier than ice cream? And is there an actual difference? After doing some research I have discovered that, perhaps, ice cream and gelato are not the same thing. Basically there are three main differences  that set gelato apart from ice cream.
Firstly, gelato is made with more milk than cream (key element that makes it lower in fat, bonus!), which, they say, also makes it tastier (another bonus.)
Secondly it is churned at a lower speed making it denser than ice cream and lastly it's served at a lower temperature than ice cream which helps to give it that creamy texture that we love.
If you served ice cream at the same temperature you would get a soupy slop, because ice cream is fattier and that makes it melt faster. But either way, I love them both.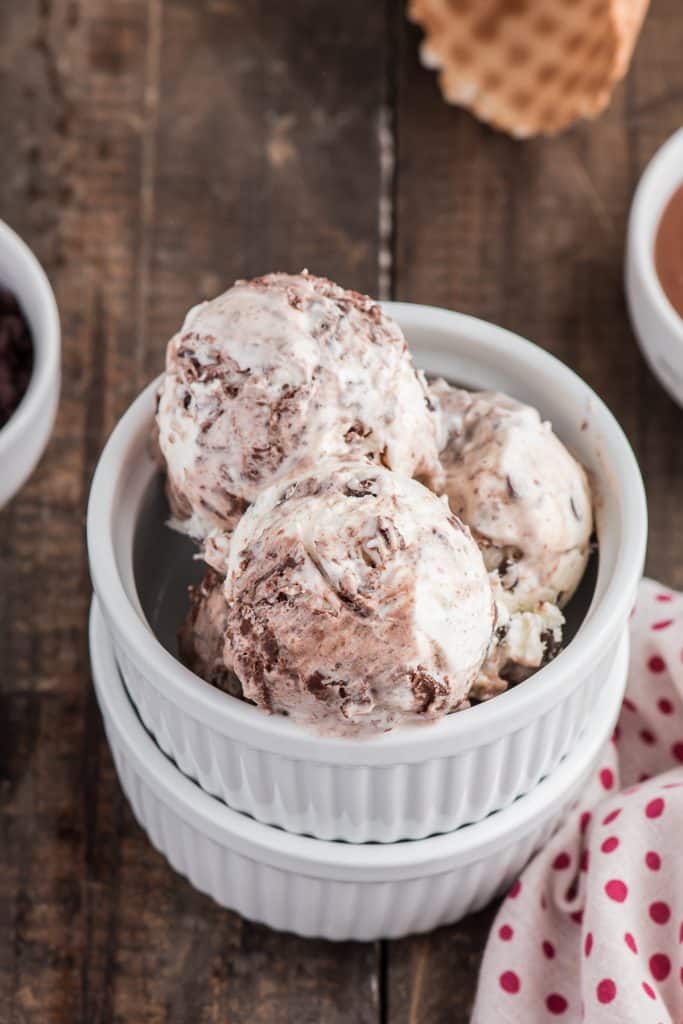 How to store Homemade Ice Cream
Homemade ice cream / gelato should be kept in the freezer, in an airtight container. Apparently glass or stainless steel are the best containers to use. It will keep for up to 2 weeks in the freezer. 
Give this easy ice cream recipe a try and let me know what you think. Whenever I have Nutella ice cream, I can't stop at just one scoop – it's too good! Enjoy!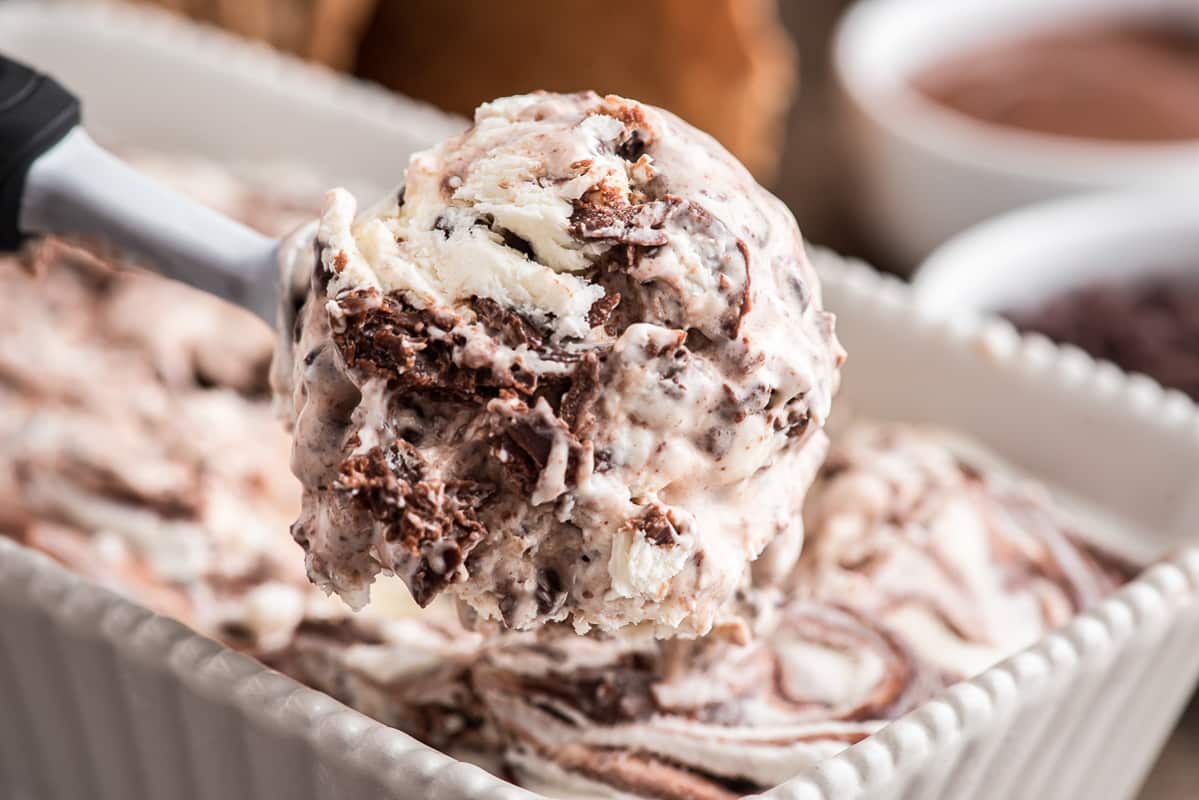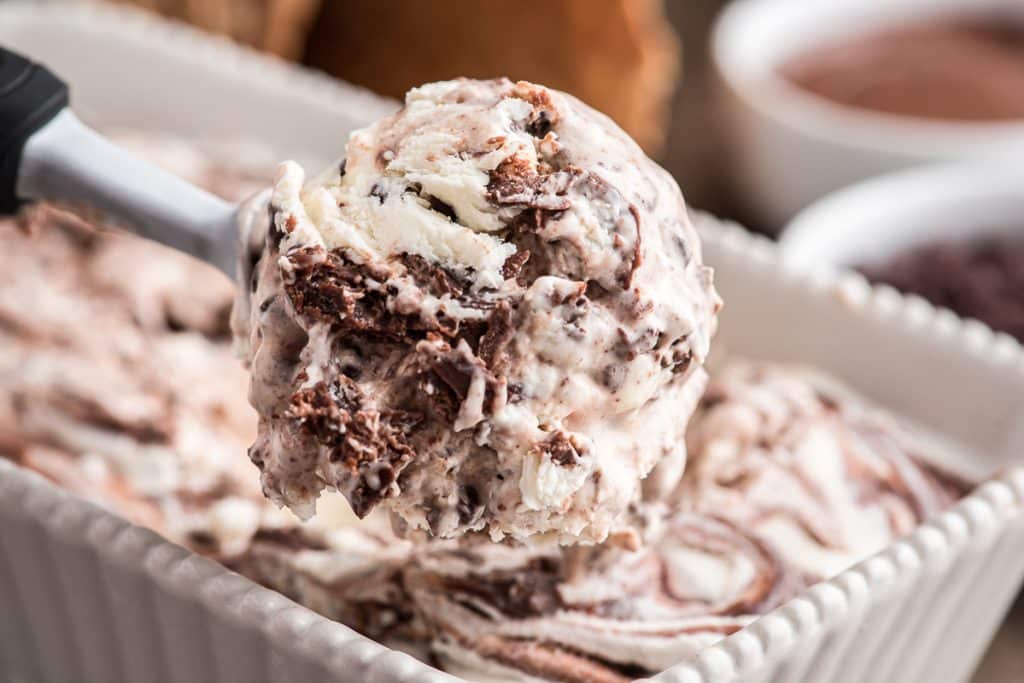 More Summer Desserts
No Churn Nutella Ice Cream
No Churn Nutella Swirl Chocolate Chip Ice Cream, fast, easy, creamy and delicious. A Perfect frozen dessert or snack.
Ingredients
1 ¼

cups

whole / whipping cream

(310 ml)

½

cup

sweetened condensed milk

(116 grams)

¼

cup

mini dark chocolate chips

(42.5 grams)

3-4

heaping soup spoons Nutella
Instructions
Thin out the Nutella a little, either by placing in a bowl over a pot of boiling water or microwave.

In a large bowl whip the cream until stiff peaks appear.

Add a little whipped cream to the sweetened condensed milk mixture to make it easier to combine, then fold it into the remaining whipped cream.

Fold in chocolate chips, then pour into a loaf pan approximately 8 inches (20×10 cm). Pour the thinned out cooled Nutella on top and with the tip of a knife mix it into cream mixture.  Cover with plastic wrap and freeze for 8-10 hours until firm or even over night.  Enjoy!
Notes
Homemade ice cream should be kept in the freezer, in an airtight container. Apparently glass or stainless steel are the best containers to use. It will keep for up to 2 weeks in the freezer. 
Nutrition
Calories:
440
kcal
Carbohydrates:
30
g
Protein:
6
g
Fat:
34
g
Saturated Fat:
23
g
Polyunsaturated Fat:
1
g
Monounsaturated Fat:
8
g
Cholesterol:
97
mg
Sodium:
81
mg
Potassium:
287
mg
Fiber:
0.5
g
Sugar:
27
g
Vitamin A:
1197
IU
Vitamin C:
1
mg
Calcium:
193
mg
Iron:
0.3
mg