Panna Cotta one of the most delicious Classic Italian Dessert Recipes. A delicate and creamy chilled vanilla flavoured treat. Serve it with this easy berry sauce. It makes the perfect Entertaining or Family Dessert idea.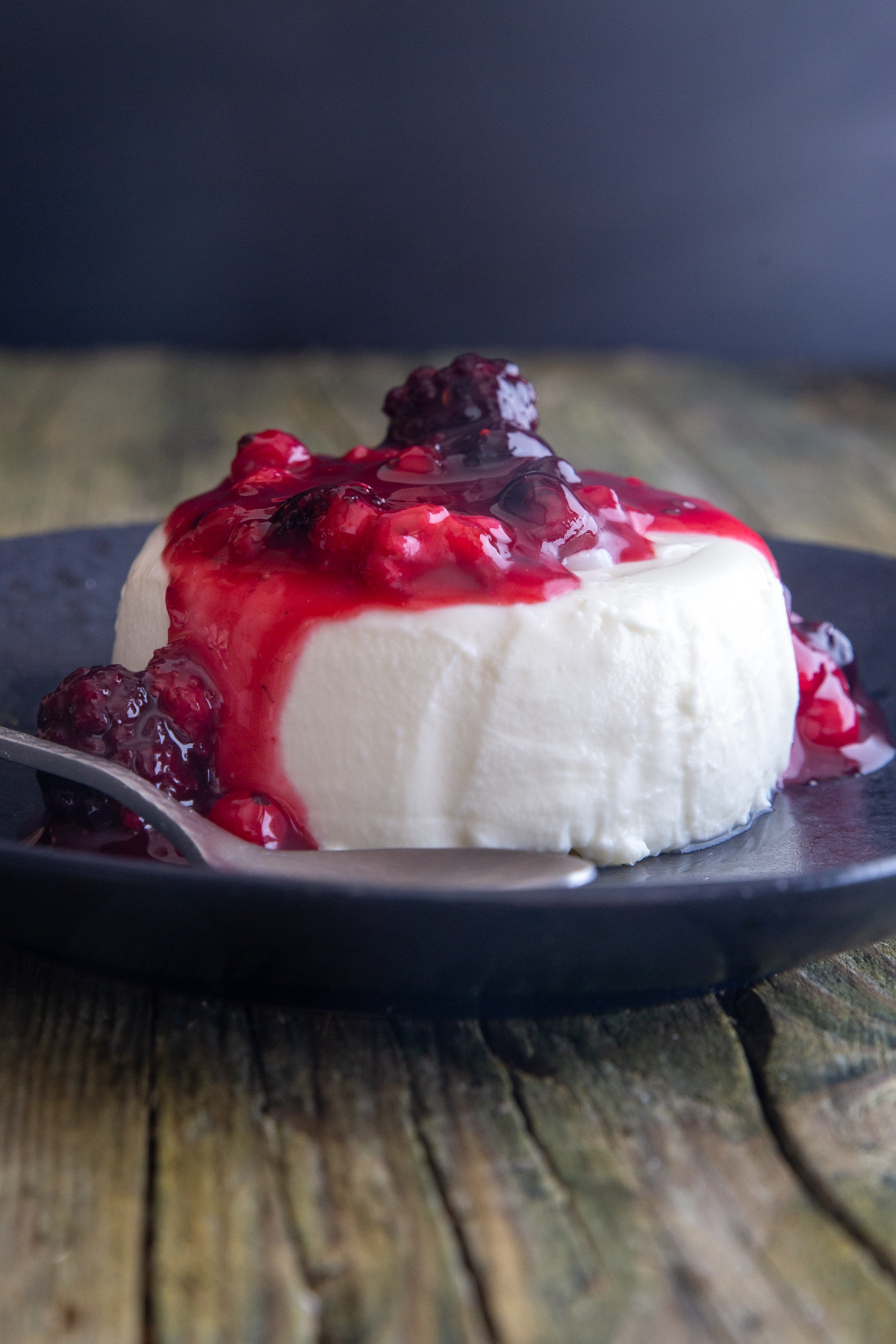 I have made a few Panna Cotta in my time here in Italy, although I tried it later rather than sooner. And I can honestly say it is amazing. I really don't know how popular it is in North America but I really think it is so underrated. After Tiramisu it is probably my favourite Italian Dessert.
What are the ingredients
Just 5 ingredients and that is it!
Gelatine – this is needed to thicken the dessert
Milk – I like to use 2% although whole milk is fine also
Whipping Cream – be sure to use whole, heavy or whipping cream at least 30% fat
Sugar – to add some sweetness to the dessert
Vanilla – to add a little flavouring to it
What is Panna Cotta?
It is very popular all over Itay. A chilled molded dessert or sometimes served in a tall glass, made with milk, cream, sugar, vanilla and gelatin, which is necessary to make it firm and holds its shape. Eaten with a spoon and perfect as a special occasion or anytime dessert idea.
Where does it come from?
Panna Cotta is from the Region of Piemonte. The translation is "Cooked Cream" which is thickened with gelatine and then chilled to form a silky melt in your mouth texture. It is typically served with a berry, chocolate or caramel sauce.
What does Panna Cotta taste like?
It is a soft, creamy and delicate tasting dessert that almost melts in your mouth. It's velvety and smooth. Considering it's made with cream it really is quite light. So good that you will wish it would never end.
It has now become one of my family's favourite desserts, not only vanilla but I have also made a Chocolate Panna Cotta and a Panna Cotta Tart. Both are simple yet delicious.
How to make Panna Cotta
In a medium pot add the cream and sugar, bring it to a boil. Remove the pot from the heat.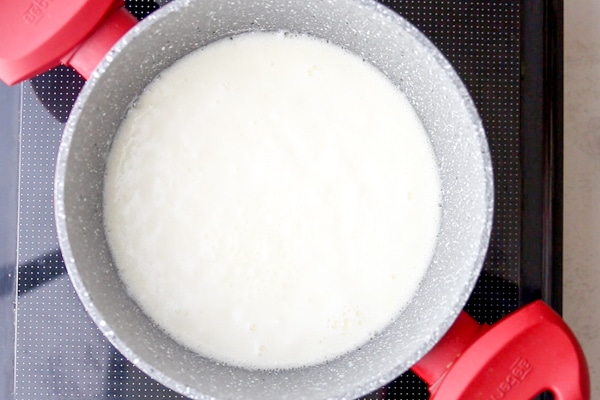 In a small pot mix together the gelatine and the milk. Let sit for a few minutes.
Then heat just until gelatine dissolves.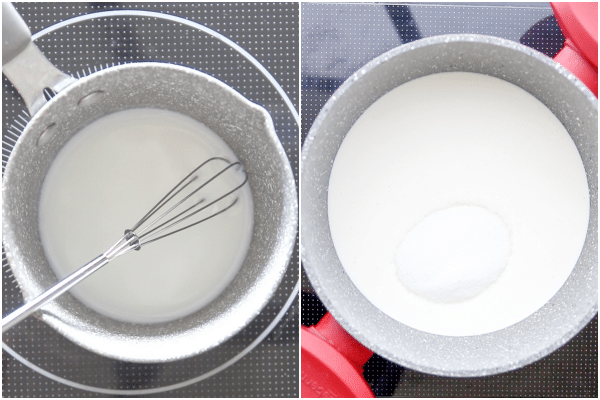 Add the gelatine mixture and vanilla to the cream mixture, stir to combine.
Pour into desired cups or glasses.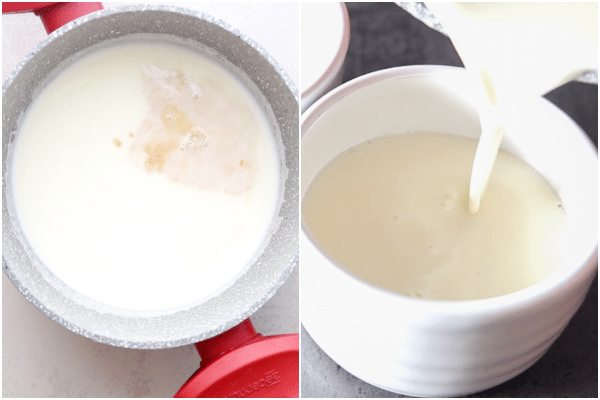 Let the Panna Cotta come to room temperature, then refrigerate for at least 5-6 hours or until firm. Spoon the berry topping on top before serving.
How to remove the Panna Cotta from the forms
Remove the molds from the fridge and place them for about 3-4 seconds in a pan with boiling water, with the tip of a knife gently run it around the inside of the cup. Then invert the cup onto a plate.
What other toppings can you use?
In the summer I love to serve this with a slightly sweet berry topping, but you could also serve it with a fresh berries such as blueberries, strawberries or fresh peach or apricot slices. If you want to skip the fruit, how about a dollop of whipped cream with chocolate shavings or even a simple chocolate ganache.
How to make Chocolate Ganache
Using either the microwave or bain marie melt and stir together until smooth 3 1/2 ounces (100 grams) of chocolate (either milk or dark or even a combination) 2 tablespoons of butter and 1/4 cup (58 grams) of whole, heavy or whipped cream. Let cool but not harden, before drizzling over the dessert.
FAQ
Can I make this ahead of time?
This is definitely a make ahead dessert. It can be made the day or morning before serving, since it needs at least 5-6 hours of chilling time. Be sure to plan ahead to make sure it has enough time to chill. It should never be chilled in the freezer.
How to store it
Panna cotta should be tightly covered with plastic wrap or conserved in an airtight container, then stored in the refrigerator. It will keep for 3-4 days if properly stored.
Can it be frozen?
Yes it can be frozen, although it is best to freeze once it has set. It will keep for up to 1 month in the freezer. Never refreeze the panna cotta after it has been thawed. Add the topping before serving.
More Italian Dessert Recipes
However you wish to serve your Panna Cotta, in a glass or in a mold, I hope you love it as much as we do. Enjoy!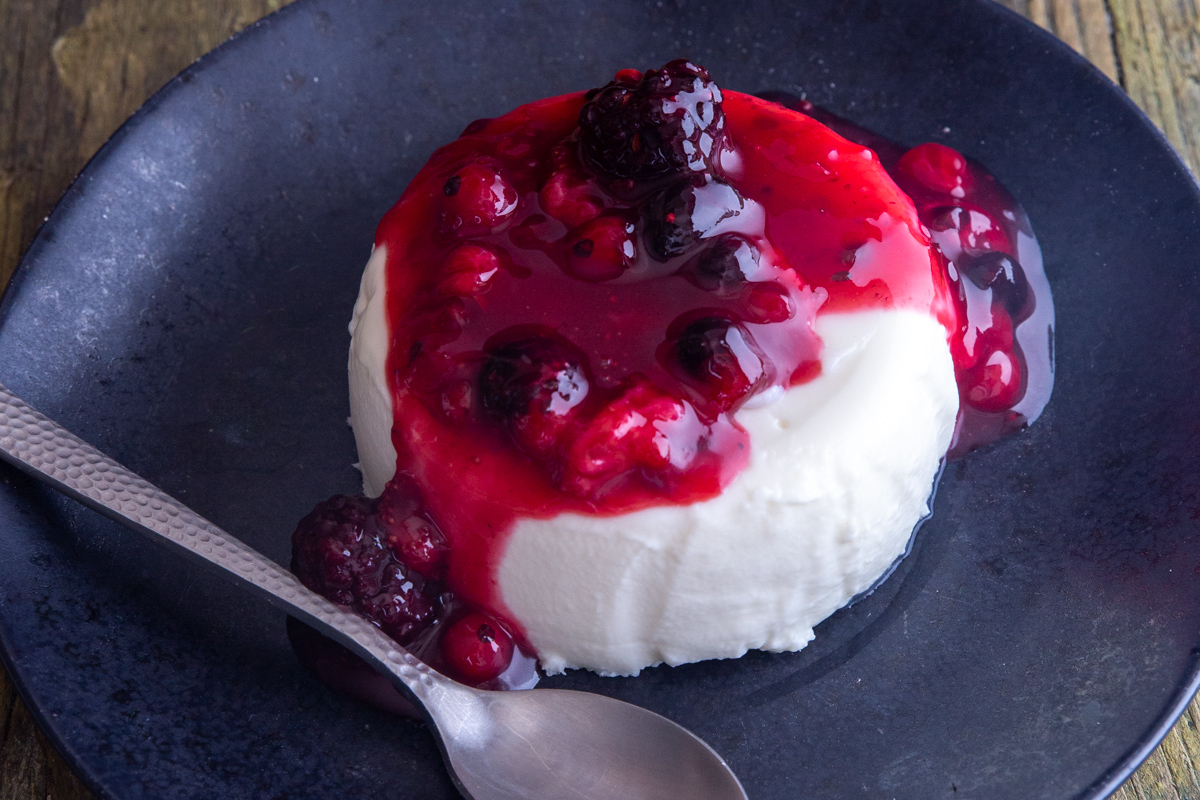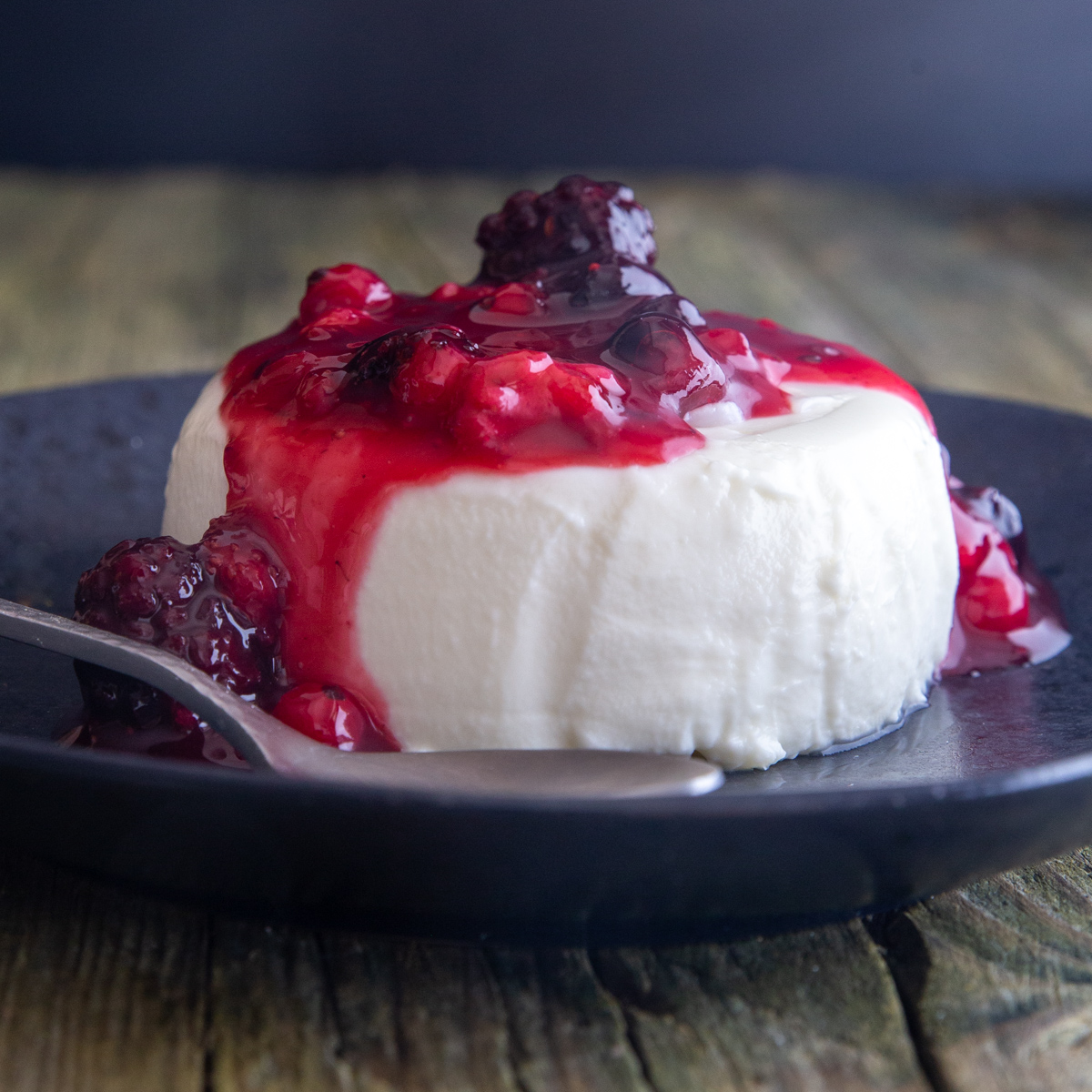 Creamy Vanilla Panna Cotta Recipe
Panna Cotta one of the most delicious Classic Italian Dessert Recipes. A delicate & creamy chilled vanilla treat. Serve it with an easy berry sauce.
Ingredients
FOR THE PANNA COTTA
1

tablespoon

gelatine

2

tablespoons

milk (I used 2 %)

2

cups

cream whole/whipping or heavy

(470 grams)

6

tablespoons

granulated sugar

(80 grams)

1 1/2

teaspoons

vanilla
BERRY TOPPING
1

cup

assorted frozen berries of choice (blueberries, raspberries, strawberries etc)

1/4

cup

granulated sugar

1

tablespoon

corn starch

2

tablespoons

water

2

teaspoons

lemon juice
Instructions
FOR THE PANNA COTTA
In a medium pot add the cream and sugar, heat on medium / low heat just until the cream starts to boil, immediately remove the pot from the heat. 

In a small pot add the 2 tablespoons of milk and sprinkle the gelatine on top, let stand one minute, then place the pot on low heat and heat just until the gelatine has dissolved (1-2 minutes), do not boil, then immediately remove from heat.

Add the gelatine mixture and the vanilla to the cream mixture, combine well with a whisk. Pour into 4 molds or glasses, let the mixture cool then refrigerate for at least 5 hours or over night or until the panna cotta is firm. 

If using molds then dip the mold into boiling water for about 3-4 seconds, gently slide the tip of a knife around the edge of mold and invert onto a plate. Top with the berry topping and serve. If using a glass then add the berry topping to the top of the panna cotta. Enjoy!
FOR THE BERRY TOPPING
In a medium pot mix together berries, sugar, cornstarch, water and lemon juice, bring to a boil then lower heat and simmer until desired thickness. Pour into a bowl, let cool then refrigerate for at least a few hours.
Notes
Cover well any leftover panna cotta and refrigerate for up to 3-4 days.
Nutrition
Calories:
577
kcal
Carbohydrates:
41
g
Protein:
6
g
Fat:
44
g
Saturated Fat:
28
g
Cholesterol:
164
mg
Sodium:
57
mg
Potassium:
121
mg
Fiber:
1
g
Sugar:
34
g
Vitamin A:
1765
IU
Vitamin C:
2.6
mg
Calcium:
89
mg
Iron:
0.1
mg