Valentine Chocolate Dipped Heart Cookies, a buttery cut out cookie that doesn't spread when baked. The perfect Valentine's Day Decorated Heart Shaped Cookie. Chocolate Dipped makes them irresistible.
Cookies are a big deal in our house, so when they come out perfect like these sugar cookies you know you are going to make some people really really happy!
Heart Shaped Cookies
You know what I love about the holidays? (Any holiday for that matter) I get to bake. I love baking. And these Valentine Chocolate Dipped Heart Cookies are right up my alley.
Around Christmas time I had this amazing idea to just start doing desserts and my daughter's response "Don't be ridiculous". I suppose that meant no.
But sometimes I really have to hold myself back from not posting one sweet recipe after another. It doesn't help that the Italian has a real sweet tooth (but no frosting please)!
When I hear "how come you haven't baked anything in a while"? those words are music to my ears.
I love checking out some amazing Dessert and Sweet blogs. One of my favourites is a woman by the name of Marian who blogs at Sweetopia.
In fact these Valentine Chocolate Dipped Heart Cookies were based on her Chocolate Sugar Cookies.
Here in Italy I find it so difficult to bake a firm cookie. I wanted one that would keep its shape and not spread. A buttery cookie, but not Shortbread or Peanut Butter.
I tried making a couple of my Mom's recipes, but nope,  there was that dreaded spread. They tasted really good but didn't look like I wanted them to.
So when I discovered Marian's recipe and she said they wouldn't spread, I thought, "what the heck, I will try again."
Valentine Chocolate Dipped Heart Cookies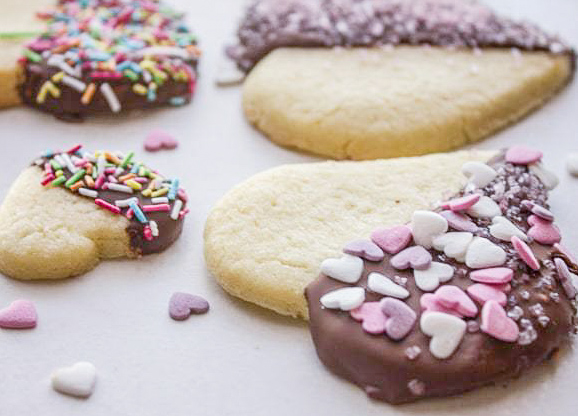 I didn't want a Chocolate Cookie, so instead of adding cocoa, I increased the flour, and I used my food processor instead of a mixer.
How to make the best no spread Sugar Cookies
Whisk dry ingredients together.
Cream butter and sugar in a food processor, add egg and pulse.
Add the dry ingredients and pulse a couple of times just until dough starts to come together.
Knead gently until dough comes together.
Refrigerate one hour.
Cut out cookies and refrigerate for 10 minutes.
Bake, cookies should be pale in colour but baked.
Let cool completely before decorating.
I still say that it is one of the best inventions ever. The dough was done in 5 minutes, of course to firm it up you still need to refrigerate the dough for an hour.
These Valentine Chocolate Dipped Heart Cookies are the perfect cookies to make with your kids or grandkids and they don't spread. They can help with the cutting out and the decorating. And of course the eating. Enjoy!
Valentine Chocolate Dipped Heart Cookies
Valentine Chocolate Dipped Heart Cookies, delicious firm butter cookies,dipped in chocolate and sprinkles, perfect baking fun with kids.
Ingredients
COOKIE DOUGH

1/2

cup

+ 1 tablespoon butter

125 grams

1/2

cup

sugar

112.5 grams

1

medium egg

1 1/3

cup

flour

166 grams

1/4

teaspoon

salt

1.41 grams

1/2

teaspoon

vanilla

2.10 grams

TOPPINGS

2-3

squares dark chocolate melted

sprinkles

mini hearts
Instructions
COOKIE DOUGH

In a small bowl whisk together flour and salt.

In a food processor** cream together butter and sugar until just mixed add egg, pulse a few times, add vanilla and again pulse a few times. Add dry ingredients and mix just until dough starts to come together. Remove from bowl to a lightly floured flat surface and gently knead until combined (do not over knead). Wrap in plastic and refrigerate one hour.

Pre-heat oven to 350° (180° celsius), line cookie sheets with parchment paper.

Remove dough from fridge, roll on a lightly floured flat surface to desired thickness, cut out cookies, place on prepared cookie sheets, and refrigerate again for 10 minutes.

Bake for approximately 10-15 minutes (depends on thickness), cookies should be pale but baked (I baked mine for 11 minutes).

In a small bowl over boiling water (make sure water does not touch the bowl). Melt dark or milk chocolate.

Let cookies cool completely before spreading with chocolate, I always find it easier to first drizzle some chocolate on the cookie with a spoon then spread the chocolate to cover with the back of the spoon instead of dipping. Place on rack (as shown in photo) and sprinkle with sprinkles, small hearts etc. Enjoy!

**If you don't have a food processor you could also use a mixer with the paddle attachment but don't over beat and follow the directions for the food processor.
Nutrition
Calories:
94
kcal
Carbohydrates:
11
g
Protein:
1
g
Fat:
4
g
Saturated Fat:
3
g
Cholesterol:
20
mg
Sodium:
72
mg
Potassium:
11
mg
Sugar:
5
g
Vitamin A:
155
IU
Calcium:
4
mg
Iron:
0.4
mg
If you need to temper Chocolate get great instructions at The Kitchn
Based on Sweetopia –  Chocolate Sugar Cookie Recipe (Cut Out Cookies)