White Chocolate Cheesecake with fresh apricots and a cookie crust. An easy no-bake cheesecake that is cold, creamy, and the best sweet treat for a warm day or evening. Plus, it's the great make-ahead dessert!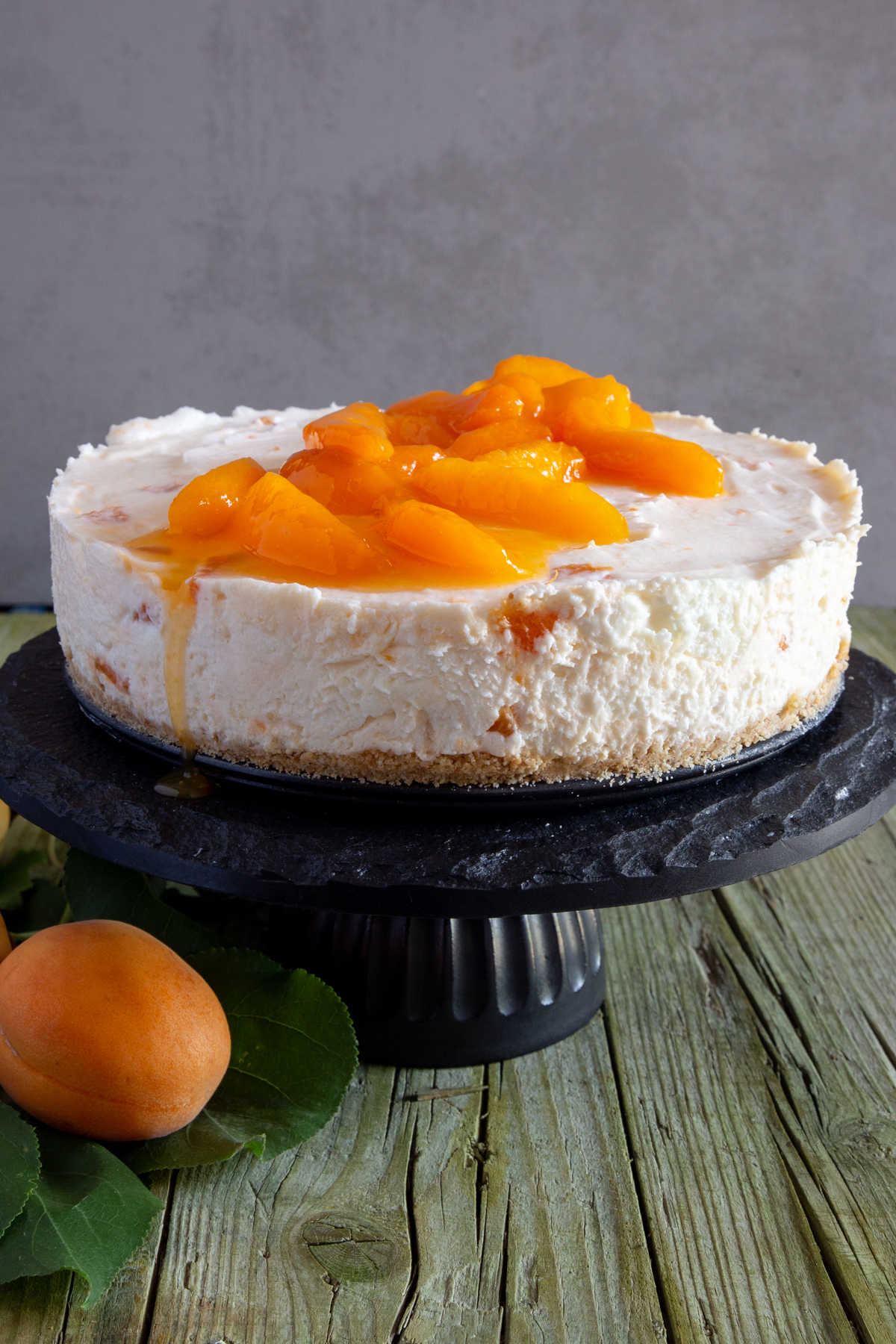 No bake cheesecakes are a dessert I love to make because there are countless ways to customize them. I especially love cheesecake with fresh fruit and adding in some white chocolate? Well, the combination is so good.
You often see cheesecake with cherries or berries, but any fruit with a tangy acidic flavor works so well to balance the richness of the cheesecake filling. So, why not stone fruit? I love fresh apricots and they really do work well in this no bake dessert.
They're not just in the cheesecake but also used as a topping giving this dessert a pretty finish.
Oh, and the crust – we can't forget that! For this one, I like to make a no-bake cookie crust or graham cracker crust. I share several ideas in this post so you can use your favorite crust with this rich and creamy white chocolate cheesecake.
Ingredients
Cookie crumbs or graham cracker crumbs – if you want to use cookies many types will work. Choose crispy, crunchy cookies like gingersnaps, vanilla wafers, chocolate wafer cookies, and almond cookies. You could also use Oreos to make an Oreo cookie crust.
Melted butter
Fresh apricots – you will need peeled and chopped ones for the filling and sliced ones for the topping.
Gelatine
2% milk
Melted white chocolate – choose a high-quality white chocolate bar. You can melt it in the microwave or in a bain marie on the stove.
Cream cheese – this recipe works best with full-fat cream cheese.
Icing (powdered) sugar
Heavy cream – it should be at least 30% fat.
Sifted cornstarch
Granulated or fine sugar
Vanilla
Water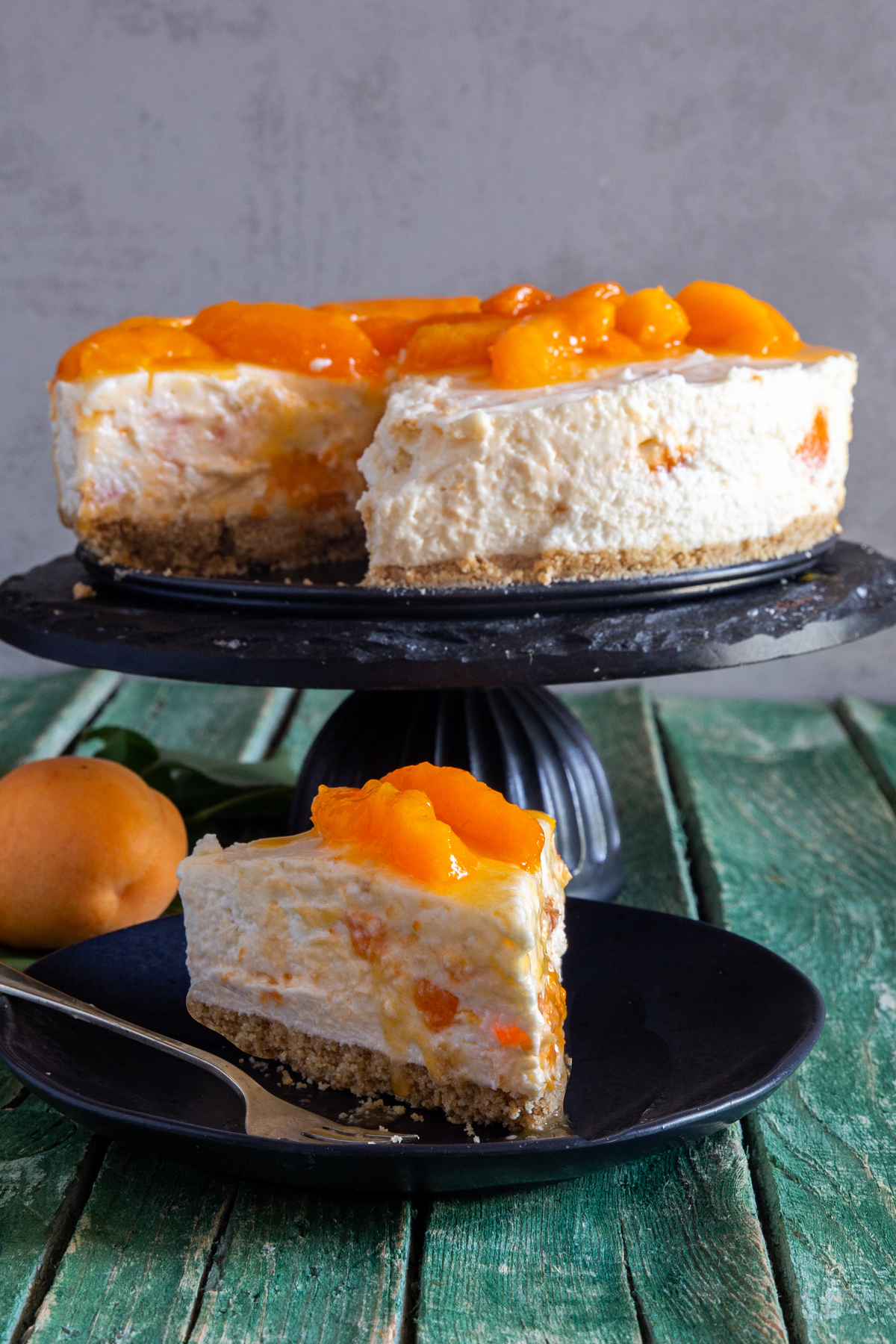 How to Make the Crumb Crust
I love no bake crusts because they are so simple. Just melt butter and combine it with your cookie or graham cracker crumbs.
Ensure all of the crumbs are mixed with the butter and then press the mixture into a springform pan. There should be enough to fill the bottom of a 7 to 8″ springform pan.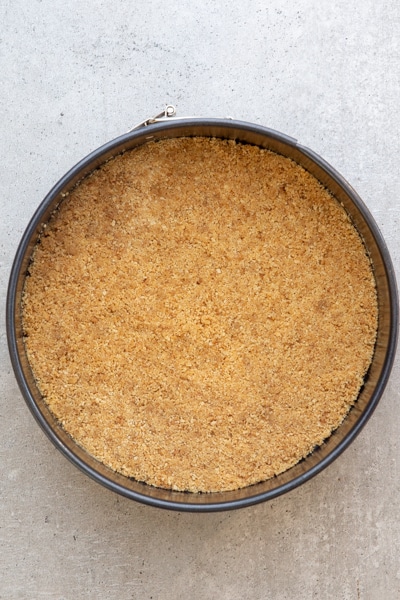 A springform pan makes it easy to remove the cheesecake once it's set. If you don't have one, you can use the same size round cake pan. Line it with plastic wrap before adding the crust. The wrap will allow you to lift the cheesecake out of the pan once it's done.
How to Make the White Chocolate Cheesecake Filling
Beat the cream cheese, sugar, and vanilla in a medium bowl. In a separate bowl, beat the cream until it holds thick peaks.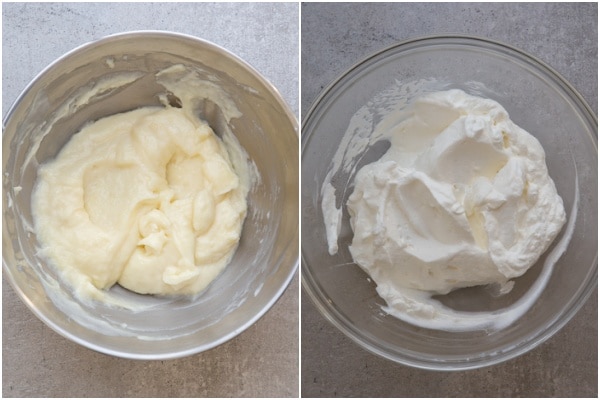 Pour the milk into a small saucepan and sprinkle the gelatine over the top. Leave it for one minute before turning the heat to low. Stir constantly for one to two minutes or until the gelatine has dissolved. Remove it from the heat.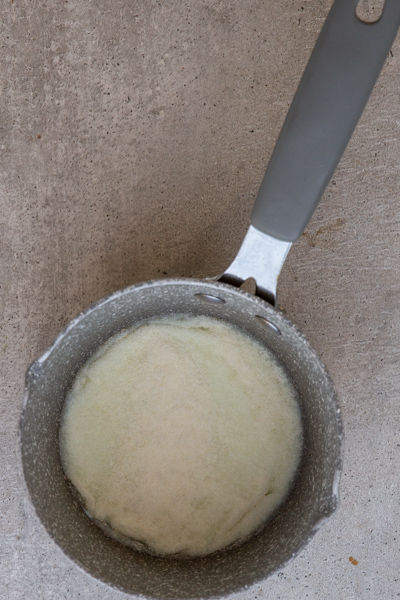 Add a couple of tablespoons of the cream cheese mixture to the gelatine and milk. Stir and then fold the gelatine into the rest of the cream cheese mixture. Fold in the melted chocolate and then fold in the whipped cream.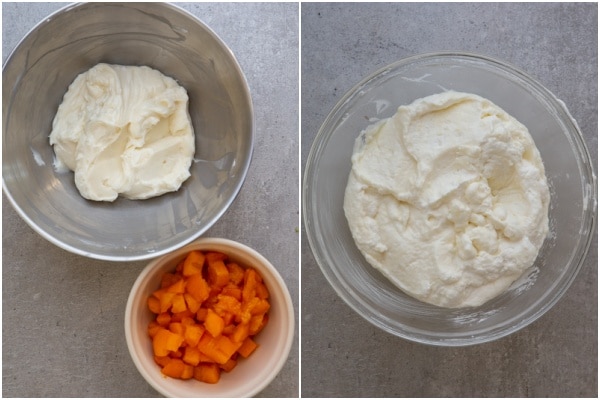 Once the filling is mixed, fold in the chopped apricots and then spread the filling evenly on the chilled crust. Chill it for at least four to five hours, but overnight is best.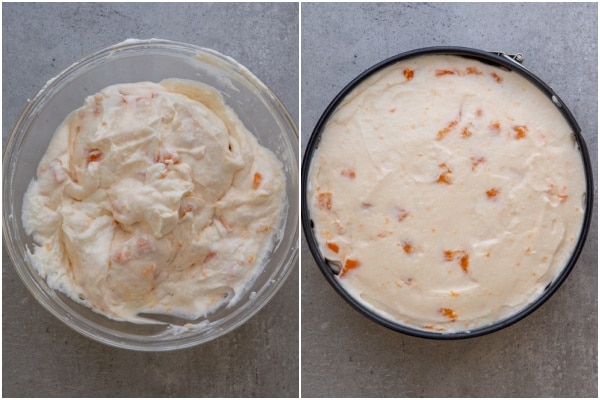 How to Make the Apricot Topping
The topping is optional and the cheesecake is delicious without it. I like it because it dresses it up especially if you are making it for a special occasion. I like to make it after the cheesecake goes in the refrigerator because the topping will need to chill, too.
All you do is combine sliced apricots, cornstarch, sugar, vanilla, and water in a saucepan. Cook them over low heat until thickened. I like to cook it long enough so the sugar is dissolved but the apricots are still on the firm side, and not too mushy.
Transfer the topping to a bowl and chill it until you are ready to serve the cheesecake. To serve, spoon it over the top of the cheesecake before slicing.
Recipe FAQ
Can you use other fruit?
Other stone fruit like peaches and plums would work well. You can also use other types of fruit like pitted cherries, raspberries, strawberries, or blueberries.
How far in advance can you make no bake cheesecake?
I like to make it the day before I want to serve it. The topping can be made a day in advance, too.
How long does it keep?
Keep the leftovers covered in the refrigerator. They should keep well for two to three days.
Make this delicious creamy cheesecake for a special occasion or just because. The apricots, white chocolate, and cheesecake are a wonderful combination. The perfect creamy, cool homemade treat. Enjoy!
More No Bake Dessert Ideas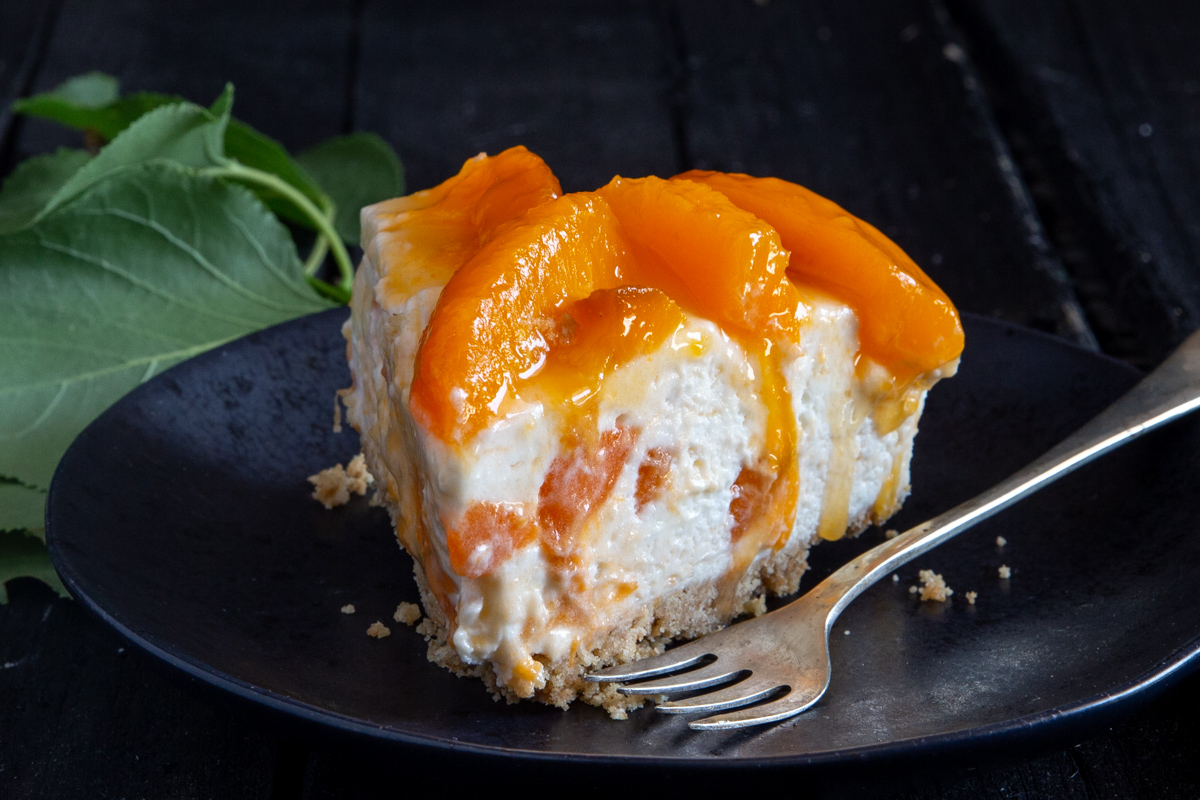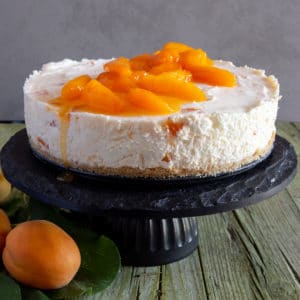 No-Bake White Chocolate Apricot Cheesecake
White Chocolate Cheesecake with fresh apricots and a cookie crust. An easy no-bake cheesecake that is cold and creamy.
Ingredients
CRUMB BASE
1½

cups

crumbs (cookie or graham cracker)

¼

cup

butter ( melted)
FOR THE FILLING
1½-1¾

cups

apricots (5-6 medium-large/peeled and chopped)

1

tablespoon

gelatine

2

tablespoons

milk (I use 2%)

3½

ounces

white chocolate (good quality bar chopped) melted*

8

ounces

cream cheese (whole fat)

¾

cup

icing/powdered sugar

1

cup

cream heavy/whole/whipping (at least 30% fat)
*Melt the chocolate bain marie or with a microwave.
TOPPING
4-5

apricots (peeled and sliced)

½

tablespoon

corn starch (sifted)

¼

cup

granulated or fine sugar

½

teaspoon

vanilla

2

tablespoons

water
Instructions
Mix graham cracker or cookie crumbs and the melted butter, press down on the bottom of a 7 – 8 inch (17 – 20 cm) springform cake pan (or line a regular cake pan with plastic wrap). Place in refrigerator while making the filling.
FILLING
Melt the white chocolate either in a bain marie or microwave. Let cool (but not enough to harden).

In a medium bowl beat together the cream cheese, sugar and vanilla, Fold in the cooled melted chocolate, side aside.

Beat the cream until thick peaks appear, set aside.

In a small pot add the milk and sprinkle the gelatine on top, let stand one minute, then place the pot on low heat and heat just until the gelatine has dissolved, stirring often (1-2 minutes), do not boil, then immediately remove from heat.

Add 1-2 tablespoons of the cream cheese mixture to the gelatine mixture and stir gently to combine, fold the gelatine into the remaining cream cheese mixture, then gently fold it into the whipped cream, mix until combined, fold in the chopped apricots.

Remove the cookie base from the fridge, spoon the cheesecake filling evenly on top, cover with plastic wrap and refrigerate 4-5 hours or even better overnight. Before serving top with the apricot filling if desired. Enjoy!
APRICOT TOPPING
In a small pot add the apricots, cornstarch, sugar, vanilla and water and gently combine. Cook on low heat 4-5 minutes until thickened and sugar has dissolved. I like to leave the apricots a little on the firm side rather than mushy. Move to a clean bowl and let cool. Chill until ready to serve.
Notes
Be sure to refrigerate any leftover cheesecake. Cover well or keep in an airtight container, it will last for up to 3 days.