Easy Ice Cream Pie, made with only four ingredients, fast, easy and so delicious. Chocolate ice cream combined with caramel sauce and a no-bake cookie crust is the perfect family Frozen Treat.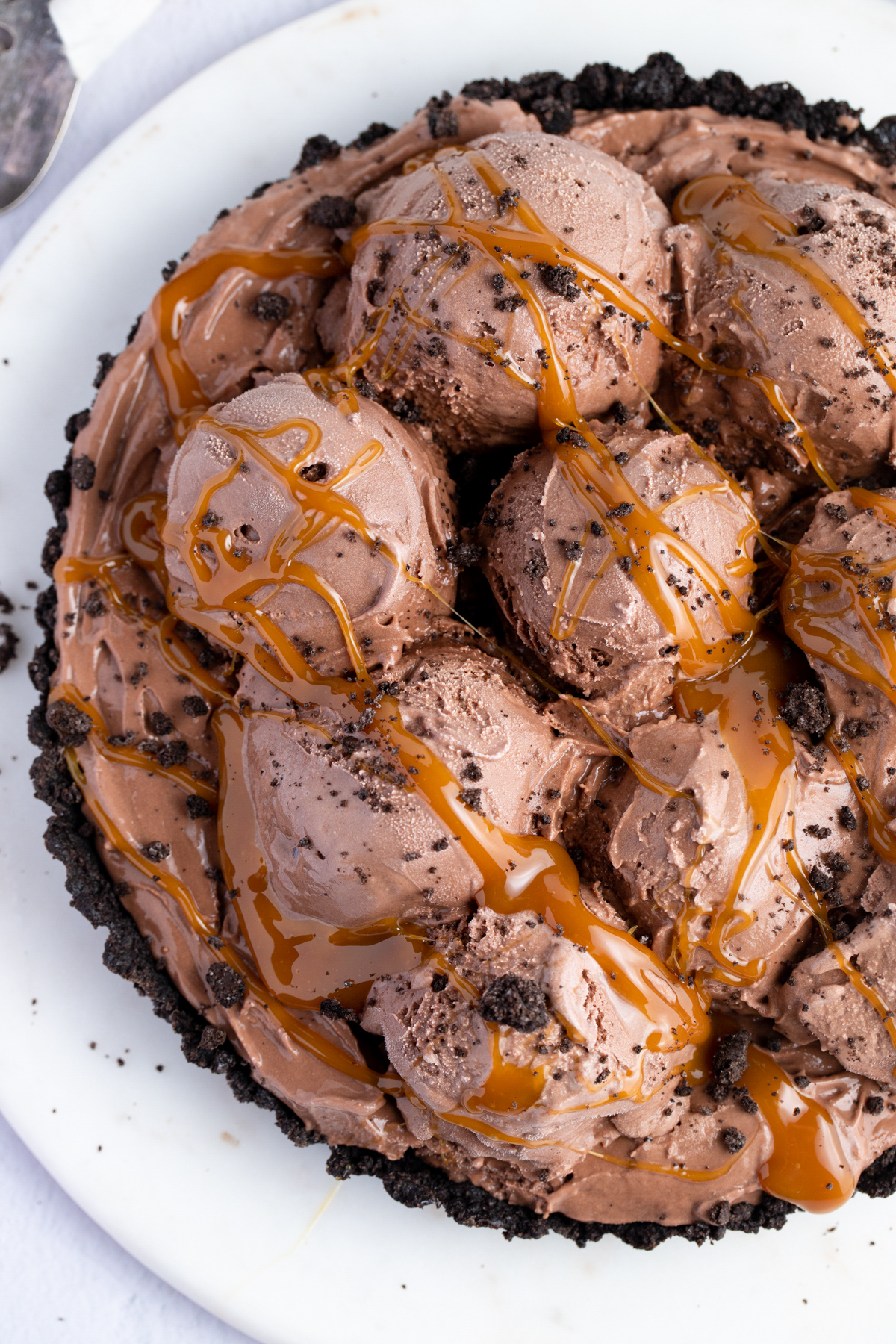 If there is one thing I have learned living in Italy is that if want to make a frozen dessert during the summer, I need to work fast. But working fast on a warm day is worth it when you are making this ice cream pie.
Our house is not air-conditioned, which isn't too bad since we do get a nice breeze going through the house. But this does not help the ice cream, no not at all. So, my daughter offered to help me make this dessert so it could be assembled and finished before melting into a puddle.
4 Ingredient Ice Cream Pie
We decided it had to have caramel in it, and what goes best with Caramel? Yup Chocolate.
So what's the best, fast, easy, and no-bake crust? Cookie Crust of course. Just a yummy chocolate wafer cookie with some melted butter would be perfect. Most important we wanted it simple, so only four ingredients for this easy recipe!
Chocolate cookie crumbs – like chocolate wafer cookies or Oreo cookie crumbs.
Melted butter
Caramel sauce
Chocolate ice cream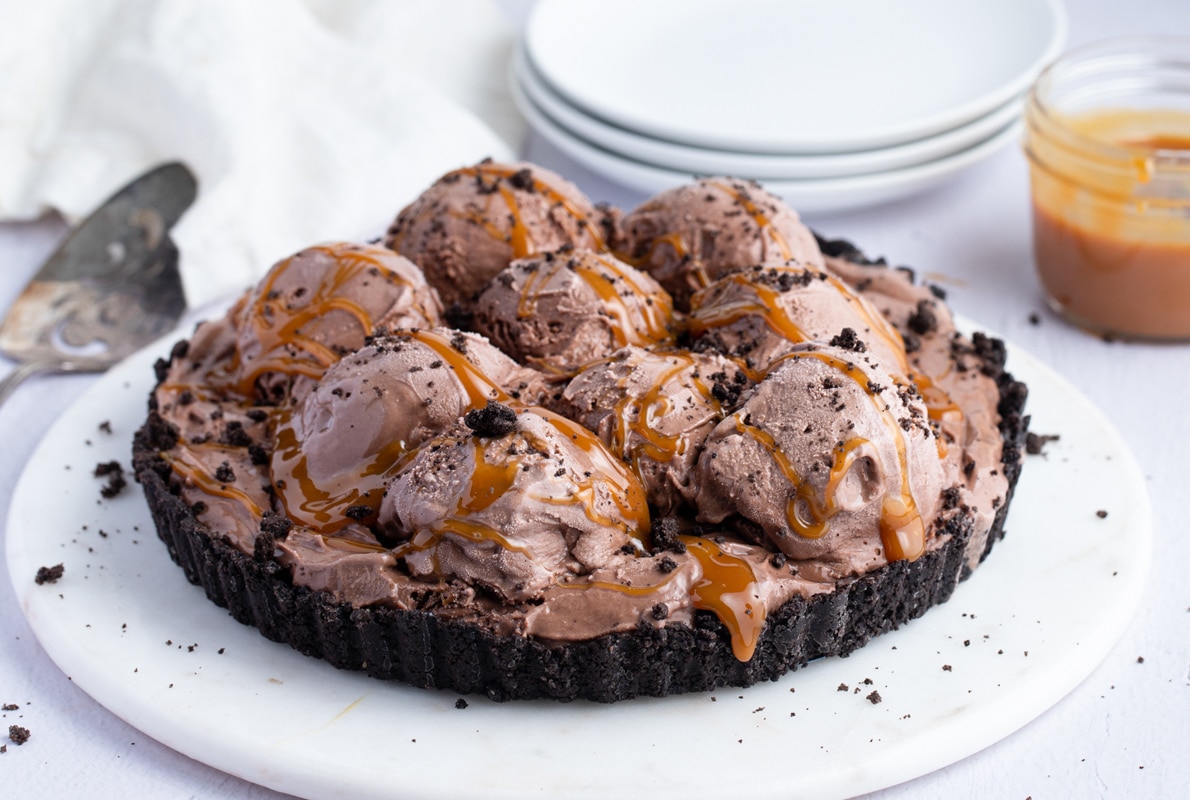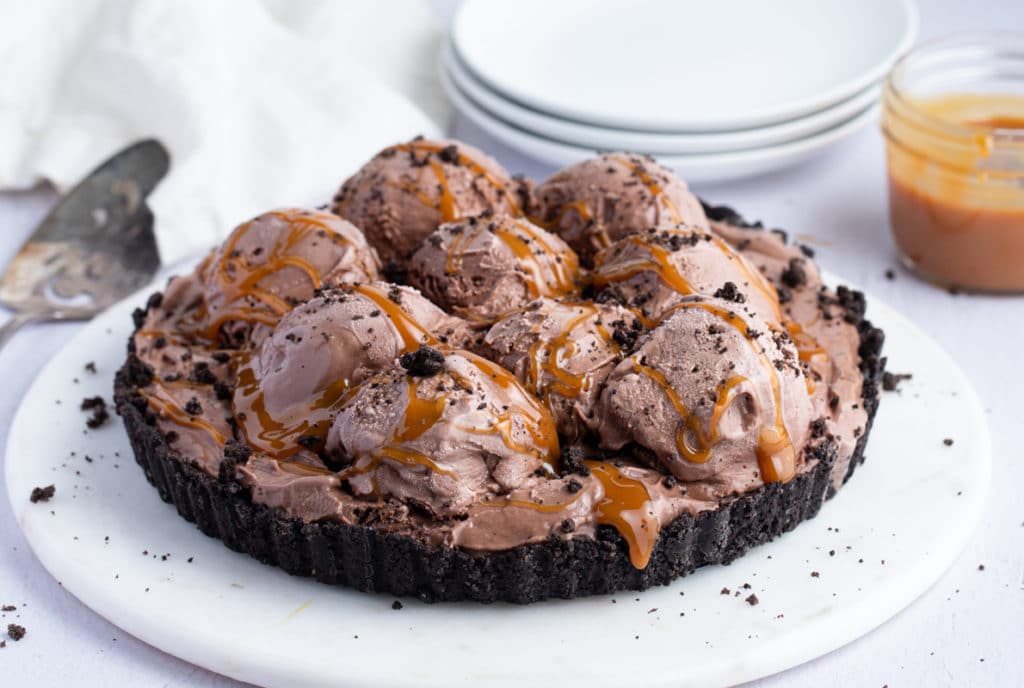 How to Make It
The first thing to do is make the cookie crust. Combine the cookie crumbs with the melted butter and press it into your tart pan or pie dish. Place it in the freezer to firm up for at least 30 minutes.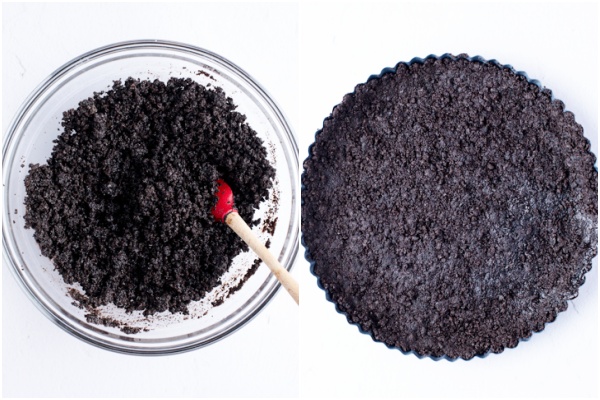 While the crust is in the freezer, place 20 to 25 scoops of ice cream on a cookie sheet lined with parchment paper. Place the ice cream scoops in the freezer for at least 20 minutes.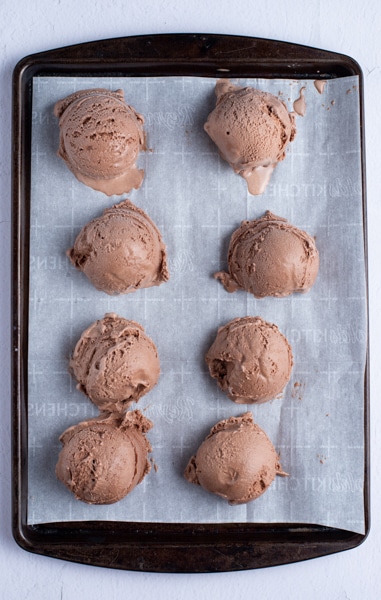 To assemble, top the cookie crust with a thin layer of caramel sauce. Place the ice cream scoops on top, and then drizzle more caramel sauce over the top. Slice and serve right away.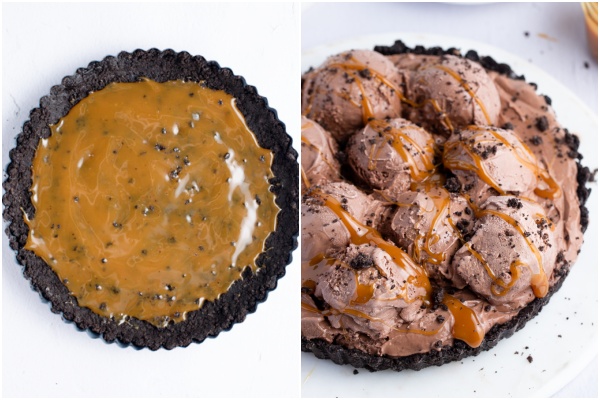 Recipe Variations
As we enjoyed our slices we started thinking of all the different combinations you could make. Here are some of the ideas we came up with that you might like to try.
Graham cracker crust topped with strawberry ice cream and chocolate sauce.
Vanilla wafer cookie crust with peanut butter ice cream and caramel sauce.
Oreo cookie crust with cookies and cream ice cream and chocolate sauce.
Chocolate cookie crust with mint chocolate chip ice cream and chocolate sauce.
Graham cracker crust with pumpkin ice cream and caramel sauce.
You can also make it fancy with dollops of whipped cream, sliced fruit, crushed cookies on top, or even add some sprinkles for fun. These are just a few ideas – with so many flavours the possibilities are really endless.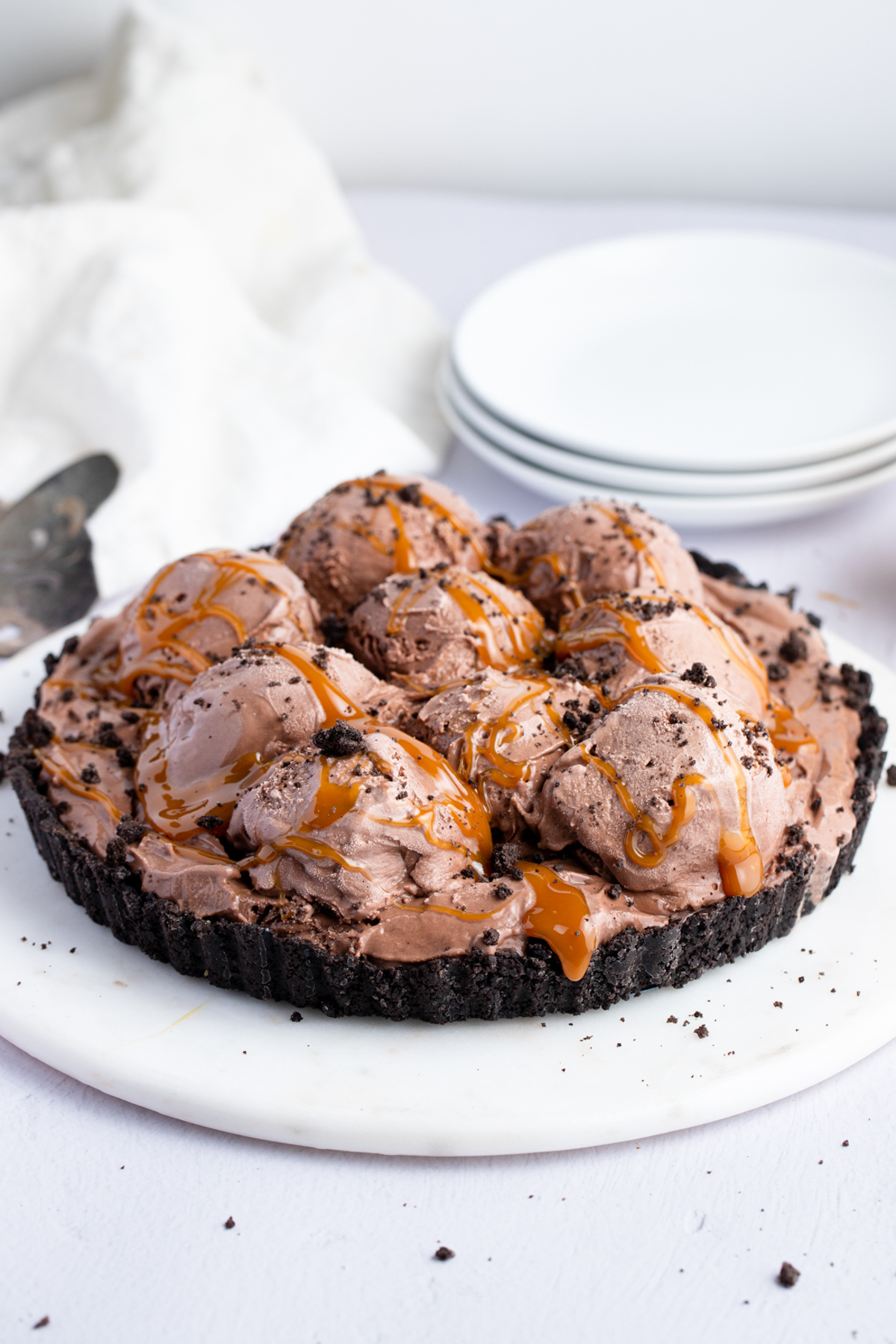 Tips
What makes this recipe so easy is using store bought caramel sauce and if you can buy some that you really like you should use it. So much easier!
If you need to make your own as I did, just melt caramels with a little cream until smooth. Works perfectly. Here's another tip for you, place your caramels in the freezer, so much easier to unwrap them.
Once you've assembled the pie, you can place it in the freezer until you are ready to serve it but I wouldn't let it sit in there too long. You don't want the ice cream to harden too much while it sits.
Is there anything better and a cold and creamy dessert on a hot day? If you love Chocolate and Caramel and of course Ice Cream (and who doesn't)? You are going to love this Easy Ice Cream Pie. Enjoy!
Other Cold Treats to Enjoy!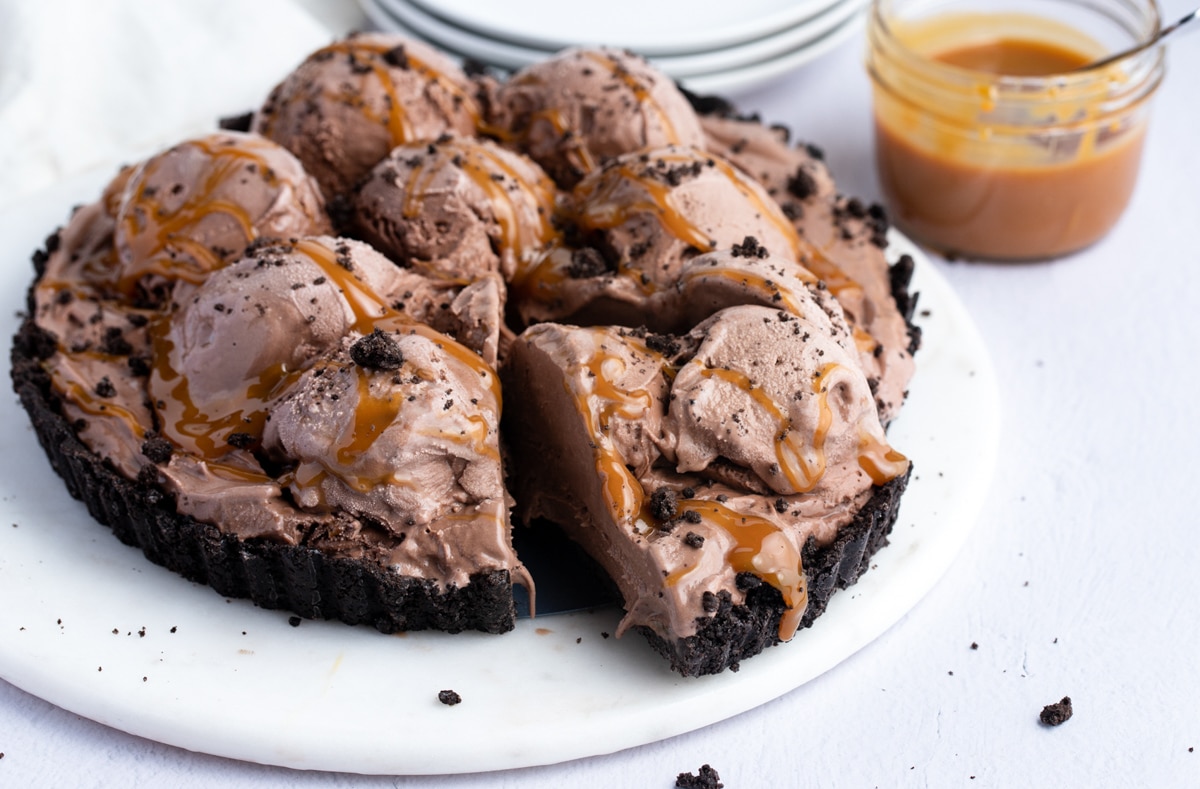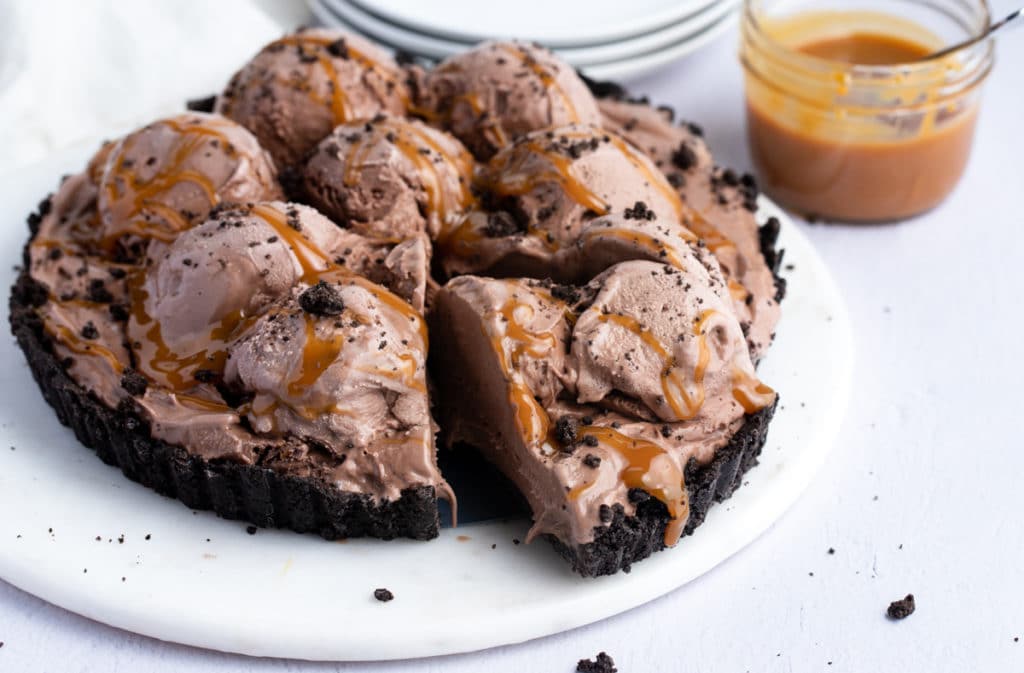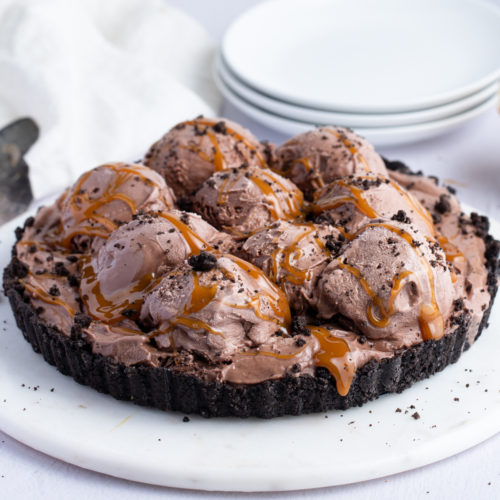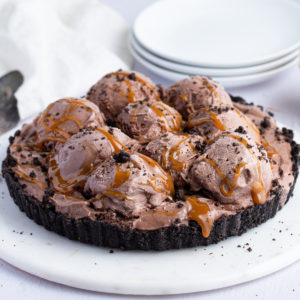 Easy Chocolate Caramel Ice Cream Pie
Easy Chocolate Caramel Ice Cream Pie, a no bake cookie crust makes this fast & easy Chocolate Ice Cream Dessert Recipe the perfect treat.
Ingredients
1 3/4

cups

cookie crumbs (eg. chocolate wafer / Oreo crumbs)

1/4

cup

+ 2 tablespoon melted butter

1

cup

caramel sauce (more or less) **

8

large

scoops chocolate ice cream
Instructions
Mix together cookie crumbs and melted butter, spread and flatten evenly in a 8 inch spring form pie dish. Place in freezer for at least 30 minutes.

While crust is in the freezer, make ice cream scoops, place 20-25 scoops on a parchment paper lined cookie sheet and freeze for at least 20 minutes.

Remove cookie crust from freezer, pour enough caramel sauce to make a thin layer, top with frozen prepared ice cream scoops, drizzle with more caramel. Serve immediately. Enjoy!
Notes
Cover any left over pie airtight and place in the freezer. It will keep for up to 7 days.
Nutrition
Calories:
232
kcal
Carbohydrates:
32
g
Protein:
1
g
Fat:
11
g
Saturated Fat:
5
g
Cholesterol:
20
mg
Sodium:
264
mg
Potassium:
45
mg
Sugar:
3
g
Vitamin A:
220
IU
Calcium:
24
mg
Iron:
0.6
mg
****For Caramel Sauce use a good store bought or Use Unwrapped Caramels melted.