Nutella Kit Kat Oreo Ice Cream Cake, a yummy homemade Best Ever Birthday Cake, made with everything kids and adults love, Nutella, Ice Cream, Oreos! Can't get much better than this Ice Cream Cake.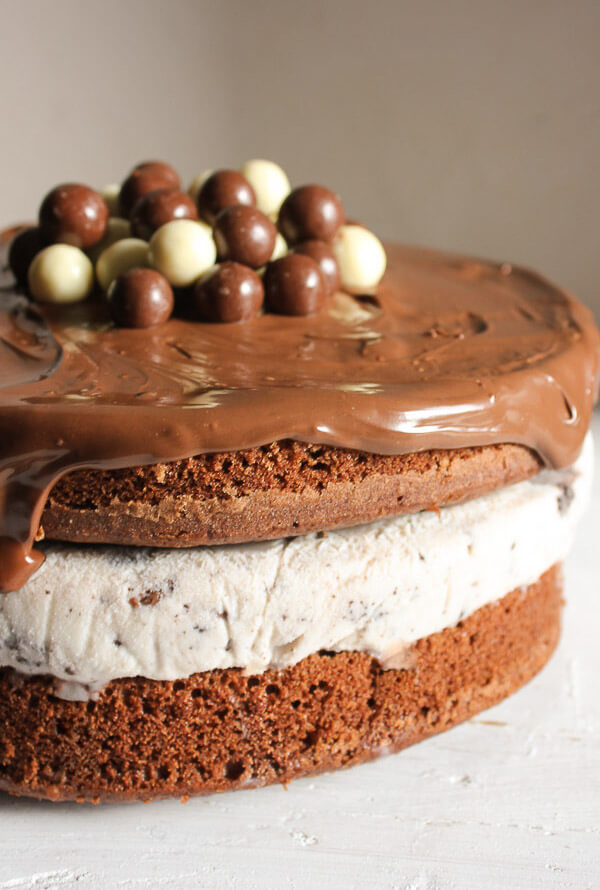 My daughter's 15th birthday cake story continues… After deciding that yes an Ice cream cake would be the perfect cake as long as it had all her specifications included, I got to work.
To tell you the truth I couldn't believe that an ice cream cake would actually work.
I thought that the cake being frozen with the ice cream would become just as hard, and by the time it thawed so would the ice cream and all you would have on your plate would be melted, soggy cake floating in melted ice cream.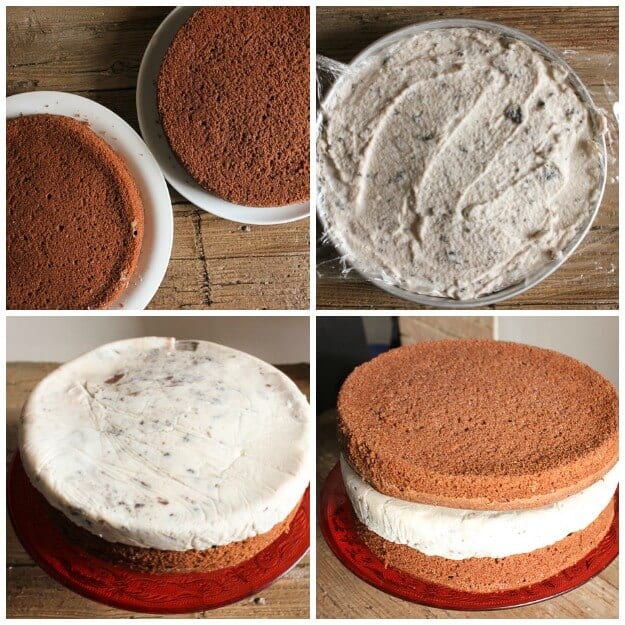 But surprise surprise the cake never freezes completely and it is an absolute perfect combination. I decided that I needed a firm cake that if the ice cream did start to melt the cake wouldn't become a soupy mess.
For that reason I used a firm Italian type chocolate cake, and since there was no way I was going to find Oreo ice cream anytime soon in Italy, I made my own.
Actually any ice cream you want would work for this Nutella Kit Kat Oreo Ice Cream Cake, of course a name change would be in order.
Needless to say there would be no traditional butter cream icing on this birthday cake,  nothing like a Nutella ganache drizzling down a perfect ice cream combination topped with Kit Kat milk chocolate and white chocolate balls.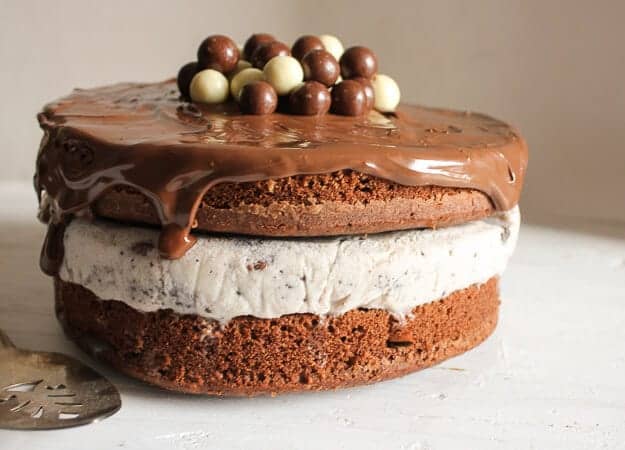 Nutella Kit Kat Oreo Ice Cream Cake is so easy to put together, I actually made the cakes the night before and put it together the afternoon after.
If you are using store-bought ice cream just let it soften up a bit before spooning it into the cake pan.
Nutella Kit Kat Oreo Ice Cream Cake
Nutella ganache couldn't be easier, thin it out so it easy to pour by placing it in a dish over a pot of boiling water.
Good to remember when you are looking for an easy and delicious  birthday cake or a Easy Summer Dessert this Nutella Kit Kat Oreo Ice Cream Cake is a yummy alternative. Enjoy!
Nutella Kit Kat Oreo Ice Cream Cake
A delicious easy homemade Nutella Kit Kat Oreo Ice Cream Cake recipe, the perfect birthday or anytime Cake. Your new favourite.
Follow me on Youtube!
Watch the videos and don't forget to subscribe on Youtube!
Ingredients
TO MAKE THE CAKE

1

cup

milk

245 grams

1

cup

vegetable oil

224 grams

1 3/4

cups

sugar

350 grams

2 1/2

cups

flour

310 grams

1/2

cup

cocoa

60 grams

2

eggs

1

egg yolk

1 1/2

tablespoons

baking powder

18 grams

1

teaspoon

vanilla

4 ml

FOR THE HOME MADE ICE CREAM

1

cup

whole cream

240 grams

4

cups

milk (I used 2%)

1 liter

1 1/4

cups

fine sugar

156 grams

4

tablespoons

Nutella

7

Oreo cookies crushed

NUTELLA GANACHE

1

cup

Nutella

250 grams
Instructions
TO MAKE THE CAKE

Pre-heat oven to 350° (180° celsius), lightly grease and flour 2, 8 " (20 centimeter) cake pans.

In a medium bowl beat together for approximately 2 minutes, milk, oil, sugar, flour, and eggs and yolk then add cocoa, baking powder and vanilla beat again till smooth.

Pour batter into the two prepared cake pans. Bake in pre-heated oven for approximately 30-35 minutes. Remove from oven and let cool completely. Place in the fridge for a couple of hours while the ice cream is in the freezer.

FOR THE HOMEMADE ICECREAM

In a medium bowl add cream, milk and sugar, beat on medium speed for 20 seconds.

Pour into ice cream maker, use a spatula to get all the ingredients.

When the ice cream is almost finished (in the last 5 minutes) add the Nutella and crushed Oreo cookies, and continue until it reaches desired creaminess, (see ice cream maker instructions) mine took 30 minutes. Depending on the size of your ice cream maker you may need to make double batches. There will be some ice cream left over. If using store bought leave out until ice cream softens, then line one of the cake pans with plastic wrap enough to let the ends hang over the pan, spoon the ice cream into the lined pan and smooth the top. Re freeze till very hard a couple of hours, or longer depending on how cold your freezer is.

NUTELLA GANACHE

In a small bowl add Nutella and place over a small pot of boiling water, stir until Nutella reaches an easy to pour constituency.

PUTTING THE CAKE TOGETHER

On a large plate place one layer of cake (bottom side up), remove ice cream from pan and place on top, cover with 2nd layer of cake, cover with Nutella ganache and top with kit kat balls. Re freeze for at least a couple of hours. Remove cake from freezer approximately 5 -10 minutes before serving. Enjoy!
Nutrition