Artichokes Alla Romana (Roman Style), the most delicious way to eat artichokes. Sautéed in olive oil, with fresh mint, garlic and oregano so deliciously tasty. I bet you can't eat just one!

I think one of the things I truly enjoy about Italy is that there is a season for every vegetable. Now after all these years I know that the summer brings tomatoes, green beans, eggplant and zucchini, the early spring brings us asparagus and artichokes.
Especially Artichokes alla Romana.I've lost count of how many times I've received a bouquet of wild asparagus from my husband. He who finds wild asparagus growing around our olive trees, around our fences basically anywhere and everywhere.
He always looks so proud when he hands them to me. I guess if I could cook roses or calla lilies I would see more of those.
So these days everywhere you look there are artichokes. Big, small or medium, ready for deep-frying, canning under oil, making a frittata or tossing with some pasta.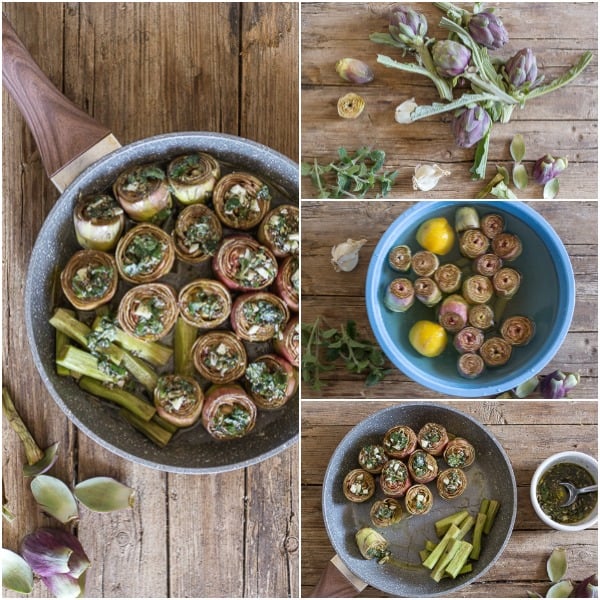 How to Clean Artichokes
Artichokes can darken your hands, so you can either wear gloves or rub your hands with lemon juice.
Before you start to clean the artichokes, fill a large bowl with cold water, and the juice from one lemon.
Then remove the tougher outer leaves, until you reach the more tender ones.
Cut the top, removing about 1 inch or 2-3 cm off the top.
Cut off the stem and trim to about 2-3 inches, clean with a sharp paring knife by removing the outer tough peel (place clean artichokes and stem in the bowl of water as you go).
Depending on what you are making with the artichokes, you can remove the choke either by slicing them in half and removing it with a sharp paring knife, or leaving them whole and using either a spoon or knife to remove it.
As this point you can proceed with the recipe or place the cleaned artichokes in freezer bags and freeze.
More Recipes with Artichokes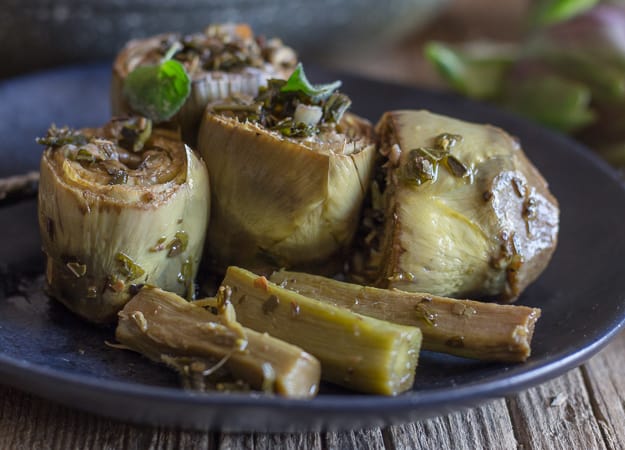 But as far as I'm concerned and the rest of my family for that matter, this is the absolute best way to eat them. Artichokes alla Romana or Roman Style Artichokes.I had never tasted an artichoke until I arrived in Italy. I remember my Canadian friends explaining to me how delicious they were.
How they cooked them and then pulled leafs off one at a time . And they would scrape the soft portion with their teeth. Well I always thought that was one of the most absurd and not so appetizing methods of eating a vegetable.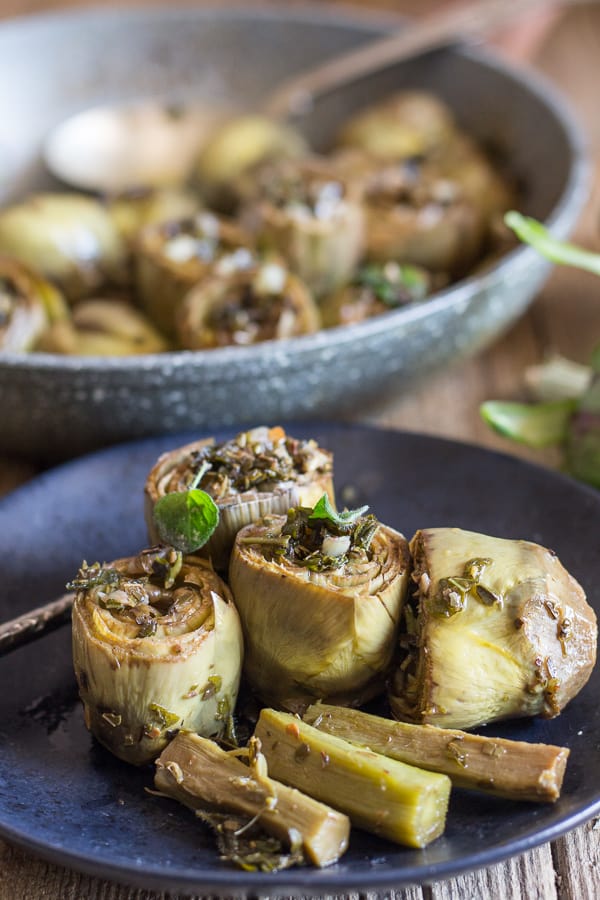 And then the day arrived that I ate the most delicious, amazing, tasty vegetable ever planted. Made with fresh chopped mint, olive oil, chopped garlic and oregano.
When the vegetable is young you can cook it whole, when the season starts to pass you just cut them in half, remove the choke and continue with the recipe.
This is the way an artichoke should be cooked and eaten, Artichoke Alla Romana. So start chopping and Buon Appetito!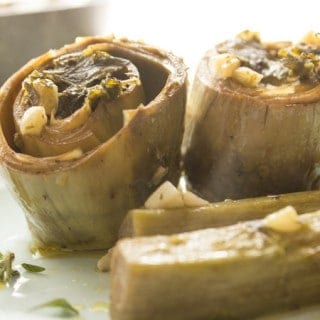 Artichokes Alla Romana (Roman Style)
Artichokes Alla Romana (Roman Style), the most delicious way to eat artichokes. Sautéed in olive oil, with fresh mint, garlic and oregano so deliciously tasty. I bet you can't eat just one!
Ingredients
10

small to medium artichokes stems included cleaned and halved, buy the tenderest artichokes you can find

2

tablespoons

chopped fresh mint

5 grams

2

cloves

large of garlic chopped

2

teaspoons

dried oregano

1 gram

3/4

teaspoon

salt

3 grams

1/4

cup

olive oil

55 grams

1

cup

water

235 grams
Instructions
In a large bowl squeeze the juice of a lemon. Remove the tough, outer leaves from the artichoke (should be about 3-4 layers of leaves) or until you reach leaves that are pale yellow. Cut in half or leave whole (when you cut it in half , cut out the choke using a knife (it looks almost furry, actually if you get artichokes fresh enough there might not even be a choke). The stem should be cut from the artichoke, leave about 2 – 3 inches and clean, (trim with a knife peeling off the tough outer layer) put cleaned artichoke and stem into bowl of lemon water (this keeps them from turning brown). Repeat with remaining artichokes.

In a small bowl, mix together mint,garlic,oregano,salt and olive oil, drain artichokes and stems and place in a medium frying pan, cover with oil mixture, add 1 cup of water, mix gently to combine, cover and cook over low to medium heat for approximately 20 minutes or until water has evaporated and artichokes are tender. To die for. Buon appetito!
Notes
If you want to use frozen artichokes then do the following – If the artichokes are whole then slice them in half (from top to bottom), place them in a pan  cut side up with a tablespoon  or 2 of olive oil, and drizzle the mint oil mixture over the artichokes. I would probably use a little less water 1/2 cup to start with (since the artichokes are frozen) and continue with the recipe. If by the time the water has evaporated and they aren't cooked then just add a bit more water and continue cooking.