Easy Skillet Artichoke Spaghetti, a fast and easy Italian Pasta Recipe. Fresh Artichokes and spices tossed with Spaghetti (or any long noodle) makes this the perfect any day dinner idea.

Of all the vegetables we grow Artichokes are the gold vegetable in this family. We wait in anticipation for the first arrivals, because these are the best, the tenderest and without a choke. Which are perfect for making Artichokes Alla Romana. Of course the next best thing has to be this Easy Skillet Artichoke Pasta.
This is one veggie that I would slip out of bed in the middle of night, dress in black with a flashlight attached to my head and creep down the street to our communal family garden and fill a bag to overflowing with.
But unfortunately I cannot! We must share!
How to clean Artichokes for Artichoke Pasta Recipe
Remove the tough outer leaves (4 or 5 levels).
Slice them in half and remove the choke
Then slice them again.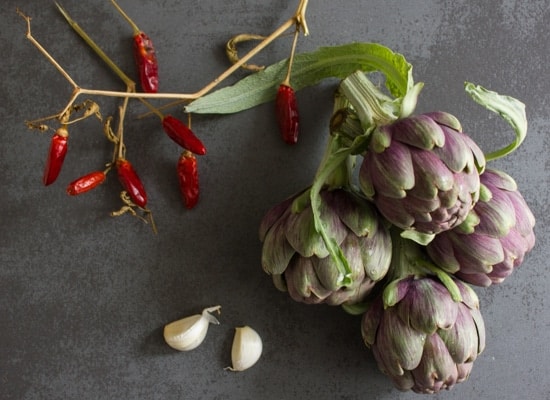 I had never eaten an artichoke before, not until I came to Italy. I just couldn't get excited about dipping a leave and pulling out the insides.
So when my mother-in-law served up another fast and easy Pasta recipe with sautéed Artichokes and Spaghetti. I knew this Easy Skillet Artichoke and Spaghetti dish was destined to become another of my favourites.
How to make Artichoke Spaghetti
Add the sliced artichokes to a large pan with a little olive oil, garlic, oregano, salt and don't forget a sprinkle or two of hot pepper flakes.
Toss with your cooked long pasta (we love this dish with a long pasta such as Spaghetti).
Sprinkle with a little freshly grated Pecorino or Parmesan if you wish before serving. So good!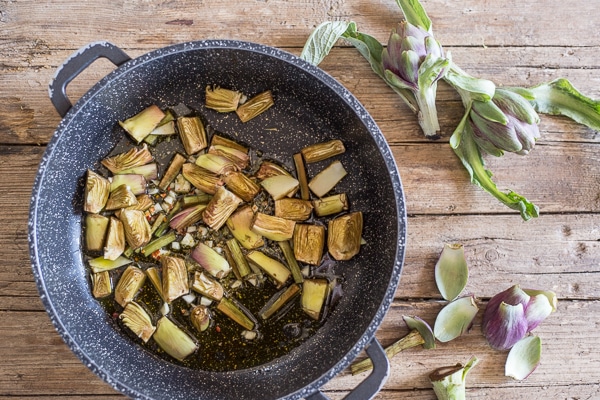 One thing I learned very quickly when I came to Italy was that there certainly is more to Pasta then just a tomato or meat sauce. Pasta with some amazing Olive Oil, spices and whatever veggie is in season, makes one of the best meals ever.
More delicious Spaghetti Recipes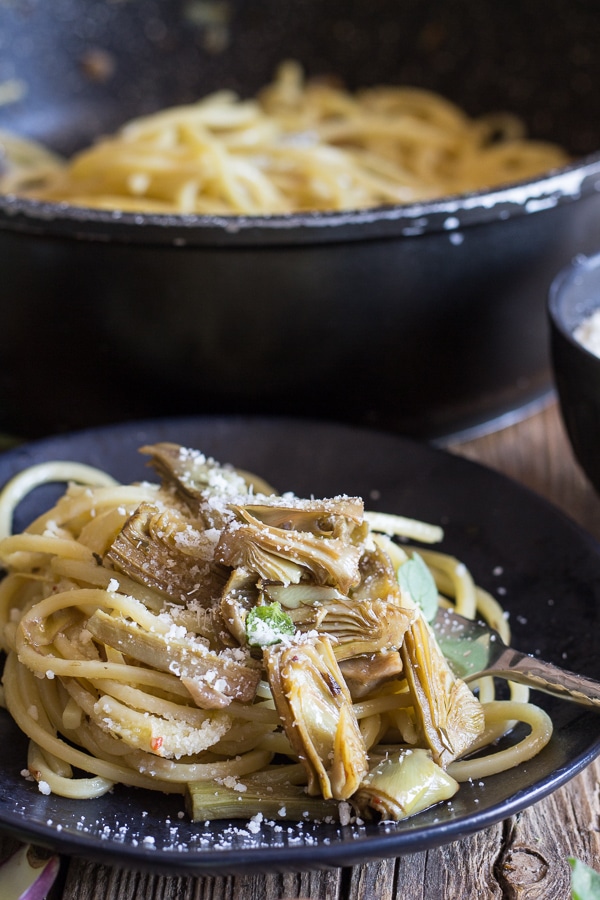 If you are saying to yourself "Never, I hate artichokes" trust me, try it and then let me know. This Easy Skillet Artichoke and Spaghetti is fast and easy.
If you are looking for a quick and easy pasta dish then I hope you give this a try. Buon Appetito!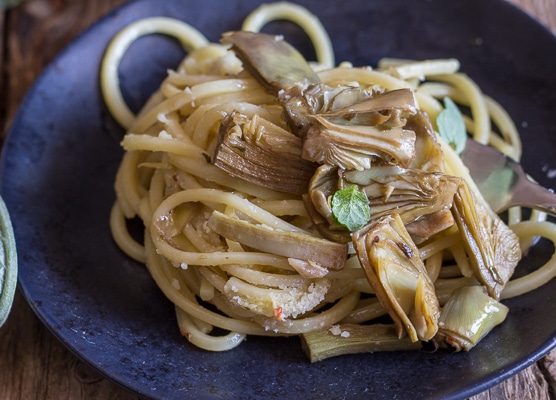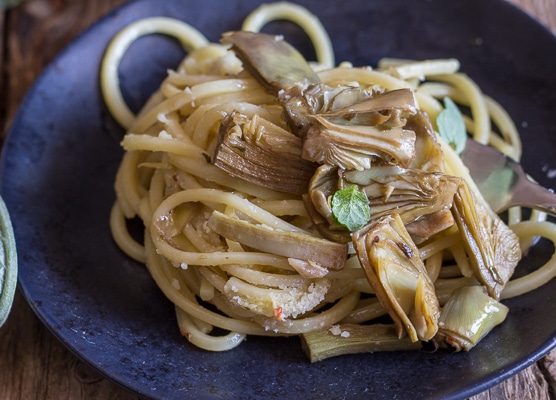 Easy Skillet Artichoke Spaghetti
A simple, fast and delicious Easy Skillet Artichoke and Spaghetti Pasta recipe. Italian never tasted so good, and healthy.
Ingredients
5-6

artichokes

1/4

cup

olive oil

2

cloves

garlic chopped

1/2

teaspoon

oregano

1/4

teaspoon

salt

hot pepper flakes to taste

1/4

cup

water

3

cups

cooked spaghetti

Freshly grated Pecorino or Parmesan cheese to taste
Instructions
In a large bowl squeeze the juice of a lemon. Remove the tough, outer leaves from the artichoke (should be about 4 layers of leaveor until you reach leaves that are pale yellow. Cut in half (when you cut it in half , cut out the choke using a knife it looks almost furry, actually if you get artichokes fresh enough there might not even be a choke), thinly slice the artichoke and place in the bowl of water, stem should be cut from the artichoke, leave about 2-3 inches and clean, then (trim with a knife peeling off the tough outer layer slice the stem and place in bowl, (this keeps them from turning brown). Repeat with remaining artichokes.**

In a large pan oil and garlic add drained sliced artichokes, sprinkle with oregano, salt and hot pepper flakes add water and cook almost covered, until tender and water has evaporated (taste for salt).

While artichoke slices are cooking, cook spaghetti in salted boiling water.

Add cooked Spaghetti and 1/2 ladle of pasta water to the pan, cook on medium for approximately 1 minute. Serve immediately, top with freshly grated Pecorino or Parmesan Cheese. Enjoy!
**You can also use frozen artichoke hearts.
Nutrition
Calories:
362
kcal
Carbohydrates:
49
g
Protein:
11
g
Fat:
14
g
Saturated Fat:
2
g
Sodium:
298
mg
Potassium:
638
mg
Fiber:
10
g
Sugar:
2
g
Vitamin A:
20
IU
Vitamin C:
19.2
mg
Calcium:
80
mg
Iron:
3.5
mg
Republished from April 12, 2016.