Make and taste these 15+ Ultimate Pasta Recipes, homemade Italian Pasta from Zucchini to Sausage to Lasagna, some fast and easy, all Delicious.
15+ Ultimate Pasta Recipes
If you have been following my blog from the beginning or you are a new reader,  I think you will understand that I am an absolute diehard Pasta Fan. I love it and I can never eat enough of it. The Italian believes I married him for his Pasta Connections.
Maybe, maybe not! I can honestly say I have never met a Pasta Dish I didn't like. Therefore I thought after a couple of years of sharing my recipes,  I would give you my 15 Ultimate Pasta Recipes.
Not to say that the other 20+ aren't Ultimate,  but these are ones that are enjoyed more and more by friends and family.
Needless to say with an Italian Home Cooking Blog there has to be a wide variety of Pasta Dishes. When you think Italian Food what do you think of? Pasta, Bruschetta, Tiramisu and Pizza just to name a few.
Italian Food is probably one of the most Delicious and Famous of Foods. Italians are very and I mean very proud of their Food.
They believe no other food comes even close to theirs, for example I have heard a number of quotes over the years,  "I am so excited to be going to ….., but what will we eat"? "Marco is going to ….. Mamma Mia he will starve for 5 days", "What a beautiful country, but the food"!!! "And they call that food"?
So if you are like me and love Pasta I hope you enjoy these Ultimate Pasta Recipes. Buon Appetito!
15 Ultimate Pasta Recipes
What can I say about one of my favourites other than it is fast, simple and so easy to make. This dish can probably be made in 10-15 minutes. While the pasta is cooking, sauté the shrimp and parsley,  toss in the cooked pasta with a little pasta water, saute for a few minutes and supper is served. Sometimes the simplest is the Best.
If you are looking for a a fast and so yummy Baked pasta dish but don't have time for Lasagna or Cannelloni this is the next best thing.
Make a Meat sauce, toss with your favourite short Pasta place in a baking dish and top with cut up pieces of mozzarella and freshly grated Parmesan, there you have a simple, quick and easy Baked Pasta Dish that you will be making over and over.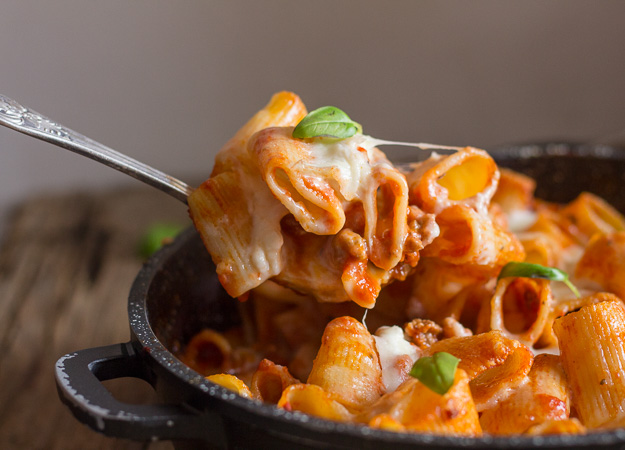 Pasta & Fagioli – Pasta & Beans
I make this pasta dish which is actually more soup or stew like,  quite often. You can use either canned beans or dried beans whichever you prefer. Sometimes I like to use broken egg noodles but any small pasta would work too.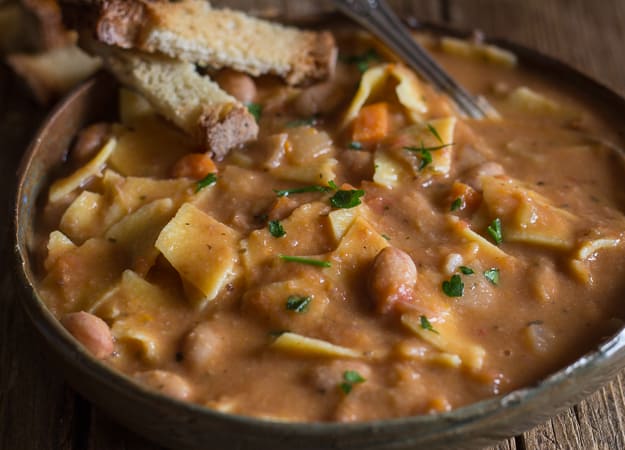 Homemade Stovetop Macaroni & Cheese
This is my daughter's absolute favourite, this easy and very popular stovetop recipe with the double cheese combination makes this our go to Macaroni & Cheese dish. I'm sure you will love it too.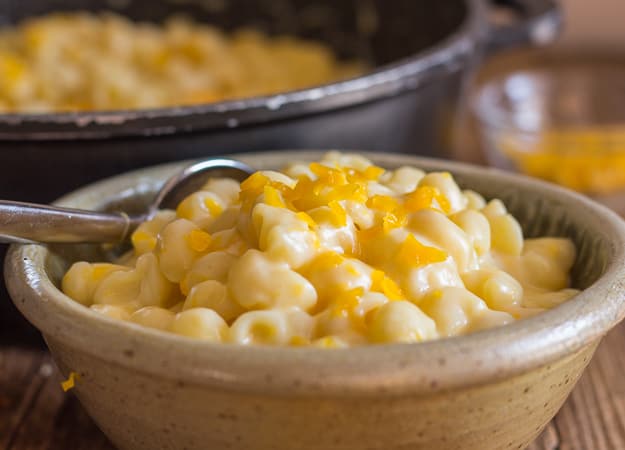 Hot Caprese Pasta, is a Fast and Easy Creamy Italian Pasta dish made with fresh tomatoes, melted fresh mozzarella and Spaghetti. The perfect anytime Pasta Recipe.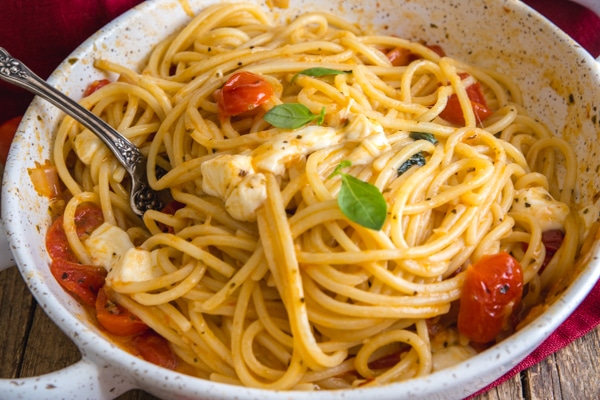 This is probably the most Classic of all Pasta dishes. Classic that is to each Province in Italy. Each has their own way of serving it, from a simple egg pasta, fresh mozzarella, meat sauce, a little white sauce to make it extra creamy and of course a generous sprinkling of freshly grated Parmesan Cheese, to a richer Lasagna from the South of Italy made of Ricotta and Hard Boiled Eggs.
Creamy Pasta Boscaiola with Mushroom & Sausage
Pasta Boscaiola is a delicious Creamy Pasta Dish made with Mushrooms, Sausage and Cream. The perfect Italian Comfort dish.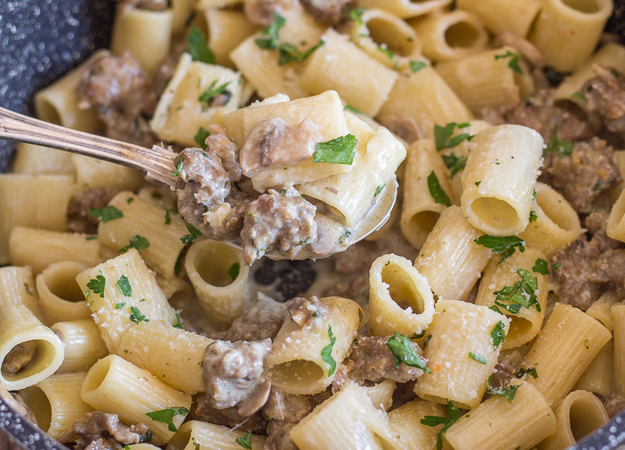 Before I came to Italy if someone asked me to try this Pasta I would have passed and said "Not for me thanks"  but the first time I tried it when my mother-in-law made it, I was sold. I do not like olives but mixed in a simple tomato sauce with tuna it is pretty amazing. It is also quick and easy.
The sauce is made first, simmered until thickened and just before serving you add the chopped black olives and tuna and of course some spices. Serve with a short Penne Pasta you will be coming back for seconds and thirds.
Who would have thought that the combination of Zucchini and Cream Cheese would work, but yes my friends it does and really well.
Sautéed zucchini are tossed with hot al dente Pasta and Cream cheese, light cream cheese if you prefer to become a creamy delicious fast and easy weekday Pasta meal.
This is another Italian Classic, pancetta or guanciale? Good question, easy answer for me anyway, pancetta all the way.
Italian Bacon never tasted so good, simmered in a spiced up tomato sauce and tossed with Bucatini Pasta and of course don't forget some freshly grated Parmesan Cheese,  your dinner never tasted so good.
If I said one daughter's favourite was the Homemade Baked Macaroni and Double Cheese then my second daughter's favourite is definitely this Pasta, and to tell the truth I have to agree.
Another simple tomato sauce made with a tomato puree, simmered with a little butter, half a carrot, celery and some chopped smoked salmon and then just before serving whisk in a little fresh cream, tossed with Rigatoni Pasta.
This is one of the best and one of the most undiscovered but truly amazing Italian Pasta dishes around.
I first tried this Pasta dish when I went to visit relatives on my mother-in-law's side. Simple, easy and really delicious. While you are cooking your pasta al dente, sauté some chopped fresh mushrooms  in a little olive oil.
Add the chopped cooked ham mix in some fresh parsley and other spices. A little fresh cream and the sauce is done, all you need to do is toss with your Pasta al dente and dinner is served.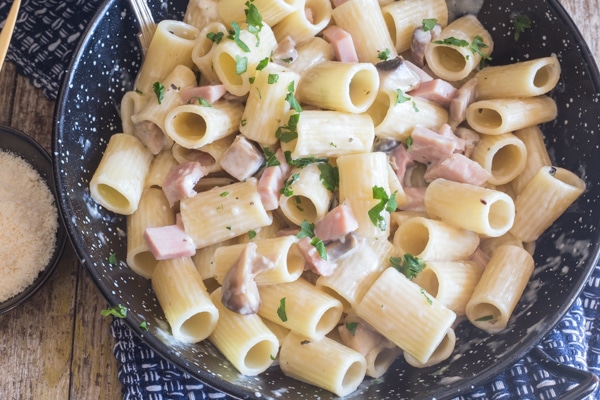 Now this is a lasagna, I always ate the Classic Lasagna until my sister-in-law made a White Sauce Lasagna  and now I have to say this is my favourite and my family's favourite lasagna.
Another undiscovered gem, a delicious creamy white sauce becomes the best combination with sautéed Italian Sausage, mushrooms and Peas, layered between lasagna noodles, Mozzarella cheese and freshly grated Parmesan. If your next Pasta dinner is a Lasagna make it be a White Sauce Lasagna!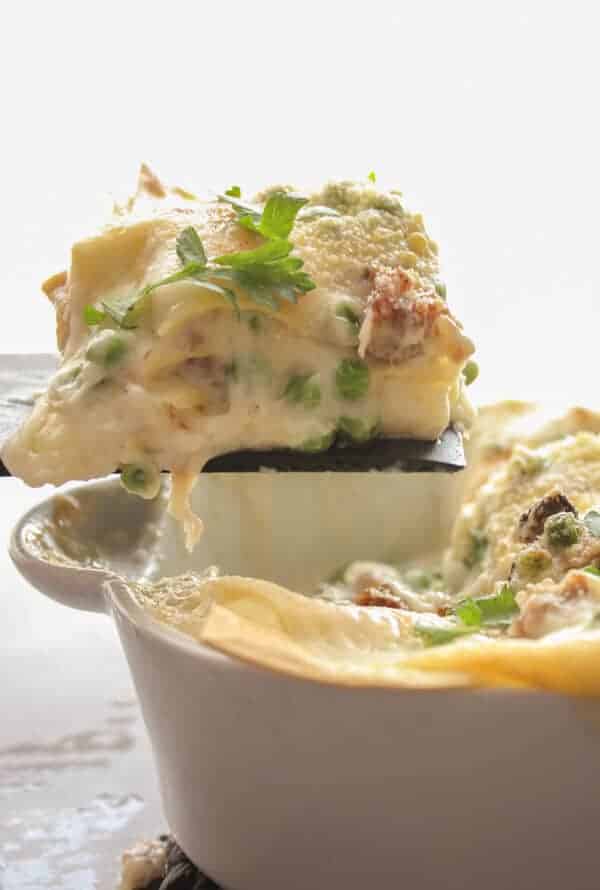 Carbonara Pancetta and Egg Pasta
This has got to be the most discussed Italian Pasta dish. No it is not made with Cream that is not the classic Italian Carbonara. A Carbonara is quite simple with 4 ingredients.
And the secret to make it creamy without cream? Beat the eggs with some Parmesan cheese before tossing with the Spaghetti, told to me by an Italian woman and trust me she can cook.
Fresh Tomatoes & Sausage Pasta
There is nothing like an Italian garden when you see so many different types of tomatoes and nothing better than pasta made with just picked fresh tomatoes.
Fresh tomatoes cooked with some spicy Italian Sausages make this Pasta one of the most delicious pastas of summer.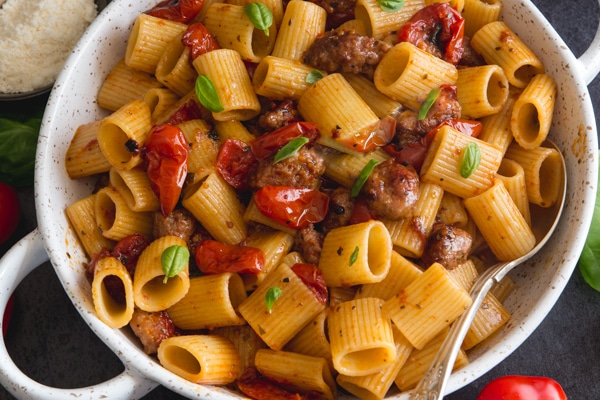 Penne Arrabbiata, is a simple spicy Italian Pasta dish. A few ingredients and spices makes this quick and easy Recipe the perfect weekday go to.
Easy Italian Mushroom Fettuccine 
This Easy Italian Mushroom Fettuccine is a tasty Italian Pasta Dish, fresh herbs make this simple dish delicious and perfect, made the Classic Italian way.
And if you feel like making some homemade Pasta Recipes then try these!
Homemade Potato Gnocchi Recipe
An easy Italian Pasta Dish recipe, Homemade Potato Gnocchi. A simple tomato sauce makes these soft, delicate Gnocchi a delicious Dinner idea.
Homemade Creamy Mushroom Ravioli
Homemade Creamy Mushroom Ravioli, homemade pasta stuffed with a creamy mushroom filling, a little work but so worth it!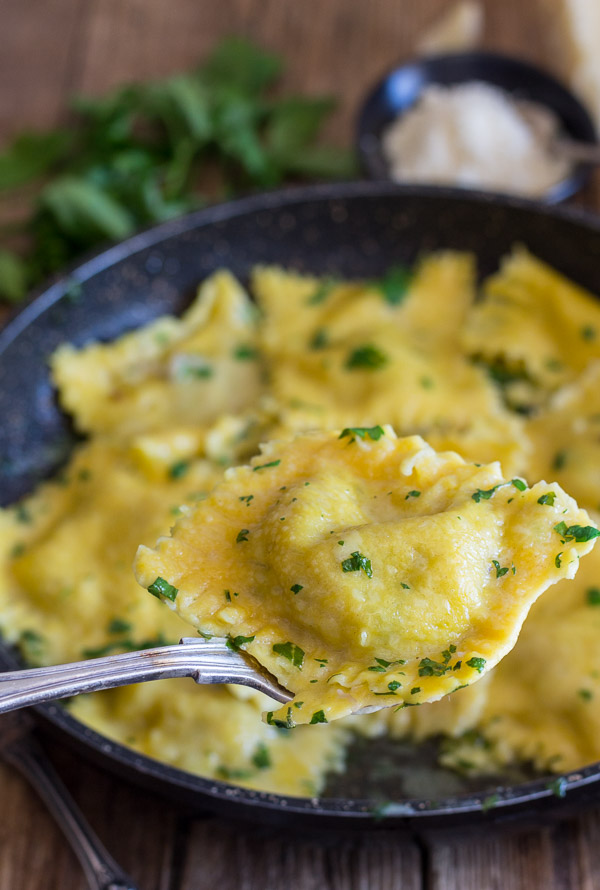 This Italian Gnocchi Recipe made with Ricotta are easier and faster to make than Potato Gnocchi. And I must admit tastier too. Tossed with a simple butter or tomato sauce. Dinner never tasted so good!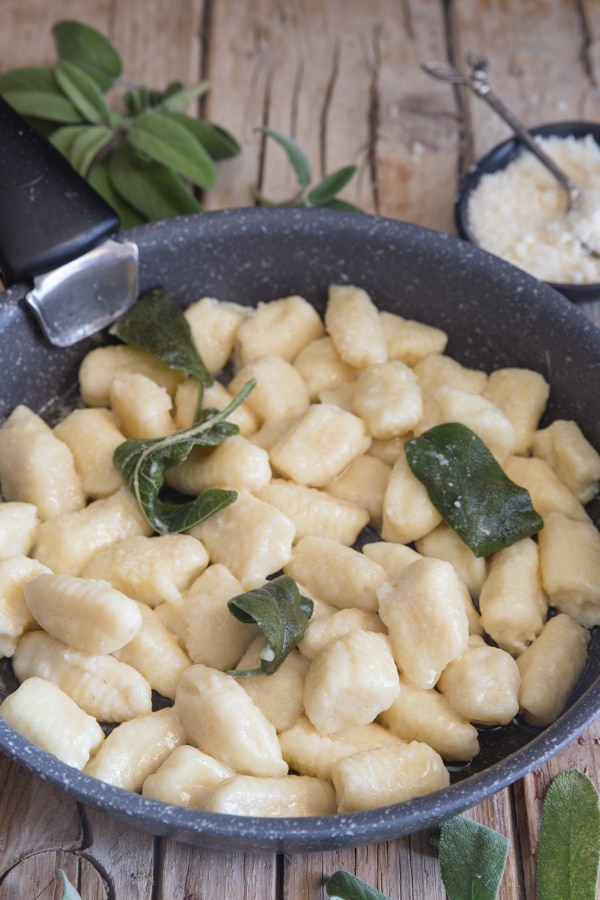 And how about a Simple Tomato Sauce.
Easy Tomato Sauce, a quick Homemade Tomato Sauce Recipe. Once you try this quick Homemade Sauce Recipe with a few simple ingredients, you will never use store-bought again! Perfect for a simple pasta dish or tossed with gnocchi or even ravioli.
This delicious Authentic Bolognese Sauce or Ragu alla Bolognese is made with few ingredients and lots of patience. A true Bolognese takes time, but it is so worth it.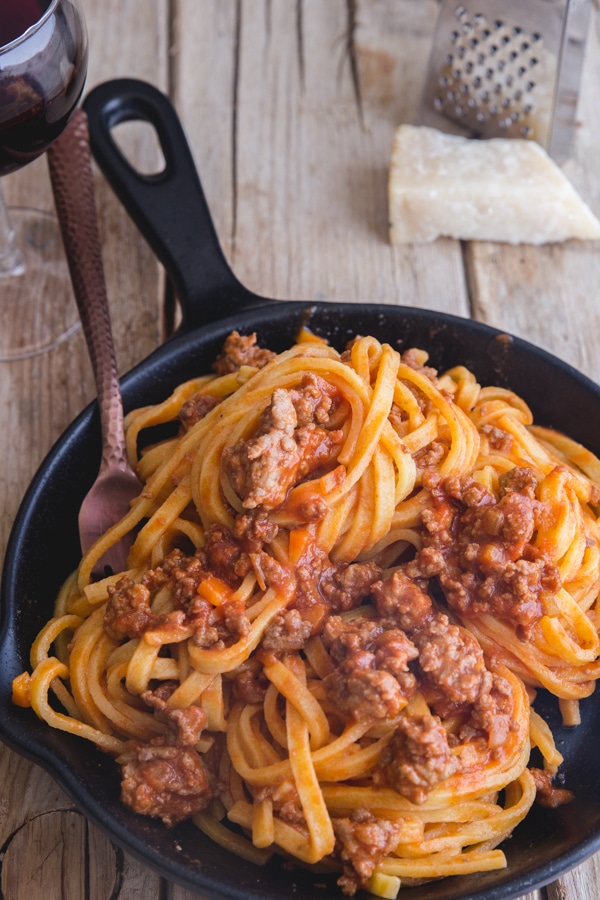 Alfredo Pasta, the traditional recipe, made with only 3 ingredients, fettuccine, parmesan cheese and butter. 15 minutes and Dinner is served.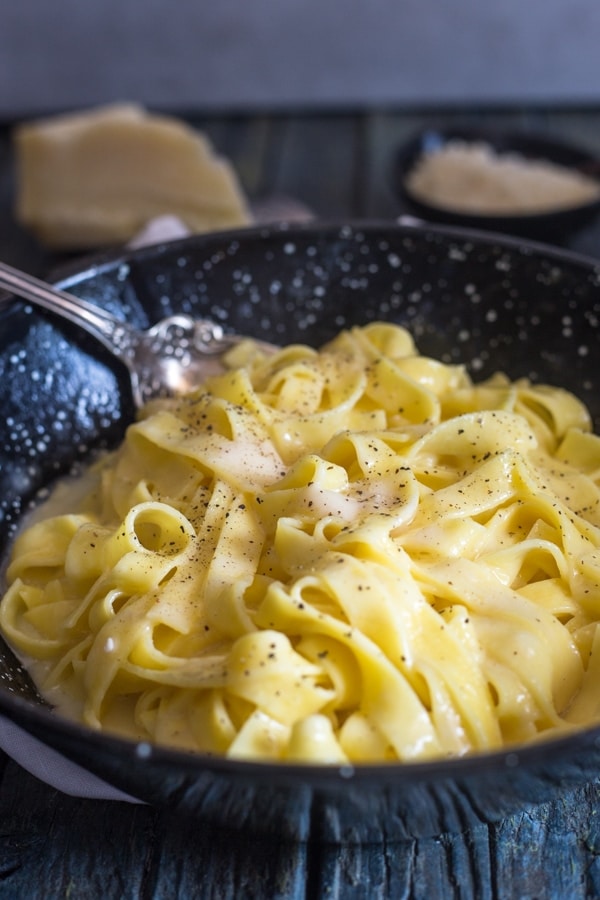 I hope you try a few of these if not all and I would love to hear what is your Favourite! Buon Appetito!
Updated from April 25, 2016.