Cinnamon Almond Welsh Cakes, tastes just like a tea biscuit but made on the stove top. Easy and so delicious.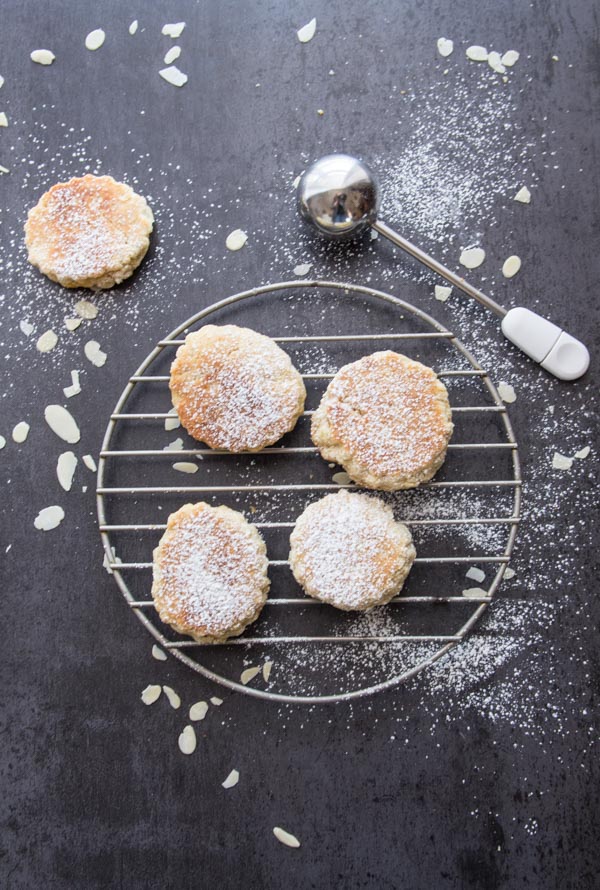 I am going to tell you that I am a definite Scone / Tea Biscuit Lover,  I love them, with or without currents and usually with a big mug of tea.
Today I am sharing a Recipe, that I was inspired by  Little Welsh Cakes Full of Spice, by Tina from the Food Blog The Worktop. Tina shares recipes for Breakfast and Brunch and who doesn't love Breakfast!
Be sure to watch the Video!
As soon as I saw the word Scone I knew they were for me, and the best part was, they are made in a skillet on top of the stove! Now I can have them in the summer time too and I won't be heating up the house. Perfect!
Cinnamon Almond Welsh Cakes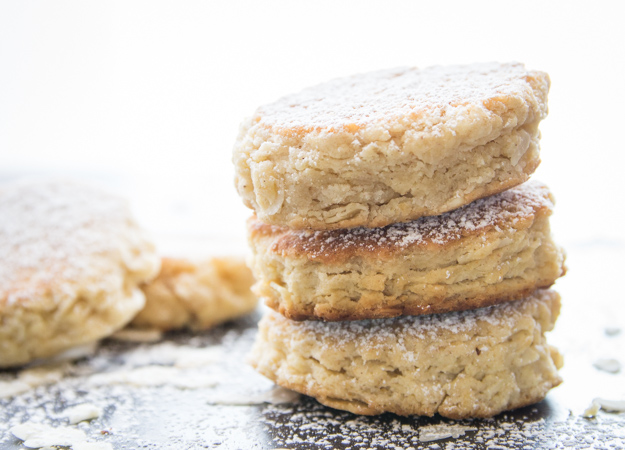 After I read the recipe I decided to change it up a bit by substituting Almonds and Cinnamon for Currents and All Spice.
This is an easy and a quick come together dough, this type of dough should never be over worked. I decided to make mine a little thicker, so naturally the cooking time was a little longer.
If you are looking at the photo and thinking "she only got 5 biscuits"? No I actually got 10, but I had a couple of people behind me begging me for a taste. Needless to say I have made these delicious Cinnamon Almond Welsh Cakes more than twice!
How do they taste? Amazing, no need for butter, and trust me you won't even wait for the water to boil for the tea before you have eaten a couple.
They are perfectly crunchy on the outside and soft on the inside. Your welcome! Enjoy.
Cinnamon Almond Welsh Cakes
Cinnamon Almond Welsh Cakes, tastes just like a tea biscuit but made on the stove top. Easy and so delicious.
Follow me on Youtube!
Watch the videos and don't forget to subscribe on Youtube!
Ingredients
1 1/2

cups

all purpose flour

(210 grams)

1/4

cup

very fine sugar

(50 grams)

1

teaspoon

baking powder

1/4

teaspoon

cinnamon

pinch

salt

1/2

cup

butter

(113 grams)

1/4

cup

slivered almonds

(30 grams)

1

egg

2

tablespoons

milk

powdered / icing sugar for dusting
Instructions
In a medium bowl whisk together flour, sugar, baking powder, salt and cinnamon. Cut in butter and combine until it is the consistency of fine bread crumbs, stir in almond slivers.

In a small bowl with a fork beat together egg and milk. Then add to flour mixture, mix until just combined.

Move to a lightly floured flat surface, and knead gently just until combined (do not over knead). Gently roll with a lightly floured rolling pin to the thickness of 1/4-1/2 inch (1-2 centimeters), cut with a 2 3/4 - 3 inch (7 centimeter) round cookie cutter.

In a heavy skillet add a little oil (spread with a brush), heat on low, (thinner cakes can be cooked on a medium low heat), add cake rounds and cover, turn when brown and continue to cook on low until done. If you cook them on too high heat, they will brown and not cook inside. Let cool, dust with powdered sugar. Enjoy!
Nutrition
Calories:
193
kcal
|
Carbohydrates:
20
g
|
Protein:
3
g
|
Fat:
11
g
|
Saturated Fat:
6
g
|
Cholesterol:
41
mg
|
Sodium:
89
mg
|
Potassium:
89
mg
|
Sugar:
5
g
|
Vitamin A:
305
IU
|
Calcium:
36
mg
|
Iron:
1.1
mg