Homemade Cookies and Cream Chocolate Dream Bar, a creamy chocolatey decadent give-me-another-piece Chocolate Dream.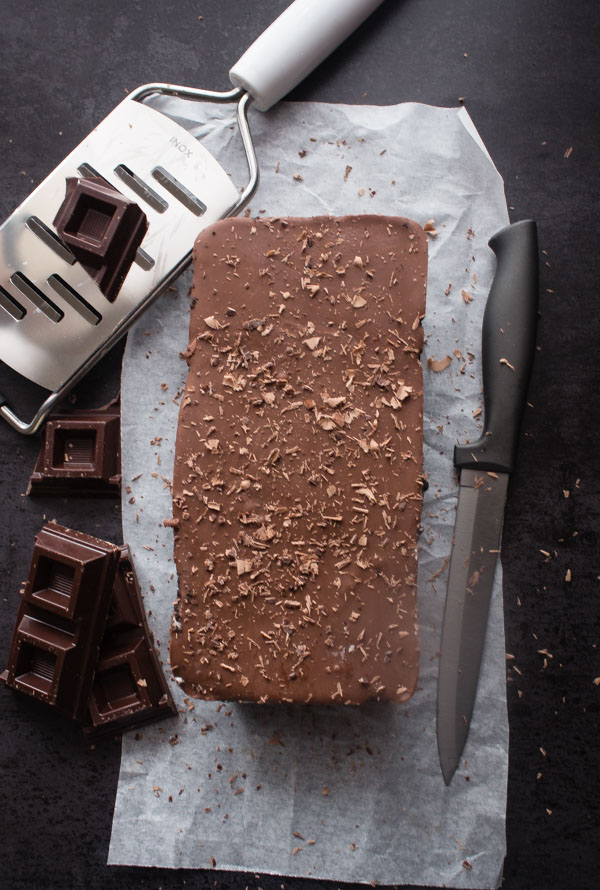 It all starts when I'm at the grocery store with my Strawberry–Nutella-Oreo-one minute I'am a vegan-to next minute I'am not-youngest daughter and we see the Chocolate Bar of her dreams.
Milka Chocolate Bar with a layered Oreo filling. Not the one where it has pieces of Oreo, but layers. I actually think it is only available in Europe.
My daughter being the daughter of a food blogger turned to me and said "hey Ma why don't you just make it"? So I did.
I took out my phone and took a photo of the package. Funny thing is I studied that photo and started the process. Of course homemade and store bought sometimes end up looking a bit differently.
For example mine was higher (I added more ingredients). And I also mixed them up a bit, unintentionally of course.
I love it when you do things by mistake and then you realize that that was actually a good mistake. And it tastes better than the original.
So what I did was I mixed up the layers, so then I got to thinking if I had done it the same way as the photo which was cream-cookie crumb-cream instead of the way I did  it which was, cookie crumb-cream-cookie crumb then in my opinion it would have been overly sweet instead of just overly decadent! 🙂
Homemade Cookies and Cream Chocolate Dream Bar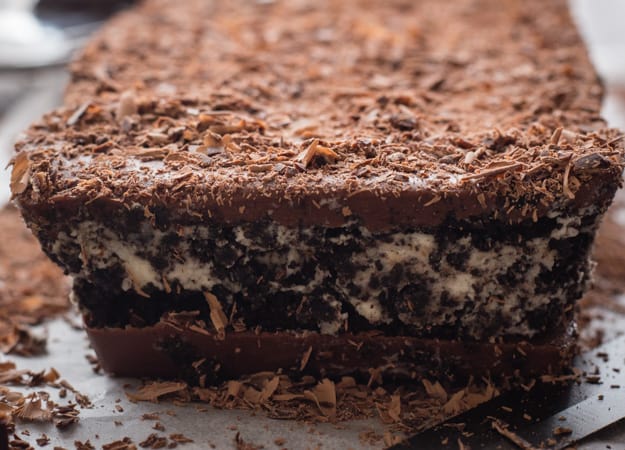 I have to admit though, after being in the fridge and firming up, it gets pretty hard, so don't expect to be able to cut it into pretty slices, it's just not going to work. We are talking chocolate here. So just go with chunks.
My daughter took a few chunks to her friends and it was a complete success. Enjoy!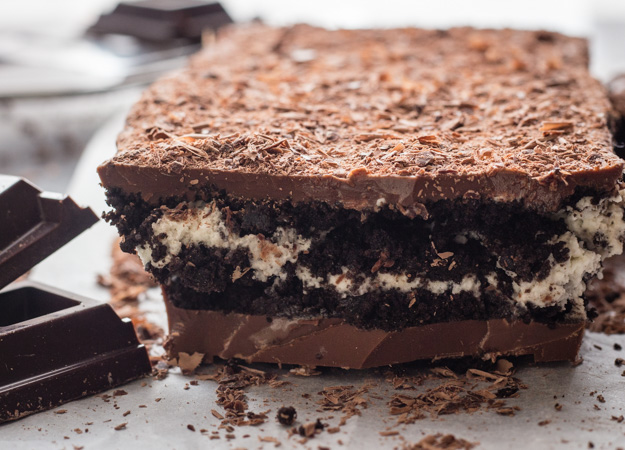 Homemade Cookies and Cream Chocolate Dream Bar
Cookies and Cream Chocolate Dream Bar is a delicious decadent homemade chocolate bar made with chocolate and Oreos. A Yummy Dessert.
Ingredients
14

Oreo cookies separated

5

tablespoons

butter

70.9 grams

1/2

cup

whole/whipping cream

121 grams

10

ounces

milk chocolate (good quality) **

300 grams
Instructions
Use either a silicone loaf pan or line a loaf pan (8x4 inch / 20x10 centimeter) with parchment paper (scrunch it into a ball first, easier to place in loaf pan).

Melt chocolate in a bowl over a small pot of boiling water (make sure water does not touch the bowl). Stir until smooth, let cool slightly.

Then add half (or a little more than half) to the bottom of the loaf pan. Place in fridge to set.

Crush the cookie part of the Oreo cookies.

In a medium bowl whip cream until stiff.




Place the bowl with the white centres of the Oreo cookies over the pot of boiling water and heat just until softened, let cool. Then fold into the whipped cream and set aside.




Remove base from the fridge, layer with half the crushed cookies, then the creamed mixture and then the crushed cookies. Gently press down to flatten. Top with other half of melted chocolate (if it is hard, just place over boiling water again, let cool slightly). Place in fridge for a 2-3 hours or even over night to harden. Enjoy!



Nutrition