Well this week I have made a few thing that I don't often make. One, homemade pasta, namely Ravioli and two Candy.
I am not a real candy lover. For me candy consists of toffee, fudge or Chocolate Covered Sponge Toffee. And since technically we are heading into the holiday season,
I think I can post anything chocolate that I know I want and I think secretly you want too! Because before you know it January will be here and you know what that means, Yeah Healthy Eating, for a bit anyway. So splurge while you can, is my motto.
Sponge toffee as it is known in Canada is also known as honeycomb, cinder toffee, and sea-foam just to name a few.
It happens to be my favourite chocolate bar back home in the form of a Crunchie Bar. Whenever I go home I come back to Italy with my secret hoard.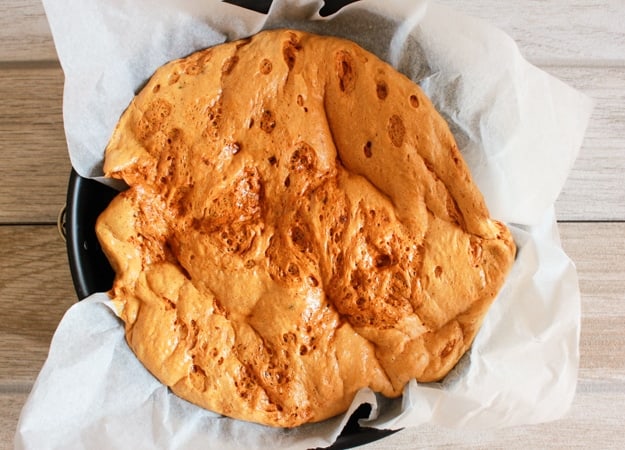 Since this year I decided I was going to make some yummy candy for the holidays, the first on my list is naturally Chocolate Covered Sponge Toffee.
I find candy really easy almost boring. At least it is with sponge toffee. Three ingredients and nothing to it, the boring part is you just have to stand and watch it bubble and boil and force yourself not to stir the pot, and wait until it gets to the right temperature, because if you walk away for that one minute, poof, burnt sponge toffee, and believe me nothing worse than the smell of burnt sugar.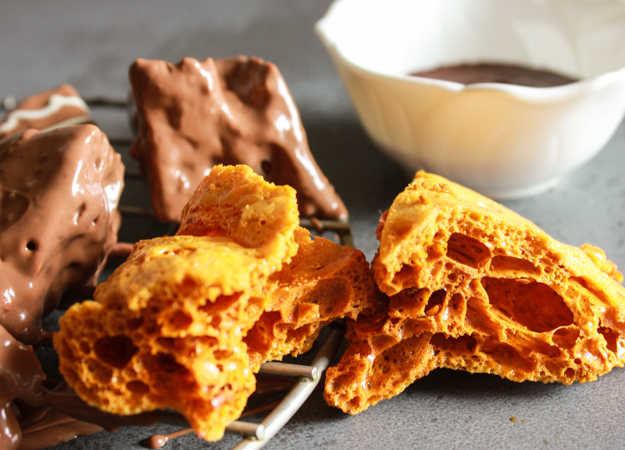 Once the toffee reaches the perfect temperature, (I always use a candy thermometer, the water test makes me nervous), stir in the baking soda, but be very careful because the mixture bubbles and spits and is really hot, so be sure to use a big enough pot.
Pour it into the lightly oiled parchment paper lined cake pan, and again hold yourself back, no spreading or the bubbles will disappear. Let it cool for about 2 hours and then the good part, break it into pieces and dip it in some really good melted chocolate.
This is the important part, store this amazing Sponge toffee/ Chocolate Covered Sponge Toffee in an airtight container because humidity is not a good thing, it will become all slimy and wet. It will last for about a week. Enjoy!
Chocolate Covered Sponge Toffee
Chocolate Covered Sponge Toffee, or honeycomb, this is a fast, easy delicious crumbly, melt in your mouth chocolate candy. A yummy treat.
Ingredients
3/4

cup

sugar

170 grams

4

tablespoons

corn syrup

80 grams

1

tablespoon

baking soda

7 1/2 grams

CHOCOLATE DIP

Good quality chocolate for dipping

melt over a pot of boiling water or microwave
Instructions
Lightly oil a parchment paper lined 9 inch (22 centimeter) cake pan.

In a medium-large pot over medium heat stir just to combine sugar and syrup, until sugar dissolves. Bring to a boil and do not stir but brush down sides with a pastry brush dipped in cold water. Insert candy thermometer, when temperature reaches 284° (140° celsius) after approximately 10 minutes, remove from heat and quickly stir in baking soda (mixture will bubble, spit and increase in volume), Pour quickly into lightly oiled prepared cake pan, do not spread (bubbles will disappear). Let cool approximately 2 hours, then dip in chocolate if desired. Keep stored in an airtight container. Enjoy!
Nutrition
Calories:
82
kcal
Carbohydrates:
21
g
Sodium:
333
mg
Sugar:
21
g
Calcium:
1
mg