Loaded Double Chocolate Clusters, are the ultimate decadent no bake pretzel, almond and sponge toffee delight. You won't be able to stop at one!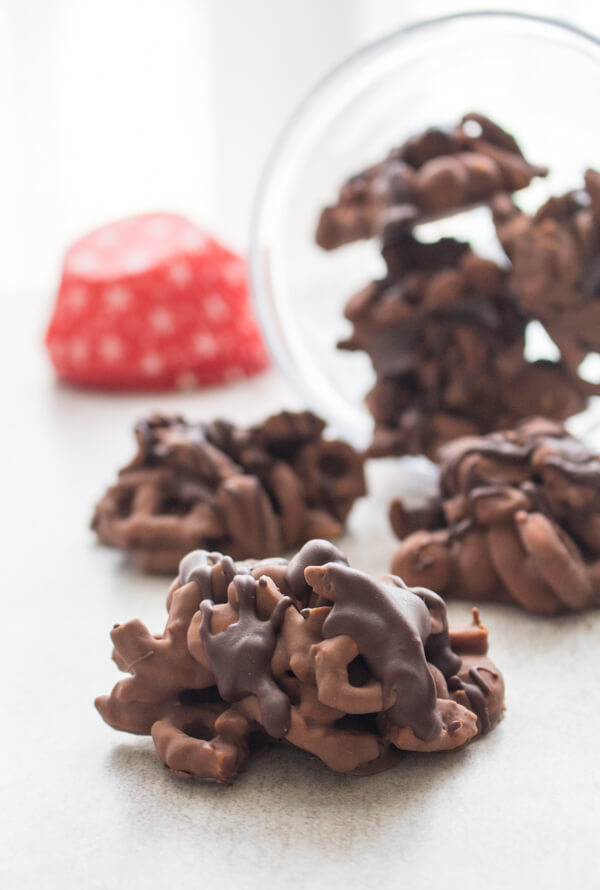 So here we are closer and closer to Christmas, and what do I love about Christmas, besides being with family (missing my eldest daughter big time), the lights and decorations and oh how I love the Chocolate.
From Filled Chocolates, to Mint Chocolates to Torrone. And this year I say a big hello to Loaded Double Chocolate Clusters.
Whenever I go back home to Toronto I always make a stop or two at a certain Chocolate Store. I take my time, I look around and I choose 4 or 5 of those amazing chocolates. Share? Not usually!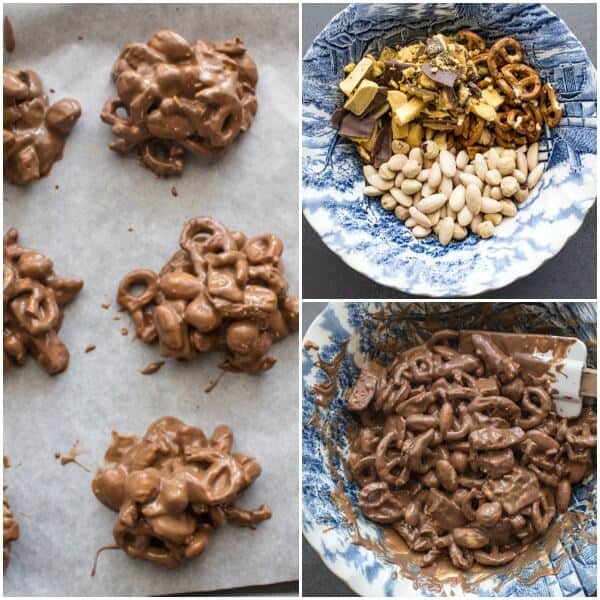 So the last time I was in Canada I bought a Chocolate Cluster, which was made with one of my favourite ingredients, Sponge Toffee (Sea Foam or Honeycomb). It was combined with a couple of other ingredients  (caramel I think) and all mixed together with chocolate.
Then a couple of weeks later I was invited to one of my Best Friend's birthday get together and I tasted another chocolate treat for the first time. Chocolate covered Pretzels. I kid you not, the first time.
Loaded Double Chocolate Clusters
So when I came back to Italy I knew Chocolate Clusters were in my future. They had to be.
I decided to mix up my favourite chocolate bar, Crunchie (which I can never leave home without), since I didn't have any plain sponge toffee, some pretzels and almonds, which are my favourite nuts in chocolate.
It's really so easy. In a large bowl I added the broken up Crunchie Bar, broken up pretzels and some toasted almonds. I poured in some cooled melted milk chocolate, stirred it all up and placed big spoonfuls on parchment paper lined cookie sheets.
I refrigerated the Loaded Double Chocolate Clusters until they were firm, drizzled them with some cooled melted dark chocolate and I had my very own Clusters. And now you do too. Enjoy!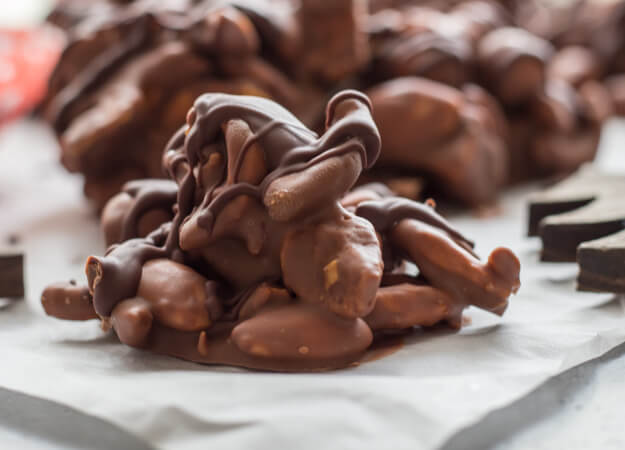 Loaded Double Chocolate Clusters
Loaded Double Chocolate Clusters, fast and easy almond, pretzel and sponge toffee cluster recipe. Milk and dark chocolate make them so yummy.
Ingredients
1

Crunchie Chocolate Bar or plain sponge toffee

1

cup

broken pretzels

1

cup

roasted almonds

8

ounces

milk chocolate (good quality)

2

ounces

dark chocolate (for drizzling)
Instructions
To Roast the almonds, place them on a parchment paper lined cookie sheet and roast for 10 minutes at 300 °F, stir halfway through, let cool.

In a bowl over a pot of water (make sure water does not touch the bowl) melt the chocolate (first the milk chocolate), stir until smooth. Let cool slightly.

In a large bowl add chopped Crunchie Bar or Sponge Toffee, broken pretzel pieces and roasted almonds. Pour in melted chocolate and stir to cover.

Place heaping spoonfuls on parchment paper lined cookie sheets, spoon remaining chocolate in the bowl on each cluster, refrigerate to set.

Drizzle with melted dark chocolate if desired, let set. Enjoy!
Nutrition